The 5 Best Battery Operated Coffee Maker Picks
In today's world, portability is everything. We're used to having battery-powered mobile devices, but did you know batteries can also power coffee makers for ultimate portability?
A cup of your favorite coffee and the great outdoors is an experience that can't be beaten, but it can be hard to brew if you don't have access to power or heat.
Don't fret because a battery-operated coffee maker is perfect when you're out camping, and you're jonesing for caffeine. Below, you can find our 5 reviews for the best battery-operated coffee maker. But, if you're in a rush, here's our top pick:
Top Pick
alternatives at a glance
The 5 Best Battery Operated Coffee Maker Choices
If you're looking for a sturdy coffee maker, Makita has got you covered with the DCM501Z. This battery-operated coffee maker can brew a 5-ounce cup of coffee in 5 minutes, including boiling your water!
Top Pick
PROS (+)
100% battery operated
Boils water too
Heavy duty
CONS (-)
Heavy
Battery pack not included but required
It sounds like a dream when you're outdoors, but it's essential to note that you'll need to get the 18V LXT battery and its charger as they are sold separately. If you want a bit more mileage, you can also upgrade your battery to brew more cups of coffee in one charge.
It uses a permanent filter, so no need to worry if you haven't got any paper filters at hand during your trip. The Makita battery-powered coffee maker automatically turns off when there's not enough water in its tank, ensuring that your equipment won't become damaged
The DCM501Z weights around 3 to 4 lbs depending on the battery, so it's heavier than our other entries, but it's still very portable, especially if you're looking for something heavy-duty. However, it's important to note the battery pack isn't included with the brewer. You have to purchase it separately if you don't have a 12v or 18v battery hanging around.
You'll be glad to know the coffee cup is included, so there's no need to look for a mug that can fit the machine's 3-1/2″ clearance. All in all, this is the best battery operated coffee maker for those who want a simple "one-touch" machine during their stay outdoors.
When you think of espresso, you'd imagine a big steaming machine using pressure to make your coffee. This portable coffee machine will make you feel otherwise.
Most Portable
PROS (+)
Highly portable
Pod and grounds compatible
Doesn't need a power source
CONS (-)
Can't boil water
Not great for larger brew making
The Wacaco Minispresso is actually battery-free. It works through a manual pumping system which is capable of exerting up to 18 bars (261 PSI) of stable pressure. A standard espresso machine brews around 9 bars (130 PSI) so you won't have to worry that you lack the right pressure for your brew.
Its light frame weighs less than a pound (336 grams), which is perfect for trekking or even during your commute. However, due to its space-saving design, the Nanoespresso does not heat its own water. If you're willing to use this coffee maker on the go, make sure that you'll have access to hot water.
If you love traveling and espresso, the Nanoespresso can give you your caffeine fix whenever you're on the go.
This portable coffee maker comes from an up and coming coffee company called One Mug Brewers. They designed the MobiBrewer for coffee lovers who want to brew their favorite cup whenever and wherever they want.
Best For K-Cups
PROS (+)
Can use K-Cups or ground coffee
Quick to brew
CONS (-)
Needs hot water
Short battery life
It's specifically used with K-Cups in mind, but there's also an included filter basket if you want to brew your coffee grounds. The MobiBrewer can also heat your water for you.
There are many options to power this coffee maker, a 12-volt car adapter is included in the package, and you can purchase a wall adapter for it too.
One Mug Brewers is currently developing an external 12-volt lithium battery accessory for complete portable use, but you can plug in 2 AAA batteries in the meantime. You can only brew your coffee using the AAA batteries. However, it doesn't boil the water inside the chamber.
Just pour in 6-ounces of water in the cup and place your K-Cup at the bottom and let this coffee maker brew it for you. As a result, the MobiBrewer is perfect for long drives, and if you're in a pinch for some caffeine, this battery-operated coffee maker does the job well.
Here comes another entry from WACACO in our list. They certainly have made their mark when it comes to portable coffee gear. What makes the Pipamoka different from other coffee makers is that it uses vacuum pressure to brew coffee.
Perfect Strong Coffee
PROS (+)
Powered by vacuum pressure
Insulated mug included
CONS (-)
Needs hot water
Only good for smaller brews
The coffee maker consists of an insulated mug that houses an inner brewing chamber and a filtered coffee basket. This vacuum pressurizes the chamber's water to seep through the coffee basket and right into the insulated outer mug.
Its compact design fits well for coffee-loving nomads who want a stronger brew on the go. The Pipamoka doesn't need any batteries to use, but you'll need to have a nearby water source to brew.
The brewing chamber allows you to brew up to 8 oz (236ml) while the mug has a 10 oz capacity. It is a single-serve coffee maker, but with its easy cleanup and quick brewing time, you can make multiple cups of coffee in a short amount of time.
The WACACO Pipamoka is a perfect fit for those who want a more potent cup in a portable package.
In my opinion, nothing beats a cup of coffee brewed using a pour-over. You can taste the nuances in the flavor of the coffee compared to other brewing methods. The Gourmia GCM3250 gives you that flavorful experience while on the go.
All In One Pour Over
PROS (+)
Integrated scale
Unique product
CONS (-)
Needs hot water source
A little clunky
You can use the integrated scale in two modes. Manual and automatic. The first mode allows you to have complete control over your brew while the automatic setting lets the coffee maker decide your brew for you.
It uses 3 AAA batteries, which last quite a while, so there's no need to buy an additional charger for it. The Gourmia also has a brewing capacity of up to 20 oz (600ml), which is perfect if you're with friends (or maybe just want a huge cup of coffee).
Make sure you have access to hot water, though, because this coffee maker cannot heat the water you're going to need! Overall, If you're looking for a pour-over setup while you're out and about, this might be the best battery-operated coffee maker for you as long as you can heat water!
Buyers Guide
You might have an idea of the best battery-operated coffee maker for you, but you'll also have to consider a couple of factors before you make your purchase.
Battery Operated Coffee Makers Are Rare
True battery operated coffee makers are rare, and the only option which 100% fits the bill for our roundup is the Makita. It takes a lot of electricity to brew a cup of coffee, especially if it can heat water. A bigger battery can brew more coffee, but it'll be less portable.
Most portable coffee makers can only brew a single cup as well for that reason. If you're looking to brew a bigger batch of coffee, it will be more practical to go for a completely manual brewing method.
Most of our picks can't boil water for the coffee, so you'll need access to or be able to generate hot water. On the flip side, other options need to have additional accessories and, as a result, become heavier in their need for power.
Brewing Time
Whichever one you'll choose for the best battery-operated coffee maker, it will depend on your preferred brewing rate in your travels.
These coffee makers brew at different rates, and some are faster than others. Some battery-operated coffee makers take a while for the machine to start up and boil your water. This adds up to your total brewing time, so it might not be preferable if you're in a hurry.
Other coffee makers have a manual approach with a brewing chamber, so it brews a cup quickly. Keep in mind that you'll have to keep hot water and your ground coffee at hand.
You might go for a convenient and quick cup of coffee if you're out camping since your day is going to be full of activities. If you just wanna wind down and savor your cup, a slower coffee maker like the Gourmia pour-over should suffice.
Ease Of Cleaning
If you're going to choose the best battery-operated coffee maker that will fit for your travels, you'll also have to consider that the equipment is easy to clean.
A good portable coffee maker will just need a quick rinse that is handy if you're camping out somewhere and trying to save up your water.
One thing to note is if the portable coffee maker will also include additional parts or if it's only going to be the unit itself.
Typically you don't want to be lugging around too many parts, especially when you're camping. It's going to be more prone to breakage and a hassle to clean up more, especially with limited resources. Sometimes the best option is the simplest one, especially in a battery-operated coffee maker.
These are also electrical devices, so you need to be careful in cleaning out your portable coffee maker.
Brew Size
One thing to ask yourself is if you only need to brew coffee for yourself or others too?
You have to make peace with the fact that a typical battery-operated coffee maker is small. With a large battery capacity comes extra weight, so it depends on what you need. Most of them can brew a single cup of coffee at a time for the sake of portability.
Don't fret, especially if you're going to need to serve cups of coffee during your camping trips with friends. There are worthy alternatives like a Moka Pot if you can access a fire nearby.
If you're on your own or a 100% battery-powered brewer, you can think about getting a powered coffee machine like the Makita coffee maker.
Portability
When you think of battery-operated coffee makers, portability is the first word that comes to mind. These are generally used in places without readily available access to power. But it would help if you also considered what resources you'll have and the duration of your stay.
You'll also need to make space for a manual coffee grinder or your K-Cups during your travels. Nothing beats the quality of freshly ground coffee beans in terms of taste and aroma.
Suppose you're looking for a coffee maker that can fit in your knapsack. In that case, there are options for manual coffee makers available But, this level of portability has a downside too, as these brewers can't boil water.
Some powered coffee makers can boil water and brew on their own, but they are a bit heavier because of the additional batteries. It's a better fit if you're going to stay awhile at a camping area. In our list, your options for these powered coffee makers are limited to the Makita or MobiBrewer.
The Verdict
Our best battery-operated coffee maker for today's roundup is the Makita DCM501Z! This durable battery-powered coffee maker can make up to three servings of 5-ounce cups, which is perfect for an extended stay outdoors
Top Pick
If you're looking for something on the lighter side, the WACACO Nanospresso is the way to go. Its portability is unmatched, and it also makes a great cup of espresso. Just make sure you have a supply of hot water though!
Most Portable
Remember, as your needs change, you might need to check out different battery-powered coffee makers, so keep this page bookmarked and stay caffeinated coffee lovers!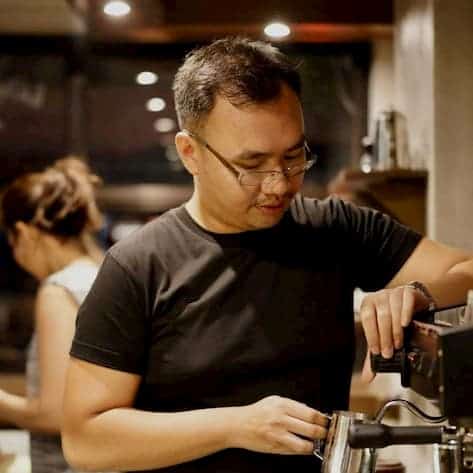 Ex-Barista and now coffee writer
A life long coffee drinker, Philip has been looking for new ways to enjoy coffee since he started in the coffee industry in 2017. His favorite coffee is a light roast Rwandan single origin. If he's not binging on food shows or trying out new coffee recipes, you can catch him here at Sip Coffee!