Best Budget Coffee Grinder 2023
Coffee grinders often aren't as appreciated as coffee machines. It's not the most well-known fact that grinders are as (if not more) important than coffee machines.
Below we take a look at the wallet-friendly options to help you find the best budget coffee grinder for you. Here's our top pick:
Top Pick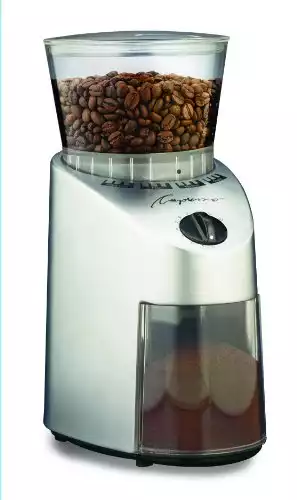 Alternative Cheap Grinders For Coffee
Top Manual Pick
Best For Simplicity
Fits In An AeroPress!
Rubber Base Stabilized
Best Value
The 7 Best Budget Coffee Grinders 2023
My 2 favorite brewing methods are espresso and pour-over. This electric burr coffee grinder caters ideally to medium grind sizes and below.
Top Pick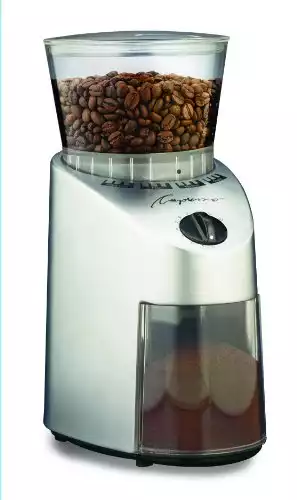 PROS (+)
Programmable timer up to 60 seconds
Easy to clean conical burr set up
Nice minimalist design that fits in nicely with any coffee bar
CONS (-)
Grind setting doesn't go coarse enough for your usual cold brew grind size
Retention of grounds after you grind is common
For espresso, it exceeds expectations as a budget grinder. But, as you grind coarser, it gets more and more inconsistent (but this is expected with any burr grinder to a certain extent). Nonetheless, it performs better than expected, given its price point.
At its coarsest, it produces a grind that is a bit finer than my ideal French Press size. Since this isn't my daily brew, the coarsest grind setting on the Infinity still delivers on my pour-over preferences.
This could be a great pick for you if you also brew with methods that use fine grind settings.
The difference with this electric burr coffee grinder is how well it performs with fine grind settings. While this conical burr coffee grinder does suffer from coffee ground retention, the optimal way to enjoy at this price range is to set your expectations and know your priorities.
There you have it, my top pick among the budget coffee grinders of 2023!
This manual burr coffee grinder has a special place in my heart. I used to serve 30-40 cups a day with this via AeroPress or pour-over….Yes, it was a workout for sure!
Although, it's easy to develop a rhythm when you use it, and as long as you clean it well, you can keep the grind settings consistent.
Top Manual Pick
PROS (+)
Wide range of grind settings
Durable stainless steel body
Portable
CONS (-)
Grind setting mechanism tends to become loose with prolonged use
Note – It's larger than most manual grinders for travel but we review the mini version below too, so see if that's an important consideration for you.
If you brew multiple cups of coffee in one go, then this is a better pick for you. Your grind is at a similar quality as the other budget picks on this list, but the chamber's capacity is slightly bigger.
The stainless steel body is nothing new but always appreciated, making it a great piece to bring along on camping trips. If you're an outdoorsy coffee person, the Jp-30 could be your jam.
When I select a manual grinder, I look at 2 things: how well I can safely pack it away in my bag and how stable the grind setting mechanism is. The 1Zpresso crushes it in these areas.
PROS (+)
Dual bearing, triaxial design locks in your grind settings better for consistency
Perfect for travel because you can assemble and disassemble it quickly
CONS (-)
Really small, only suitable for brewing 1 cup at a time
If you brew via French Press or Chemex, or any other method with medium to coarse grind settings, then a manual grinder could be good enough for you.
It takes less time to grind beans coarsely because of the loose settings. Therefore, to grind using a manual coffee grinder takes up way less time if you use it for specific coffee methods.
In terms of build quality, its solid. With stainless steel burrs and body. It grinds your beans consistently enough–markedly better than any blade grinder.
If you like good coffee on the go, this could be the coffee grinder for you. Perhaps the biggest hurdle to brewing outside of your home is centered on you leaving your best equipment at home. But if your coffee grinder could fit in your bag's pocket? That could be game-changing.
More specifically, for those of you who enjoy single-serve French Press coffee in particular, the 1Zpresso Q2 might be your best bet on this list of budget coffee grinder options.
What I like about the electronic coffee grinder is the fact that it's easy to use. Compared to blade grinders, you can almost always instantly tell when you make the switch.
Your first grind with a burr coffee grinder stepping up from a blade has a high chance of being memorable. This picks the perfect first stepping stone for your first electric burr coffee grinder.
Best For Simplicity
PROS (+)
Comes with 40mm stainless steel conical burrs
15 grind settings
Great price point for an electric burr coffee grinder
CONS (-)
Struggles with light roasted coffee beans
Issues with clumping of grounds is common
This OXO Brew grinder is a perfect size, price, and machine for home brewers. Worth a second look for those looking for a branded budget friendly pick.
If you enjoy brew methods with medium grind settings, this could be your top pick on this list. Between its fine, medium, and coarse settings, it performed best with medium.
While you expect this with stainless steel conical burrs, it remains a good match for pour-overs and drip machines.
Your pour-over could also get an upgrade with this budget grinder. One bonus is the stainless steel body that also blends well with most coffee gear.
Overall, In weighing up its performance relative to cost, this is an affordable upgrade over any blade grinder.
The second entry from Porlex on this list is also a very familiar tool to me. It was a backup hand brew grinder in one of the shops I worked at.
Fits In An AeroPress!
PROS (+)
Can grind from espresso to French Press
Lightweight and compact
Ceramic conical burrs in a stainless steel body
CONS (-)
Limited grind capacity
Grind setting dial isn't the studiest
If you're an outdoorsy person and enjoy fresh coffee on the go, this manual grinder could be the one for you. Its compact size means it'll fit nicely into your AeroPress…Yes, it's that small!
At 20 grams maximum capacity, you'll have to recalculate some recipes to adjust to the chamber. But aside from these small nuances, it's a solid pick for many home-brewers.
The rubber holder on the stainless steel body reduces the heat from your hand while you grind too. Perfect!
The Handground looks like a peppermill upon first glance, but it's actually a coffee grinder!
Rubber Base Stabilized
PROS (+)
Eye-catching see-through design
Rubber base helps to stabilize using it without strain
Larger capacity than your average hand grinder
CONS (-)
Heavy
Has a hard time with very fine grind settings
It has eight grind sizes you can choose from, keeping it simple. Does this improve consistency?
For the finer settings, yes. But as with any grinder, the coarser settings get a bit uneven. What's important to note are some useful design details.
It comes with a rubber bottom to help stabilize while you grind. The grinding mechanism itself moves vertically, instead of the usual horizontal-moving cranks. It feels comfy to use, but which long term form applies less pressure on your arms is up to your body mechanics.
This coffee grinder is similar to these other grinders but seems to have a refreshing new focus in areas that some competitors forget.
The hand crank would be enough to get me curious about how well it works with my body and reduces fatigue that much during long grinds.
The rubber base also makes me feel a sense of wonder at how simple a solution could be to the pain point of long grinding sessions. If you think about it, setting the grinder down on the table reduces contact with the palm, thus decreasing heat in the chamber.
It's definitely an exciting pick for most, but a match made in heaven for some. See which one it is for yourself or check out our full review of the Handground to learn more.
Bodum is a brand that makes things that look as good as they perform. The Bodum Bistro is one of the most popular home grinders in circulation today.
Aside from looks, the Bistro delivers all the basic necessities for those in the market for a grinder.
Best Value
PROS (+)
Built in stainless steel burrs
12 grind settings
Glass catcher is static-safe
CONS (-)
Not the most durable option
A bit underpowered
This coffee grinder is a real looker to me. Perhaps the only warning with these grinders is how you'll need to pause for big batches of beans.
With all the heat and vibration you get from grinding, the last thing you'd want is overheating. That's the main reason why budget grinders don't last for most people.
Why Invest In A Budget Burr Grinder?
It's a valid question for any home brewer. But if you're curious to get the best extraction to do your ground coffee justice, burr grinders are simple, logical next upgrades from your blade grinder.
The secret is in improved consistency.
In coffee, as with cooking, evenly sized particles release flavors at the same time. As your coffee moves from the bean hopper, through the grinder, and into your cup, you want to introduce the same pressure and contact time. One of the best ways to do this is to grind the coffee using burrs instead of blades.
Design-wise, burr coffee grinders allow the beans to fall through the same space with minimal effort. This is why the ground coffee that goes through a burr grinder ends up being a more consistent grind.
With blade grinders, the action happens at the bottom. Your coffee beans bounce up and down as they come into contact with the blades. This means that even if some coffee bean particles are already at the ideal size, there's still a good chance that they'll keep getting subjected to grinding.
You will have to rely on a visual test to gauge when it's time to pull the freshly ground coffee out.
Aside from consistency, by improving your extraction, you actually maximize the value-for-money of your coffee beans.
So many things have been done right from farming, harvesting, processing, and roasting. You might as well invest in a burr grinder next to experience the high-quality coffee that you're meant to brew. A better cup of coffee at home may earn you the best value for your daily brews.
Another reason to consider investing in a burr grinder is practicality. Given that they bring you closer to getting the best extraction you can get, there are already existing products to suit your coffee needs.
Manual grinders are affordable and fun to include in your daily coffee routines. They're optimized for different manual types of coffee brewing methods. These include pour-over, french press, Aeropress, Chemex, and cold brew. Manual grinders are most suited for hand brew methods.
What about brewing methods that require fine grind sizes?
For the Moka Pot and espresso brewing methods, you will need an espresso grinder. While it's possible to use manual ones, electric coffee grinders are ideal for techniques that require fine grind sizes. Entry-level options exist that you can operate with one touch. They're simple to use and cost about as much as a premium hand grinder.
What about electric grinders that are better than entry-level?
These are usually just faster and made with different parts. Some are still one touch. Others are programmable. The burrs can still be different variations of steel and ceramic burrs. But when it comes to electric grinders, the bottom line is that they're simple to use.
In summary, you should seriously consider buying a burr grinder if you already care about tinkering with the quality of your cup of coffee. With each brew, as you experiment with grind settings, you'll be able to taste the positive difference in your coffee quickly.
You will also be able to push the limits of budget coffee, so you don't have to overspend to get the best flavor out of your beans.
Blade Compared to Cheap Burr
As mentioned in the previous section, a blade grinder relies on way more force than even a budget coffee grinder.
The mechanism is at the bottom of the bean hopper, and it throws the coffee beans around until you get to some semblance of uniformity. You also subject a good portion of your grind to being finer than the rest.
The danger here is that it can pass the eye test of some, but there's no real way to keep your ground coffee ultra even. The grind setting won't matter much with this type of coffee grinder.
How does a cheap burr grinder stack up against a blade?
Imagine each coffee bean just falling through the same space in between 2 burrs. At the correct speed relative to the total weight of coffee in the hopper, they move around less. This results in 2 things: less heat generated and more even ground beans.
With less heat generated, you don't start extraction during the grind. With more even coffee grounds, one contact time with water happens, brewing begins at the same time. This can only result in more consistent and overall better cups of coffee. Yes, even inexpensive coffee burr grinders can produce these results.
What about all the fuss between flat burr grinders versus conical ones? To fully understand how each type works, let's quickly describe how coffee beans move through these two coffee grinders.
A flat burr grinder has 2 flat rings that are horizontally placed. A bean will fall into the space between the burrs, be ground and pass through the chamber into your brew basket.
A conical burr grinder has two cone-shaped burrs that crush the coffee in between them.
What's the difference?
The Conical burr grinder generates less heat because of its design. The higher surface area allows this burr grinder type to grind with a lower RPM.
Less heat means less extraction before your coffee grounds come into contact with water.
This translates to more consistency. Also, because of the design of conical burrs, there are fewer ground beans that get stuck in the chamber. This makes them easy to maintain as well compared to flat burr grinders.
The bottom line is even manual burrs are 100x better than any choice of blade grinders. It will all boil down to how well a grinder fits in with your hand dimensions, how easy they are cranked, and how well they fit into your budget.
COST: Manual Grinder
The best budget coffee grinders are manual. There are options in the market that deliver the same quality as the electric grinders. The only tradeoff is that you exert more effort using manual coffee grinders.
To paint you a better picture of the cost of coffee grinders, the best burr coffee grinder that's manually operated will be on par with a budget-electric coffee grinder. Depending on your budget, you can deduce that a manual type is generally an inexpensive coffee grinder.
QUALITY: Electric Grinder
By quality, we mean consistency. Because there's effort involved with using an electric grinder, your ground coffee tends to be more consistent.
Whether programmable or those one-touch types, electric coffee grinders will take you as far as their build quality will allow them to. It is also good to know that an electric grinder will perform well for different types of coffee with any grind setting.
Does this mean that all electric coffee grinders are better than manual ones? No. It all depends on the material of the burrs, the type of coffee you use, and of course, the maintenance.
As with any piece of coffee equipment, how you regularly clean and use it will determine its lifespan. From the bean hopper to the chamber, your coffee grinder is not different.
Remember that easy to use doesn't mean that it requires any less cleaning.
USAGE: Electric Grinder
Yes, even for home use, an electric grinder might be your best bet if we're working with the assumption that freshly ground coffee is ideal (spoiler: it always is!).
An electric grinder just makes one aspect of brewing coffee so much easier. It also doesn't affect the fun part of making coffee at home – tasting the small nuances with every batch you brew.
At the end of the day, it's safer to recommend something easy to use. The bonus in this instance is that there's a good chance that it will give you more consistent results. Regardless if it's flat or conical burrs you use to grind coffee.
SPEED: Electric Grinder
If you want a consistent grind fast, electric is your best bet yet again. Ideally, you want your coffee grinder to grind quickly because ground coffee loses flavor quickly. After 1 minute and 30 seconds from grinding, your beans will be significantly poorer to brew with.
With a manual coffee grinder, you ideally don't want to grind too fast because the heat from the palm of your hands and the burrs tend to kick-off the extraction of your coffee beans. This speed aspect highlights the most significant edge of an electric burr coffee grinder.
MAINTENANCE: Manual Grinder
When it comes to maintenance, a manual coffee bean grinder has fewer parts overall. This means no bean hopper to clean and a shorter chamber to clear out.
Electric burr grinders have more surface area and more parts overall. Even the best budget manual grinder is a lot easier to clean.
One thing is for sure though: any type of burr grinder will be easier to clean than blade grinders. Are there any easy to clean cons? Other than you could get bored, not really.
The Final Verdict
I prefer the Capresso Infinity Conical Burr Grinder as my top pick on this list. It allows me to keep playing with variables in my coffee while saving me lots of time and effort from manually grinding my beans.
Top Pick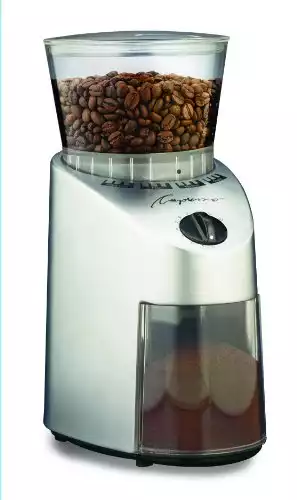 Figure out which type of coffee grinder best fits your preferences and your budget. There's a good chance that you'll find a good budget match from one of the best budget coffee grinders of 2023 that we have listed.
If you're focused on the topic of grind size, you're right to research the burr grinder as a possible upgrade for your coffee bar. They're closer to coming into contact with coffee beans than machines, so theoretically, they will have a lot of impact on what goes into the brewer first.
Technology in the coffee space is already impressive, and it will keep getting better. Stay open to learning and as always, keep brewing the best coffee you can!