The Best Bunn Coffee Maker 2023 Ultimate Guide
BUNN has been making coffee makers since 1957, and they have a wide array of easy-to-use and sturdy coffee brewers to choose from.
If you're looking for the best machine that the brand has to offer, scroll down for our BUNN coffee maker reviews, but if you're in a rush, here's our top pick when it comes to the best BUNN coffee maker:
Alternative Bunn Coffee Makers 2023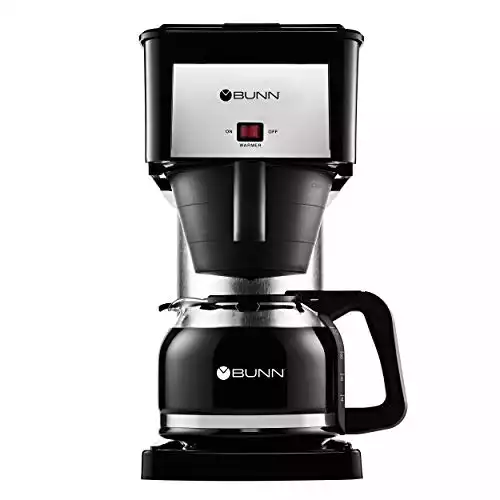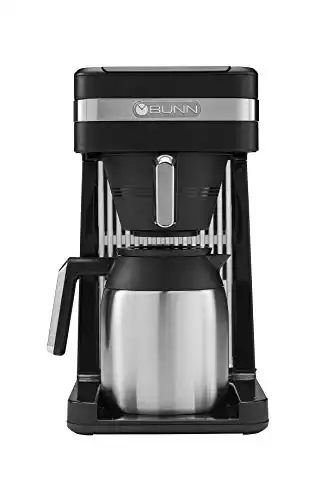 Commercial Style Brewer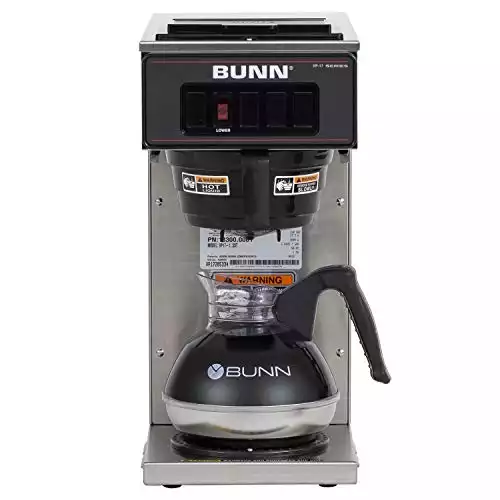 The 4 Best Bunn Coffee Makers 2023
Hectic day and you want your coffee as fast as possible? If you're looking for a quick and easy cup during crunch times, the Bunn BT Brew will take care of your caffeine fix for you.
PROS (+)
The stainless-steel carafe included
Brews at high altitudes with no problems
Rapid brewer
CONS (-)
Bulky for small counter-spaces
The Velocity line is one of the brands' fastest home brewers in its repertoire of coffee makers, and there are various models of the velocity line: BUNN BT, GRB, BXW, or NHS velocity. 
Most of these variations are simple design changes to alter the look and slight functionality of each BUNN coffee maker mentioned above.
For example, the BUNN NHS Velocity Brew 10 has a round non-thermal carafe, and the BUNN GRB is more of a budget line, which we review below.
We picked the BT drip coffee maker as our favorite simply because it's the best of the bunch. This machine only takes about 3 minutes to brew a maximum of 10 cups of coffee and keeps it hot through its thermal carafe.
The BT velocity 10-Cup isn't just all about speed either. It uses a multi-stream spray head that evenly extracts the soluble compounds from your ground coffee. It uses a specially engineered thermostat for high-altitude locations too.
Ever had a long day and coming back to a cold cup of Joe? No need to use your hotplate or microwave since the coffee brewer also features a stainless steel thermal carafe that can keep piping hot coffee warm for a maximum of two hours.
One thing to note is that the BT Brew 10-Cup home brewer is hefty at 7.5″ W X 13″ L X 15″ H, and so you'll need to have enough counter space to fit this beast of coffee-making equipment.
The bottom line is if you're after a no-fuss, no-muss coffee brewer that keeps your coffee hot, this hits the bill. Overall, the BT is the best brewer by this brand, in our opinion!
Want cafe style coffee in the comforts of your own home at light speed? Well, BUNN has got you covered with the BX 10-Cup Home coffee brewer.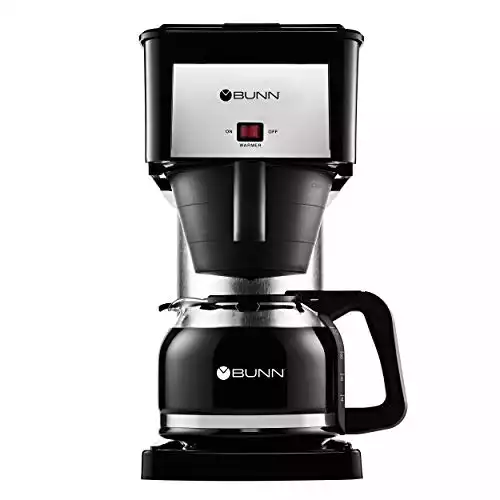 PROS (+)
Multi stream spray head
Drip free carafe
One-touch operation
CONS (-)
Prone to overflowing and water leaks
Glass carafe (non-thermal)
With its clean and commercial brewer-like aesthetic, you'll feel like a pro whenever you brew with this 10-cup coffee maker. It's intuitive; with just one push of a button, you'll be getting a great-tasting brew quickly as it turns ground coffee into a hot cuppa in under 3 minutes.
It's not just for single use only; you can also brew from 4 up to 10 cups of piping-hot coffee, which makes it a blessing whenever you have guests over at your place.
The BUNN Speed 10-cup brewer also features Bunn's signature multi stream spray head, allowing the hot water to spread evenly on your grounds leading to a more flavorful cup. If you want a stronger brew, the coffee filter can also accommodate finer coffee grounds for a more intense brew.
No more worrying about spilled coffee thanks to its drip free carafe. It features a pointed spout that pours directly into your cup. The translucent glass carafe can also show you how strong or weak your brew is.
If you're set on getting the Bunn Speed Brew 10-Cup coffee maker, one thing you might have to consider is that the machine may be prone to overflowing, as some users of this brewer report, so you'll have to be careful with your water measurements.
Overall, this BUNN coffee maker is the perfect fit for someone who values a quick cup without compromising on flavor.
The BUNN GRB is the budget friendly addition to the velocity line.
CONS (-)
Needs to be left on for quick brew
No brew pause functionality
The BUNN brew 10 cup home coffee brewer is actually able to output anywhere between 4 – 10 cups of coffee. Making it the perfect addition in a medium to large household (or if you enjoy multiple cups a day).
Like others in the velocity line, it'll have you sipping on a cuppa in under 3 minutes flat!
How?
It's always on hot water tank means you'll never wait too long for it to brew coffee. It also features a multi spray head leading to a more uniform extraction.
Nonetheless, it's lack of a stainless steel thermal carafe means it doesn't keep your coffee hot off its hot plate for long. The flavor from this brewer also isn't the 'best,' but given its price point, you can't complain when it comes to the Velocity brew 10 cup GRB model!
All in all, the Brew 10 cup home coffee machine is the perfect pick for those of you looking to brew coffee fast and on a tight budget.
The CSB3T is similar to our first pick in that it features a thermal carafe that keeps your coffee hot for around 2 hours, thanks to its double-wall and vacuum insulation.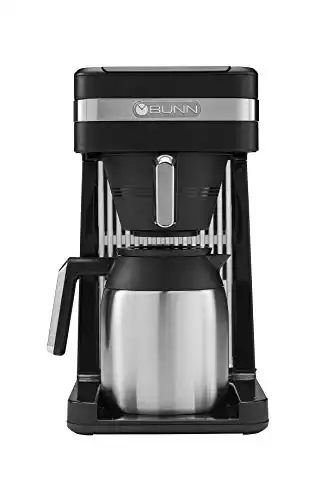 PROS (+)
The thermal carafe keeps coffee hot
Designed for use in high elevations
Quick heat-up time
CONS (-)
Initial set-up can be confusing.
The CSB3T's claim to fame is its convenience. It features a special stainless-steel hot water tank that keeps water at brewing temperature so you won't go through the hassles of a long heat-up time throughout your day.
Like our other picks on this list, the CSB3T also uses a unique spray head and a longer funnel that makes for better-tasting coffee. It's also great for family-sized servings as it can also brew up to 10 cups of coffee within 4 minutes.
There's also another version of this brewer that's adjusted to work in places with high altitude. Essentially, high altitude lowers the brewing temperature of your water, and it can result in weak-tasting coffee. You might also run into some equipment problems if they are not designed to run at this kind of elevation.
Thinking of getting a machine that brews your coffee hot and quickly whenever you want it? Look no further with the CSB3T home coffee brewer.
Compared to our other picks for a BUNN coffee maker, The VPR17-1ss Pourover Coffee Maker looks right at home in your office, but it also makes for a good home brewer if you need high volume.
Commercial Style Brewer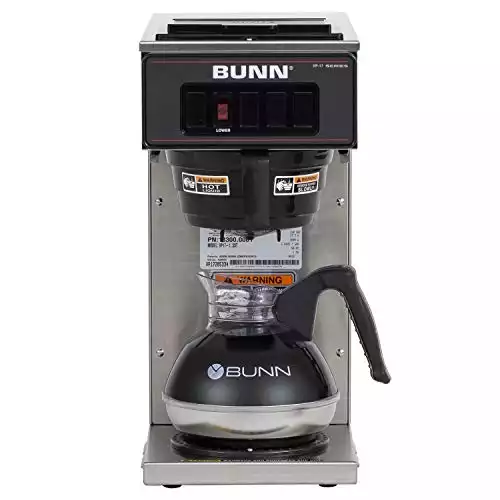 PROS (+)
Perfect drip coffee
Brews large quantities of coffee fast
Perfect for an extra large family
Technically, this is a commercial coffee maker, but it doesn't require any plumbing into a water main to use. It'll work well at home regardless. Just pour water in its embedded water tank, and you're good to go! 
The VP17 is also the most durable in our picks, thanks to the high-quality stainless-steel exterior and interior. Some users even report that they've been using this model for the past two decades without any problems!
Got plenty of coffee aficionados in your household or office? Maybe you want to sell your own brand of coffee drinks?
Well, you won't have to worry about running out of coffee anytime soon since this coffee maker can brew up to 3.8 gallons (14.4 liters) of coffee per hour…Yes, you read that right where it says per hour!
One thing you'll have to consider is that it is quite on the expensive side, and you'll have to make sure that you'll have enough space for this behemoth of a brewer.
Otherwise, if you're looking at the best coffee maker that can last you for years and, while we're at it, makes a great cup of coffee, the BUNN VP17-1SS Pour-over Coffee Maker is the best addition, whether for your home or office.
If you're a full-on coffee fiend, there is nothing else that outputs like this brewer when it comes to BUNN coffee makers.
Commercial Level Brewer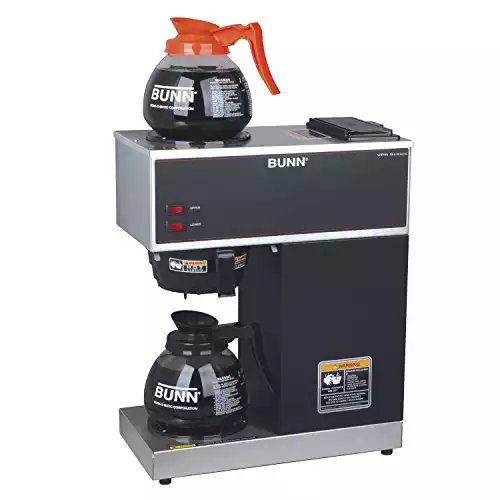 PROS (+)
Dual carafe warmers
No plumbing required
CONS (-)
No auto on/off functionality
Very large and bulky
Another pick that's initially made for use as a commercial coffee maker but could work in an extra-large household where each of you is a coffee drinker.
Similar to the previous pick, this brewer can pump out 3.8 gallons of coffee per hour (around 30 16oz cups of coffee!) too and without the need for an external water connection. The largest difference between the two is the fact this one has two plate warmers for increased capacity.
In theory, you could brew 12 cups into a glass carafe, place it on the warmer ontop and brew another 12 cups immediately after that.
With a stainless steel exterior, this brewer looks the part, and while it's large in size, it'll work well If you regularly have many people over or have a very large family.
The Buying Guide For Bunn Coffee Makers
The brand is established in the space of high volume coffee makers, and their machines are a common sight in households and offices.
With that said, how can you know which model is the best brewer for you when checking out BUNN coffee maker reviews?
Knowing how much coffee you drink, your brew preference, and what design and features you'd prefer for your brewer can help hone down on your choices for a home coffeemaker.
Outside of this, there are several factors to consider in purchasing a brewer, which we discuss below:
Coffee Machine Capacity
How much coffee consumption is a significant factor in narrowing down your favorites when it comes to BUNN coffee makers. Take the time to select what works for you, depending on how much you or your household drinks coffee.
Do you drink multiple cups of java per day, or do you also live with other coffee lovers? It might make sense to get a high-capacity machine that can make multiple cups in a single brew period.
All of the BUNN coffee makers listed here cater to brewing larger amounts of coffee, with most brew 10 cups in one go. These machines can also brew faster, which means more cups are brewed over the whole day than smaller brewers.
They also use high-capacity water reservoirs, making for less time refilling the brewer and more time drinking your cuppa.
If you find that amount too low, you can go for a commercial-grade machine like the VP17-1SS. It can brew a whopping 3.8-gallons within one hour, all without an external water connection, making it a good choice for offices and larger households who regularly have people over.
While you can consider using some of these machines for single cup multi use purposes, but it won't be practical and cost-effective in the long run, especially if you're after a quick caffeine fix. You'll just end up wasting both water and coffee!
Living alone and prefer drinking only a cup or two during a day? It's best to save on the water and get a smaller single-serve coffee maker instead.
These machines are also smaller and can brew a single-serve cup within a minute, which is preferable for smaller households. While the brand mostly makes larger brewers, the MCU single cup is an example of a single-serve brewer from the brand.
However, the BUNN MCU single cup brewer is now obsolete, and the replacement is rather pricey for what it is, so we don't recommend it. So if you used to own a BUNN MCU single cup multi use brewer and are looking for an upgraded single serve check out our list of favorite alternative single serve coffee makers.
Interesting BUNN Features
The brand specializes in brewers which can make great tasting coffee fast!
If you're a coffee drinker for whom brewing speed is a significant factor, check out BUNN's Speed and Velocity line-ups for a machine that can heat water quickly for a fast brew.
Our top pick, the BT, can brew 10 cups of java within 3 minutes. Likewise, other models like the BUNN NHS Velocity Brew 10-Cup, CSB3T Speed Brew, or BUNN GRB can also have the same speeds, more or less, but they are less feature heavy.
The GRB velocity is more or less the budget pick of the bunch.
The VP17-1SS is also pretty quick for a commercial-grade brewer and makes a liter of coffee in 4 minutes. It's also packed with a hotplate to keep your coffee carafe from cooling down but keep in mind that the carafe is an optional purchase.
If you're buying a 10-cup home coffee brewer, it's essential to check out what kind of carafe is included. Some models are bundled with a stainless steel canister, which can keep your coffee hot for at least 2 hours. On the other hand, older models use a translucent glass carafe that allows you to monitor your brew.
All of the brands' brewers use stainless steel and food-grade silicone when it comes to the construction of their heavy-duty coffee-making equipment.
The brand also prides itself on offering brewers with a heat-retaining water tank that maintains the high temperatures to brew your coffee hot with every flick of the switch.
Most, if not all, of BUNN's 10-cup brewers, use a unique spray head, which allows for better flavor extraction from the compounds in your coffee bean. This is because the spray head ensures the coffee grounds are wet with hot water evenly, resulting in a more uniform extraction.
You also have the option to use longer filters to strengthen your brew by increasing the amount of coffee grounds you can place in the machine.
Depending on the model, some brewers are also built to work and brew well at high altitude areas like the BT or the CSB3TD Speed Brew, a must-have if you live in the mountains.
If you prefer more variety in your hot beverages, a single-serve machine is highly preferable. The BUNN MCU coffee brewer can also handle brewing loose-leaf, coffee pods, tea bags, and K-Cups.
Coffee Machine Brew Preference
One of the most important factors to think about in getting a coffee maker is your brew preference.
If you don't want to spend all day tweaking your extraction rates for your manual pour-over and just want a simple cup of coffee to get your caffeine fix, buying an automatic brewer is the best way to go. Most can have you pressing on a single button (sometimes none at all!) for it to brew your cuppa.
Quick and easy-to-use is the common advantage for most of the brands' wide variety of coffee machines. Most of their brewers will only have you adding water and grounds before the coffee maker brews your cup for you super quickly.
The best thing about these types of brewers is consistency. Brewing a cup of great coffee can depend on many factors like temperature and water flow.
The best BUNN coffee makers can brew using consistent temperature. These machines also use a well-designed spray head that ensures your grounds get the right amount of water and at the right pressure.
Most home coffee brewers can make a delicious cuppa, but if you want to get the most of your coffee beans, it's better to go for more customizable brewing methods.
The bottom line is to get a brewer that fits your preference and gets the job done well.
The Final Verdict
Our pick for the best BUNN coffee maker is the BT 10-cup brewer.
A fitting name for a fast, consistent, and reliable machine. It's the perfect brewer if you're looking for a convenient way to enjoy your coffee.
It's ability to keep your water piping hot ready to brew along with the thermal carafe is a killer combo for anyone looking for kick ass drip coffee at any time of the day.
The BUNN BX Speed Brew is a worthwhile alternative with its streamlined looks and fast brewing times.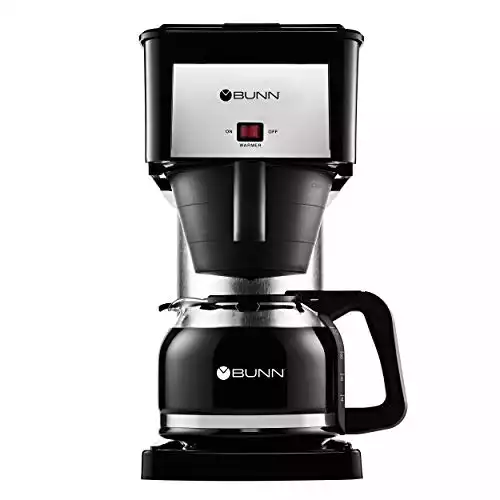 Whether you drink coffee just for the caffeine or you want to savor its flavor, check out the machines above to find one which best suits your needs. If you want to check out other coffee brewer brands, stay tuned here at Sip Coffee and stay caffeinated!