Coffee enthusiasts love chatting about beans and brew methods. But not much discussion goes into the coffee carafe. Granted, it's not as flashy a topic as espresso machines or milk textures.
But when we're talking joe, a coffee carafe is quite literally the thing that holds it all together!
Whether you're pre-batching coffee for a lazy Sunday breakfast or a long day of work, the right coffee carafe could be your saving grace.
There are a lot of options for storing and serving your fresh brew. So in this article, I'll help you select the best coffee carafe of 2023.
What is a Coffee Carafe?
A coffee carafe stores brewed coffee for later use. If you're using an insulated carafe, "later use" can mean many hours later. (A non-insulated carafe will keep coffee warm for a shorter period of time.)
The coffee carafe then doubles as a server, making it easy to pour coffee directly into a mug.
A coffee carafe might also be called a coffee dispenser, a coffee decanter, or a coffee server. The design of drip coffee makers incorporate a carafe.
But you can also use some coffee carafes in conjunction with other brew methods such as pour-over, Aeropress, and French press.
Some carafes make a stylish addition to your brunch spread. Other carafes prioritize durability and heat retention. Deciding which coffee carafe is best for you will come down to a few considerations: size, ergonomics, and ease of cleaning — to name a few.
I'll break down these features in a bit. But first, let's take a look at some of the best coffee carafes on the market.
The 9 Best Coffee Carafes 2023
1. Cresimo Stainless Steel Thermal Coffee Carafe
The Cresimo Stainless Steel Thermal Carafe is an excellent all-rounder option. In fact, it's quite possibly the best thermal coffee carafe you can buy.
This coffee carafe will keep 68 oz of coffee hot for 12 hours. If that's not impressive enough, it will keep cold coffee cold for an entire 24 hours.
PROS (+)
Keeps coffee hot up to 12 hours
Mid-range capacity
Also suitable for holding tea, hot water, or hot chocolate
CONS (-)
Hand wash only
Not much to look at
Cresimo's superb heat retention is thanks to double-walled and vacuum-sealed 18/8 grade stainless steel. (This seal also keeps the exterior cool to the touch without creating condensation.)
Prior to filling, this insulated carafe weighs 1.76 lb and measures 6" x 6" x 10.8". Whether you prefer hot or cold, this size will do you about 8 mugs of coffee throughout the day.
The handle uses push button technology, allowing for single-hand pouring. Plus, the wide-mouthed opening makes hand washing the coffee carafe relatively easy.
If you're looking for a coffee server that prioritizes heat retention, durability, and value, it's hard to fault this coffee server.
True, it might not be as stylish as some carafes on this list. But many hours into the work day, you'll be thankful for a hot cup of pre-batched coffee.
2. Pykal Vacuum Insulated Carafe
The Pykal Vacuum Insulated Carafe is another durable option for double-wall, stainless steel thermal performance.
This multi-purpose, rust-resistant coffee carafe offers 150F heat retention for up to 8 hours. Measuring 4.92″ x 7.09″ x 12.52″ inches, this Pykal product holds 68 oz. of coffee. When empty, the carafe weighs 2.81 lb.
PROS (+)
ThermaClick lid helps retain heat for 8 hours
Includes long-handle cleaning brush
Rubber base prevents slipping
CONS (-)
The click lid can create some coffee spray
Can leak at the lid rim
This thermal coffee carafe includes several thoughtful features. The spout is equipped with a dustproof cover. This helps keep bugs out all while enjoying an outdoor coffee. A non-slip rubber base lines the bottom of the carafe, decreasing the likelihood of spills.
Although this carafe can hold a range of beverages, Pykal does not advise using it to serve carbonated drinks. For best heat retention, Pykal recommends preheating the carafe with hot water.
Heat retention will decrease the less liquid is in the carafe. (This has more to do with the second law of thermodynamics than any manufacturing default.) Some users have reported leaking around the lid rim.
3. GiNT Thermal Server
If you're looking for a thermal coffee carafe with a bit of style, the GiNT Thermal Server might be the one for you.
This sturdy carafe is designed to hold smaller amounts of coffee: 34 oz., 51 oz., or 65 oz. These three capacities measure at 6" x 6" x 8", 6" x 6" x 10", or 6.2" x 6" x 11" respectively.
PROS (+)
12-hour heat retention for hot drinks
Spill-resistant features
Attractive color options
CONS (-)
Difficult to deep clean
Not suitable for larger coffee needs
Without liquid, this carafe weighs from 1.8 lb. to 2 lb. Best of all? This carafe is available in three attractive finishes: silver, white, or purple.
Like other thermal carafes on this list, the GiNT Thermal Server uses double-walled, food-grade stainless steel to create a vacuum.
This vacuum helps keep hot drinks hot for 12 hours and cold drinks cold up to 24 hours. If you're someone who only needs to store a few cups of coffee in a carafe, the smaller carafe size will help maximize heat retention.
The lid sets this product apart. A pinch release stopper lets you easily pour coffee with one hand. Dual silicon rings add to the lid's airtight structure, helping with heat retention while also preventing coffee drips. Plus, the extra wide top opening makes it easy to add ice.
This lid does not disassemble, making deep cleaning more difficult. With that in mind, you might not want to use this carafe to store milk.
4. Fellow Stagg Double Walled Coffee Carafe
With a silhouette reminiscent of science beakers, the Fellow Stagg Double Walled Carafe is a stylish addition to any breakfast, brunch, or bedside table.
Like its steel counterparts, this glass decanter uses a dual wall to maximize heat retention. These walls are made of hand-blown borosilicate glass, topped with a silicone lid. The carafe measures 9.76" x 6.14" x 6.1" and weighs 1.74 lb.
PROS (+)
Stylish modern appearance
Easy to see how much coffee is left
Can double as a tea-steeper
CONS (-)
Minimal heat retention
Small capacity
The benefit of a clear pitcher is that you can easily see how much coffee is left. (Small dots on the side of the pitcher let you discreetly check the serving size.) 
This particular carafe holds 20 oz. of liquid, one of the smaller capacities on this list. But if you're using this carafe for one or two people, that capacity might not be an issue. Heat retention is a short 40 minutes – just long enough to enjoy that second cup.
It might be tempting to pop the glass carafe and silicon lid in the dishwasher. But Fellow recommends washing these components by hand to avoid damaging the vacuum seal.
Also, while the lid is silicone, there's no anti-slip material on the bottom… meaning it's easy to imagine breaking this beautiful glass coffee carafe in a pre-caffeinated stupor.
5. Hario Vacuum Thermal Server
If you want both visual appeal and functionality, the Hario Vacuum Thermal Server might be the carafe for you.
This thermal coffee carafe holds 21 oz. or 27 oz. of coffee within double walled stainless steel. The lid features a press lever to open the spout, minimizing spillage.
PROS (+)
Sleek, attractive design
Hario V60 compatible
No-spill lid
CONS (-)
Hand wash only
Limited heat retention
This decanter measures at a squat 5.91" x 5.91" x 6.3", with a top perfect for pour-overs. Hario designed this server with its V60 in mind.
But the carafe's opening will also accommodate other pour-over devices such as the December Dripper or the Kalita Wave. Available in red, black, or white, this server will surely impress manual coffee mavericks.
The decanter's 90-minute heat retention doesn't hold up against other insulated coffee carafes. But it's an improvement over glass carafes.
Hario suggests preheating the decanter with hot water to maximize heat retention and I agree!
6. Hario Glass Range Server
From the same company comes the delightfully quirky-looking Hario Glass Range Server, perfect for people who want a fashionable decanter for immediate use.
Made from heatproof glass, this server comes in several different sizes: 12 oz., 21 oz., and 27 oz. The smallest size measures 4.61" x 5.35" x 4.61" with a heat-resistant handle.
PROS (+)
Dishwasher safe
Can also be used as a teapot
Several size options
CONS (-)
Minimal heat retention
Easy to break
Whichever size you select, the opening shape will compliment Hario's V60 dripper. Other pour-over devices will also work, as will an Aeropress. 
If you're someone who reheats coffee, you'll appreciate that the glass portion of the carafe is microwave-safe.
Regardless of where you stand on the issue of microwaving coffee, it's easy to appreciate that the Hario Glass Range Server is dishwasher safe.
The downside to this glass decanter is, of course, heat retention. The rubber insert lid does help retain some heat, but it's nothing compared to a thermal server.
The glass is designed to be both lightweight and durable. But it's always going to be easier to break glass servers than stainless steel carafes.
7. Hario Olive Wood Coffee Server
The Hario Olive Wood Coffee Server is an elegant carafe suited for immediate coffee serving.
Available in 14 oz. or 21 oz. capacities, this decanter combines a heat-resistant glass carafe with an elegant olive wood lid and handle.
PROS (+)
Beautiful olive wood accents
Compatible with pour-over
Heat-resistant handle
CONS (-)
Not very durable
Lid doesn't fit super easily
The spout's curved design reduces spill by creating a more even pour. Graduated cup markers on the back of the carafe help indicate serving sizes. 
Best of all, the top of the carafe will work with pour-over devices such as Hario's V60.
There's no denying that this decanter is a beauty. But that beauty comes at a cost, literally. The Hario Olive Wood Coffee Server is more expensive than some of the best thermal coffee carafes on this list.
There are also some performance issues. The lid can be a bit fiddly to fit into the carafe. Struggling to seal the lid becomes particularly worrying when you consider how easy it is to break the delicate glass.
8. BUNN Coffee Decanter
In the field of glass carafes, the BUNN Coffee Decanter is a no-nonsense workhorse best for workplaces, diners, and homes that don't need a lot of fuss.
PROS (+)
Easy-pour ergonomics
Affordable coffee server
12-cup capacity
CONS (-)
Not designed to be beautiful
Minimal heat-retention
This carafe measures 10" x 10" x 6", weighs 1.8 lb., and holds up to 12 cups of coffee. Measure markings line the side of this durable carafe. A brew-through lid minimizes mess during the drip coffee process, and a tapered spout helps prevent splashing and dripping.
The BUNN Coffee Decanter is designed to work with drip coffee makers. The top is slightly slanted (to minimize spillage), making it incompatible with any brew methods other than drip. But it works perfectly as a replacement decanter for a BUNN drip coffee maker.
The glass is not insulated, so this carafe does not retain heat but is instead designed to sit on a BUNN hot plate. It does exactly what it is designed to do. No more, no less.
9. Tomakit Coffee Thermal Decanter
The Tomakit Coffee Thermal Decanter is a large-capacity carafe designed for use at concession stands or self-serve stations.
PROS (+)
Lever-activated pouring
Large liquid capacity
Includes replaceable product decals
CONS (-)
Heat retention could be better
Exterior sides get hot
The carafe holds just over 100 oz. of liquid, the highest capacity on this list. A swivel base and a push-top dispense system make this decanter perfect for self-serve stations. 
Removable decals let you indicate what type of liquid the carafe contains (coffee, tea, hot water, etc.). The vacuum insulation between double wall stainless steel keeps beverages warm or cold for nearly 20 hours.
Measuring at 5.9″ x 5.9″ x 14.56″ and weighing 3.52 lb., the Tomakit is the biggest decanter on this list. Fortunately, a handle makes it easy to carry to your event.
And when the event is over, the carafe's large mouth simplifies cleaning. (Tomakit includes a brush fit for the job.)
The sheer size of the carafe means that heat retention drastically decreases the less liquid in the container. This shouldn't pose an issue for gatherings with quick coffee consumption.
But coffee consumption staggered over many hours might notice unpalatable temperature changes. In some cases, the exterior sides of the carafe can get hot despite insulation.
Coffee Carafe Buying Guide
Thermal Carafe VS Glass Coffee Carafe
When buying a coffee carafe, the first decision you need to make is whether to buy a thermal or glass carafe. Heat retention, durability, and aesthetics are all factors that will influence this initial decision.
Glass Coffee Carafe
Nowadays, glass coffee carafes can give an aura of pretentious coffee culture. But you don't need to brew using a Chemex to appreciate glass decanters.
In fact, the humble drip coffee maker (I'm talking an old school Mr. Coffee machine you might find in a diner) makes use of a glass coffee carafe.
Yes, you can buy a glass coffee carafe that will transform your brewed coffee into a minor art piece. But a glass coffee carafe is simply any coffee server made of glass.
Some purists might suggest that a glass carafe doesn't compromise taste in the way stainless steel might. But for the average java drinker, the most notable difference between glass and thermal carafes is heat retention.
Simply put, glass coffee carafes offer very little in the way of keeping coffee hot. Some carafes use vacuum-sealed double wall glass and rubber-sealed lids.
But even these hybrids can't compete with stainless steel thermal carafes. As such, glass carafes are best used in immediate serving situations rather than large-scale batches for later use.
It's obviously much easier to break something made of glass than something made of stainless steel. Plus, many glass servers do not include a non-slip bottom, increasing the likelihood of knocking them over.
The good news? Unless you're buying some kind of bespoke, hand-blown decanter, the average glass coffee carafe will be cheaper than a thermal coffee carafe.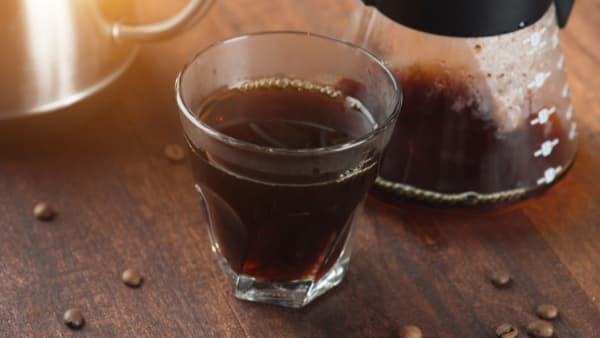 Thermal Coffee Carafe
An insulated coffee carafe combines the functionality of a thermos and a server. It uses vacuum technology to maximize heat retention.
Typically made of stainless steel, thermal carafes contain two walls separated by a vacuum seal. This airless space slows the transfer of heat, keeping hot coffee hot and cold brew cold.
Thermal carafes tend to be more expensive, with prices increasing to reflect quality and brands. But unlike their glass counterparts, these containers probably won't break from a mere fall from countertop to floor.
This durability combined with the incalculable service of a hot beverage means that a thermal coffee carafe can offer exceptional value.
Other Features In A Coffee Decanter
Carafe Size
The carafe size refers to the amount of liquid the carafe can hold. The capacities on this list range from 12 oz. to over 100 oz. This is a huge range, especially when you think of these amounts as cups of coffee.
Let's say a standard mug of coffee is 8 oz. of liquid. A 40 oz. carafe could refill your mug five times throughout the day.
That's a decent amount of bean juice for one person. A 68 oz. carafe would refill over eight mugs, and a 102 oz. carafe will give you nearly 13 refills.
When considering carafe size, the choice comes down to what you want to use the carafe for.
Ask yourself a few questions:
How many cups of coffee do you (or your group) want to drink before refilling the carafe? How quickly will you be drinking that coffee? And finally, how important is heat retention to you?
It might be easy to think of a larger carafe as being more versatile. You don't have to fill the carafe to the top every time, right?
No… you don't. But putting a smaller amount of coffee into the carafe can actually affect heat retention. Plus, a larger carafe won't be as portable as a smaller carafe.
Remember, just because you drink coffee from sun up to sun down doesn't mean your carafe will keep the coffee hot for that long.
But if java juice is all about caffeine intake for you, you might not care if a half-empty carafe just keeps your coffee warm, not hot.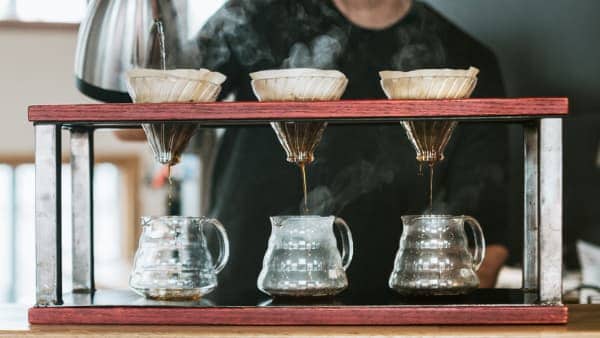 Heat Retention
Once you've decided between glass or thermal, you've already made a choice about heat retention. Remember: thermal coffee carafes keep coffee hot far longer than glass decanters.
We're talking about a difference of hours, not minutes. A glass decanter will keep your coffee warm, maybe hot, for about thirty minutes.
An insulated server, on the other hand, will maintain hot coffee temperature anywhere from 6 to 12 hours.
Thanks to physics, how much coffee you have in the thermos will also affect heat retention. (For example, a 68 oz. carafe containing 34 oz. of hot liquid will retain the coffee's heat less effectively than the same carafe containing a full 68 oz. of hot liquid.)
Also, keep in mind that heat retention doesn't exclusively refer to keeping coffee piping hot. Insulated coffee carafes can be used for hot and cold beverages.
Ease of Cleaning
Few people enjoy cleaning coffee instruments, but it's a crucial step to maintaining optimal flavor. This step is especially important if you're using your carafe to store dairy products or coffee containing milk.
Some, but unfortunately not all, coffee carafes are dishwasher safe. Check washing instructions for all components as dishwashers can damage crucial vacuum seals.
Also consider the top of the carafe. A smaller opening will increase heat retention but will make cleaning more difficult. Some models come with a specialty cleaning brush, making it easier to scrub the interior sides until they sparkle.
Ergonomics and Pour Ability
This selection category is arguably the least important consideration when selecting a carafe, but it's still worth keeping in mind how easy it is to pour coffee from the server.
Some carafes are designed for one-handed pouring. Others might require two hands, and some carafes even use a pump-pour feature.
Most, but not all, coffee carafes include a handle. Some handles include a button release, meaning you don't have to remove the lid when pouring. In addition to convenience, this feature adds to the carafe's overall heat retention.
The spout design, lid fit, and ease of pouring will also contribute to how much spillage or drips occur each time you pour a cup.
Value For Money
Thermal coffee carafes are by and large more expensive than glass carafes. But the price you pay upfront is not the only factor when determining value.
Consider durability. If you're prone to pre-coffee clumsiness, a cheap glass decanter replaced several times a year won't save you much money over a more durable carafe.
Also, if a coffee carafe is the day's only source of coffee, there's a lot of value to having a hot brew. So, in this case, paying more money for more thermal retention might be worth it.
Conversely, if you wrinkle your nose at the idea of pre-batching coffee, your money will be wasted on a thermos that offers 12 hour heat retention.
The Final Verdict: Best Coffee Carafe
The right coffee carafe will either keep your coffee at its tastiest temperature or make your pouring process a thing of beauty. In some cases, you can even find a carafe that marries function and aesthetics.
Still deciding? Take a look at some of the bests of this list.
Top Pick: Cresimo Stainless Steel Thermal Carafe gets my vote for best all-rounder This stainless steel carafe will give you hot coffee for more than just a few hours. And if you prefer cold brew, this insulated carafe will let you enjoy it for nearly 24 hours.
Best Value for Money: The GiNT Thermal Server is the best option for my fellow (coffee) bean counters. This insulated carafe offers decent temperature control, and several size options mean you can choose the capacity that best fits your coffee needs. Plus, I'm a big fan of that purple finish.
Best Glass Carafe: The Fellow Stagg Double Walled Coffee Carafe is both functional and attractive. (There's nothing wrong with wanting to add a bit of elegance to your morning!)
This beaker-shaped decanter won't keep your beverage hot nearly as long as a thermal coffee carafe. But vacuum sealed double walls will help it outperform its glass peers.
Remember, there's no one-size-fits-all coffee carafe. But fortunately, you have a lot of options. So when you're purchasing a carafe, find the features that work for your specific coffee habits.
Happy sipping!