The Best Coffee for Moka Pot: Full Bodied Manual Brewing
The Italian Moka Pot is similar to espresso when it comes to flavor and consistency.
It's challenging to brew with, especially for beginners, and it takes practice. You also need to ensure you buy the right type of whole bean coffee perfectly suited for your Moka Pot.
Scroll on down and take a look at our list of the best moka pot coffee beans, but if you're in a rush, here's our top pick:
Top Pick
Alternative Moka Pot Coffee Beans At A Glance
Best Artisan Blend
Full Bodied
Guatemala Antigua Coffee
Intense, full bodied and nutty. Perfectly paired with with an espresso machine or French Press.
SEE PRICE NOW
We earn a commission if you make a purchase, at no additional cost to you.
Micro Lot Blend
Equator Coffee Blend
Enjoy chocolatey flavors in your brew? This is the perfect medium-dark roast pick for nutty, chocolatey notes with an edge of spice.
SEE PRICE NOW
We earn a commission if you make a purchase, at no additional cost to you.
Most Bold Decaf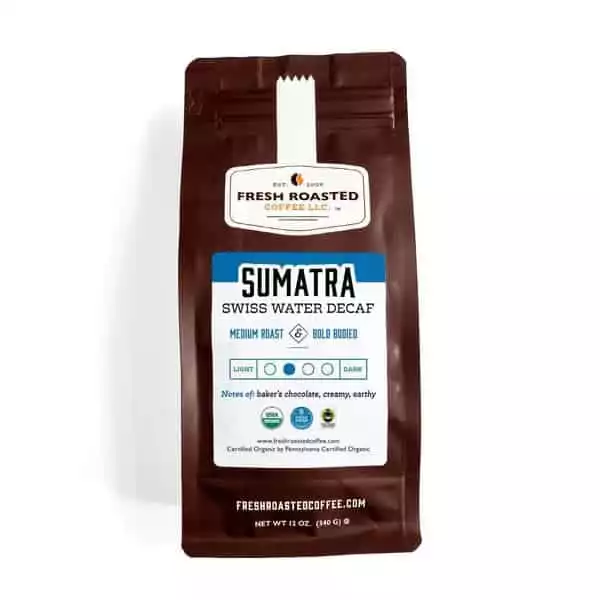 The 5 Best Coffees For Moka Pot 2023
We're bug fans of Volcanica Coffee here at Sip, thanks to their dedication towards roasting high-quality Arabica coffee from different volcanic regions all over the world.
Top Pick
Also known as Celebes Kalossi Coffee, This medium roast coffee originates from the Indonesian island of Sulawesi.
The medium roast, combined with its complex flavor, makes it ideal for espresso or Moka Pot brewing.
As expected from an Indonesian single-origin, you can expect earthy notes blended with complex spices and a full-body. Ending with hints of chocolate and brown sugar all combined into a rich and syrupy mouthfeel.
While it is available as pre ground in different grind sizes, their espresso grind might just be a bit too fine for a Moka Pot. With that said, it is best to grab this Sulawesi single-origin as whole bean coffee and grind it down to a medium-fine size yourself.
What makes Volcanicas' Sulawesi our top pick for the Best Moka Pot coffee is its bold and complex flavors, which fits well with the stovetop espresso maker. You might find yourself drinking a cup or two more than your regular bag of beans!
Fresh Roasted Coffee is another one of the coffee brands that simply do what the name says!
Best Artisan Blend
Moka Pot coffee has an undeserved reputation for having more bitterness than other brews. But, if you're looking for coffee beans that can break those boundaries, Fresh Roasted Coffee's Black Knight delivers.
Their signature Black Knight is a must-try for dark roast coffee-lovers, and it is perfect for brewing as espresso or in a Moka Pot.
With an inherent sweetness reminiscent of caramelized brown sugar, you might think you're sipping on the coffee version of a creme brulee! Its deep flavor with notes of tropical plantains and chocolate is perfectly balanced with its bold body.
As a bonus, these beans are organically certified and fair-trade, so you'll be happy to know that you're receiving premium coffee grown with care.
In Guatemala, the Antigua region is full of fertile and nutrient-rich volcanic soil, which provides optimal growth for premium quality Arabica coffee.
Full Bodied
Guatemala Antigua Coffee
Intense, full bodied and nutty. Perfectly paired with with an espresso machine or French Press.
SEE PRICE NOW
We earn a commission if you make a purchase, at no additional cost to you.
Its dark roast profile is perfect for a Moka Pot coffee. With its creamy, silky mouthfeel and full-body will have you think you're drinking a shot of espresso instead!
Low acidity and nutty flavors with undertones of dark chocolate are expected, especially with a South American coffee, and this single-origin doesn't disappoint.
You'd also be pleased to know that this Guatemalan dark roast is Rainforest Alliance Certified. That means that your coffee was grown in an eco-friendly, sustainable manner and the coffee farmers are also adequately compensated.
Available as pre ground if you don't have access to a grinder, you can use their option for espresso grounds, but it might clog up your Moka Pot, so it is still preferable to grind the coffee yourself to a medium-fine ground size.
Overall, a Moka Pot coffee should have intense flavors with a bold body, and Volcanica Coffee's Guatemala Antigua Reserve coffee has it in spades. Perfect for a brew at home.
Check out our dark roasted picks if you want to see more like this one.
What do Kenya, Sumatra, and Colombia all have in common? These countries produce some of the highest-quality Arabica beans in the world, and they all come together in this exclusive blend from Equator Coffee.
Micro Lot Blend
Equator Coffee Blend
Enjoy chocolatey flavors in your brew? This is the perfect medium-dark roast pick for nutty, chocolatey notes with an edge of spice.
SEE PRICE NOW
We earn a commission if you make a purchase, at no additional cost to you.
The Arabica beans are carefully selected from various cooperatives and micro-lots, which are then expertly roasted to a medium-dark hue resulting in a heavy body and complex flavor.
They are perfectly suited for Moka Pots or as espresso beans, as pressure-based brewing methods magnify its mellow flavor.
Expect tart acidity from the Kenyan coffee while notes of milk chocolate and marzipan are prominent thanks to the Colombian beans. The Sumatra used in this blend gives it an earthy and woody flavor profile with nutmeg undertones.
If you're looking for a good option with a wide range of flavors encapsulated in a heavy and rich body, the Equator Blend might be the best one for you. It's also great to try it via a French Press too for an even fuller body.
Trying to cut back on your caffeine intake, but you just can't get enough of the taste of dark roasts? Then this Swiss Water Sumatra decaf might be the best fit for your needs.
Most Bold Decaf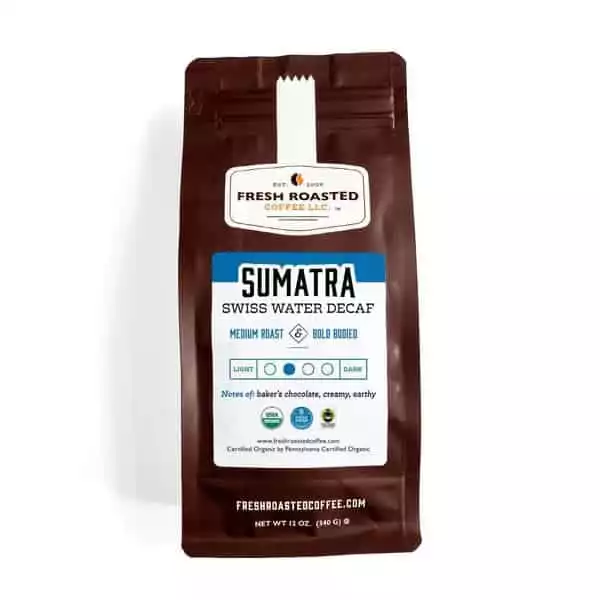 In our quest for the best coffee for Moka Pot is another entry from Fresh Roasted Coffee. Surprisingly enough, it's a decaf coffee hailing from the island of Sumatra in Indonesia.
Decaffeinated using the Swiss Water Process, which removes up to 99% of the caffeine while preserving the coffee's flavors.
With that said, you can still get to experience the full, earthy flavor profile from this medium roast single-origin. Bold, creamy, with hints of chocolate; these are good qualities for a good Moka coffee and espresso.
This Sumatran single-origin is also fair-trade and USDA organically certified, making for one delicious and eco-friendly cup of coffee.
Like the Dark Knight Blend, Fresh Roasted Coffee can grind these beans for you in different grind sizes. While pre ground coffee can work if you're in a pinch, you'll get to enjoy the coffee at its full potential if you purchase them as whole beans and grind them yourself.
Moka Pot Coffee Brewer Guide
Like other brewing methods, picking the right coffee for Moka Pots comes down to your own personal taste.
Whichever one you'll pick, it's always a great idea to buy freshly roasted beans to keep all the flavors of your cup intact.
Secondly, the right grind size is essential for Moka coffee as with other brewing methods. Going too coarse can lead to a weak brew while going too fine a grind can lead to over-extraction.
In this guide, we'll run through some key points to help you use the brewer easily at home.
History of the Moka Pot
Italy is known for its reputation when it comes to coffee and its preference for strong yet flavorful cups of coffee. In fact, Italians were the ones to invent the espresso machine in the early 1910s.
To answer how to brew espresso-style coffees without hefty coffee equipment is the Moka Pot, although it wasn't invented until 1933. This came to light when Italian inventor Luigi De Ponti patented the first prototype for Alfonso Bialetti – the founder of the now-famous Bialetti Moka Pot.
Nicknamed the "stovetop espresso machine" it quickly became popular for people at home in Italy, and in a few short years, usage spread to households all over the world.
Now known for its portability and brewing style, the Italian Moka Pot is also durable and inexpensive to purchase and maintain for brewing at home.
How Does A Moka Pot Work?
The Moka Pot brewer uses pressure to brew your coffee, albeit at a degree than espresso machines. Espresso is brewed at around 9 bars of pressure, while a traditional Moka coffee is brewed at 1 – 2 bars.
Typically made of stainless steel or aluminum, this sturdy coffee maker can withstand the high heat of your stove or campfire. Moka pots can also resist rust and avoid water damage. Some are dishwasher-safe, and warm water is effective enough to clean your Moka coffee maker.
A typical Moka Pot consists of the bottom chamber, coffee basket, filter screen, and upper chamber. If you've wondered how to brew with one, it goes something like this:
Closest to the heat source lies the lower chamber (or water chamber), where it holds the brewer's water. When temperature builds, the water evaporates into steam, which then enters the coffee basket.
This steam brewing process creates the pressure needed to make your coffee, and as a safeguard, Moka Pots are built with small safety valves that release excess pressure from the brewer.
Above the coffee basket sits the filter screen (or filter basket), which blocks any loose coffee grounds and allows the caffeine-filled liquid to flow through a funnel connected to the upper chamber. The upper section releases the built-up pressure and holds the coffee ready to be poured for your enjoyment.
For a quick guide in how to brew using a Moka Pot, all you need to brew is a heat source, ground beans, hot water, a kettle (not a hard requirement), and of course, your Moka Pot.
First off, disassemble your Moka Pot and place your freshly ground coffee (make sure you have the right grind size – a fine grind slightly larger than espresso ) in the basket, and level out the coffee bed. Boil the water separately via a kettle or saucepan and fill the chamber up just before the safety valve to avoid any leakages with hot water.
Note – you can just cold water to the water chamber, but it'll take longer, and I've found the coffee tastes much better if it's boiled just before going into the chamber as hot water instead.
Put the filled chambers back together and place your pot on top of your stove. Make sure you tighten the seal. Once you hear the pot bubbling (it makes a hissing sound), remove it from the heat, and it's ready to serve.
Sounds simple enough, but dialing in your Moka Pot to make the most out of your coffee grounds can have a slight learning curve at first. With the right amount of time, you'll be a coffee expert when it comes to making Moka espresso coffee in no time!
Related Read: How To Make Moka Pot Coffee
Darker Roast Coffee Beans For Moka Pots
While there's no one set roast for brewing coffee in general, some methods tend to work better with certain roasts.
Most drip and pour-over coffees are better with a light roast, while an espresso or french press is better suited to a darker coffee. Moka pot coffee is better suited for brewing with dark roast ground bean coffee at a grind size slightly more coarse than espresso.
A good guide for choosing the correct specialty coffee beans for your Moka Pot is that you can think of it as the halfway point between a drip coffee maker and espresso machines.
It tends to lean more towards an espresso's characteristics thanks to its similar use of pressure to brew your beans.
Like an espresso, expect to brew a strong-tasting brewed coffee with a full body when you brew with a Moka Pot. However, you won't be able to get the thick foamy crema from a Moka Pot due to the reduced pressure vs espresso. Nonetheless, you can expect a similar flavor profile as your morning cup of espresso.
While using a darker roast can make it easier to get a bitter coffee from over-extraction. A perfectly brewed Moka coffee is usually strong with low acidity and rich flavors. Remember to immediately remove your Moka Pot from the heat source, as it can also over-extract your beans very quickly.
Like espresso, the Moka pots flavor and body make it ideal for diluting with water.
The Final Verdict
Our top pick for the best coffee for Moka Pots is Volcanica Coffee's Sulawesi Coffee! Sweet and complex with a rich and syrupy body, it's no wonder why it beats the competition.
Top Pick
Looking for something less earthy? The blend from Equator might be more up your alley. Its mellow and complex taste is even more flavorful when making Moka espresso coffee.
Keep brewing folks!