29 Best Coffee Shops In Austin In 2023
Austin, TX may not be on your radar if you aren't from the South. And even if you are, you may not know this artsy, trendy city is actually a haven for coffee shops — it just might beat Seattle.
But in a city known for great food and drinks, how do you know which are the best Austin coffee shops?
Whether you're new to Austin or just passing through Texas' most happening city, consider this yourguide to the best coffee shops in Austin.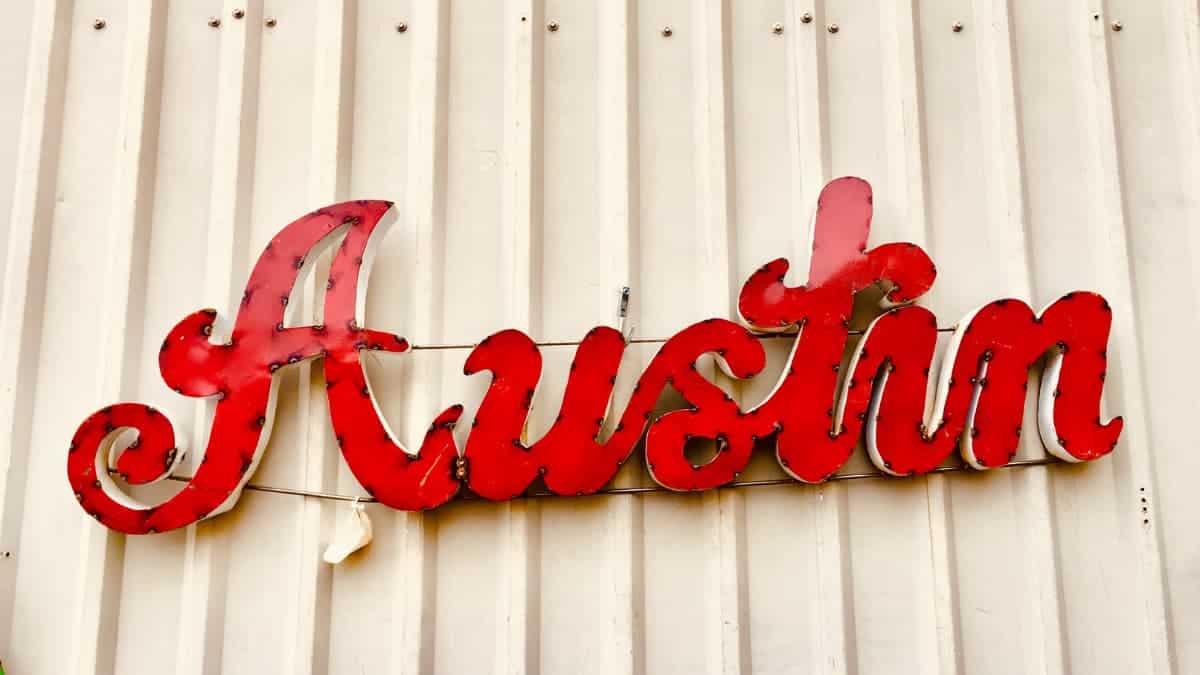 The 29 Best Coffee Shops In Austin
Unlike some cities, the best Austin coffee shops can be found all over the city. West Austin, east Austin, north Austin, downtown … some may be overstuffed with greatness, but no neighborhood has been left high and dry.
As local Austinites will surely tell you, Austin, TX is simply the place to be for the best coffee shops. You'll have a bigger problem catching them all during a short trip, or leaving after you've sampled some of their signature coffee drinks.
So without further ado, here are the very best coffee shops in Austin.
Related Reads: LA Coffee Shops, Atlanta Coffee, Coffee Shops In Chicago
1. Greater Goods
The goods at Greater Goods really are great. But don't take my word for it.
Greater Goods Coffee Co. was named Micro Roaster of the Year by Roast Magazine in 2021, so you know this Austin, TX coffee shop is a favorite for good reason.
Of course, some of the fanfare might have to do with their philanthropic spirit. Greater Goods regularly donates to Texas charities. One bag of coffee is as good as donating four meals to the Central Texas Food Bank, $1 to the Autism Society of Central Texas, or a day of support to Austin Pets Alive!.
Come for the Tiger Latte (with turmeric and spice simple syrup) or Mcgregor (milky dark rose tea with bourbon reduction syrup). Stay for the chance to give back to worthy local causes. Or the hip, relaxing vibes.
You can sample the goods and pick up a bag to go at their Flagship and Bee Cave coffee shops, located on East 5th at Pedernales and Bee Caves Road, respectively.
2. Epoch Coffee
Epoch Coffee is more than a cozy place for drinking great brews. It's a local institution, which just celebrated its sweet 16th birthday.
Epoch is the kind of place that loves to get people to gather and encourages them to give back to their community. The coffee shop regularly hosts events and has a campaign to get customers to donate coffee and baked goods to healthcare and grocery workers.
In any of their coffee shops in Austin you'll also see local artists on display, gracing the walls with their colors. Featured artists are in rotation, so be sure to come back. Get a bona fide cubano and enjoy; the view is always changing.
Epoch Coffee has three locations in North Austin (North Loop), Village (Anderson Lane), and Far West. Any of these cozy places to sit and work a little — including the outdoor seating, if you're ready to take the Austin heat!
You can order ahead at the Far West and Village locations, too.
3. Flat Track
Flat Track Coffee is a specialty coffee roaster that specializes in roasting to balance the sweetness and acidity in their coffees, which means their coffee will likely appeal to just about anyone.
Flat Track is also a "moto cafe" or motorcycle coffee shop. That explains the name, which is probably a reference to the flat track motorcyclists race on.
Escape from the sweltering Austin, TX heat and give your hog a rest while you grab a bite to eat and an authentic horchata. Or if you really want to live it up, order La Chingona, a Mexican mocha and horchata mix! It goes great with avocado toast or breakfast tacos.
You can buy their coffee by the bag or wholesale. Visit this East Austin coffee shop on Cesar Chavez Street.
4. Patika
Deciding between coffee and brunch is the ultimate weekend struggle. But at Patika Coffee, there's no need to choose. This coffee shop turns into a full South Austin brunch cafe on the weekends. You can bet their coffee — made by their sister company Superthing Coffee Roasters — is equally delicious.
Of course, you can still get your avocado toast and South Austin-inspired comfort food for breakfast and lunch on weekdays. Are you even in Austin, TX if you're more than 10 feet away from a breakfast taco?
Order a beautifully made latte with latte art on South Lamar (one block south of Oltorf) and take advantage of spacious parking and free wifi on weekdays. Or swing by their "luncheonette" in the lobby of 100 Congress (on Congress Ave.).
Just be sure you're back for brunch at this South Austin coffee shop someday soon. Patika's food is so good, you'll be salivating before the food gets to the table.
5. Summer Moon
Don't let the pretty name fool you, Summer Moon Coffee is hard core.
This organic coffee roaster roasts their beans over an open flame (yes, really) on a handmade brick roaster. They use real Texas oak, because what other wood would a Texan coffee connoisseur abide in their brew?
(If you're a visitor to Texas, don't be put off. That Texas-centered treatment is just how Texas takes care of Texas. It's a Lone Star pride thing, y'all.)
This flaming wood-fire roasting process creates a smooth, balanced cup of coffee. It's lower in acid while keeping a strong body.
But if that's not smooth and sweet enough, you can always take advantage of Summer Moon's Moon Milk, their house-made sweet cream — that's totally dairy-free! Enjoy Moon Milk and wood-fired espresso the right way with a Summer Moon Latte.
You'll have to go out of your way to avoid Summer Moon. There are 11 in Austin alone, and that includes both North Austin and South Austin locations. You can even get your Summer Moon cold brew fix when you're in San Antonio or Dallas!
6. Spokesman
This shop proves that coffee isn't just for the philosophy-reading armchair types (I studied Latin, so I can say it!). You don't leave the urban Austin, TX location at the door when you enter the Spokesman.
The walls at the Spokesman look like a graffiti artist's notebook (minus the "foul" language, so you can bring your grandma here!).
Vibrant and covered with graphic art, you'll want to stay and chill for hours. And that's pretty easy to do by chasing a Cafe Meow (cinnamon honey latte) with a craft beer on tap. Both go great with a stroop waffle.
Spokesman Coffee offers bags of coffee beans, roast variety boxes, and cold brew kits. Spokesman roasts and ships fresh twice a week. They'll even pre-grind the beans for your order if you ask.
You can visit one of the Spokesman's coffee shops in Highland or South Austin (on St. Elmo Street).
7. Figure 8 Coffee Purveyors
Austinites know the drive on 35 is … less than awesome. But you're gonna find it worth it when you head over to Figure 8 Coffee Purveyors in East Austin.
Owners Ryan Hall and Kathleen Carmichael made sure of it. Hall dreamed of creating the relaxing space in the very location it now rests in on Chicon Street for almost a decade before the two made it happen.
The result is a cozy space that's perfect for sitting down to an afternoon's work, with a good cup of hot coffee to keep you company. If you're stopping by in the transition seasons, check out the spacious and scenic outdoor seating.
Figure 8 sources their coffee roasts carefully from different regions and coffee roasters. Stop by for a well made cortado or other classic espresso drink. The menu is simple, but that's because the focus is on good coffee.
8. Mozart Coffee
Good coffee, gorgeous lakeside views, and good eats. Maybe Heaven is a place on earth, and that place is located in Austin, TX.
Stay awhile with a bottomless coffee, their house blend Toddy Brau cold brew, or try something new with a Vietnamese iced coffee. Their food menu is also packed with options, including gluten-free and vegan choices, from cakes and danishes to empanadas, samosas, and quiches.
Oh, and by the way, they roast their own coffee, too!
Don't miss Mozart's annual Christmas Light Show in the Thanksgiving to New Year season. Enjoy a bottomless hot cocoa and coffee package complete with treats like soft pretzels and brownies as you take in the pretty lights with a group.
You can also catch music groups, bands, poets, and more year-round at this happening Austin coffee shop.
Find your new favorite coffee shop hangout on Lake Austin Boulevard that proves West Austin is the place to be.
9. Fleet Coffee
Fleet Coffee is a tad modest. This little coffee shop's motto is "We Make Coffee, Sometimes People Like It." But this great coffee stop is way too popular to use a word like "sometimes."
Take "Coffee And" menu category. It has choices so good you'll be booking a trip to Austin immediately — if you're not already a lucky local — like After School Ritual, which features "steamed Oreo-infused milk," espresso, and an Oreo cookie.
Or a Hopped Up, which is an iced coffee with grapefruit juice, hop syrup, phosphate, and mint garnish. These signature drinks make Fleet Coffee one of the coolest coffee shops in Austin, not just one of the best coffee stops.
Check out Fleet Coffee in East Austin (Webberville Road) and Central Austin (Winsted Lane). Soon you can add their new location at Littlefield Coffee and Tacos to the rotation.
10. Alfred
Named for Batman's No. 1, Alfred Coffee is L.A.'s best, conveniently located in Austin, TX.
Try a deceptively simple (and equally deceptively delicious) iced vanilla latte made with real vanilla bean; Chagaccino — a mushroom and espresso (don't knock it!) based iced coffee with cinnamon, cacao, monkfruit, and milk.
Or, you know, keep it simple with a cold brew. It all washes down the breakfast burrito with flavor and zest.
Check out this favorite at The LINE hotel on Cesar Chavez Street, located between downtown Austin and South Congress.
11. Better Half Coffee
Another killer coffee shop in downtown Austin, Better Half Coffee & Cocktails on Walsh Street is the perfect place to kill an afternoon, whether you're working or spending time with your favorite people.
When you run out of your rosemary lavender latte, you can switch to a pink sangria or bloody Mary. Soak up some of the liquid with cauliflower tots or a Pastrami & Smoky 'Shroom Reuben. The food menu is extra full for weekend brunch and the outdoor seating is plentiful.
Don't be afraid to stop and stay awhile. Who knows, your better half may actually be waiting.
12. Medici Roasting
Austin coffee shops are pretty prolific, if you couldn't tell by this lengthy list. So it's no surprise the Medicis of the Austin, TX coffee shop scene run an empire of coffee shops and roasting. With a lot less scandal and political intrigue behind the scenes than the Renaissance Italian dynasty.
The people behind Medici Roasting and the Medici Caffes are more interested in building a legacy of community building and helping people make connections.
They're also pretty interested in making some great coffee and were one of the first coffee shops in Austin to do specialty coffee.
Their coffee menu is simple, but it has all the basics of a good coffee shop. Their food menu is a lot less basic, offering Tex Mex breakfast staples like migas & avocado, brisket barbacoa with eggs burrito-style, and, of course, a bean, cheese and rice burrito.
Or if south of the border doesn't cut it, there's a pan-Asian inspired list of sandwiches and bowls with ingredients like tahini, udon noodles, and Asian chicken.
You can catch the Medici empire all over Austin:
Downtown Austin: West Lynn, Domain, 8th & Congress Ave.
West Austin: Winsted, Guadalupe
East Austin: Springdale
South Austin: South Lamar, Bergstrom International Airport
13. Codependent Cocktails + Coffee
But if you want to take the Italian theme and stretch it even further, head to Codependent Cocktails + Coffee.
Inspired by the Italian coffee bar tradition of aperitivo, when coffee shops stay open into the early evening to offer wine and cocktails with light dinner fare at student-friendly prices, Codependent is all about design, luxury, and hospitality.
Codependent is drippingly beautiful and downright swanky. Don't muddy this space with work. Wait until you have time to enjoy it with friends.
If you're passing through Austin, this is definitely your go-to spot for an easy evening that still lets you feel like you're making the most of your vacation.
Enjoy a Cafe Marocchino (cappuccino with Hollander chocolate and hazelnut) by day or a cocktail and charcuterie board by night. Codependent is a must-see in the Independent Condo Tower in Downtown Austin.
14. Intelligentsia
Intelligentsia is a national coffee roaster with shops in just five major American cities — Austin is one.
If you're a coffee industry enthusiast, you'll appreciate the chance to sit and sip with the roaster that supplies coffee shops and restaurants around the country. And as you might expect, the coffee is pretty great.
Intelligentsia's downtown Austin Coffeebar has plenty of outdoor seating.
15. Juan Pelota Cafe
Located inside Mellow Johnny's Bike Shop, Juan Pelota Cafe is a staple of the warehouse district (basically downtown Austin).
They offer classic coffee and tea drinks, specialty smoothies like the Brown Cow (banana, peanut butter, and chocolate milk) and Pelotonic (blueberry, mango, strawberry, yogurt, and apple juice), and local craft beer and wine.
They even have a daily happy hour at 3 p.m. so you don't have to wait until it's 5 o'clock somewhere.
Getting your two-wheeler repaired at the bike shop has never been so fun. Stop in to Juan Pelota to drink coffee, sample the baked goods, and don't even sweat the flat in your tire.
16. Little Brother
Your new favorite coffee shop in Austin has a little bit of a punk vibe. Despite the name, Little Brother has coffee and eats that will not annoy you. And you'll actually want to see it again soon.
Little Brother has two locations on South Congress 89 Rainey.
Their Rainey location has a full coffee bar, their classic Bummer Burritos, and mixed boozy drinks. South Congress has simpler offerings with coffee and kolaches — if you're passing through Austin, TX and haven't had that hot dog in a pastry treat yet, don't miss out!
Who knows, you may stop by and find an impromptu block party, or a planned band ready to rock you into party mode as you sip your boozy espresso drinks.
17. Houndstooth Coffee
Houndstooth Coffee wants to be like the original houndstooth Scottish plaid — part of the regional identity for Austinites.
Houndstooth offers classic espresso drinks, iced coffees, cold brew, tea — the works. They also offer Tweed Coffee, fresh from a Dallas roaster.
You won't mind the simple menu when you're sitting in one of these spacious coffee shops filled with natural lighting. This will quickly become your new favorite local haunt.
Come see the original Houndstooth Coffee shop at 42nd and Lamar in North Austin. You can also visit them on Congress Ave. in downtown, east MLK, Laurel, and Rock Rose. The east Austin coffee shop on MLK has a full cocktail menu, too.
18. Ani's Day and Night
Coffee with a side of family history, anyone?
Ani's Day and Night coffee shop is located in a '30s-era Victorian-style house. The current property owner grew up there with his family, and the cafe is named for his mother, Aniceta "Cheta" Limon.
The coffee shop is part of Ani's legacy of an entrepreneurial spirit mixed with a personal touch.
In keeping with that personal, local touch, the original structure of the home has been maintained and it has even been painted by local artists. It's homey, bright, and features quite a bit of local color. You'll wish it was a B'n'B so you could really stay all day and night.
Enjoy classic espresso drinks along with Ani's specials like Let's Choco-bout It (with espresso, chai, mushroom cacao, and oat milk). They also offer brunch and cocktails on weekends.
Stop by this east Austin coffee shop on Riverside. You'll feel right at home. Be sure to look for Ani's portrait to say hi before you leave.
19. Brew & Brew
Wright Bros Brew & Brew Coffee is your go-to source for fresh, seasonal crop drip, filter, and cold brew coffee, plus your standard espresso drinks.
By night, it's your best cocktail hangout, with options like the Zoom Meeting Special, an iced latte with oat milk, vanilla, and Jim Beam.
They've also got a great food menu, including local Destroyer sandwiches and filling breakfast eats like bagels and schmear or breakfast-wiches.
That might sound basic for a coffee shop, but at Wright Bros Brew & Brew, everything hits the spot just right. Not every shop can get you this excited for a bagel breakfast sammy and a drip coffee. But you'll be glad you stopped in the next time you're in east Austin.
Check them out next time you're on San Marcos Street.
20. Cartel Coffee Lab
Cartel (noun): a group of people working together toward a common cause
That's Cartel Roasting Co and Cartel Coffee Lab's definition, just to make sure you're clear on the kind of cartel they want to be. Cartel sources green — as in sustainable — coffees, and wants to be better today than they were yesterday.
Wake up with a honey lavender matcha or an Iconic Tonic, which has Lime Leaf cocktail tonic, grapefruit juice, a pinch of salt, sparkling water, and espresso. Both pair well with the baked goods.
You can visit the Cartel on 6th St., where the vibe will be "George Strait in a cowboy hat and Gucci slides having coffee with his exes." You can take the Cartel's word for that, and take mine that this will become one of your favorite coffee shops in Austin.
21. Cenote
Cenote is proud to be East Austin's patio cafe.
They're all about serving great coffee, fresh foods with locally sourced and organic ingredients, and a not-too-modest beer and wine list. Oh, and they're passionate about serving the neighborhood on East Cesar Chavez, too.
Cenote is located in a historic Cesar Chavez house that dates back to the 1880s. They've managed to keep the building's historic design and integrity intact while bringing it up to code — so you can enjoy your espresso in historic style, without worrying about the roof coming down or anything.
Their menu is pretty simple. Cenote likes to do coffee the thoughtful way, using pour over and cold brew, primarily.
Their cold brew is triple filtered and served on nitro draft, so it's creamy and perfect at all times. They even make their chai in-house and offer organic teas. So everything you drink has had a lot of care put into it.
So stop by next time you're in the East Cesar Chavez neighborhood, or check out their second location in Windsor Park. You won't be sorry.
22. Cuvee Coffee Bar
Cuvee Coffee Bar is another knockout coffee roasters and coffee shop supercombo in good ol' east Austin, TX.
Every roast is custom-dialed, meaning each one gets a lot of care in the brewing process to make sure every cup of coffee is about as perfect as can be.
Cuvee Coffee also built a nitro "cold brewery" just for making and bottling (you guessed it) cold brew. Cuvee was the first to bottle their nitro cold brews. Their brews are always brewed at a consistent 36 degrees Fahrenheit and never bitter.
Their goal is making cold brew so good it doesn't need cream and sugar. But I won't judge if you pop a can open and add a little anyway.
You can visit Cuvee on 6th Street. Pick up a horchata or hemp-infused cold brew to enjoy on your way out.
Cuvee Coffee Bar is another knockout coffee roasters and coffee shop supercombo in good ol' east Austin, TX.
Every roast is custom-dialed, meaning each one gets a lot of care in the brewing process to make sure every cup of coffee is about as perfect as can be.
Cuvee Coffee also built a nitro "cold brewery" just for making and bottling (you guessed it) cold brew. Cuvee was the first to bottle their nitro cold brews. Their brews are always brewed at a consistent 36 degrees Fahrenheit and never bitter.
Their goal is making cold brew so good it doesn't need cream and sugar. But I won't judge if you pop a can open and add a little anyway.
You can visit Cuvee on 6th Street. Pick up a horchata or hemp-infused cold brew to enjoy on your way out.
23. Bennu Coffee
You can spend all day at Bennu Coffee. Really. They're open 24 hours a day. So if you need to pull an all-nighter or want to see what the world looks like at 3 a.m. on a Tuesday, Bennu has you covered.
Take advantage of indoor and outdoor seating and plenty of room to work. Order a personal French press service, invite a few busy friends, and make an evening of it. Working late doesn't have to be a bummer here.
Celebrate the end of a project with the Raven, a gourmet mocha with house-made whipped cream and rich dark chocolate powder. You can refuel with snacks and ready meals from local food vendors.
All their coffees but one are fair trade and organic and the shop is big on reducing waste and volunteering in the local community.
Bennu has east and central Austin coffee shops located on South Congress, east MLK, and Jacob Fontaine. Be sure to stop and stay awhile.
24. Try Hard Coffee Roasters
Make sure you Try Hard to stop by this coffee roasters and shop in Austin.
This experimental roaster and coffee shop was started by a team of veteran baristas, so you know the brews (and the latte art) are going to be pretty sweet. Also sweet are the baked goods from Clever Baking Co., served at the shop.
If you can tear yourself away from expertly made bean water, try something new like the Mood Ring, which has color-changing butterfly pea powder, white tea, sweet lemonade, and CBD oil. It pairs well with pibil tacos or vegan migas.
Catch live DJs spinning vinyl while you sip and relax every morning. (That's right, the party starts before noon!)
When you buy Try Hard Coffee Roasters beans, a portion is donated to the Health Alliance for Austin Musicians. And if you like anything you hear, you can buy a record. (That's on real vinyl, not CD!)
Suffice it to say they try really hard to make you want to head over to central Austin. Drop in to Try Hard Coffee Roasters the next time you're by 11th Street.
25. Jo's Coffee
Each of Jo's coffee shops in Austin is a little different. Even if all of them are serving some seriously good coffee.
Their South Congress Ave. location has tacos, sandwiches, and regular events. Catch them on Sundays for Sinners Brunch with live music.
Jo's downtown location offers full breakfast, lunch, and dinner, plus brunch on the weekends. You didn't know you wanted a burger with your iced coffee, but soon you will.
Drop by Red River to get Jo on the go at their drive-thru location. Be sure to order an iced turbo (their signature sweet coffee with chocolate and hazelnut) and taco.
The Edward's University campus location naturally features open mic, slam poetry, and other performances. And if you're going to miss Jo's when you leave Austin, you can get one last fix in the AUS airport.
One cup of Jo's and you'll be hooked.
26. Flitch Coffee
Okay, so Flitch Coffee isn't technically one of Austin's best coffee shops, but only because this isn't quite an actual coffee shop at all.
Flitch Coffee operates out of a renovated 1952 Spartan trailer in east Austin, in the same lot as the Harvest Lumber Company. That doesn't stop them from offering some of the best coffee in Austin.
Stop by Flitch Coffee for snacks, tacos, and classic espresso drinks and enjoy the outdoor seating the next time there's a beautiful day. Picnic tables, benches under an awning, and plenty of wide open space (plus a little indoors) means you don't need to worry about whether they'll have room for you here.
An afternoon at Flitch Coffee is perfect for enjoying a lazy morning or catching up on side projects in the most romantic way possible.
27. Radio Coffee
Here's a little love for south Austin with Radio Coffee & Beer.
Radio Coffee has always been committed to serving great coffee, and now roasts its own beans as RCB Roasters. Be sure to try something from their nitro cold brew coffee menu, like the White Lightning, a creamy cold brew with two shots and vanilla cinnamon.
They also serve great local eats like Veracruz Mexican comfort food, Dee Dee's northeastern Thai food, and Briscuits' mouthwatering biscuits and barbecue. (That's right, y'all, you're in the South now.)
Tune in to the Radio Coffee shop on Manchaca Road the next time you're in Austin, TX. And, like almost every coffee shop in Austin, there's even more outdoor seating in case you can't find room inside this popular coffee spot.
28. Cosmic Coffee
South Austin's own coffee and beer garden combo, Cosmic Coffee is a little out of this world with its eclectic fun.
For one thing, that beer garden features a biological koi pond and sustainable permaculture (that's National Wildlife Habitat certified!). It's rainwater fed and hosts all kinds of animal species and edible plants.
It's so idyllic local honeybees harvest its water during the summer and plenty of local birds drop in for a bite and a sip, too.
Cosmic Coffee has 120 square feet of raised garden beds where they grow all kinds of herbs, veggies, and pollinator-friendly wildflowers. They try to use some of these ingredients in their drinks and eats, too.
Oh, and there are also chickens on the premises. They don't do much with the eggs, but the chickens do eat a lot of the green waste from the shop and its food trucks.
Yeah, Cosmic Coffee has food trucks, too. It's the most Austin, TX coffee shop in Austin.
Stop by Pickle Road in South Austin for a Cosmic Comet (cold brew coffee with Mexican vanilla, orange honey, and oat milk) and say hello to the other species dropping in to see what's what.
29. Merit Coffee
Last but not least, Merit Coffee in downtown Austin is one of the city's best coffee shops and coffee roasters.
The Merit team travels to Central and South America as well as Africa to source coffee directly from farmers. From there, they roast their specially picked coffee beans on their custom-built roaster and painstakingly brew it to perfection.
When all that's done, they give back to local and state charities, too.
Enjoy classic coffee drinks or mix it up with an affogato (coffee with iced cream) on a hot day. Stop by Lamar Boulevard the next time you're in Austin, TX.
Keep sippin', y'all.