Best Drip Coffee Maker 2023
Choosing the best coffee maker for your home kitchen has reached a level of complexity never seen before. Even as a coffee trainer of over 10 years, I'll admit, sometimes even I find all these choices rather, well, confusing!
It's no longer just about brewing a cup of Joe. Now you can choose a brewer based on dispensing speed, carafe sizes, the type of showerhead, and the type of heating elements.
If you're overwhelmed with all the options, keep reading my review of the best drip coffee makers 2023. But, if you're in a rush, here are my top 3 picks:
Picking Your Drip Machine
To pick the best coffee maker that will keep you satisfied for years to come, first think about your needs. What are your likes, dislikes, and habits?
Take this short self-evaluation to help you narrow down the choices and decide on the best drip coffee maker for you:
How much coffee do you drink?
Do you want a fully programmable brewer or the flip-a-switch-and-brew type?
Do you want to be able to adjust every detail, or do you just want a big pot of coffee ready in a few minutes?
Do you want to be able to set your brewer to wake you up in the morning with a brew?
Do you need a coffee brewer that keeps the drink hot for hours?
Capacity
A key point – and perhaps the most decisive one – is how much coffee you want to brew at one time.
Are you the lone wolf who likes to brew just one mug of coffee at a time for yourself? Make sure your drip coffee maker allows that one-cup or single-serve capacity.
Are you the barista for the whole family or office? Make sure the drip machine has a large water reservoir and a large carafe. Also, you want to check the capacity to keep the coffee warm.
As for brew sizes, do you like coffee makers that brew directly into your cup rather than a coffee pot? And do you use a wide variety of cup sizes – travel mugs during the week, espresso cups on the weekend, and cold brew in the summer?
Choose from the coffee makers with adjustable nozzles and spouts that allow you to put your cup in and program it accordingly.
Size
When buying a brewer, you have to face the question: Will it fit? How big is the counter space in your kitchen?
Buying a large machine that doesn't fit on your kitchen counter – or that doesn't leave room for other essential appliances – doesn't make sense.
If you're not good with measuring spaces, you might want to just go with a smaller model.
Programmability
The complexity of coffee makers these days means you can get exactly the brew you want at the time you want it. So, what kinds of details can you program into coffee machines?
Brew Strength
Do you want a regular drip coffee? Or are there times when you crave a stronger drink? Some of the best drip coffee makers let you choose the strength of the brew according to the coffee beans you have or the drink you want to create.
Bloom time
The most versatile coffee makers allow you to program a bloom time (also called pre-infusion) into your brewing. You can enhance coffee tastes and aromas by partially wetting the ground coffee and respecting a brief waiting time of up to 30 seconds.
Brewing temperature
The ideal brewing temperature for coffee is between 195 and 205 degrees. That temperature range allows all the good aspects of coffee beans to be released without extracting the bitter notes.
Keep an eye out for the water temperature coffee machines brew at. If it doesn't say, you might wind up with coffee that's been scorched – and bitter. Not a way to get the best coffee.
Holding Temperature
Some coffee makers don't have the capacity to keep your brew warm.
That's not a problem if you only brew one cup at a time or if you empty the carafe into a thermos or travel mug right away. But if you brew a big pot and want it to be warm an hour later, pay attention to this feature.
Also, if you want your coffee to be held at the right temperature and not burned over those long holding times, you might want to make sure the hot plate has an adjustable temperature feature or an adequate holding temperature for your tastes.
Brewing time
If you want to set your drip coffee maker to have your brew waiting for you when you wake up when you have your first coffee break of the morning, or for that cup of coffee after lunch, get a drip machine with a timer function.
Need A Thermal Carafe?
Do you brew a batch of coffee and come back to it hour after hour to get refills? If so, you'll need a carafe that will keep your brew at the right temperature.
While glass carafes show you how much brew is still available, they're generally not as good at keeping the heat in. Instead, you'll need to leave it on a warming plate, which over time makes the coffee taste burnt.
A way around this is to use stainless steel thermal carafes that keep the heat in without the need for a hot plate. If you prefer a thermal carafe, buy a coffee machine that doesn't have a heating element.
SCA Approved?
Do you need an SCA-approved coffee maker? Honestly, no.
You can get coffee makers that produce an excellent brew but haven't gone through the SCA approval process.
But if you want to get the best tasting coffee from a drip coffee maker, you might want to at least pay attention to what the SCA considers the most important factors in coffee machines.
What's the SCA?
It's the Specialty Coffee Association, the big wigs when it comes to establishing standards for high-quality coffee. They've investigated exactly what factors make coffee great and how a home coffee brewer can achieve that greatness.
Those factors have to do with staying within the SCA Golden Cup recommendations of ratio, grind size, temperature, and brewing time. Sound simple? Most brewers don't make the cut. The SCA evaluates:
The volume of brew basket compared to max carafe capacity
Brewing time between 4-8 minutes
Brewing temperature between 195-205 degrees F (92 and 96 C)
Concentration of solubles (which will influence how strong the coffee tastes)
Holding temperature between 176-185 F (80-85 C)
That's why many of the coffee makers on this list also have that SCA seal of approval. So if those factors are important to you, keep an eye out for the SCA approval or for the factors I mentioned above.
But if all of this talk of temperature and ratio sounds like a foreign language to you, don't fret. Instead, buy the best brewer that suits your needs.
The Grind
Now we come to the all-important grind size and consistency.
How fine or coarse you should grind your coffee depends on the drip coffee maker you have, the brew time, and the size and shape of the filter.
For those reasons, store-bought ground coffee that comes in a generic medium to medium-fine grind might not give you optimal results. Instead, consider having a dedicated grinder that works with your setup.
Do you need a built-in grinder? If you don't have a grinder, you might want to invest in a drip coffee maker that has an incorporated grinder.
The advantage is that you save counter space since most electric coffee grinders tend to be large. A disadvantage is that you might find repairing or replacing the whole coffee brewer and grinder more expensive.
Now let's get into the best drip coffee makers.
Best Drip Coffee Makers 2023
1. Technivorm Moccamaster KBGV Coffee Maker
Best high-end coffee maker

The Technivorm Moccamaster coffee brewer gives you power and design in one package. This well-known brand has been giving the world coffee brewers since the 1960s.
It's known for brewing rich-tasting coffee. It's recognized for its unusual design.
PROS (+)
40-ounce brewing capacity
Short brew time – just 4-6 minutes
The copper boiling element heats fast to an ideal brewing temperature (195-205 degrees)
CONS (-)
Pricey
Takes up a lot of counter space
Product Highlights
Capacity: 10 cups (40 ounces)
Dimensions: 6.5 x 12.75 x 14 inches
Warranty: 5-year
Great for: Coffee drinkers who want to invest in having great tasting coffee and making a statement with their brewer.
Not so good for: Small kitchens. This setup is large and heavy, so it's better for a large counter and a permanent setup that you won't move around.
This machine may just blow you away with the quality of coffee it brews.
A tall water tower sits to one side of the carafe. The distinctive design with sharp angles evokes an industrial image. The stocky heating element that serves as a base lets you know this drip coffee maker means business. This coffee brewer is all about power.
The unique heating element provides a quick brewing time and great temperature stability. With the flip of a switch, you can decide to brew a half carafe or full carafe. You can take out the carafe while brewing and count on an automatic drip pause.
Excellent performance and build quality are two factors you'd expect from a coffee brewer at this price point. You also get a 5-year warranty and the manufacturer's promise of lifetime repairs. That means this might be the last coffee brewer you need to buy.
Keep coffee hot with the hot plate that has a selector switch to choose between a holding temperature of 175 or 185 degrees F.
When you need large amounts of excellent coffee brewed fast, consider this Technivorm coffee brewer.
2. Ninja Specialty Coffee Maker
This stainless steel Ninja does it all, from classic drip coffee to espresso-type drinks or iced coffee.
PROS (+)
Excellent brew performance
Versatile brewing sizes, from 1 cup to 10
Control brew strength to make coffee concentrate
CONS (-)
Can seem complicated
More expensive than simpler models
Lacks cold brew coffee functionality
Product Highlights
Capacity: 10 servings (50 ounces)
Dimensions: 11.99 x 8.75 x 15.04 inches
Weight: 9.24 pounds
Great for: If you love all kinds of coffee drinks or prepare coffee for a variety of tastes, this coffee maker gives you the tools you need to please everyone.
Not so good for: If you want a simple drip coffee maker that produces a regular brew, you'll want to choose another option.
The Ninja Specialty Coffee Maker is the machine that can do it all. Often compared to the Swiss Army knife of coffee brewers, this is the most adaptable drip machine you'll find.
The glass carafe has a 12-cup capacity, but you can set it to brew as little as one mug.
One of the unique features of this drip coffee machine is the ability to choose your brew sizes and cups. Decide which of the six brew sizes you need at any given moment: single cup, mug, travel mug, XL travel mug, or a half or full carafe.
Having a drip brewer that makes a full carafe but that also works as a single-serve coffee maker can be a tremendous advantage for many households.
You can also pick from four brew types:
Get a classic or rich brew. The classic is your typical coffee, while the rich brew gives you a stronger coffee.
Or go even stronger with what they call their specialty brew. That feature produces a strong coffee concentrate that simulates an espresso. Use that concentrate to prepare milk-based drinks such as a latte, cappuccino, or macchiato.
And if iced coffee is your love, you can brew your coffee into a tall glass filled with ice. With one machine, you can create hot and cold drinks.
The milk frother creates milk foam for drinks and then folds out of your way when not using.
You can program a coffee bloom for even saturation. And this coffee maker comes with a reusable filter, so you'll save money on filters. Not surprisingly, this coffee maker is on the list of SCA-certified coffee brewers too.
While the price point is slightly higher for this drip machine, the included milk frother can easily make up for that expense.
Related Read: Ninja Brewers
3. Bonavita Connoisseur One Touch
This economic 8-cup coffee maker gives you great-tasting coffee while being super easy to use.
PROS (+)
Compact
Easy to use, one-touch brewing technology
Up to 8 cups of coffee in 6 minutes
CONS (-)
Not programmable
Basic design
Product Highlights
Capacity: 8 servings (43 ounces)
Dimensions: 12.4 x 6.8 x 12.2 inches
Weight: 6.13 pounds
Great for: Coffee lovers who want a small brewer that has all the SCA-approved details.
Not so good for: You won't be able to program every detail of your brewing experience with this Bonavita. This drip coffee maker is for easy one-touch brewing.
The Bonavita Connoisseur One Touch is a compact drip brewer that is ideal for a small space. But just because it's small doesn't mean it isn't powerful.
It can brew up a full carafe (8 cups) in just 6 minutes. That's because of its powerful 1500-watt heater that creates an ideal coffee brewing temperature range of 195-205 F.
It has a showerhead design, which means that extraction will take place evenly throughout the coffee grounds. So if you love how your barista at your favorite coffee shop carefully pours water evenly over the grounds, you can get this attention to detail at home with this coffee brewer.
But it goes beyond that. It also has a pre-infusion mode that wets the grounds and then pauses, just as your barista would. That allows the grinds to bloom before finishing off the pour. Not bad for a machine.
The flat-bottom brew basket will give you a richer cup of coffee. The stainless-steel thermal carafe is double-walled to keep in the heat and avoid burnt coffee, so common with hot plates.
The design isn't as eye-catching as some other coffee brewers. The carafe is a bit chunky, and there are no fascinating design elements. However, for the price, performance, and reliability, you might be able to overlook the lack of design.
If you're searching for a no-fuss brewer that gives you some of the finer elements of modern coffee makers, such as pre-infusion mode, a showerhead design, and a proper brewing temperature, look no further than this Bonavita.
This drip machine also made it on the list of SCA-certified coffee brewers.
4. OXO Brew 9 Cup Coffee Maker
Get a sleek and modern design with all the essential features from this Oxo Brew.
PROS (+)
SCA approved coffee brewer
Showerhead design encourages an even extraction
Ideal brewing temperature
CONS (-)
Less reliable than previous choices
Some parts are of lower quality
Product Highlights
Capacity: 9 cups (45 ounces)
Dimensions: 8.3 x 15 x 17.2 inches
Weight: 10.5 pounds
Great for: The Oxo Brew is great for coffee drinkers who want a barista experience without the work. It has a pre-infusion setting, showerhead design and maintains an optimal brewing temperature.
Not so good for: This coffee maker is not as reliable as some of the other drip brewers on this list due to a defective drip valve.
This Oxo coffee brewer is sleek and modern, with gleaming stainless steel and an easy-to-read LED display.
The showerhead design provides even water distribution over the coffee grounds that leads to better extraction. And the pre-infusion mode contributes to improved tastes. The brewing temperature is at the ideal 198-205 degrees.
After your coffee is brewed, the double-wall stainless steel thermal carafe keeps your coffee hot. There's even a freshness timer on the stainless steel carafe to let you know if you're still within the window of fresh coffee.
There's no heated plate in this brewer. That's an advantage so that you can avoid scorched coffee. But, on the other hand, if you like to brew a carafe and drink it slowly over 3 or 4 hours, you might wind up with rather cool coffee at the end.
You can program this coffee maker to wake you with a pot of fresh coffee in the morning and choose as little as two cups or the full carafe. Can pause and pour, so if you can't wait for the whole carafe to brew before you get that first cup of coffee, you don't have to. Just pull out the thermal carafe, and the flow of coffee will stop.
While this Oxo coffee machine did get on the SCA-certified coffee brewer list, for the price, other options provide a better experience.
5. KRUPS Simply Compact
A good coffee maker if you're looking for a simple coffee machine that provides a no-frills coffee experience.
PROS (+)
Inexpensive
Reliable
Simple to use
CONS (-)
No timer mechanism
Can't adjust temperature or brew specifications
Product Highlights
Capacity: 5 cup (25 ounces) or 10 cup (50 ounces)
Dimensions: 8.7 x 3.7 x 10.7 inches
Weight: 2.7 pounds
Great for: If you want a simple, economical, small coffee brewer for your kitchen or office, this Krups might be the one for you.
Not so good for: If you need a fully programmable coffee brewer, look elsewhere.
The Krups Simply Compact coffee maker is easy to use. Just a flip of a switch, you start the brewing process. There's nothing to program, no endless number of buttons to figure out.
The stainless-steel look is attractive, and the glass carafe is dishwasher safe. The water tank is easy to access, and the pause-and-pour feature lets you sneak a cup of coffee before the brewing process has completely finished.
What are the downsides? Obviously, a coffee maker at this price point has to cut some corners. You don't find the showerhead design or bloom feature in this coffee machine.
There's no guaranteed brewing temperature, and your coffee may be hotter than you expected. The brewer keeps your coffee warm on a hot plate but has an auto-shutoff feature that kicks in after an hour.
This is the coffee machine for you if you want a no-frills economical coffee brewer.
6. Bunn Velocity 10 Cup Automatic Drip Brewer
The Bunn Velocity is all about speed – and delivers it at a reasonable price point.
PROS (+)
Fast brewing – less than 3.5 minutes to get a full carafe
Has showerhead design and a pre-infusion mode
An excellent cup of coffee
CONS (-)
Lacks controls
No auto-shutoff timer
Product Highlights
Capacity: 10 cups (50 ounces)
Dimensions: 14.8 x 7.1 x 13.8 inches
Weight: 8 Pounds
Great for: Impatient coffee lovers. In as little as three minutes, you can brew a full carafe of coffee.
Not so good for: If you love a sleek design, look elsewhere. This 10-cup coffee maker is boxy and clunky and will not be an attractive addition to your kitchen counter.
Three minutes is all you need with the Bunn Velocity coffee brewer. No wonder it's called velocity. This drip coffee maker brews up a pot of joe faster than most any other brewer.
It's heavier and bigger than other brewers, but that swift action might make it worth the space it takes up on your kitchen counter.
How does it brew coffee so fast?
It maintains a constant supply of hot water ready to brew your coffee. While that can sound fantastic, keep in mind that the machine is always on.
While that might be ideal for a business setting, for home coffee making it might be a bit over the top.
The showerhead design evenly extracts coffee grinds, and the flat-bottom filter incorporates a bit of immersion brewing to get a richer brew.
You can brew anywhere from 4 to 10 cups of coffee (20-50 ounces). The carafe's narrow spout effectively directs brewed coffee to your cup.
Unfortunately, there's no water level indicator on the black water tank, which makes refilling the tank guesswork. You can get around that by just filling it to the brim for each brew.
For the price point, this coffee brewer lacks programmability and controls. It has few features – in the end, it's a basic turn-on/turn-off kind of coffee machine in a design that resembles a typical diner-style brewer. But if you're after the speed, it's hard to beat this drip coffee maker.
Related Read: Bunn Coffee Makers
7. Braun BrewSense Drip Coffeemaker KF7170SI
My last pick coffee brewer for those that like to be in charge.
Best Budget SCA Approved Choice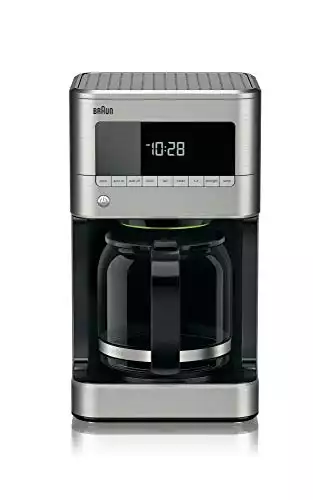 PROS (+)
Inexpensive
Produces excellent coffee
Programmable
CONS (-)
Glass carafe can lose coffee freshness
The heating plate can result in scorched coffee
Product Highlights
Capacity: 12 cups of coffee
Dimensions: 7.9 x 7.9 x 14.2 inches
Weight: 7.4 pounds
Great for: This is an excellent coffee maker with good programmability for the price point.
Not so good for: If you're in the market for a one-button model, this isn't the coffee maker for you. The many functions and buttons require a bit of getting used to.
As square as a Lego block, this stainless steel and black plastic coffee maker looks like a spaceship accessory.
The control panel has numerous buttons that allow you to set the timer to brew your fresh coffee for you 24 hours a day, brew bold coffee or regular drip, and choose from one large mug up to a full carafe.
The coffee maker comes with a gold-tone reusable filter that allows the bean's oils to pass through. That results in a richer cup, though with more sediment, similar to a French Press. You can also choose to use paper filters.
The large LED display is easy to read from any spot in your kitchen, and the pause-and-pour feature lets you sneak a cup while it's brewing. You can adjust the hot plate temperature to low, medium, or high.
The water reservoir is filled from the front, which may be easier depending on your kitchen setup. There's a charcoal water filter that purifies the water before brewing.
The mostly plastic body can feel a bit cheap. However, keep in mind that it is a cheaper drip machine than many other models on the market.
The Final Verdict: Best Drip Machines
The best coffee brewer for you will be shaped by what you're looking for in an experience. There are plenty of alternatives on the market, so once you've defined your needs, you can make a choice that you'll be happy with for years to come.
What's the most important factor for you? Are you looking for a high-end brewer, a fast brew, single-serve capacity, or a back-to-basics brewer?
Here are my recommendations when it comes to the best drip coffee makers in 2023:
Looking for a high-end brewer? The Technivorm Moccamaster gives you large amounts of coffee brewed fast. It heats water to the ideal brewing temperature and makes it easy to brew good coffee. And the distinctive design will be a conversation starter in your kitchen or office.
Looking for a fast brew? The Bunn Velocity 10 Cup Coffee Brewer will get your brew done in 3-4 minutes. It provides barista-worthy features like pre-infusion mode and a showerhead design at a reasonable price point. This might be the best brewer for an office setting.
Looking to brew individual cups with incredible versatility? Get the Ninja Specialty Coffee Maker. It can make your brew any way you want and in any size you need. It has the flexibility of making espresso-style drinks without having to take the barista course. This brewer is ideal for a big family of coffee lovers or choosing from a wide variety of drinks.
Want a lower investment point? Consider the Bonavita Connoisseur One Touch. If you're looking for a no-fuss brewer that gives you some of the finer elements of modern drip coffee makers, such as pre-infusion mode, a showerhead design, and a proper brewing temperature, look no further than this Bonavita.
Searching for the most economic brewer? The Krups Simply Compact brewer is a no-frills economical coffee brewer that might be ideal for an office setting.
Frequently Asked Questions
How Does A Drip Coffee Maker Work?
Generally, drip coffee brewers are designed with simple technology. Even the best coffee makers have the same basic functions.
When you add water to the water reservoir in the brewer, a heating element warms up the water. That heating element is usually just a coiled aluminum wire that conducts heat to the water.
Depending on the coffee machine, it might have sensors that connect to the heating element and automatically adjust the temperature. That ensures that your water doesn't heat up beyond the recommended temperature for extraction.
A thin tube then leads the hot water from the water reservoir up to a showerhead. The showerhead sprays the hot water over the coffee grounds. 
Then the water drips down into the carafe. Some drip coffee makers have a heating element at the base of the glass carafe to keep the coffee hot, while others have a stainless steel carafe. Which is better?
Hot Plate VS Thermal Carafe
A hot plate, or warming plate, is incorporated into many coffee makers that have a glass carafe to keep coffee hot.
When you brew a large batch of coffee, it can be convenient to simply leave the glass carafe on the hot plate and come back to top off your mug an hour – or several hours – later.
As coffee sits in the glass carafe on a hot plate, though, the tastes change. It will begin to taste stale or even overcooked. Some brewers have a temperature control mechanism on their hot plate, which helps minimize that stale taste.
A thermal carafe, on the other hand, keeps the coffee hot because it has two walls. Between that inner and outer wall is a layer of nothing. Literally.
The air has been removed, and the vacuum that's created keeps the heat from transferring out of the stainless steel carafe.
For that reason, a thermal carafe will keep a coffee warm for hours without scorching it on a heating element the way a glass carafe will. You may get the best tasting coffee when using a thermal carafe to keep your coffee hot.