Best Electric Gooseneck Kettle In 2020
Making pour over coffee is fun, but not everyone has the patience to do it every day. For their everyday coffee, many people still choose to use their drip or pod coffee makers.
Let's be honest, these machines don't leave much to be desired when it comes to the extraction of flavor from your favorite beans. But hey, they make brewing a cup super duper easy!
What most people don't know is that the best electric gooseneck kettle on the market today is just as easy to use as a drip coffeemaker but allows you to customize your brew perfectly. Permitting for added precision in making your pour over coffee and leaving no need to choose between convenience and quality.
Now before we dive in, if you're in a rush here's our top pick:
Best Overall
Alternatives at a glance
Product Reviews: The Best Electric Gooseneck Kettles
I spend far too much of my time hooked searching to perfect the magical elixr we both love (coffee), and I've found that having the the right kettle is critical if you want to step up your game!
Don't worry…I've evaluated and reviewed a variety of electric gooseneck kettles, and these are some of the best options I could find.
I'll discuss the different factors for choosing the right one for you later in this article. For now, let's dive into the reviews to give you an idea of what is typically good and out there.
The OXO gooseneck kettle is a more powerful alternative to the Bonavita, with the same holding capacity of 1 liter and unique ergonomics.
Best Overall
PROS (+)
1.0 litre capacity
Precision temperature control
1500 watt power
Auto safety shut-off
CONS (-)
Mid tier price point
No boil-dry protection
The kettle has precise temperature control, allowing you to choose the exact temperature at which you want to extract your coffee. Its auto shut off feature also activates after 30 minutes of keeping the water warm, ensuring you don't unnecessarily waste electric.
If having too many buttons on a gooseneck kettle makes you anxious, the OXO kettle has a simple but elegant display that is easy to comprehend. It also has a built-in timer for tracking your coffee extraction time.
With a 1,500W heating element, it's one of the more powerful options available and can heat your water in no time.
But the primary differentiator with the OXO lies in its ergonomics and a precise temperature gauge. The kettle is counterbalanced, with an elongated and curved spout optimized for a slow flow rate. It is also quite compact, making it easier to use it for a steady pour.
For these reasons, the OXO gooseneck kettle is my top pick on this list. It's simple enough while having all the features you need to make and improve your coffee experience.
The Fellow Stagg Pour Over Kettle is where sophistication style meets high functionality. With its to the degree temp control, premium design, and features such as a stopwatch, Bluetooth, and more.
Premium Pick
PROS (+)
Beautiful design
60 min warmer timer
In built stopwatch
Bluetooth version available
CONS (-)
Premium price point
Some people consider it feature overload
This kettle would look great on any countertop, but its state of the art features really got my attention. There's a reason the Fellow Stagg EKG kettle is used for brewing coffee in barista competitions the world over.
This kettle allows you to choose temperatures between 135 degrees and 212 Fahrenheit. This makes it perfect for brewing hot beverages, whether coffee or tea. If you're more accustomed to measuring temperature in Celsius, you can toggle to that setting as well.
It can hold whichever temperature you select for up to 60 minutes, just in case your morning gets really busy. The kettle has a counterbalanced handle and fluted gooseneck tip making it very easy to use. The Stagg gives you the perfect flow rate and to-the-drop precision when making your pour over coffee.
While we have reviewed the non-bluetooth version, there is another (even pricier) version with in built bluetooth for remote control.
And on top of all of that, the Fellow Stagg EKG kettle has an LCD display that compares your desired water temperature and its current temperature in real-time. Last but not least, it also has a stopwatch feature that allows you to monitor the extraction time of your pour over coffee.
These features come at a premium price point. But, this is softened with a 1-year warranty. Nonetheless, this gooseneck kettle is a significant investment, even for a coffee aficionado.
Other than that, it has no flaws in its design and its an excellent long term investment. If you're serious about your pour over coffee or any coffee for that matter, this gooseneck kettle is your best option!
If versatility is the name of the game, the Bonavita gooseneck electric kettle has it in spades.
Best Versatility
PROS (+)
Decent capacity
Easy to use
Real-time temperature display
Count-up timer
CONS (-)
No counterbalanced handle
No safety features
The Bonavita allows you to choose between inputting your desired heat level (in one-degree increments from 140 to 212 degrees Fahrenheit) and using pre-set temperatures for making your hot water. It can even keep your water at that temperature level for up to an hour.
It also has a real-time display of how hot your water currently is, making it perfect for making your coffee. One bonus feature I like is it has a count-up timer, so you can track how long you've been extracting coffee from your beans.
This coffee kettle is a quality choice for people who are determined to improve their pour over coffee. However, it does not have the safety features that most other kettles have.
For baristas around the world, Hario is a name they've come to trust. The brand is synonymous to good quality, and the proof is in its coffee equipment. This gooseneck kettle is no exception.
Best For Simplicity
PROS (+)
Established brand
Heat resistant
Easy to use
Reliable
CONS (-)
No temperature control
No advanced features
The Hario doesn't have all the intricate features of the Fellow Stag. It's pretty much an ordinary kettle that plugs to the wall and works with the flip of a switch.
But people don't buy it for its fancy features. They buy it for its reliability and ergonomic design. Aside from a slender spout and counterbalanced handle, it is also lightweight, easy to use, and lasts a lifetime. You'll find many baristas making pour over coffee with this kettle in many coffee shops.
Some people may find that having too many settings can make an electric kettle "too complicated". For a simple, reliable, and reasonably priced electric kettle that works on a basic level, many baristas (both amateur and professional) would choose Hario to pour over their coffee.
The Bodum is a simple kettle with an elegant design, and it will stand out in any setting.
Best Budget Pick
PROS (+)
Budget friendly
Unique design
Counterbalanced handle
No chemical linings
CONS (-)
Smaller 0.8 litre capacity
No feature for controlling temperature
The main appeal of this kettle is much like the Hario. It doesn't have the temperature control that a lot of the other gooseneck kettles featured on this list have. Nonetheless, it's one of the most reliable options you'll find.
Its cork handle and knob catches the eye and provides high levels of insulation along with safety from the heat. The non-slip counterbalanced grip, the curved spout encourages optimal flow rate and a steady, consistent pour.
All of these, along with the stainless steel interior of the kettle, allow you to achieve the best flavor when brewing coffee.
The Willow & Everett gooseneck kettle offers a midway point between kettles that allow you to control the temperature fully and those that have preset temperatures.
Best Quick Boil
PROS (+)
60 seconds to boil
Keep warm function
Airtight, spill-free lid
Well counterbalanced
CONS (-)
Preset temperatures only
No display for monitoring
The Willow & Everett is a mid-tier kettle and allows you to customize what you want your preset temperatures to be. Because of this, you can make adjustments as you learn more about how temperature affects the taste of your coffee. It also has a keep-warm function that lets you maintain your desired temperature.
It also has an airtight lid, a safety feature that appeals to clumsy folks like myself.
It's worth noting that Willow & Everett offers a 100% refund within 90 days of purchase. If this kettle's design and features appeal to you, feel free to try it out. You can use this gooseneck kettle for tea, pour over coffee, or any hot beverage you want to drink!
The Aicok gooseneck kettle is super simple, but it does the work well, much like the Hario or Bodum.
Best Regular Kettle
PROS (+)
Super budget friendly
Boil dry protection
Auto shut off
Easy to use
CONS (-)
Boil only
No counterbalanced handle
The absence of Teflon or other chemicals in the housing of this kettle also helps ensure that you get the optimal taste in your pour over coffee.
But the main advantage of the Aicok over the other two is that it combines simplicity with modern-day safety features of the more advanced gooseneck kettles in the market. It automatically shuts off once the water starts boiling, or when it detects that there is no water in the kettle.
So if you're drawn to the simplicity of the Hario and the safety features of the Cosori, the Aicok kettle is an excellent alternative for brewing your coffee.
Hamilton Beach doesn't exactly have the same brand identity that Hario does. But their electric gooseneck kettle does have some desirable features.
Best XL Capacity
PROS (+)
Economical buy
Large 1.2 liter capacity
Auto shutoff
Boil dry protection
CONS (-)
Temperature gauge can be unreliable
Reported issues with rust
Its capacity is 50% larger than that of the previous two, making it more ideal for bigger batches of hot water. At 1,500 watts, its heating element is more durable than the Cosori's.
It has 14 preset temperatures that you can choose from between 150 and 212 degrees Fahrenheit. Like the Cosori, it has a keep-warm function, an auto shut off feature, and boil-dry protection.
What pulled down this kettle's rating for me is some users reported fluctuations in temperature after using the keep-warm function.
Additionally, as the handle is not counterbalanced and holds a lot of water, it can be challenging to get a slow and steady pour with complete control.
Nonetheless, this Hamilton Beach kettle still gets the job done and is ideal for serving more people. If you have a large family or frequently have guests over, check this one out.
The Difference Between a Gooseneck Kettle and a Normal Kettle?
If you haven't already guessed it, these kettles are called "gooseneck" kettles because they have a gooseneck spout to pour optimally.
Conventional kettles typically have a short and wide spout, and water tends to gush out when you pour. Gooseneck kettles have a spout that is long and slender. This allows better control over the flow rate of water and a steadier pour.
Why Do I Need a Gooseneck Kettle for Coffee?
The key to getting the best flavor out of your coffee, especially a pour over coffee, is effective extraction.
When you haphazardly pour water out of a regular kettle onto your coffee grounds, there's a chance for over-extraction. This can lead to situations where the water doesn't pour evenly over the grounds leading a lousy cup of coffee.
Sometimes, the center gets soaked while the sides are still dry. Other times, all of the ground beans get drenched, and the coffee is not able to degas. Carbon dioxide repels water and prevents even extraction, so degassing (aka the bloom) is necessary. Adding hot water causes the grounds to degas and "bloom."
But in order not to drown the beans, the pour needs to be done slowly and with complete precision. The pour you get from a standard kettle might make this challenging to avoid. However, the gooseneck spout and (often) counterbalanced handle of a gooseneck kettle make it a lot easier to pour slowly and extract coffee evenly.
If you want to read up more on what exactly goes into a great cup of pour over coffee, this is a great resource.
The Difference Between an Electric Kettle and Manual Kettle
So what are the advantages of using an electric gooseneck kettle over a manual stovetop kettle?
The biggest one for me is it's a lot more convenient than a stovetop kettle. Just plug it in and press a button. As you saw, some kettles even have a preset temperature or variable temperature controls for more precise brewing.
If you're making pour over coffee, you'll want to keep the water temperature between 195 and 205 degrees Fahrenheit. You'll need an external thermometer if you're using a manual stovetop kettle. Electric gooseneck kettles can take care of that for you.
I don't know about you, but I'd prefer to automate some form of the process if it doesn't impact the flavor of the coffee. I find a gooseneck kettle powered by electric just makes life a little easier. Who doesn't want that?
Some kettles also have a keep warm option, so you can get a bunch of other stuff done as you're waiting for your water to reach your desired temperature. You can leave your water at the temperature you chose until you're ready to make coffee.
This results in less hands-on work for you and more coffee enjoyment.
Is an Electric Kettle Essential for Making Pour Over Coffee?
To make a long story short, if you consider convenience, a smooth pour, and quality coffee as essential, yes, it is.
Besides, gooseneck electric kettles aren't only good for pour over coffee. You can also use these kettles for tea and other hot beverages like an ordinary kettle.
What Should I Be Looking For in an Electric Gooseneck Kettle?
Material Matters
You'll want a kettle that will last you the test of time.
For that, you'll want to look for one made of stainless steel. Lining the kettle's interior with Teflon and other chemicals can affect the taste of your pour over coffee, so it's best to avoid those as much as possible.
Stainless steel is also less prone to rust and is easy to clean. Fortunately, all the options provided in this article are made of stainless steel, so it's not something you'll have to worry about if you go with any of these kettles.
Some manufacturers use more insulating materials like cork or plastic instead of stainless steel for the top of the lid and the handle to allow easier handling and a smoother, pain-free brewing experience. But, be aware that poor exterior insulating jackets can melt and ruin the experience – it's why none of my picks feature this add on.
Design
Another thing to consider is the ergonomics of the electric kettle.
The gooseneck spout of the kettle and the counterbalanced handle (which tilts away from the body) is the stand out feature. It's designed to give you more control of the flow rate of water during your pour.
As I mentioned previously, this flow rate is essential when it comes to the extraction of coffee from your beans. The lack of control in kettles with short spouts can lead to coffee being over-extracted or under-extracted, sometimes even at the same time.
A slower flow rate encourages more even contact between the water and the coffee beans. This allows for a more even extraction and, therefore, more balanced coffee taste than if you use a standard kettle.
To achieve this, you can pour in a spiral pattern or concentric circles.
Then, allow the beans to degas for a few seconds before resuming. The lighter the roast, the longer you can keep doing this to extract the flavors you want most out of your pour over.
Capacity
While capacity may not seem like an essential feature on the onset, it should not be overlooked. Before choosing a kettle, think of how much coffee you plan to brew at a time.
Are you only brewing for yourself? Do you plan to brew for your whole family? It's essential to keep these in mind as you survey your options for gooseneck kettles. Electric kettles usually have capacities that range from 0.8 liters to 1.2 liters.
Temperature Control
For someone who likes to have more legroom to experiment with their coffee, it would make sense to choose a kettle that allows more precise control over the resulting water temperature.
For someone who frequently falls victim to analysis paralysis, it would make sense to limit their choices to kettles that offer preset temperatures.
The most important thing to remember about making pour overs is that the temperature must be between 195 and 205 degrees Fahrenheit. As long as a kettle can bring water to that temperature, it's a viable option for the perfect pour.
The Verdict
The electric gooseneck kettle is essential if you want to make pour over coffee more convenient for you. That being said, my favorite kettle is the Oxo Brew!
Best Overall
The 1-liter OXO gooseneck kettle has all the features of a versatile pot. It's made of stainless steel, simple to operate, has a compact design, and easy to use for your pour. It's my favorite one of the bunch. But, if you just want a simple kettle to make coffee with, the Bodum and Cosori are great alternatives as well.
Regardless of which one you choose, any of the kettles mentioned in this review would be an excellent choice. Identify which features appeal the most to you, and find the kettle that has them.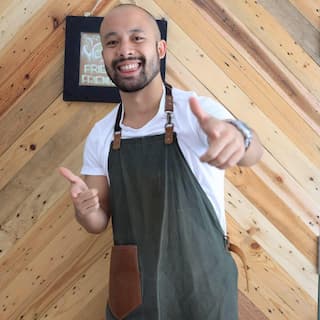 Barista and coffee writer
Miguel Papa is a coffee fanatic with a passion for brewing. During the weekdays, you can find him experimenting with different drinks while he works as a barista. Otherwise, he's likely writing here for Sip Coffee or enjoying the outdoors.