You may have wondered what the best coffee beans are for you to use as espresso. The short answer is, it depends on your preferences.
Nonetheless, while there might not be one answer for all, there is a "best" espresso bean out there for you. You just have to ask the right questions and look in the right places.
Maybe we can help solve the riddle…Let's start with our top pick for the best espresso beans.
Top Pick
Lifeboost Organic Espresso
Nicaraguan grown beans, this coffee is single-origin and USDA certified organic. With sweet chocolately undertones. Get the exclusive Sip Coffee discount via the link below!
GET MY DISCOUNT
Coffee Beans For Espresso – Top 2 Alternative Picks
Most Complex Flavor
Ethiopian Yirgacheffe by Volcanica Coffee
Originating from the Yirgacheffe region in Ethiopia, this is Volcanicas #1 best-seller. Versatile enough to brewed as a pour over for a brighter flavor, or even at the other end of the spectrum as a full bodied espresso!
SEE PRICE NOW
Best French Roast
Are Espresso Coffee Beans Different from Normal Coffee Beans?
You may have come across this distinction at your local coffee shop or the supermarket. You might have wondered whether espresso beans are derived from a select type of coffee plant. The answer to that is no. So why the unique distinction for "espresso"?
The main difference between espresso beans and regular whole bean coffee is the roast typically used for this brewing method. Roast espresso beans are often roasted longer than regular coffee beans, usually resulting in a medium to dark roast. These tend to be more ideal for making espresso than light-roasted beans.
I'll get into the finer details later on. What you need to know is that to get a good cup of espresso coffee, you need balance. To acheive this balance, baristas will use a different type of bean, roast, or grind size in their brew.
It all depends on their (or their customer's) extraction method of choice. And it so happens that you can usually get the flavors that coffee drinkers tend to like in their cup of espresso more easily when you use medium to dark-roasted beans.
The 11 Best Coffee Beans for Espresso 2021
Remember, the best espresso beans for us might be slightly different for you. This is why our list contains more than a couple of suggestions. Check them out and click through to the ones you like the sound of.
All of these picks have the characteristics that we enjoy in a cup of espresso. But we can't speak for you! Enjoying whole bean coffee requires some experimenting to figure out which are the best espresso beans for you.
With that said, below is the list of our best espresso beans reviews.
Our favorite espresso beans are Lifeboost's Premium Espresso. This pick is more traditional when it comes to espresso roasts in the sense it's dark whole bean coffee.
Top Pick
Lifeboost Organic Espresso
Nicaraguan grown beans, this coffee is single-origin and USDA certified organic. With sweet chocolately undertones. Get the exclusive Sip Coffee discount via the link below!
GET MY DISCOUNT
Flavor: Rich, bold, undertones of chocolate caramel with a slight fruitiness and slight sweetness
Origin: Nicaragua
These 100% arabica beans are sourced from Nicaragua, where they are mountain-shade grown. Shade-grown coffee beans mature more slowly than those that are sun-grown. This allows the flavors to become more pronounced, as the bean's sugars are higher than when sun grown.
This sweetness translates to the coffee taste. In this case, it pairs well with its chocolate caramel undertones. It also has that bit of brightness that Central American coffees are known for. These beans also have medium to low acidity, making an enjoyable cup of espresso for all coffee lovers.
From the mountains of Nicaragua to your espresso machine, no chemicals touch these beans. These coffee beans are also hand-picked, spring washed, and sun-dried. It's also organic fair trade coffee, so you know your money is going to the right people.
Related reads: Low acid coffee, Lifeboost Coffee review
Ethiopian Yirgacheffe Coffee by Volcanica Coffee is no exception to the low acidy and fruity after tones that coffee from the region is known for.
These beans are medium roasted. This whole bean coffee gives you the best of both worlds, especially if you want to preserve the beans' flavor in your espresso.
Most Complex Flavor
Ethiopian Yirgacheffe by Volcanica Coffee
Originating from the Yirgacheffe region in Ethiopia, this is Volcanicas #1 best-seller. Versatile enough to brewed as a pour over for a brighter flavor, or even at the other end of the spectrum as a full bodied espresso!
SEE PRICE NOW
Origin: Ethiopia
Flavor: ripe strawberry, pineapple guava, dark chocolate, lavender-like flowers, aromatic cedar
Yirgacheffe, is an area in Ethiopia that is particularly known for producing coffees, which add a floral dimension to their flavor. And as opposed to the frequently medium-bodied coffee of other Ethiopian regions, Ethiopian Yirgacheffe Coffee is thick-bodied, giving it a full and creamy mouthfeel.
It has an earthy aroma, with complex fruit tones. You can taste ripe strawberry and pineapple guava in this coffee. It also has a hint of cinnamon to complement these fruity tones, as enhanced by its medium roast.
To top it all off, it leaves the taste of dark chocolate and lavender in your mouth after every sip. And As a consequence, this coffee is both sweet and pleasantly bitter.
The coffee's sweetness ties together the combination of low acidity, exotic flavors, and its bitter edge. It has a very complex taste profile that every coffee aficionado will enjoy deconstructing.
Related read: Favorite Ethiopian coffee picks
A French roast is lighter than an Italian (roast) but still darker than your average dark roast. These types of brews can be a double-edged sword if you're prone to over-extraction, as the darker coffee can replace the natural flavors of the coffee beans if left brewing too long.
Nonetheless, when brewed right, these espresso beans are a beauty!
Best French Roast
Origin: Hawaii
Flavor: Rich and very dark
But Lion Coffee gets it right with their French roast. This Hawaiian coffee is bold, intense, and full-bodied. It is dark and sweet, but not burnt. It has that classic aggressive espresso taste without being bitter.
Ethiopian beans are known for their fruity notes, and the Gotiti Natural by Rainier Coffee is no exception. With the sweetness of black currant and blackberry with notes of cocoa and spicy gingerbread.
Best Ethiopian Espresso
Origin: Ethiopia
Flavor: Black currant, blackberry, cocoa
The body is thick, rich, and even syrupy, and its medium roast gives it its edge. Adding milk lets the chocolate flavor rise to the top, making it a treat for cocoa lovers as well.
This coffee is like an adventure in a cup. With toasted, fruity, nutty, sweet, and spicy flavors all rolled into one bag of beans, the Ethiopia Gotiti Natural by Rainier Coffee makes for a delightful and exciting cup of espresso.
The Guatemala Puerto Verde by Fundamental Coffee Company is described as "death by chocolate" in a cup. I don't know about you, but I think that sounds like a heck of a way to go!
Best For Chocolate Lovers
Origin: Guatemala
Notes: Brown sugar, cocoa, floral
It has a deep, rich, and smooth dark chocolate flavor balanced out by a hint of brown sugar. There's also a hint of orange blossom that adds aroma to every cup.
These single origin arabica beans are roasted just darker than medium to complement its natural flavors. This elevates its taste profile and makes it a great cup of espresso.
Sourced from Guatemala, in Antigua's Panchoy Valley. Here, the coffee plants are provided shade by active volcanoes. Regularly infusing volcanic ash into the soil, acting as a natural fertilizer to make these coffee plants grow sustainably.
The flavors present in this coffee are clean and vibrant, and it really might as well be caffeine-infused hot chocolate.
Eight O'Clock is one of the best-selling whole bean coffees in America, and their whole bean direct Italian roast espresso is just another one of their quality espresso blends.
Best Italian Roast
Origin: Latin America, East Africa
Flavor: Chocolate, caramel
Whole bean direct Italian roast is one that is considered darker-than-dark. This tends to remove a lot of the natural flavor from the coffee. But with these 100% arabica beans, Eight O'Clock manages to leave in a lot of the good stuff.
Boasting a "true espresso experience", this coffee has a strong aroma, with a bold, full-bodied finish. It gives you that espresso punch but balances out with subtle chocolate and caramel undertones.
But, given this whole bean coffee is roasted very dark, it can be too bitter for some people. If bitterness is something you tend to avoid in an espresso, there are many options other than this direct Italian roast espresso across our list.
Lavazza is one of the biggest coffee roasters in the world. So the fact that the Lavazza Super Crema is their top-selling espresso blend coffee says a lot about the quality of these beans.
Best Commercial Espresso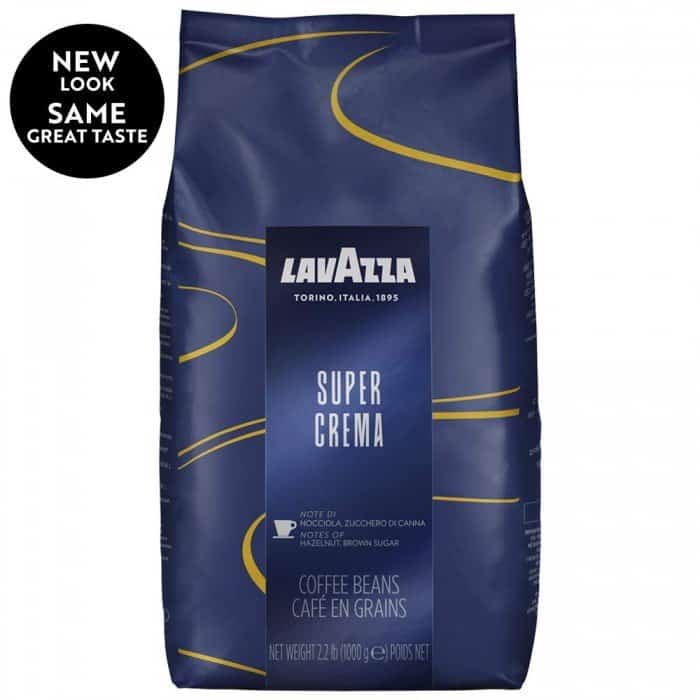 Blend: 60% Arabica, 40% Robusta
Flavor: Honey, almond, dried fruit
When it comes to espresso blends, Lavazza super Crema is one of the most popular kinds of roast espresso you will find being served commercially.
This whole bean coffee is carefully crafted, and made with 60% arabica beans and 40% robusta beans, sourced from different parts of the world.
It's a medium roast with notes of honey, almond, and dried fruit, and natural sweetness. It has a rich, full taste, with little to no bitterness. It's also easy to get a thick and compact crema from your espresso machine when brewing with these.
With its persistent aroma, the Lavazza Super Crema is everything you need for a delectable espresso shot.
Koffee Kult dark roast coffees are organic fair trade, so you know you're getting high quality whole bean coffee and helping ensure that farmers get paid a respectable wage. Like Lavazza, this one is an espresso blend (more common than single origin coffee when it comes to espresso).
Best Espresso On Amazon
Origin: Colombia, Brazil, Sumatra
Flavor: Cocoa, Cinnamon, Bright
Koffee Kult packages its whole coffee beans immediately after roasting, so this slows the degassing process a bit. And, they're roasters are in Hollywood, Florida. So Koffee Kult Dark Roast coffee is a great option if you want to ensure that your coffee is still fresh when it gets to you when your buying from Amazon.
This Dark Roast coffee isn't just fresh, but it also tastes like cocoa. It has a heavy body and is smooth to drink. It has cocoa, cinnamon, and bright flavors, along with a long finish to keep that great taste lingering in your mouth. Koffee Kult is dark roast that is strong and bold and without the bitterness that's quite often present in other dark roasts.
Kicking Horse Coffee is the most versatile espresso bean on this list when it comes to brewing espresso. Although it's dark-roasted, it's actually recommended to use drip coffee, a pour over, or cold brew. So yes, you can use Kicking Horse coffee for espresso maker coffee. But it could taste even better if you use the brewing methods that require a bit more effort.
Origin: Indonesia, Central & South America
Notes: Heavy body, earthy, with a chocolate finish
For machine brewing or manual brewing, Kicking Horse Coffee's 454 Horse Power Beans produce a velvety coffee accompanied by a heavy body.
With an aroma of cacao nibs, a hint of nutmeg, and peat, it has a slight earthiness edge. It also contains the flavors of chocolate, brown sugar, and roasted hazelnuts, making for an excellent cup of coffee.
It's also worth mentioning that Kicking Horse is organic, mountain shade-grown, and considered fair trade coffee.
Overall, a real cliff hanger espresso!
You don't need to have a death wish to enjoy the super caffeinated nature of these beans. Tagged as one of the world's strongest coffees, it's perfect if you're a fan of rocket fuel coffee over all else.
Rocket Fuel Power
Whole bean coffee from death wish is fair trade and organic, sourced from around the coffee world. A mix of super-strong robusta beans and pure arabica, it really is best paired with a spaceship take off.
Interestingly, Death Wish coffee offers a no BS risk-free money-back guarantee. Try it and if you don't like it, let them know, and they'll give you your money back! Now that's a deal.
Naturally low acid too, so still drinkable if you're sensitive to regular coffee All in all. If you've tried all the beans in the coffee world but are always looking for an extra kick, then give these a try.
The secrecy behind the blend of Middle Fork Roaster's Full City Espresso may initially raise some questions. But there's no denying by its taste that these are quality espresso beans.
Best for Milky Coffee
Flavors: Caramelized sugar, cherry, chocolate
Optimized for a thicker extraction, this bean has a dense, heavy body and chocolate overtone in its flavor. The addition of milk complements it well and brings out its character. The hint of cherry balances it out well and is also characteristic of Central American coffee.
Meanwhile, these dark roast coffee beans also have a caramelized taste while maintaining some sweetness. Overall, If you like adding milk to coffee that's sweet, creamy, and chocolatey, Middle Fork Roasters' Full City Espresso is for you.
Espresso Beans 2021 Buying Guide
Here's everything you need to know to be able to identify what the best espresso beans are for you. Firstly, remember that you should source your favorite coffee bean direct from the roaster for the freshest beans.
Secondly, not every bag of beans has a flavor profile that you'll like as they range from floral to fruity to nutty and spicy. The exact flavor all depends on where the coffee is grown, how it's grown, the plant species, the roasting process, and, most importantly, your very own preferences.
Asking what the best espresso coffee beans are is like asking what the best dessert is. There's such a wide variety of options. It's difficult, if not impossible, to come up with a definitive answer.
Why? Because it depends on what you like! But we can narrow it down with some common filters for your perfect espresso roast:
Origin
Origin here refers to the country of origin of a coffee bean. "Single origin" green coffee beans are sourced from only one country. A bag of beans can be "100% arabica" but contain beans from different locations, as you saw in some of our favorite beans above.
Does this mean one origin beans are automatically better in your espresso machine? No, but for coffee connoisseurs or even just people who are passionate about it, trying out beans of single origin is a deeper coffee-related experience.
In South America, Brazil is the largest coffee producer in the world, producing mostly arabica types of coffee. Arabica beans are grown at higher altitudes, have half as much caffeine, and have better flavor than robusta beans. Meanwhile, Vietnam is the biggest producer of robusta types of coffee. And they're the second-largest coffee producer in the world.
But a coffee bean's characteristics aren't determined by whether they're robusta or arabica. Soil, temperature, and rainfall are some of the environmental factors that affect the quality and taste of your coffee. These factors are also known as the terroir of the coffee plant.
This means that even the same variety grown under certain conditions in South America will taste different from that same variety grown under different conditions in Africa. In turn, coffee will taste different from that same variety grown under other conditions in Asia.
Coffee Roasts
I mentioned earlier that medium to dark-roasted beans are often preferred for espresso than a lightly roasted alternative.
Espresso beans that are roasted light will typically have fruity and acidic flavors. As you keep beans in a roaster for longer, the compounds that cause the coffee to be fruity are broken down. And the compounds that cause it to be more bitter increase.
The first flavors to be extracted in espresso are the acidic flavors. Roasting light tends to make it difficult to pull out the sweeter and more bitter flavors.
This is because the longer it draws out, the more soluble the bean becomes. So using light roasts for espresso increases the chance of a cup that tastes sour and unpleasant, especially to someone accustomed to drinking bitter espresso.
But what if you like having acidity in your espresso? Is there a way to get those fruity flavors without making your drink sour?
What some roasters do to get this flavor in an espresso is roasted longer without increasing roasting temperature. This can result in a light-roasted bean that is easy to extract the full spectrum of flavors even with the shorter brewing time of an espresso.
Whole Beans vs. Pre-Ground Beans
You've probably come across both and wondered if there was a significant difference between the two. After all, using pre-ground coffee saves a lot of time, not to mention the money it would cost to buy a burr grinder.
What grinding coffee does is it splits the beans into smaller particles. This increases the total surface area of your coffee. The finer the grind, the larger this surface area is. And the larger this total surface area, the more of it comes into contact with the water from your espresso machine, and the more efficiently it is extracted.
But increasing the total surface area of your beans also increases its exposure to oxygen, changes in temperature, and light.
As soon as beans are roasted, they start to undergo a process called degassing.
Right after roasting, you're supposed to let your beans degas. The build-up of carbon dioxide repels water and prevents an efficient extraction of your beans. For espresso, this is less than ideal.
But, if you degas your beans for too long, your coffee starts to go stale. And the smaller your coffee particles, the faster it undergoes this process.
So is espresso whole bean coffee always better than pre-ground beans?
That depends on if you buy the coffee bean direct from the roaster and the quality of your grinder.
I mentioned that balance is the key to your espresso machine producing a good cup of coffee. For machines to produce good quality espresso, the coffee must be ground evenly unless you're using a pressurized portafilter. But if your grinder is of poor quality, you will get an uneven extraction.
Also, if you're not buying your coffee bean direct from the roaster, it might have been sitting for months too.
If that is the case, pre ground coffee may be the better option than unevenly ground old coffee (at least until you can get a good grinder). Buy the ground coffee in small amounts, and store it in a sealed container where it isn't exposed to light and extreme temperatures to prolong its freshness.
In the longer term, grab yourself a decent grinder and pair it with your favorite espresso whole bean coffee to enjoy the most flavor.
Flavor Profile
Every bag of beans has its own flavor profile regardless if they're speciality or regular coffee beans. Flavors can range from cocoa to fruity, to roasted, floral, spiced, or even vegetative. Now some of these may not look so appealing to you.
To that, I say: don't knock it 'til you've tried it. But even if you do try it, there's a chance you won't like it. Because you also have your own taste preferences.
Taste preference is subjective and unique in every person. Some people may end up liking coffee that tastes like mushrooms, for example, but others might not.
Often, these profiles are indicated on your bag of beans. So make sure to check out those flavor notes on the label when choosing which bag to purchase.
For example, Ethiopia is known to produce coffee often best drunk black with a light body, acidic and fruity notes, and a blueberry aroma. Not typically brewed via an espresso coffee maker. On the other hand, Brazil is known to produce coffee with a heavy body and nutty, buttery, and chocolatey flavor notes.
Compare that to Kona coffee from Hawaii, and you've got a completely different taste profile of vanilla, brown sugar, and low acidity. This is because Kona coffee is grown at a typically higher height, locking in a unique flavor profile and the growing conditions in Hawaii, which makes Kona coffee so famous.
Like I mentioned previously, how long they're roasted also affects which flavors are brought out in your beans.
The flavors brought out in light roasts tend to be acidic and fruity. But because of how espresso machines extract coffee, these run the risk of ending up sour, more so than medium or dark roasts.
Meanwhile, the flavors brought out by an espresso machine in medium or dark roasts are nuttier, chocolatey, and caramel. These flavors pair very well with milk, so this is why these types of roasts are generally preferred for espresso.
The Final Verdict
It may sound simplistic, but the best espresso beans for you are the ones that you like the most.
There is no variety or type of roast that will objectively taste the best among all the beans available around the world to everyone. So look at your options, read customer reviews, and see which coffee bean piques your interest.
But if you're looking for a place to start on your journey to find the best espresso bean, we recommend Lifeboost Coffee's Premium Espresso.
Top Pick
Lifeboost Organic Espresso
Nicaraguan grown beans, this coffee is single-origin and USDA certified organic. With sweet chocolately undertones. Get the exclusive Sip Coffee discount via the link below!
GET MY DISCOUNT
Frequently Asked Questions
What espresso beans does Starbucks use?
If you don't ask specifically, it's usually a medium roast. Although darker espresso roast beans are also available.
What makes a good espresso bean?
The best espresso coffee is usually a medium dark roast. This type of coffee bean is more water-soluble and often oily, perfect if you enjoy a topping of crema dripping out of your coffee maker.
Do you have to use espresso beans for espresso?
No. You can use whatever coffee bean takes your fancy. It's just that most people like medium dark roast beans when it comes to espresso, which is what most espresso blends are classed as. But, remember, the best coffee is subjective!
What are the best brands for espresso on Amazon?
The most popular brands with an espresso roast on Amazon are Lavazza, Koffee Kult, Death Wish Coffee, and Kicking Horse Coffee.