Best Espresso Beans 2023 Review
Even as a coffee trainer for 10+ years, I'm still trying different origins, processes, and beans to upgrade my espresso routine.
I don't need to tell you that using the best espresso beans is essential to get that perfect espresso shot. The sweetness, flavors, and even the crema in your shot all depend on the beans you use.
But how exactly do you find the best espresso beans?
Well. In this case, I've done the work for you, so keep on reading for my take.
Top Pick
Coffee Beans for Espresso – Top 3 Alternative Picks
Are Espresso Coffee Beans Different from Normal Coffee Beans?
When you look at the bags of coffee at your local supermarket or coffee shop, you may note that some are labeled as espresso beans.
Are those espresso beans from a different type of coffee plant than regular coffee beans?
No, they're the same beans used to brew any other kind of coffee.
So why are they labeled as espresso?
The main difference between espresso beans and regular whole bean coffee is the roast.
For instance, when making coffee in a drip coffee maker, it's simple to get good results whether you use lighter roasts or a dark roast.
When making coffee in an espresso machine, though, the roast level takes center stage.
One of the main reasons is that brewing coffee in an espresso machine can highlight the acidity. Additionally, light roasts have more acidity in comparison to a darker roast.
Those two factors combined can result in a highly acidic drink that can seem sour and unpleasant.
That's why you'll find that the best coffee beans for espresso are typically roasted darker, usually a medium to dark roast.
Dark roast beans are created when the coffee is roasted longer. Dark roasted beans can be better for making espresso than light roasted beans because you get a more balanced shot.
Balance is the key when trying to create the best cup of espresso.
The sweetness should balance out the acidity, and the body should be just right. But achieving that balance isn't easy.
In the search for balance and the perfect brew, baristas will often experiment with different types of roasts, beans, and grind size.
It's easier to create that balance in espresso when you use medium to dark roasted espresso beans. That's why espresso beans or an espresso blend are often darker than regular coffee beans.
Of course, what you consider to be the perfect espresso is a personal preference. That's why the best espresso beans for you depend on your tastes.
Best Espresso Beans 2023
This list of the best espresso coffee beans is long so that you can choose the best beans for your tastes. Each of our choices has characteristics that we love to find in our espresso.
To find which is the best one for you (or maybe you'll find several that you love), try out different beans and recipes.
The results will vary depending on the espresso machine you're using. And if you're brewing in a Moka pot, you can also use any of the beans on this list to make coffee in a stovetop espresso maker.
As you experiment, you'll not only have a delicious tasting journey, but you'll find those beans you love to brew every day.
1. Organic Drago | FRC
The Organic Drago whole bean coffee is a firm favorite with cafe coffee buyers and it's versatile enough to be work well in any espresso based drink.
Top Pick
This Fair Trade Certified, organic coffee blend ticks all the right boxes. It protects farmers and the environment while providing fantastic flavors in the cup.
Coffee connoisseurs know that volcanic soil translates into better-tasting coffee. The rich minerals in volcanic soil nurture coffee plants. And this coffee, grown in the in volcanic regions across the globe is no exception.
Drago blends organic Central American, African, and Indo-Pacific varietals to produce a coffee with tremendous depth of flavor without the rough edges that define some single-origin selections.
Bourbon and Typica varieties of Arabica coffee contribute to the complex tastes of these beans. The washed process ensures additional sweetness, while the medium roast gives you a bold body.
Rich and almost syrupy chocolate and rum notes rounded out with vanilla bean, and lemon flavors create a coffee you will love.
Related Read: Fresh Roasted Coffee LLC Review
2. Ethiopia Yirgacheffe Coffee | Volcanica
Yirgacheffe is a coffee-growing region of Ethiopia that is known in the coffee world for having fruity notes and a balanced acidity that impresses coffee experts and aficionados.
Most Bright Espresso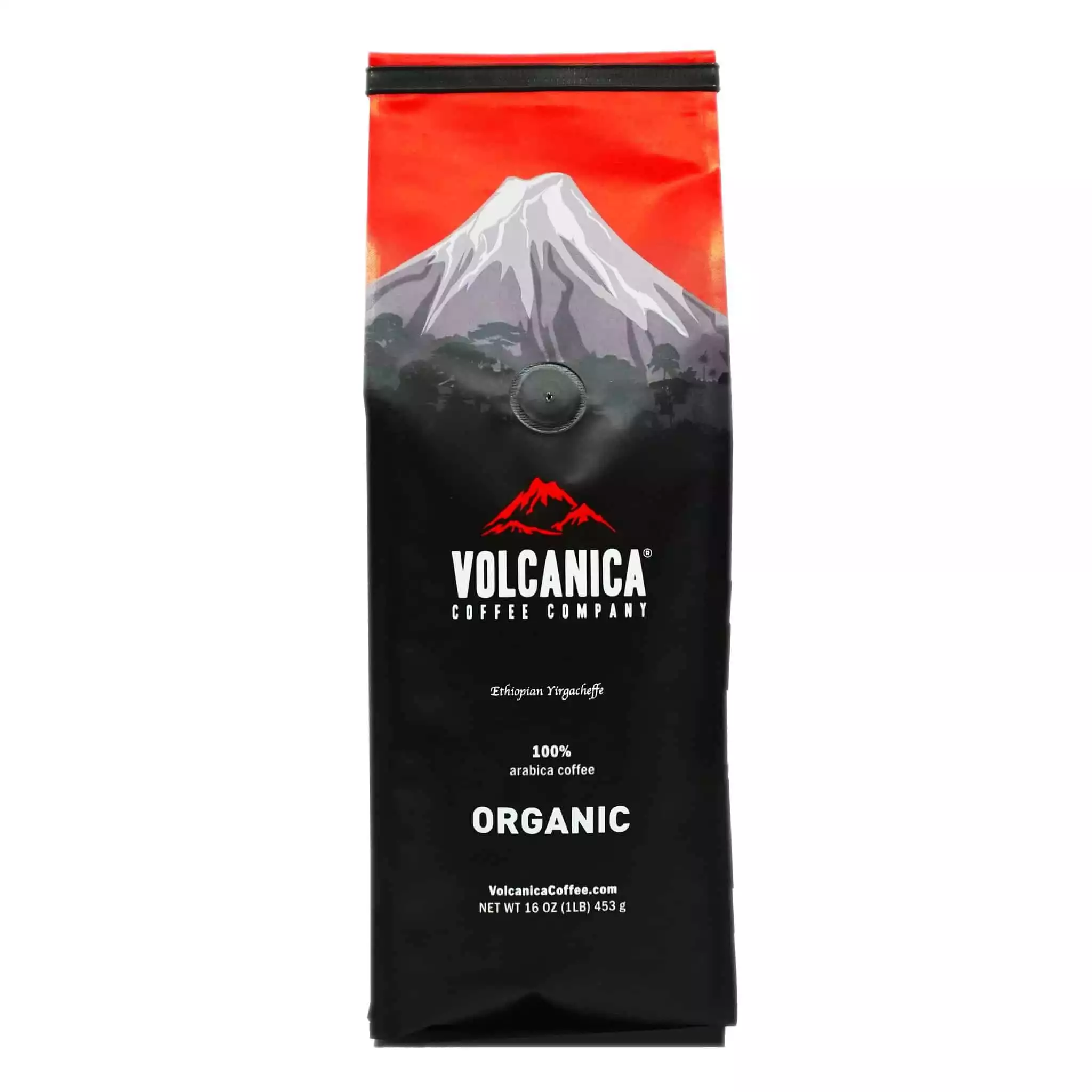 Ethiopian Yigracheffe by Volcanica Coffee
Use code SIPEXPRESSO for 15% off!
Originating from the Yirgacheffe region in Ethiopia, this is Volcanicas #1 best-seller. Versatile enough to brewed as a pour over for a brighter flavor, or even at the other end of the spectrum as a full bodied espresso!
SEE PRICE NOW
This Ethiopian Yirgacheffe whole bean coffee by Volcanica Coffee comes through with unique flavor notes you might not associate with espresso. The coffee also has a satisfying, heavy body that gives you a creamy mouthfeel.
What will you get in the cup?
Ripe strawberries and pineapples. The complex fruit notes are balanced out with earthy aromas.
A hint of cinnamon complements the fruity tastes. And the medium roast of this whole bean coffee highlights the flavors and allows them to shine through.
But it doesn't stop there.
These Arabica beans leave an aftertaste of dark chocolate and lavender. It's sweet, yet it has those slightly bitter notes you love in your favorite bar of dark chocolate.
Medium roasted beans are easy to brew and give you bright flavors. Since the roast is lighter, it helps preserve the flavors of origin while getting you the perfect shot time after time.
This coffee's sweetness, low acidity, exotic flavors, and the hint of bitterness create a complex taste profile that will impress any coffee aficionado who loves bright Arabica beans.
3. Lifeboost Espresso
If you're looking for traditional espresso tastes, Lifeboost is one of our favorites.
The beans are dark. Rich. Bold. You'll notice the sweet tastes of chocolate and caramel. And this intense coffee is a bit fruity.
Best Low Acid
These beans, a Maragogipe variety of Arabica, are shade-grown in the mountains of Central America.
Why is shade-grown coffee an important factor?
Coffee plants that get abundant shade produce better beans because the fruit ripens slower. That allows complex flavors to develop in the beans, which develop more sugars and a pleasant sweetness.
The medium to low acidity of these 100% Arabica beans from Nicaragua makes them easy to use for espresso.
But this blend still conserves the brightness that Central American coffees are known for. The lower acidity makes it enjoyable for everyone, especially those sensitive to acid in coffee.
These fair-trade Arabica beans are also free of chemicals, harvested by hand, and organic.
4. Organic Guatemalan Huehuetenango
These organic coffee beans from Guatemala are a treasure for espresso lovers looking for a bright shot. While the medium roast creates a smooth body, these high-altitude beans don't lose their brightness.
Best Huehuetenango Beans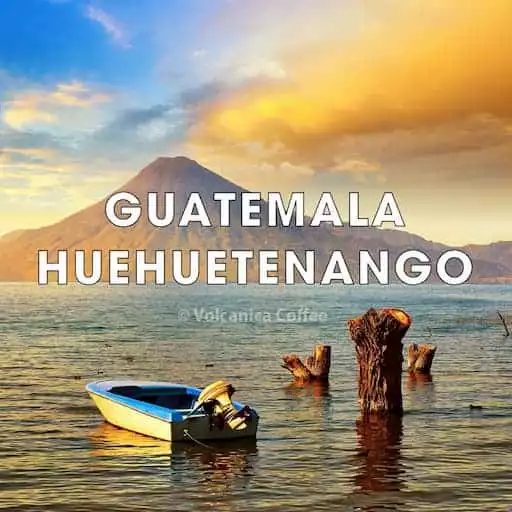 The combination of high-altitude beans and a lighter roast let the pleasant acidity shine through.
As for tasting notes, you'll find a balanced flavor with milk chocolate notes and a hint of orange in the finish.
Caturra and Bourbon varieties add depth of flavor, while the washed process adds sweetness. This certified organic whole bean coffee has also been screened for mold and mycotoxin adulteration.
5. Dharma Espresso Blend
Looking for some adventure in your espresso routine? This blend brings together the coffee powerhouses of Brazil, Ethiopia, and Colombia to create a delicious mix.
With overtones of cocoa and almond with a bit of berry, this medium roast lets the brightness of the coffee shine through.
Ethiopia contributes to the berry tastes, while Brazil and Colombia contribute to the nuts and chocolate flavors. These beans are great for espresso drinks made with milk or milk substitutes.
This blend has beans that have been through several different processes. You'll find the sweetness of washed beans and the tangy notes of natural and honey process coffees.
That blend gives you a sweet, fruity whole bean coffee. Grown at an elevation of just 1,000 feet above sea level, the acidity is balanced too.
6. Koa Coffee Private Estate 100% Kona
It's unusual to find 100% Kona Coffee.
Coffee from the Kona region is grown in a small area, so production is limited. And this coffee is even more unusual.
Most Premium Choice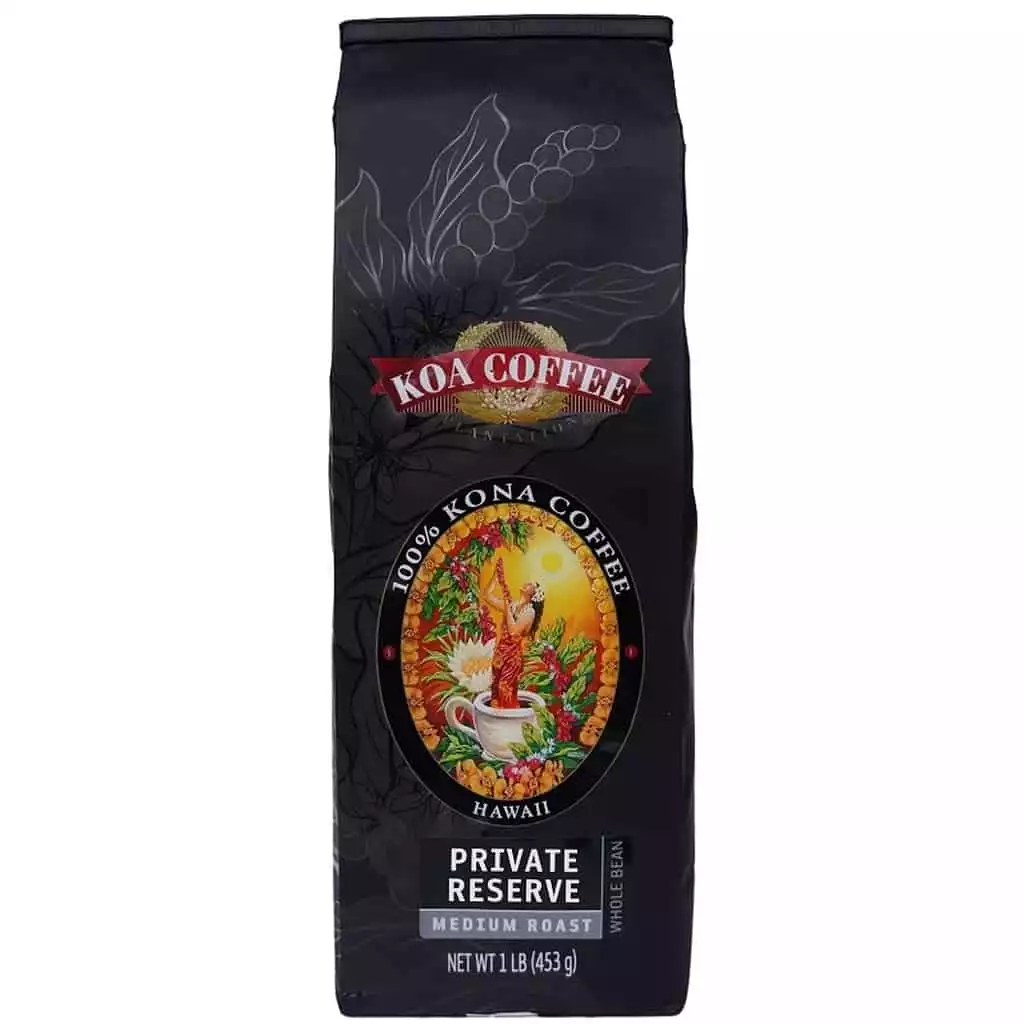 It's grown on the slopes of the Mauna Loa volcano, where the volcanic soil contributes to the full, intense tastes.
A private reserve coffee, the medium roast lets the flavors of origin come through.
It is true that this exclusive blend of different Kona grades is a bit pricier due to the scarcity of true Kona coffee. But if you love coffee from Hawaii, this might be the bean for you.
7. Organic Crown Point by Sightglass
Sightglass, based in San Francisco, California, is a well-known roaster in the coffee world.
They created this Organic Crown Point blend to go with espresso drinks that have the addition of milk or milk substitutes.
What will you get in the cup?
The medium-dark roast gives you intense notes of raspberry, chocolate, and butterscotch. It also avoids the bitterness that is all too common in darker roasts.
The blend uses two Central and South American coffees that are balanced out by a dry-processed Ethiopian coffee that provides fruity notes.
That makes it bright, full-bodied, and sweet. It has clean fruit flavors and an aftertaste that lingers.
Especially good for milk-based drinks, it stands up to dairy or dairy substitutes. It's also fantastic to make cold brew, with or without the addition of milk.
8. Tanzanian Peaberry
From the Nitin Estate in the Ngorongoro Crater of Tanzania comes this Peaberry coffee. Be prepared for something different.
Best Lighter Roast
Peaberry coffee is a rare type of coffee bean.
Although most coffee beans are formed of two halves that create a whole, with peaberry coffee, only one small round seed is formed within the fruit. Peaberry is known for producing more intense flavors.
As a single estate coffee, this one comes from coffee plants grown on one farm rather than a blend from several farms.
Additionally, this single estate coffee comes from a micro lot or one small section of the farm that receives additional care and attention. These factors contribute to higher quality beans.
A bright coffee with a rich body and wine notes, expect flavors of dried fruit, chocolate, and orange.
The washed process contributes sweetness, and the medium roast lets the brightness come through. Although this coffee is intense, it has a slightly lower acidity at a Ph of 5.3.
9. Italian Roast Blend
Italian roast espresso is as dark as you can go with coffee.
Best Italian Roast
That very dark roast is what creates the classic espresso taste so many people love. So if you're looking for a bold, intense, full-bodied, dark coffee, try this Italian Roast Espresso Blend from Fresh Roasted Coffee.
Although it gives you a bold flavor, it manages to avoid the bitterness you'll taste in some other ultra-dark espresso blends.
It brews a sweet cup of espresso that's a bit tangy, and you'll taste a hint of red fruits. With this blend you can create the thick crema you'd expect to get at an Italian coffee bar.
All in all, this is a dark roast blend that brings together Arabica beans from Central and South America and coffee from Indo-Pacific regions.
Very dark roasts can be a double-edged sword if you let the extraction go too long. Dark roasts can obscure the flavors of the beans and leave excessive bitterness in the cup.
But when brewed right, with a light touch, this dark roast can create the perfect full-bodied flavor and is an excellent vehicle for a milky drink.
10. Emporium House Blend
This medium roast from Cuvée Coffee gives you a balanced and classic taste of espresso.
You'll find notes of milk chocolate, brown sugar, and citrus. The coffee is a blend of a lot of different varieties that creates a complex yet easy-to-drink espresso.
The washed and natural processes used in this coffee give it an inherent sweetness, accompanied by tangy, fruity notes.
Cuvée Coffee is a Veteran-owned company from Austin, Texas, that ethically sources the coffees they sell.
Espresso Beans 2022 Buying Guide
Now let's discuss the finer details of how you can identify the best espresso beans for your taste.
And keep in mind that when you buy espresso beans right from the roaster, you get the freshest beans.
After all, they haven't been sitting around on the shelves of a supermarket or a coffee shop.
Also, remember that the best coffee beans have different flavor profiles. They can be fruity or floral, nutty, or chocolatey.
Some beans have all those flavors! Where do those flavors come from?
They vary depending on where the coffee is grown, how it's grown, the plant species, how the coffee is harvested, how it's dried, and how it's roasted. That's a lot of factors to take into account.
Which one should you pick?
The one that satisfies you. Just like you have your preferences about the best dessert, your favorite hamburger, or your preferred bottle of wine, coffee is about what you like.
I have mentioned many variables that create endless options. Let's go over some of those variables so you can genuinely understand the bean and what it can offer you.
Origin
Origin refers to the country that the beans were grown in. When coffee is labeled as single-origin beans, it's because it is sourced from just one country.
Are single-origin coffee beans better for making espresso? Not at all.
But for coffee lovers who get a thrill out of tasting the flavors specific to each origin, where the beans were grown makes a difference.
For instance, let's talk about Brazil.
This South American country is the largest coffee producer in the world, and it produces mostly Arabica beans.
Arabica, which is a species of coffee, is grown at higher altitudes. It has reduced caffeine and generally has a better flavor than the other common species, Robusta beans. Brazilian coffees can have complex flavors and a satisfying body. If you're looking for those attributes in coffee, you may prefer Brazilian coffee or blends that have some Brazilian beans.
On the other hand, Vietnam is the largest producer of Robusta beans. But coffee from Vietnam is not known for its spectacular tastes or a complex flavor profile.
That's why you'll mostly find Robusta beans from Vietnam in blends rather than as a single-origin offering.
Keep in mind that even though beans might be labeled as 100% Arabica, that has nothing to do with the origin. It just refers to the species of beans.
But the characteristics of coffee – such as flavor, aroma, body, and sweetness – aren't just determined by the species.
From here, it gets a lot more complex. The terroir of each origin makes a big difference. Terroir refers to the soil, temperature, and rainfall in a specific area.
You also have to factor in the cultivation and processing traditions. All of these factors have a big impact on how your coffee tastes.
So the same type of beans can taste quite different if they're grown in a different region. Even within a country, there can be regions with wildly different characteristics.
So, in addition to the region – for instance, coffee grown in Africa compared to a coffee grown in Asia – you can also expect the terroir to impact the flavor notes.
Coffee Roasts
How the coffee is roasted is another big factor.
This may be the one you have focused on more, since it's an easier one to understand. After all, you can just look at the espresso coffee beans and get a rough idea if they were roasted light, medium, or dark.
Coffee beans that are roasted light generally have fruity flavors and higher acidity. The longer coffee is roasted, the less fruity it tastes. On the other hand, bitterness increases with roasting time.
So light roasts are not as sweet and are definitely not as bitter.
When used to make an espresso shot, a light roast might taste overly acidic or sour.
If you're not used to drinking this kind of roast, or if you crave a deep, chocolatey espresso, fruity flavor notes might seem unpleasant.
Even if you love a light roast, you don't want an overly sour drink.
You're looking for a balanced cup where the sweetness and the acidity work together. That's why coffee roasters roast espresso beans a bit longer at the same temperature.
Even though the coffee beans may still be considered a light roast, a barista (including a home barista) can extract complex flavors while avoiding any sour notes.
So technically, an espresso roast can be anywhere from light to dark. Which one you'll use depends on your preferences.
Whole Beans VS Pre-Ground Beans
Perhaps you've been buying beans that are already ground.
Pre-ground coffee can save you some time as well as the expense of buying a burr grinder. After all, does it make that much of a difference if you grind your beans yourself?
It sure does make a difference! In fact, when coffee drinkers ask me for suggestions on how to up their coffee game, this is the first suggestion I give them.
Buy whole bean coffee and grind your beans fresh, right before brewing. Why does it make that much of a difference?
When you grind espresso coffee beans, you create tiny particles. When you add water to these finer grinds during the brewing process, you extract the coffee faster and better.
After all, you wouldn't try to brew coffee using whole beans, would you? If you did, you'd wind up with a watery coffee. So grinding whole beans is a good thing.
But when you grind whole bean coffee, you increase the exposure of those smaller particles to elements such as oxygen, temperature, and light.
Those elements are the enemy of coffee.
As the smaller coffee particles are exposed to those elements, they go stale and lose their outstanding characteristics. The flavor notes will be less noticeable, and the brew may have an off-taste.
If that sounds confusing to you, think of homemade bread.
On the first day, it tastes great. If you leave it out on your kitchen counter for a few days, though, it might be hard as a rock. It went stale because the oxygen degraded the quality.
Just like bread should be consumed fresh, coffee should be consumed fresh. That's why you should grind it just before brewing it.
But what if you don't have a grinder?
Then you can buy pre-ground coffee in small quantities, so it's fresher when you drink it. Also protect it from the three big enemies (oxygen, temperature, and light) by using a sealed container or special canister.
I also recommend ordering the coffee bean direct from coffee roasters.
In fact, many bags now have a roast date that shows you when the coffee was roasted. However, remember that an expiration date is different from a roast date.
An expiration date means little. A coffee company can set an arbitrary expiration date of when they consider the coffee to be fresh. But they sometimes date it a year after it was roasted! By then it has gone stale.
For the long term, seriously consider buying a good burr grinder. Please!
They're getting less and less expensive, with decent options for beginners at below $100. The difference in quality is so worth it.
Flavor Profile
Every type of coffee has a flavor profile. Even the cheapest coffee has a flavor profile (although it might not be one worth discussing!).
Flavor profiles in the best coffee beans can be diverse, and I've already mentioned a few. Some that are common in espresso blends are dark chocolate, nuts, and brown sugar. Lighter roasts often have notes of fruits, florals, or spices.
Some of those tastes might seem shocking to you. For instance, you might be horrified by the idea of coffee that tastes like grapefruit.
And while you won't love every taste that you find in coffee, you might be surprised by what you do like.
So it's worth it to try a wide variety of tastes before narrowing your focus on the ones you love most. No one can decide which taste profiles are best for you. It's a unique element that only you can decide.
Also, you might like one profile for a morning cup of espresso and another for your afternoon coffee. For instance, I prefer deep, sweet, intense coffees in the morning and brighter coffees later in the day.
Once you narrow down the profiles that you like best, use the descriptions on the coffee bags to guide you.
Keep in mind that those descriptions aren't always going to be reflected in what you brew at home.
Your grinder, espresso machines, and brewing techniques are different from those used by the coffee experts who wrote those descriptions.
Also, most coffees vary in taste from lot to lot and year to year. It's one of the exciting aspects of drinking single-origin coffees that have a lot of variables as opposed to espresso blends that are created to always taste the same.
For example, Ethiopia is known for producing coffee that has a light body, higher acidity, and fruity notes. You can be blown away by the blueberry taste in Ethiopian coffee.
On the other end of the spectrum are coffees from Brazil. They tend to have a heavy body and notes like nuts, cream, and chocolate. This kind of espresso roast pairs very well with additions like dairy.
Kona coffee from Hawaii has a totally different taste profile with vanilla, brown sugar notes, and low acidity.
The growing conditions on the Hawaiian islands create an entirely different terroir and a profile that's unique.
And as I already mentioned, how the beans are roasted changes the flavors. Roasting the beans light brings out the fruit and higher acidity.
But those fruity notes and a lighter body don't necessarily go as well with milk-based drinks. Dairy (or dairy substitutes) tends to cover those delicate tastes and attributes.
But a medium or dark espresso roast is going to have more nutty, chocolatey, and caramel notes.
This type of dark roast is ideal for adding steamed milk and making macchiatos, cappuccinos, and lattes.
The Final Verdict
Your tastes will be your guide to finding the best espresso coffee.
Decide if you like an intense espresso bean with notes of chocolate or a bright espresso with fruity notes. Or you can have several coffees for different times of the day or to match your mood.
If you want to know where to start, here are a few of my favorites. If you love:
Look at the options, read the reviews, and see which coffee profiles interest you the most. Then try them out on your brewing method or espresso machines.
Frequently Asked Questions
What espresso beans does Starbucks use?
If you don't ask specifically, Starbucks will usually serve medium roasts.
Darker espresso roasts are also available, and blonde roasts are becoming more common in some areas.
What makes a good espresso bean?
The best espresso bean is usually a medium-dark roast. These types of dark roasts are more water-soluble and, therefore, easier to extract. 
They're often more oily, which contributes to thick crema on an espresso. And they have a more balanced acidity.
Do you have to use espresso beans for espresso?
No. You can use whatever coffee bean strikes your fancy. 
Although most people like medium-dark roast beans when it comes to making coffee with an espresso machine, you can use any coffee bean. 
Keep in mind that lighter roast beans can be a bit tricky to extract, but it can be fun to experiment with them.
Medium roast beans strike a good balance for brewing in an espresso machine.
What are the best brands for espresso on Amazon?
The most popular brands with an espresso roast on Amazon are Lavazza Super Crema, Koffee Kult, Death Wish Coffee, and Kicking Horse Coffee.