Best Latte Art Pitcher 2023
Imagine this: You're at a kitted-out coffee shop. They've got the Spirit espresso machine, the EK-43, and the lineup of V60's. The barista serves you a latte and…no latte art…How do you feel? Pretty ripped off I bet.
While a swan or rosetta in a latte doesn't mean that it'll be tasty, it does give a good hint that the barista knows what they're doing.
Latte art is a tricky thing to perfect, but having the right tools makes things a hell of a lot easier. Today, we're going to talk about the secret weapon for pouring killer latte art right at home, the latte art pitcher.
Top Pick
All Latte Art Pitchers Aren't Equal
If we lined up all of the pitchers, we're going to talk about side by side. At first glance, they would all look pretty similar. They would all be stainless steel, all with a spout and a handle.
But when we're talking about intricate patterns of milk and coffee, it's all in the details. The size of the pitcher, the width and shape of the spout, and whether or not the handle and the spout are perfectly aligned can have a huge impact on the performance of the latte art pitcher.
To drive my point home, check this…If you ever go to a latte art smackdown or any kind of coffee competition where lattes are involved, you'll see how important a milk jug is to a barista.
Each barista will have their own milk pitcher. They bring it with them, usually protected in some sort of case or wrapped carefully in a towel.
If you blindfold one of these baristas and give them a random pitcher to use, they'll immediately know it isn't theirs. A good latte art pitcher is like an extension of the hand!
Today we're going to take a look at the 6 best latte art pitchers of 2023.
We'll weigh up the pros and the cons and discuss why certain features are more desirable than others. I'll pick an overall best latte art pitcher, as well as the best budget option, best pitcher for amateurs, and best for precision pouring.
The 6 Best Latte Art Pitchers of 2023
1. Fellow Eddy
Top Pick
PROS (+)
Sharp fluted spout
Unique open handle design
3 measurement points inside the pitcher
CONS (-)
Not the best size for large amounts of milk
Such a shiny finish attracts fingerprints
What's Great
Rather than a standard welded handle, Fellow opted for an open, ribbon-style one. This makes the Eddy excellent for multiple hand positions, as well as those with big hands.
Another great thing about the Eddy is its shape.
You'll see that on most milk jugs, the spout exits out from the stainless steel body, forcing milk to funnel into that section suddenly, creating an inconsistent pour.
The Eddy, on the other hand, has a spout that essentially starts at the base of the jug. This allows the milk to flow smoothly to the opening in one motion.
Offered up in polished stainless steel or graphite finishes, the Eddy is pretty close to being the ideal milk pitcher.
What Could Be Better
Though Fellow does offer the Eddy pitcher in 2 size options, 12oz and 18oz, both are too small to steam large amounts of milk.
Because the finish of the Eddy is so shiny, it is almost impossible to keep clean. Just like the Fellow Stagg kettle in the brass colorway, it attracts fingerprints like crazy!
2. Barista Hustle Precision Milk Pitcher
PROS (+)
Perfectly aligned handle and spout
Features 6 milk volume indicators inside
The spout is a good shape for pouring latte art
What's Great
The most important aspect of the Barista Hustle milk pitcher is the perfect alignment of the handle and the pouring spout.
Using a perfectly alighted milk jug, the barista can pour symmetrical patterns that wouldn't be possible using an off-centered pitcher.
This pitcher also has volume indicators on the inside of the jug that helps reduce milk waste. With 0.09mm stainless steel walls, the Barista Hustle Precision Pitcher provides the perfect balance of durability and temperature sensitivity.
This milk jug comes in 2 sizes, 400ml and 600ml, and 2 colors, black and stainless steel.
What Could Be Better
I've seen a few users complaining about the bottom of their Barista Hustle milk jug doming outward.
This means that the pitcher doesn't sit flat on the bench, thanks to the dome created by the metal at the bottom. It doesn't affect the way the pitcher works but certainly takes away from the experience of using the jug.
Like the Eddy, this pitcher isn't for steaming large volumes of milk.
3. Star Coffee Milk Frothing Pitcher
Best Value
PROS (+)
Great for steaming larger volumes of milk
Inexpensive
Includes milk measurements on both sides of the jug
CONS (-)
Not for precision pouring
Issues with sizing
What's Great
While the Star Coffee milk jug might not lead the pack in terms of precise pouring, it is undoubtedly an excellent budget-friendly pitcher for those honing their barista skills.
It comes in three different sizes, ranging from 12 ounces up to 30 ounces. Each milk jug is printed with measurements on the inside, helping reduce milk waste.
If you need to whip up some foam for a cappuccino or three, this Star Coffee milk jug might be your guy, especially for the price.
What Could Be Better
Multiple users complain that the milk jug they received doesn't match up with the listed specs. This might be a manufacturing issue or simply the wrong specs being posted. Either way, not ideal.
This is designed as a beginner, budget-friendly pitcher. Not the best for coffee geeks wanting to pour detailed latte art.
4. Espro Toroid
Best Pitcher For Amateurs
PROS (+)
Wide, bell-shaped, stainless steel pitcher for more consistent foam
Etched fill indicators to reduce milk waste
Durable and well built
CONS (-)
Not great for steaming large volumes of milk
The spout could be better for pouring latte art
What's Great
With a unique bell shape that encourages the milk to spin, the Espro Toroid can help beginner baristas produce incredibly consistent foam.
This is one of the only milk frothing pitchers that focuses on helping create foam rather than just aiding in pouring latte art.
It is excellent for those just beginning their latte art journey, wanting a milk jug to make steaming milk easier.
What Could Be Better
The Espro Toroid comes in 2 sizes, 12oz and 20oz. You can steam about 10oz of cold milk in the 20oz jug, which isn't a lot. If you need to steam milk for multiple drinks at a time, this might not be the best pitcher for you.
Also, the spout of the Toroid could be better. It isn't particularly narrow, so it isn't the best for pouring detail and fine patterns.
5. Barista Swag Latte Art Pitcher
Best for Wild Colorways
PROS (+)
Sharp spout for precise latte art
Nice wide handle, good for prolonged use
CONS (-)
The alignment of the handle and spout seems to be hit and miss
Not very durable
What's Great
If you want to add some psychedelic color to your morning coffee, the Barista Swag Latte Art Pitcher might be a good addition.
Barista Swag offers 5 different colors of their classic pitcher, including blue, gunmetal grey, and a few versions of that cool, iridescent color.
Its sharp spout makes pouring intricate patterns as easy as possible, while its wide handle design is comfortable for prolonged use.
What Could Be Better
The Barista Swag Latte Art Pitcher seems to have some quality control issues. There have been numerous reports of customers receiving pitchers with misaligned handles and spouts and cosmetic issues such as scratches and discolorations to the stainless steel body.
A few users also complained of the handle falling off their pitcher after just 6 months of use. This might be excusable if it were half the price of the Fellow Eddy, but this isn't the case.
6. Zowie King Milk Frothing Pitcher
Best for Large Batches
PROS (+)
Variety of size options and colors
Comes with an etching tool
Very affordable
CONS (-)
Printed milk level indicators will fade over time
The handle and spout are poorly aligned
What's Great
Zowie King pitchers are super affordable and great if you need to steam larger volumes of milk. They come in three different colors and sizes, from 12 to 32 ounces.
As an added bonus, these value-for-money jugs also come with a tool that you can use to etch patterns in your latte art and cappuccino designs.
What Could Be Better
First and foremost, the handle and the spout are really poorly aligned. I've seen a few of these pitchers, all of which are misaligned by quite a lot.
This will make it really hard to pour intricate, symmetrical patterns. The milk level indicator on the inside of the jug is printed rather than etched. This means it will eventually fade away.
Milk Pitcher Buying Guide
Size
Possibly one of the first things you should look at when picking a new milk jug is the size. This isn't just dependent on the amount of milk you want to steam but also on how powerful the steam wand of your espresso machine or milk frother is.
If your espresso maker at home isn't too powerful, a 12oz or around 400ml milk jug is your best bet.
Much bigger than that, and you might not be able to create the whirlpool needed for producing smooth foam.
Users of powerful, commercial-grade machines can take their pick of any of the pitchers.
Personally, I think the sweet spot is a 20oz or 600ml milk jug paired with a powerful machine. This gives you plenty of room to play and swirl your foam, with enough room to steam milk for two small coffees at once.
You, of course, can go for a bigger size, up to 32oz. But the bigger you go, the quality of your latte art will go down.
As a rule of thumb: bigger jugs are easier to steam with (so long as the espresso machine can handle it), but smaller jugs are easier for pouring intricate patterns.
Milk Jug Material
When we're looking at the materials of a milk pitcher, we're mostly looking at the thickness of the stainless steel milk pitcher. Logic tells us that a thicker jug will be better. It'll be more durable and often of higher quality. But this isn't always the case.
Most people, when steaming their milk, use their hand as a thermometer. When your hand senses the jug is at the right temperature, kill the steam, and the milk is ready.
A milk jug made of really thick metal will heat up too slowly. By the time the heat reaches your hand, the milk inside the frothing pitcher will be burned. Ideally, we want a milk pitcher that is around 1mm thick stainless steel.
While fairly rare, some jugs also feature a teflon coating, reducing the chances of milk and foam sticking to the walls of the jug.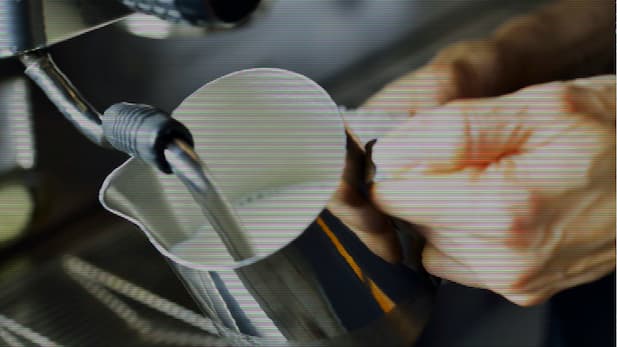 Spout Shapes
The spout of a pitcher is the most critical part for pouring latte art. If milk is our ink and espresso our paper, the spout is our pen. And it actually works in a similar way as a pen or paintbrush.
A wider spout will create thicker lines in the espresso, while a thinner, sharper spout will create thinner, sharper lines.
Classic Spout Feature
The classic, standard shape of a milk pitcher spout is fairly wide. These wider spouts allow the milk to flow evenly from a wide opening of the jug.
Pitchers with a classic spout are good for beginners learning the rounder latte art shapes like hearts and tulips. Pouring a multiple-leaf rosetta with a classic spout is possible but will take a lot of practice.
Sharp Fluted Spout Feature
A sharp fluted spout aims the milk in a finer, more narrow line. This allows you to pour much sharper, detailed designs. If you are wanting to pour intricate latte art like swans or rosettas, a sharp fluted spout will be your weapon of choice.
Width
Most latte art milk pitchers are wider at the bottom than they are at the opening. This is to allow the milk to spin freely into a whirlpool-like vortex, creating velvety smooth microfoam.
Milk jugs like the Espro Toroid are especially wide at the bottom, and this is why they can produce such consistent, smooth milk.
The shape of the jug actively guides the milk in the right direction.
Ergonomic Design
If you test a bunch of different milk jugs, you're bound to find one that just feels 'right' in your hand. But alas, testing and holding dozens of the best milk frothing pitchers isn't possible when shopping online.
You can still get a good idea of what the pitcher might feel like by looking at its design.
Take the Fellow Eddy, for example. Thanks to its open handle, the Fellow Eddy will most likely be the best jug for people with larger hands. You can hold it in a bunch of different ways, making it very ergonomic.
The Final Verdict
From its open handle design to its fluted, tapering spout, the Fellow Eddy is a great example of a solid latte art pitcher.
Top Pick
It is well designed and has clearly been tested by many baristas before going into production. Coming in two different colors ways and either 12 or 18oz, the Fellow Eddy is one of, if not the best, milk frothing pitcher available.
If you don't mind throwing down a little extra cash for a stainless steel pitcher that'll last, you can't go wrong with the Eddy.
That about wraps it up! Go pour some sweet latte art and share it with your friends!