Best Manual espresso machine 2023
When it comes to pulling shots, some people prefer complete simplicity and discount the ritual associated with brewing, which many of us (including me) enjoy.
There is another rewarding experience associated with using a manual espresso machine for those of us who geek over the right water, beans, and the perfect technique. If that's you, you've landed in the right spot. Below we take a look at the best manual espresso machines of 2023:
The 5 Best Manual Espresso Machines 2023
This is a fairly new brewer in the world of pulling shots. Still, It's one of the best-selling manual machines of 2023, and for good reason. A Spring piston machine ensures you maintain the traditional feel all while still being highly functional.
Top Pick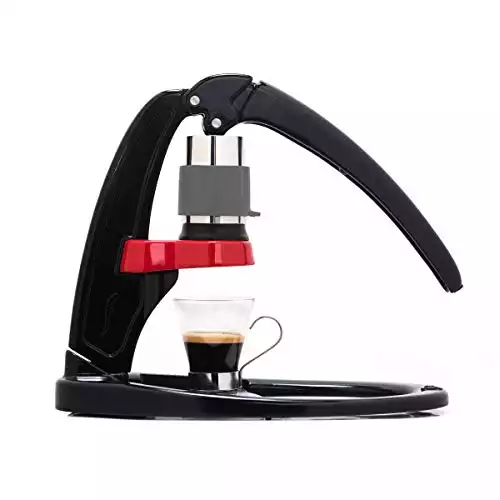 PROS (+)
Portable
Pulls near cafe-caliber shots
Detachable brew head
CONS (-)
Not good for multi shot use
Flair is the top choice for straight-up black coffee drinkers. The machine is made with a design that fits any background. It's fully hand-operated, with a push-down lever to recreate that pressure you need to execute this brewing method properly.
It has fewer moving parts because it uses a brew basket instead of a portafilter, making your machine easy to pack away and clean. This is typical of spring piston machines.
I have a soft spot for lever machine brewers, and the Flair is right at the top of my non-electric list. If this is something you're eyeing early on, I suggest you seriously consider it. It's one of the top-performing portable lever machines today. Pretty impressive, considering it doesn't even have a water tank.
Check out our full Flair review for the details on this pick.
The GR is a great manual and yet portable machine. Having tried this on the go, I remember the crema to be thick and the body to be honey-like. While It doesn't rival cafe-quality espresso when you're on the go, its great for portability!
Most Portable
PROS (+)
Spring piston pump technology to pressurize your machine
No bulky portafilter or water tank
Built for travel
CONS (-)
Over-pressure can permanently damage your machine
The chamber & pressure gauge lacks durability
If you're someone who needs to have espresso wherever you go, this spring piston machine could be a good pick for you. It's smaller than most manual lever machines, and it still gives you a punchy espresso shot. 
With a maximum output of 50ml, you might have to brew more than once. But the tradeoff is that you can take it around the world with you. But, make sure to watch the pressure gauge so you lengthen the life of your pump lever machine.
La Pavoni is among the most well-known brands when it comes to lever machines. This particular lever espresso machine would be my pick to use in a low volume hipster cafe!
Commercial Lever Espresso Machine
PROS (-)
Powerful built-in steam wand
Durable stainless steel body
Pressure gauge to help with pressure profiling your shot
CONS (-)
The machine needs electricity to function
Expensive
I've long been a fan of La Pavoni lever machines. From their design, build quality, and espresso shot consistency.
This particular model makes good milky foam and also has a commercially sized portafilter. This means your shots will be using the usual cafe ratios. If you want to bring good coffee to your house, this machine could be the best pick on this list for you.
Overall, this is my kind of lever espresso machine if you value design as much as the brew.
Don't let the title fool you. Kompresso lever espresso machines allow your arm to pack 9 bars of pressure through your grounds. That's similar to La Pavoni lever brewers but without the need for electricity.
Minimalist Pick
PROS (+)
Made from durable materials
Light and compact
Easy to clean
CONS (-)
Espressos are often on the lighter side
Inconsistent
The Cafflano Kompresso and the Aeropress, to me are two peas in a pod. 
In the world of coffee, brewers like this make you realize that it's more about the users than the spring piston lever machines.
You don't neccesarily need to spend on a La Pavoni to make a good shot of spro. Larger budgets make it easier to make decent cups, but even affordable lever espresso machines like this one can produce quality with the right routine and recipe.
Overall, a decent choice for those of you looking for a minimalist and highly portable option.
This is La Pavoni's home-brew favorite. It's more budget-friendly than the option above, with similar tech. All the fun that comes with a lever, right in the comfort of your own home bar.
PROS (+)
Built-in steam wand
Beautiful compact design
20oz capacity water tank
CONS (-)
Durability could be better
La Pavoni is one of the most well-known brands in the world when it comes to lever machines. If you're looking for a semi-automatic lever machine for home use, and you like silky milky drinks, this could be the pick for you!
The Manual Espresso Machine Buying Guide
You've seen 5 of the best manual espresso machines in the market today. Below is a quick buyer's guide to help you decide a bit more on if this is the machine for you.
Manual Espresso Machine – The Good + Bad
Below are some aspects to consider when it comes to investing in a manual machine to pull shots. Ideally, this part helps you tick off one item after the other on your "buyer's decision" checklist.
Espresso Quality
You can make decent espresso with manually operated espresso makers.
At the end of the day, it will depend on how willing you are to learn how to do so. Learning to brew with a lever (or a pump espresso maker) will differ from using a hand-held one. Once you understand the effects of temperature, pressure, roast date, grind size, etc, you'll also know which way to go.
The question is, do you just want to drink spro? Investing in manual espresso machines will require you to do the work. In terms of studying the science behind the bean, and actually pulling espresso shots. Is this something you'd enjoy regularly doing? It will take a while to get the hang of, but you might find it satisfying if you're a caffeine geek like me.
Espresso Beverages
How do you drink your coffees? Do you like espresso straight up? Do you add water to stretch it to an Americano? Or do you enjoy milky espresso-based drinks?
There are manual spro machines that come with good frothers. In these machines, boiler pressure is used to push steam out of a steam wand.
But, If your budget is limited, you will probably end up with an espresso maker without a frother. That could end up as an additional expense.
However, there are ways to get that thick, silky, creamy texture from using blenders or french presses. The important thing is to know the kind of espresso drinks you enjoy, so you can select an espresso machine that suits your preferences.
Price
Hand-cranked spro makers are usually more affordable than automatic espresso machines. There's less technology involved. Especially if you judge on quality relative to machine price. A lever machine, for example, can make the sweetest shots. The catch? You'll have to understand pressure profiling and how it can affect your extractions.
On the flipside, there's a world of difference in the work involved when we talk about manual lever brewing. One step coffee making on automatic machines is more than tripled. Hand-operated machines require less money to buy but more daily work to operate.
Durability
You can expect a manual espresso machine to have a more straightforward build than an automatic one. With fewer mechanical parts, you can expect durability. Properly maintained machines can last virtually forever. It will all depend on you.
Ask yourself a few questions:
Do you like tinkering with upgrades?
Are you the kind of home barista who likes regularly buying new gear for the sake of it?
Manual machines are the kind that can last you a lifetime. Especially high-quality options. But, if you're on to get bored after one or two uses, then it's maybe not for you!
How do you use a manual espresso maker?
Now that you've come across some pros and cons of owning a manual espresso machine, here's a general method on how to use them.
STEP 1: PREPARE
My quick checklist is on your espresso machine: beans, water, milk (optional), and cup. I like making sure that my dairy is chilled and my coffee beans are ground with a burr grinder. I prep (mineral) water last because being precise with water temperature is crucial in making good shots of espresso.
STEP 2: FAMILIARIZE
Knowing your manual machines will allow you to maximize espresso quality. Once you start brewing, make sure to know which steps to take and what parts go where. Efficiency is a barista's secret to pulling the perfect espresso shot every time.
High-end manual machine options will only make shots as good as the maker makes them. Wanna go all in geek? Record your espresso routine on video and see how you can be more efficient next time.
STEP 3: RECORD & ENJOY
Consistency comes from a mix of familiarity and experience. One will come after the other over time. But if you're more deliberate about how you brew your coffee, taking note of details can fast-track your learning.
Jotting down brew temperature, dose, extraction time, and espresso weight can better understand your espresso. Over time, patterns will form, and you'll be able to connect aromas and flavors.
When it comes to making coffee, the best ones know how to adjust their recipes based on how well they know their coffee beans and manual machines.
All good baristas have a notebook where they collect notes on flavors, age, and espresso recipes. It's good practice to incorporate this into your daily coffee habit!
Can espresso be made without a machine?
If you want a specialty coffee barista-caliber shot of espresso, then manual lever espresso won't cut it. But, there are ways to make a shot like brew without a machine.
"Espresso" is a drink and a brew method. A proper espresso needs bar pressure to force hot water through fine coffee grounds. One, you need appropriately designed equipment for this. And two, you'll need the coffee knowledge to use your tools properly.
As a kind of coffee beverage, you can get close. Some consider an Aeropress for example to be a manual spro maker of sorts. It will all depend on your water to coffee ratio. You can argue that it's only a "kind" of espresso recipe or part of the family of small black coffee drinks, but it's your drink.
We can get all technical when it comes to specialty coffee, but I am part of the group that believes that coffee is inclusive. There's a science to different coffee products, but it's a personal drink at the end of the day. You should make (or have) your espresso exactly how you want it.
The Final Verdict
The Flair Espresso Maker is our top pick on this list for our favorite manual lever espresso maker..
Top Pick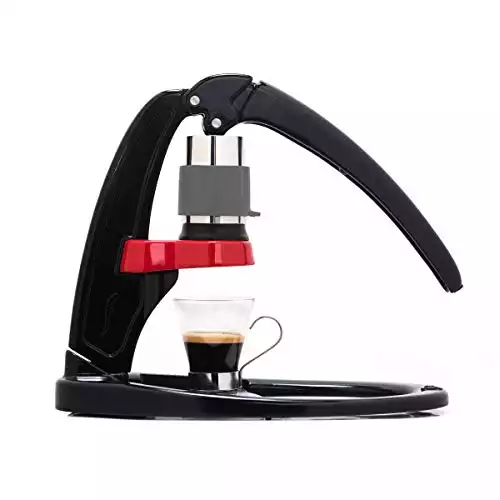 It's easy to use, simple enough to clean, and it makes tasty shots of espresso. It has a sleek design that's sturdy, versatile, and functional. You can leave it at home or in your office, or take it with you on trips.
While there is a learning curve in terms of consistently making a high-quality shot of espresso with the Flair, the same holds true for all manual spro machines. Once you get the hang of it, you'll be pumping out one good shot after the other with your pump espresso machine.
Frequently Asked Questions
What is the difference between manual and automatic espresso machines?
The main difference is in control. Manual (or semi-auto machines) give you more control over your espresso shots. You determine variables like brew temperature, pressure profiling, dose, and extraction time, the home barista. 
Automatic machines do all the brewing for you with one push of a button. A specific make and model will suit your preferences better than others. Take your time to decide on which type is best for you.
How do you use a manual espresso maker?
While there are different manual options out there, they all generally work the same way. You load them up with ground coffee beans first. 
The brewing process starts when the water comes into contact with your coffee grounds. This occurs when you lock the portafilter into the group head or the brew group. 
You collect your single or double shot and drink as is. You can manually add water or milk, depending on how you like your coffee. A manual spro machine has a learning curve to mastery, but once you get the hang of yours, it's a worthwhile investment for more than good espresso!