The 13 Best Caffeine-free Starbucks drinks
Whether you're on a break from coffee, ordering for a child, or just don't want another dose of caffeine, caffeine-free Starbucks drinks offer an alternative to the chain's famous coffee.
Almost since the coffee chain's start, they've offered choices for people who want hot or cold drinks without the buzz of caffeine.
The Starbucks menu has a lot of options, and there are some essential things to keep in mind if you want to avoid caffeine in your beverages, so read on to learn more.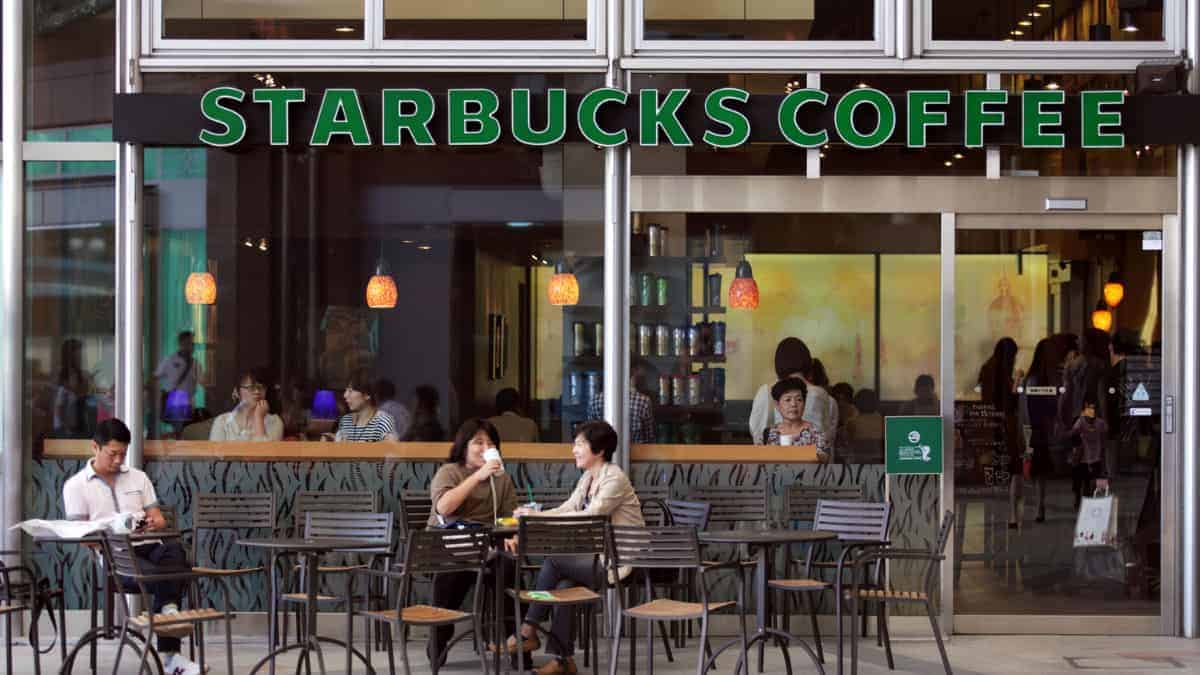 Top Tips For Ordering Starbucks Drinks Without Caffeine
When it comes to getting a caffeine-free option at Starbucks, there are a few things you need to know.
The cafe chain features a lot of caffeine-free drinks, but some options may trip you up if you don't know what you're getting.
While some drinks are obvious choices because the components naturally have no caffeine, there are a few choices that may seem caffeine-free but which aren't entirely.
Decaf Coffee Isn't 100% Caffeine-Free
Decaffeinated coffee sounds like it should be a slam-dunk for avoiding caffeine, but the process to remove caffeine from coffee beans isn't complete.
There are two basic methods for removing caffeine from coffee: water process and chemical processes.
The water process takes advantage of the fact that caffeine is water-soluble and basically involves washing the beans to get rid of it.
The chemical process to make decaf coffee beans involves solvents like ethyl acetate or methylene chloride, which bind to caffeine and then are rinsed away.
The roasting process further vaporizes any traces, so it's perfectly safe to drink.
Trace amounts of caffeine still linger in the beans, no matter what process they're subject to. How much caffeine?
Decaf espresso: Between 3 mg and 11mg of caffeine per ounce (1 shot)
Decaf brewed coffee: 25 mg (Grande size)
While the amounts are negligible if you're not sensitive to caffeine, decaf coffee isn't a strong option if you want to avoid caffeine altogether.
Starbucks used to also carry decaffeinated tea, but the herbal tea options that the international cafe carries are excellent options, and the decaf versions of black and green teas weren't popular enough to keep on the standard menu.
Starbucks Refreshers Contain Caffeine
While the Refreshers line of drinks at Starbucks doesn't have roasted coffee in them, each of the drinks contains green coffee extract, which does contain caffeine.
The amount varies by size, but not by the type of Refresher you order.
The green coffee extract has a lot less caffeine compared to brewed coffee, but you might still find yourself feeling the effects.
If you want to avoid caffeine altogether, some options mimic some of the flavors of the Refreshers without the green coffee extract in them.
You can add fruit inclusions to drinks like Iced Passion Tango Tea Lemonade or to Blended Strawberry Lemonade to get similar effects with no caffeine.
How much caffeine will your Starbucks Refresher of choice include, on average?
Tall: 35 mg
Grande: 45 mg
Venti: 70 mg
Trenta: 90 mg
If you want to avoid caffeine, the Refreshers clearly aren't your best option–a Venti contains as much as a solo espresso!
While this may not seem like much compared to other Starbucks drinks, it means that the Refreshers aren't a caffeine-free Starbucks option.
Regular Chocolate Contains Caffeine, but White Chocolate Doesn't
Regular chocolate mocha syrup, which Starbucks uses for its hot chocolate and mocha alike, does have a small amount of caffeine in it: 25 mg for a Grande size hot chocolate.
Starbucks beverages like their classic hot chocolate, chocolate crème Frappuccino, and chocolatey chip Frappuccino all have a small amount of caffeine due to the dark chocolate mocha sauce.
Starbucks white chocolate mocha sauce contains no caffeine, so a white hot chocolate is a better option if you want to avoid the caffeine altogether.
For cold drinks, you can opt for a white chocolate creme Frappuccino for a non-caffeinated experience.
Coffee-Free Options
Steamers, which are steamed milk and syrup, contain no coffee or caffeine.
The hot milk concoctions provide all of the satisfaction of traditional hot chocolate, with none of the buzz from the chocolate itself.
These hot drinks come in almost every flavor imaginable, with the only limit being the syrups and toppings that Starbucks has available.
Other options that have no coffee and no caffeine include Starbucks herbal teas.
Hot teas like Mint Majesty and Peach Tranquility combine ingredients like mint and lemon verbena, flowers, and fruit.
Iced Passion Tango Tea isn't the only cold option either; you can also get the hot teas over ice.
Most of the Frappuccino blended crème line is also caffeine-free.
While crème Frappuccino blended drinks with dark chocolate do have caffeine in them, white chocolate sauce and the other components like strawberry puree that you can include in your creme Frappuccino do not.
13 Best Caffeine Free Starbucks Drinks
These twelve drinks are all free of caffeine and free of coffee, making them excellent choices for anyone who wants to avoid stimulants.
While many of these are among our favorites, we've ranked them according to popularity.
1. Strawberry Lemonade
This drink is one of Starbucks earliest caffeine-free options, featuring strawberry puree, Starbucks lemonade, and ice.
You can order it either frozen or shaken for a twist on classic lemonade that gives you a taste of summer any time of the year.
Shaken strawberry lemonade uses those three ingredients and a cocktail shaker to male a summery drink.
Blended strawberry lemonade is a big favorite for Starbucks baristas, too.
This version of the drink adds Frappuccino blended crème syrup for consistency, turning a cold Starbucks drink into a frozen delight.
2. Peach Lemonade
You won't find this drink on the Starbucks menu, but it's an easy custom order featuring classic Starbucks lemonade and a splash of peach juice blend.
For a treat, you can even add peach juice blend to your blended strawberry lemonade for a fruity concoction that will bring a taste of summer to the coldest winter day.
This drink is available as a shaken lemonade over ice or frozen.
You can also take this in other directions, blending it with Iced Passion Tango Tea for a fruit punch sensation or adding other juice blends that Starbucks offers to deepen the flavor.
You can also add syrups for contrasting flavor.
3. Vanilla Bean Crème Frappuccino
If you're craving a vanilla milkshake, the Starbucks Vanilla Bean Crème Frappuccino will scratch that itch.
The frozen drink combines milk, Frappuccino base syrup, ice, and vanilla bean powder for a rich, creamy flavor that puts ice cream to shame.
Topped with whipped cream, it's popular with kids and adults alike.
The vanilla bean crème Frappuccino blended creme also forms the base for several Starbucks Secret menu items.
So, look at different ways to tweak this drink by adding syrups, caramel sauce, and other add-ins for a Starbucks drink that's all yours.
Related Read: Frappuccino Caffeine Content
4. Steamed Apple Juice
Steamed apple juice can be an ingredient for many Starbucks menu and secret menu drinks, but it's also available as a caffeine-free Starbucks drink in its own right.
If you like hot apple cider, steamed apple juice is a good option with minimal sugar.
You can enhance the experience by turning it into a caramel apple spice with cinnamon dolce syrup, whipped cream, and caramel sauce added to your drink.
The caramel apple spice can be very sweet, but it's a big favorite in the autumn and winter months.
Steamed apple juice also makes a good pairing with caramel syrup and even vanilla syrup.
5. Mint Majesty
If you want a hot drink that's still refreshing, Starbucks Mint Majesty herbal tea is an excellent caffeine-free option.
The tea blends spearmint, peppermint, and lemon verbena for bright flavor and a refreshing tingle, with no sugar, caffeine, or fat.
Around the world, many people drink mint teas after a big meal, but it's just as good in the afternoon or any time of day.
If you want to take your hot tea to the next level, you can request steamed milk added to it to make it a tea misto.
You can also request lemon juice to enhance the lemon verbena flavors in the herbal tea.
6. Cinnamon Dolce Crème
The Starbucks menu features an entire class of caffeine-free drinks with a base of steamed milk, called steamers.
While the vanilla steamer or vanilla crème is one of the most classic options, the cinnamon dolce crème has outpaced its popularity as a caffeine-free drink.
The drink starts with steamed milk and cinnamon syrup, like the vanilla crème steamer. From there, the cinnamon dolce crème gets whipped cream and cinnamon-sugar topping.
The cinnamon syrup makes for a different, spicy sweetness than the vanilla crème steamer, but you can actually choose from any syrups for a steamed milk Starbucks drink.
7. Peach Tranquility
This herbal concoction is sweet and fruity, with candied pineapple and dried peaches.
Thanks to the herbal blend and fruit that make up the mix, it's completely caffeine-free.
The tea base of chamomile blossoms, rose hips, and lemon verbena adds a floral counterpoint without caffeine or stimulants.
If you don't want your tea hot, you can also request this and other herbal teas cold, blended with lemonade, or just shaken with ice and sweetener.
Pineapple ginger syrup is a perfect match for this herbal blend, with or without lemonade.
Another option is to mix the iced peach tranquility tea with fruit juice blends or hot tea with steamed apple juice.
Related Read: Hot drinks at Starbucks
8. Caramel Ribbon Crunch Crème Frappuccino
This is a decadent choice among the caffeine-free Starbucks drinks, with rich caramel sweetness and plenty of texture.
It starts with the crème Frappuccino blended drink mix, which contains buttery caramel syrup, milk, and ice.
The creme Frappuccino syrup adds not just some sweetness but also keeps the caramel ribbon crunch crème cohesive.
The Caramel Ribbon Crunch Frappuccino blended crème is topped with a thick layer of dark caramel sauce, vanilla whipped cream, caramel drizzle, and pieces of crunchy caramel-sugar topping to complete the treat.
9. White Hot Chocolate
While the standard Starbucks hot chocolate has a small amount of caffeine due to the cocoa powder, Starbucks white chocolate sauce uses only cocoa butter, making it caffeine-free.
White hot chocolate starts with white mocha syrup and a little bit of vanilla syrup for added sweetness and depth of flavor.
From there, the barista adds steamed milk and vanilla whipped cream, and you can also request a little caramel drizzle or even cinnamon dolce sprinkles to add another counterpoint and make your hot chocolate more complex.
Some Starbucks fans also swear by adding fruity syrups to their white hot chocolate for a tangy counterpoint.
10. Steamed Milk
If you want the feeling of hot chocolate but without the sugar, simple steamed milk definitely fits the bill.
You can choose from whatever type of milk you prefer: heavy cream, half and half, whole, 2%, and onward including non-dairy options like coconut milk or almond milk.
It's not the most complicated of Starbucks beverages, but it is caffeine-free and very satisfying.
You can also dress up your steamed milk with add-ons like whipped cream, cinnamon dolce sprinkles, caramel drizzle, or salted brown butter topping to get just a hint of sweetness without the strong taste of the coffee chain's syrups.
11. Strawberry Funnel Cake Frappuccino Crème
This drink sounds like a secret menu item, but the Strawberry Funnel Cake Frappuccino blended crème is on the main menu to taste the county fair whenever you need it with no caffeine.
The drink starts with funnel cake-flavored creme frappuccino syrup, milk, and ice.
You can choose whatever milk you want, from the standard whole and 2% options to coconut or almond milk.
To finish the drink, the barista adds a swirl of strawberry puree.
Then the strawberry funnel cake blended crème frappuccino gets topped with whipped cream and powdered sugar-funnel cake bits.
It's an unusual choice among caffeine-free Starbucks drinks, but it's definitely delicious.
12. Iced Passion Tango Tea
This caffeine-free drink made from herbal tea is among the classics in Starbucks drinks, with versions going all the way back more than 20 years.
It features iced passion tango tea, water, ice, and sweetener of your choice, but you don't have to stop there.
You can add coconut milk and fruit inclusions to make it a Purple Drink, or you can ask to have it shaken up with lemonade to make iced passion tango tea lemonade.
The tea itself features hibiscus flowers, lemongrass, and apple in a caffeine-free herbal tea that is sweet, tangy, and fruity, just like the peach tranquility tea.
13. Iced Guava Passionfruit Drink
Need something more exotic and tropical? Look no further than the Iced guava passionfruit drink.
With a mix of Ice, coconutmilk, and pineapple ginger syrup, it's vegan friendly all will contain zero caffeine.
But, it is pretty sweet with 25 grams of sugar in a tall. So keep this in mind!
Wrapping Up
Caffeinated drinks are not all that Starbucks has to offer.
Hot drinks and cold drinks alike made with a base of milk or juice or herbal tea, all provide options for anyone who wants to avoid caffeine but still get a treat.
Non-caffeinated Starbucks drinks are delicious and just as rich and intriguing as their coffee drink counterparts.