Coarse Ground Coffee Brands
Coffee lovers know that grind size matters. If, for some reason, you don't use the right grind for your preferred brewing method, you'll end up with a bitter brew or worse yet, a weak watery mess. Eurgh!
Don't be the one brewing French Press with espresso grinds. It's never going to end well. Yup…Never.
Instead, check out the list below for the best brands in 2023 for coarse ground coffee. AKA is the type of grounds you'll need if you enjoy French Press or Cold Brew coffee without using a grinder.
Best Coarse Grind Coffee Brands 2021
Volcanica Coffee carries more than 130 different coffees, grown in volcanic locations around the world. Besides specialty single-origin coffee, they also feature flavored coffees, blends, bundles, and accessories.
Top Pick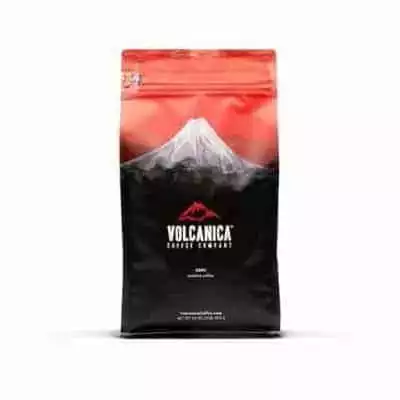 Volcanica Coffee
Speciality beans sourced from around the globe and roasted on demand.
The coarsest grind available is perfect for French Press brewing.
LEARN MORE NOW
PROS (+)
Freshly roasted
Huge assortment
Rarer coffees available
CONS (-)
No light roasts available
The brand ships out its coffee beans in your choice of format. Including whole bean, drip grind, espresso grind, or French Press. Drip grind is medium-fine ground, espresso is a much finer grind suited to espresso machines and a Moka Pot, and the French Press grind is medium coarse, suited–obviously–to a french press pot. 
The major selling points for Volcanica are the huge assortment of coffee beans and their emphasis on volcanic growing regions. The latter is important as volcanic soil is rich in phytonutrients, and it's often accompanied by the high altitudes you need for producing cherries which make a tasty cup of coffee.
Outside of light roasts, Volcanica has a coffee for every taste, and while their grind options aren't as varied as we'd like, the coarsest grind is definitely suited to French Press brewing.
The company also has frequent sales, making it possible for you to sample some of what they have available without breaking the bank. Shipping is free on orders of $60 or more, and they offer $5.95 flat rate shipping for other orders, along with Next Day and second-day delivery options.
Another great option for coarse ground coffee is Fresh(ly) Roasted, a family run business founded in 2009 and based in Sudbury, PA.
Runner Up
PROS (+)
10% discount with code SIP10
All roasts available
Highly affordable
They have a large assortment of coffee across all roast types. To help you choose the right coffee beans for you, the site even has a quiz asking questions such as your brewing method, caffeine preferences, and flavor profile, and any certifications you prefer.
One factor that sets Fresh Roasted Coffee apart from the competition is that they offer coffees with half the caffeine. Perfect if you want something semi-caffeinated but without the complete stimulation. Additionally, the brand also offers green coffee beans for home roasting if you're into that kind of thing.
Their coffee selections include an array of certifications like Direct Trade, Fair Trade, Rainforest Alliance, Swiss Water Process, and USDA Organic, alongside single-origin coffees and blends. They also boast roast levels ranging from light to medium, medium-dark and dark roast.
Fresh Roasted Coffee offers coffee grinds in four sizes outside of the regular whole beans: fine grind, drip grind, and coarse grind. With the latter working well for both French Press or cold brew.
Customers can purchase 12-ounce bags, 2 and 5-pound bags, coffee pods, or triple packs of 12-ounce bags, and there are even options for auto-shipment and office coffee supplies.
The auto-delivery option offers a significant perk: 20% off of the first shipment and 10% off each order after that in return for signing up. You can set your preferences for your shipments' frequency, from every 2 weeks to every 8 weeks, or different settings in between. If you want to put your pre ground coffee shipment on automatic, it's a solid and cost-saving choice.
Otherwise, Fresh Ground Coffee guarantees shipment of their specialty coffee within 1-3 business days of the order and offers standard shipping and expedited shipping options at competitive rates. They also have regular sales, so you can grab your coarse ground coffee for a very reasonable price.
If you're one of the many coffee lovers who prefer Kona coffee for its richness and balanced acidity, Koa Coffee offers a premium product with no frills. Many coffee fans tend to prefer Hawaiian Kona coffee.
Most Premium Choice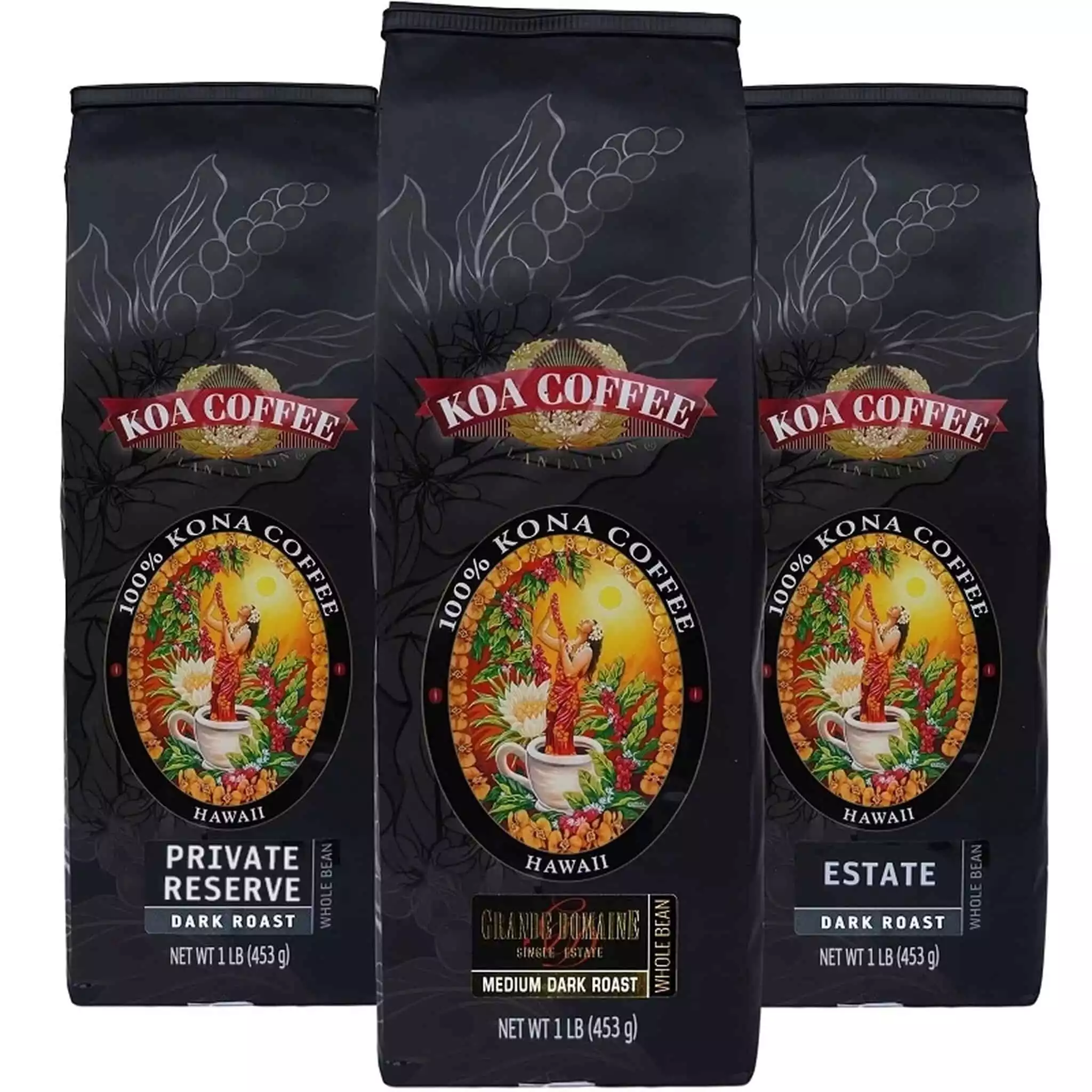 Koa Coffee (Kona)
Grown on the foothills of the Mauna Loa Volcano, Kona Coffee is premium and low acid.
LEARN MORE NOW
We earn a commission if you make a purchase, at no additional cost to you.
PROS (+)
Super-premium coffee
Highly rated
Direct from Big Island
The Kona growing region in Big Island Hawaii provides ideal conditions to encourage the development of the best quality beans: the right temperature, volcanic soil, high altitude, and sunlight all come together.
The resulting coffee is also subject to much higher standards compared to many other regions. If you're a fan of balanced, rich flavors in your coffee beans, then Kona coffee is a good choice: the low acidity means that more of the warm, sweeter flavors extract easily.
Koa Coffee offers both whole bean and ground coffee in three roasts: medium, dark roast, and Vienna roast, which is a medium-dark level. The specialty coffee selections include peaberry, Grande Domaine, Private Reserve, Estate Kona, and Swiss Water decaf coffee grounds. All of the coffee is grown and freshly roasted in Hawaii and adheres to the highest standards.
For the very selective coffee fan, Cooper's Coffee Co roasts small-batch, single-origin coffee with a few unusual twists. The third wave coffee brand offers fine coffee from around the world, roasted in New England. Unlike others on this list, however, Cooper's Coffee Co also offers bourbon and whiskey barrel-aged coffees.
Most Unique Processing Methods
Coopers Cask Coffee
If you're fan of unique processing methods and coffee which tastes like no other then you'll love Coopers.
LEARN MORE NOW
We earn a commission if you make a purchase, at no additional cost to you.
PROS (+)
Unique processed coffees
Variety of roasts
Both cold brew + French press grounds available
The aging process that sets some of Cooper Coffee Co's coffees apart from the competition takes place before the roasting. The company ages specialty beans in recently emptied bourbon and whiskey barrels to infuse them with flavor without adding sugars or other ingredients to the bean itself. The beans pick up natural aromas from the barrels that stay through roasting.
Cooper Coffee Co offers a range of roasts, paired to each coffee region and type, from light all the way through to extra dark. Their pre-ground coffee comes in a range of grind sizes: espresso and automatic drip on the fine and medium-fine grind, to French Press, and even extra coarse ground for products intended for cold brew. The selection of course also includes whole beans.
The company offers free shipping on orders over $39.95, along with a 12% off discount on the first purchase. There's also a reward program for customers that often buy, along with a subscription option: automatic delivery of fresh coffee every 1, 2, 3, or 4 weeks, coupled with 10% off.
For coarse ground coffee that does good for the environment, Tiny Footprint Coffee offers something more. Tiny Footprint Coffee is the world's first carbon-negative coffee on the market. The artisan beans come from a partnership between Roastery 7 and the Mindo Cloudforest Foundation and are designed for cold brew.
Best Cold Brew Grounds On Amazon
PROS (+)
Perfect for cold brew
Eco-friendly
For every pound of Tiny Footprint ground coffee sold, the company donates a portion of the proceeds to fund the reforestation of Ecuador's Mindo cloud forest. The company boasts that reforestation removes more carbon from the atmosphere than the process of growing and roast the coffee produces.
The only close competition that Tiny Footprint has among Amazon shoppers is Stone Cold Jo, another option geared specifically for cold brew. Stone Cold Jo has similar flavor notes and is roasted and ground, especially for cold brew, but Stone Cold doesn't have the environmental focus that Tiny Footprint does. Stone Cold Jo predictably costs less than Tiny Footprint.
The coffee comes in both whole bean and pre-ground, in a coarse grind intended for cold brewing. The company describes the ideal grounds as "coarse sea salt" and recommends a brew ratio of 1 ounce of coffee grounds to every 6 ounces of water. The medium roast is ideal for cold brew, and the suggested recipe makes a perfect cup every time.
The one-pound bag makes up to 90 ounces of cold brew concentrate, which in turn makes for about a gallon and a half of cold brew after diluting. All in all, Tiny Footprint Coffee is a good value for the cost, with an added benefit of helping the environment and the planet through the carbon reduction and fair trade efforts of Roastery 7.
Buying Guide to Coarse Grind Coffee
Why Grind Size Matters
So why does the size of the coffee grounds matter?
The process of brewing coffee is similar to tea, in some ways: you're using water to pull compounds out of the coffee grounds. There are a large variety of different methods to extract coffee from the ingredients of water and coffee grinds, and each one brings a different experience through flavor.
Grind plays an essential role in the way that the coffee extracts: this includes texture, flavor, and even the caffeine content. Shorter brewing times are matched well with fine grinds, while longer brewing times like cold brew work well with coarse grinds.
The most popular home coffee makers are automatic drip coffee machines, which drips hot water over medium-fine grounds. Because the process is pretty fast, you want a coffee grind that allows the water to go through it at just the right speed: coarse ground lets the water pass too quickly and gives you a weak cup, too fine, and the brew would take ages while tasting bitter as hell.
On the other hand, espresso needs extra-fine grind coffee grounds, whether you use an espresso machine or Moka Pot. In this case, the coffee needs to be fine so that the pressurized hot water doesn't go through it too quickly and so that the maximum extraction possible takes place. If the coffee in your espresso machine is too coarse, the extraction time will be too fast, and you'll end up with weak sour espresso as a result.
Knowing the right grind size for the type of brewing you want to do makes it much easier to get the results you want every time.
The Brewing Methods Coarse Grind is Best For…
Coarse ground coffee is best suited for brewing methods with longer extraction time, such as French Press and cold brew coffee.
Because the ground beans are in the water for a longer period of time, you end up with a flavor profile that has a fuller body and lower acidity from the grounds than with drip coffee or an espresso coffee maker. Using fine grinds for these methods can result in over-extraction and a bitter coffee.
Cold-brew coffee
Cold-brew uses extra coarse grind coffee, cold water, and time to extract the maximum flavor and caffeine from the coffee beans.
Coarse ground coffee is important to this process for two reasons: coffee ground too finely is much harder to filter, and fine grinds also lead to over-extraction, which makes a bitter end product.
By using coarse coffee grounds, you can extract the coffee slowly from the beans, and without bitterness. Perfectly made cold brew doesn't even need sweetening, in my opinion. That's because the combination of correct grind, water, and time gives a tasty low acid brew.
French press coffee
Unlike cold brew, French Press uses hot water to extract the flavors and compounds from coarse ground coffee.
Most coffee experts agree that for tasting coffee, French Press is the gold standard for manual brewing if you enjoy a fuller-bodied brew: the longer brewing time, hot water, and lack of paper filter work together to pull all the flavors from the beans, resulting in a velvety brew that shows off the full flavor profile.
For the ideal result, French press coffee is usually made with a larger grind size. What exactly depends on you and the total immersion time, but you can use medium grind, medium coarse, and coarse grind coffee.
Immersed for 4-5 minutes in hot water before pushing the plunger down, French Press coffee can be complex, tasty, and easy to make! Plus you can easily make a whole coffee pot for multiple people to enjoy the beautifully extracted coffee.
In summary, coarse ground coffee is essential for this method because the longer brewing time means that fine ground coffee results in a bitter cup of Joe, which no one enjoys!
For Best Results, Grind at Home
True coffee lovers know that the best coffee is the freshest coffee, so the best coarse ground coffee you can get comes from coffee you grind yourself. Ground coffee goes stale quickly, so if you don't drink a lot of coffee, you're often better off buying whole bean and grinding yourself.
There are many different coffee grinders on the market at different price points, but burr grinders are where the games at. A burr grinder provides an even, consistent grind for your beans instead of murdering them like a serial killer with a blade grinder, and they allow you to achieve the specific coffee grind associated with your brewing method.
A good coffee grinder will also free you up to experiment with different coffee makers and methods whenever you want.
The Final Verdict
Coarse ground coffee is an important ingredient in a few different types of brewing. Cold-brew and french press methods, among others, need coarse ground coffee due to the longer extraction time and the processes themselves.
Fortunately, many coarse ground coffee brands exist to offer the best products to those interested in quality coffee experiences.
Top Pick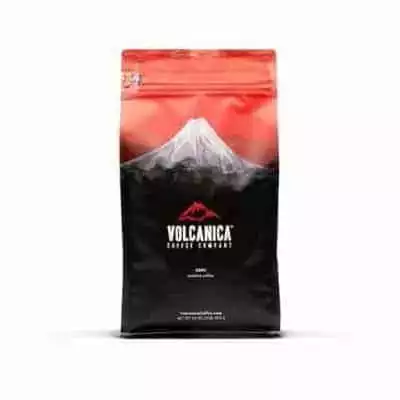 Volcanica Coffee
Speciality beans sourced from around the globe and roasted on demand.
The coarsest grind available is perfect for French Press brewing.
LEARN MORE NOW
While many brands offer coarse ground coffee to order, I tend to prefer grinding my own at home for the freshest taste and the best results, both Volcanica and Fresh Roasted Coffee is a great choice for both. Now go ahead and enjoy your coarse ground coffee!