Best Coffee Maker With Water Line: 6 Top Plumbed Machines 2023
Perhaps it's happened to you at the office. You set the coffee maker to brew and walked away from it, sure that you'll come back to a pot of tasty coffee.
But you forgot to check the water reservoir. You come back to find out that it ran out of water and burned the bottom of the carafe.
What's the solution? A plumbed coffee maker with water line. Let's take a look at some of the top models for homes, businesses, and offices.
How To Choose the Best Plumbed Coffee Maker
A plumbed coffee maker has a direct connection to the cold water line.
After you set up your coffee maker with a water line, all you have to do is put the coffee machine in motion. The water level will take care of itself. That's right, no more checking the water reservoir and panicking because the level is low.
Who needs a plumbed coffee maker? If you have a high volume of coffee consumption, this is the type of coffee maker you may want to consider.
These kinds of machines need a direct hookup. So there's a lot more involved in installation and maintenance than is needed for a regular coffee maker.
That's why most of the coffee makers on this list are commercial machines. The volume of coffee used makes it worth the extra costs.
Of course, you can do that kind of direct hookup in your kitchen. It is convenient since you don't have to worry about refilling or cleaning water tanks. That way you avoid the bacteria that can run wild in water reservoirs.
Another advantage to this kind of coffee maker is that they're actually smaller than regular coffee makers. After all, they're missing that bulky water reservoir. Some can also be placed on a wall rather than sit on a kitchen counter.
But the price of the machine is generally high for home use. And the costs don't stop at the purchase price of the machine.
Much of the cost involved in using this type of coffee maker has to do with the water line hookup. Price is not necessarily indicative of the quality of the machine. Also, maintenance can be ongoing, since leaks are common.
You can buy a separate plumbing kit and hook your regular coffee maker up to it. This method can help reduce costs and let you see if it's the kind of setup you want in your home.
In the end, you could get an excellent home espresso machine for the price of a plumbed coffee maker. It just depends on what you want from a home coffee station.
These plumbed coffee makers often come with a plumbing kit. However, they need to be installed by someone with light plumbing experience. And this service adds to the cost.
When deciding what plumbed coffee maker you want, what should you consider?
Plumbed Coffee Maker Buying Considerations
When buying a plumbed coffee maker, you will need to consider:
Type of water line connection
Price and your budget
Type of coffee you want to brew
Drink options the machine offers
Type of display
Set of features
How many people use the coffee maker
How complicated it is to install and maintain
Let's take a closer look at the type of water line connection, the type of coffee you want to brew, and how much you'll be brewing at one time.
Water Line Connection Type
When connecting plumbed coffee makers with a water line, you need to consider the connection type. Many plumbed coffee makers come with a plumbing kit. Before you buy the machine, see the type of water line connection you need and make sure it works for your system.
Will you connect your water line directly? Or will you use a filter to connect the water line and the coffee maker? Also, keep in mind that once the machine is connected to the water line, it can't be moved. So install it close to the water source.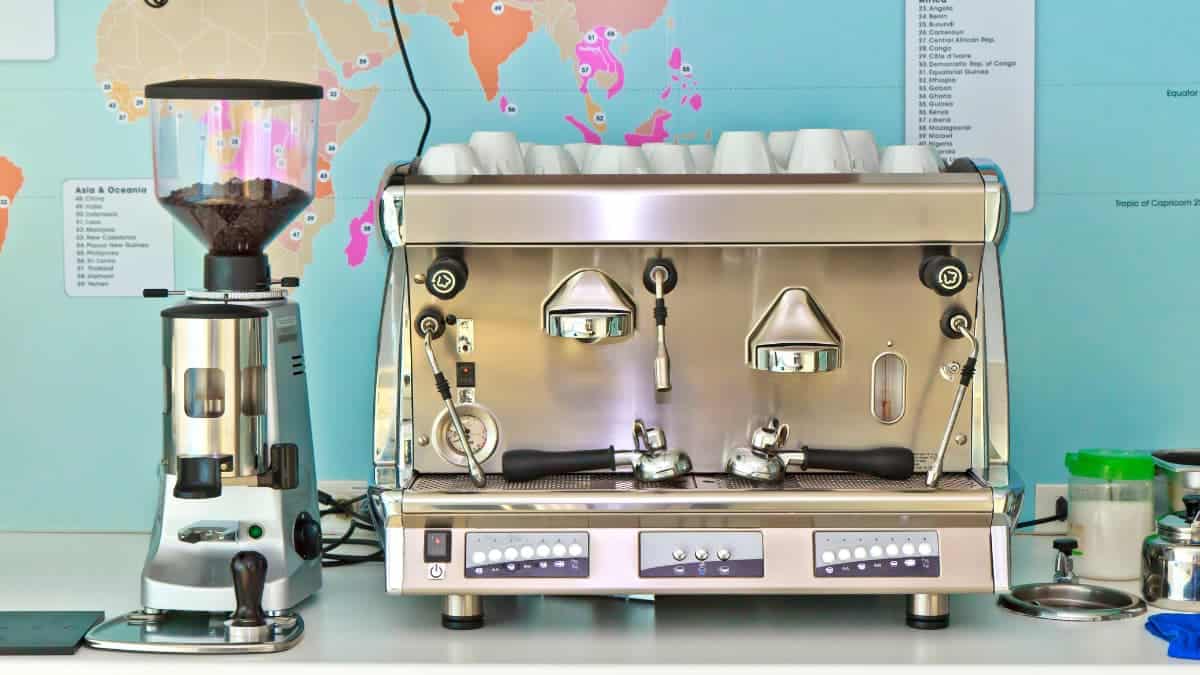 What Coffee Do You Need To Brew?
What type of coffee is popular in your home or office? Are people fanatics about espresso? Do they prefer the simplicity of single-serve, or are they craving large amounts of drip coffee? Many coffee drinkers have a favorite type of drink, although some love all types of coffee.
Drip – if you want to serve large amounts of coffee at one time, a coffee maker with a carafe will be the best option. The environmental impact is kinder than with pods, and you'll save money. It does take a bit more effort to brew, but you can use the ground coffee you want. And with a thermal carafe, you can brew the coffee once and people can serve themselves and still count on coffee at the right temperature.
Single-serve – this type of plumbed coffee maker is popular for people who want a personalized cup of coffee. It's not the best for the environment because of all the waste. And those pods are costly! But, each person can choose exactly the kind of coffee, strength, and brewing type that they want.
Espresso drinks – if your office is filled with espresso lovers, they're just not going to be satisfied with the mellow tastes of drip coffee. You might want to consider an espresso machine. You can choose from a range, from a super-automatic type with a frother or a semi-automatic that comes with steam wands.
Drink Volume
How many coffees do you need the machine to make every day? Another consideration is how much coffee you need to brew at one time. The drink volume can change considerably over the day in high-traffic places. Does the machine need to pump out a large volume in the morning hours and then relatively little later in the day? Or is there a steady demand throughout the day?
Brew Time
How quickly can your plumbed coffee maker brew coffee? If you have a line of impatient coffee lovers in your office waiting for their cup of coffee, a slow brewing cycle will frustrate everyone. Also, consider how fast the machine heats up in the morning or after a period of inactivity.
Best Coffee Maker With Water Line 2023
1. Keurig K-3500 Commercial Capsule Coffee Machine
This Keurig plumbed coffee maker for commercial use is ideal for a small office or business. It offers the convenience of single-serve coffee pods and fast brew speed.
PROS (+)
Strong brew
Single-cup
Compact size
CONS (-)
Brews only specific types of K cups
Long warm-up time
What We Like
This machine will appeal to almost every coffee drinker. It has a dedicated hot water line, adjustable temperature, and five cup sizes.
We like the modern design and small size of this Keurig. It has a stylish black and steel look. Plus, the adjustable drip tray lets users serve coffee into a single cup or a travel mug.
This machine pumps out lots of cups in a short amount of time while taking up little counter space.
Users can count on five drink sizes that range from 4 to 12 ounces so they can get the cup size they want. The brew temperature is adjustable.
There's a dedicated hot water line so you can please the tea lovers in your office. Use it to get hot water whenever you need it, for tea, hot chocolate, or other needs. Just touch a button to start steeping. For coffee lovers, there's a strong brew option
The touchscreen display is intuitive to use.
These types of Keurig coffee makers are NSF certified. This certification means they passed sanitary tests. So you can use them for commercial purposes.
This coffee machine has two internal tanks that are drainable. The dual water tanks mean you can brew back-to-back with little lag between drinks.
It's made for continuous use, so you don't have to worry about wearing the machine out. It comes with everything you need to connect it to the water line.
You can hook it up with a water filter or use it without one.
The sleep mode is good for saving energy, but it can be a bit hard to wake the machine up again. The water has to heat again, which can take about 30 seconds to bring it back up to temperature and ready to brew.
The brewing instructions come in several languages. So no one in your multicultural office will feel left out.
What Could Be Better
As the brand name suggests, Keurig coffee makers are only for K-Cup coffee pods.
And at over $1,000, this machine is beyond the budget of most home setups. It is more suited to an office or other commercial space.
2. Bunn MyCafe Single Serve Commercial Use
Bunn created this large coffee maker for commercial use. And it is a good companion for offices and small businesses. Combining capacity, versatility, and convenience, it is an easy favorite.
PROS (+)
Single-serve
Brews with K Cups
Easy-to-use touchscreen
CONS (-)
Design could be more attractive
Doesn't brew ground coffee
What We Like
This powerful machine can deliver 60 single-serve cups in an hour.
The large touchscreen display lets users customize the coffee pod drink they want. Make coffee at your ideal brewing temperature, or opt for hot water to brew tea or make hot chocolate.
This coffee maker has a wider range of serving sizes than other machines. So you can choose from a small cup like 4 oz to a large 16 oz serving.
You can also adjust the brew size by a quarter ounce.
The drip tray moves so you can put in a travel mug, your favorite oversized mug, or a tiny cup with no problems.
Count on an automatic water refill with the direct water line connection. This plumbing keeps the coffee maker in action all day long without needing to refill a tank.
It's NSF certified so you can be sure it will meet health department regulations.
Since this is single-serve, you do have to use pods. It is compatible with many K Cups or also Bunn brand cups.
What Could Be Better
With the appearance of a vending machine, this isn't the most attractive coffee maker on the market.
Also, keep in mind: not all reusable cups will be compatible with this machine. Plus, you can't brew ground coffee with this machine.
3. Fecto CBS
Costing nearly $2,000 and looking like a cafeteria coffee brewer, this Fecto is definitely for commercial use. The Dual Station brewer is for high-volume setups. It keeps a constant flow of coffee hot and ready for customers.
PROS (+)
Cascading Dome Spray
Easy-to-read touchscreen display
CONS (-)
High price tag
Airpots sold separately
What We Like
When you need to whip up big batches of self-service coffee, consider this Fecto machine.
Its features include a touchscreen that is easy to read and easy to get around. The brewing system is easy to figure out. And it has a Cascading Dome Spray.
This feature means the water flows over the surface of the dome. So it doesn't clog the small drain holes that other models have.
If mineral buildup has been an issue with other coffee makers, good news! This feature will minimize or eliminate the problem. And then the cleaning cycle becomes that much easier.
A relatively small coffee maker, about 26 inches high and 19 inches wide, it will fit on most countertops.
It's capable of brewing on both heads at the same time. You can program this maker to brew up to a gallon of coffee, though it's preset for 3 liters. You can opt for thermal dispensers, keeping the coffee hot for longer. It has a 5.8-gallon hot water tank capacity.
What Could Be Better
The airpots are sold separately, which adds to the initial cost.
4. Curtis G4
This commercial setup is for lovers of specialty coffee. The Curtis G4 meets SCA Golden Cup Standards. So expect ideal brewing temperature, a unique brew cone, pre-infusion, and pulse brewing.
Meets SCA Standards
PROS (+)
Single-cup brewer
Uses ground coffee
Fast brewing
CONS (-)
Airpot coffee pot is sold separately
This amount of customization may be unnecessary for some users
What We Like
Need a coffee machine that connects to your water line and produces specialty coffee in single-serve cups at large volumes? The Curtis G4 coffee makers give you single-cup brews without the waste of plastic or pods. These plumbed coffee makers give you the freedom to use the pre-ground coffee of your choice.
The large touchscreen display on the Curtis G4 controls the brewer. The programming is pretty remarkable for this type of commercial setup.
Programmable brewing lets you adjust the time, temperature, and volume of coffee. You can program up to 44 recipes, and each recipe can have several options.
To get the most delicious coffee, you can set these plumbed coffee makers for pre-infusion and pulse brewing, with up to 12 pulses for one brew. It even pre-washes your filter if you want it to. Choose from 12, 16, or 20-oz options.
But you're not locked into the preferences of other uses, since you can change the settings for each cup. Set the number of pulses you want to brew the coffee in stages. (This feature mimics what you would do with a pour-over brewing method.)
The machine also lets you adjust the brew time according to the coffee you're using. You also get improved extraction with the brew cone's unique ridges.
As we mentioned, these coffee makers use ground coffee. But that doesn't mean it's hard to use. Brewing convenient one-touch coffee is easy with the touchscreen interface.
You can preprogram the coffee maker for each side, giving you specific settings for both the left side and the right side. These coffee makers can be set up so you can brew both sides at the same time.
Be forewarned that with just one boiler, any temperature change affects both sides.
Take advantage of the energy-saving settings on these plumbed coffee makers.
There's also a hot water spout to provide hot water for tea or hot chocolate. Automatic diagnostics let you know when you need to do maintenance and what issues have come up. This Curtis is definitely a machine to last.
What Could Be Better
At times the water doesn't filter through at a fast enough rate, which causes overflow.
5. Keurig K2500 Commercial Brewing System
The Keurig K2500 is a durable commercial-grade plumbed coffee maker. It's ideal for small to medium-sized businesses that want to serve single-cup coffee pods.
PROS (+)
Durable plumbed coffee maker
Single-serve machine
Less expensive model
CONS (-)
Can only be used with K-Pods
Some leakage
What We Like
The Keurig K2500 plumbed coffee maker has an attractive, compact design. Your workspace will appreciate that this machine is quieter than some plumbed coffee makers. It's definitely quieter than most commercial setups. But don't be mistaken. This compact coffee machine is ready for some heavy-duty work.
The 4-inch high-resolution touchscreen is easy-to-read. K-cup compatible, these coffee makers let you brew coffee or tea and also make a cup of hot chocolate.
Just choose the serving size and if you want a regular or strong brew. That's right. For coffee drinkers who crave a more intense cup, there's a strong brew setting that pre-infuses the pod. Choose from a range of five different cup sizes.
Heating between brews can take about 30 seconds. Brewing takes less than a minute (unless you hit the strong option, which takes a few more seconds).
Taking out the drip tray gets you more clearance for a large mug or travel cup.
The Keurig K2500 is easy to install to a water line. It includes everything you need to connect the coffee maker to the water line, including the nozzle connection.
These coffee makers also come with a water filter. Water filters are essential to clean out impurities, ensuring you have the best-tasting cup possible.
Filtering the water also helps prevent scaling, which can prolong the life of a coffee maker. It comes as a plumbed coffee maker, but you can buy a water tank if you want to add one to the setup.
This Keurig doesn't automatically spit out the capsule when you're done brewing, so you have to do it by hand.
The brewing instructions come in a variety of languages. So everyone in your office can feel at ease with the machine.
There's a programmable sleep mode, and you can drain the internal tank.
What Could Be Better
Keurig machines can only be used with K-Pods, and there are some issues with leaks.
6. La Pavoni Bar-Star 2V-R 2 Group Commercial Espresso Maker
This gorgeous commercial espresso machine is something you could find in a coffee shop. But it is also an excellent option for businesses that want to offer espresso drinks.
Best High Volume Espresso Maker
PROS (+)
Beautiful Italian design
Delicious espresso
Automatic coffee dosing
What We Like
One of the oldest Italian espresso machine companies, La Pavoni has been making espresso coffee machines for well over 100 years. You can see this in the beautiful Italian design and taste it in the delicious espresso.
This two-group commercial espresso machine has two steam wands and four espresso volume settings for each group. It has automatic coffee dosing determined by the digital control pad and microprocessor.
Thermal stability for the groups means you'll be able to maintain a constant temperature. You can also pre-infuse the coffee grounds and provide hot water with the programmable button.
The dual pressure gauge monitors the pressure in both the group and the boiler. The copper boiler capacity is 14 liters, with a direct water feed and one hot water tap. Standard on these espresso machines, there's a second steam wand for the second group.
Count on the power savings settings on this espresso machine for when you have less demand.
A 4-position power switch helps save as much as 33% of electricity. It also lets you turn off espresso machines during slow times or put them in sleep mode. You can also set it at the ¾ capacity energy saving mode to save during slow times.
The transversal heat exchangers for each group are front-mounted. This setup makes repairs to the espresso machines easier.
You can also opt for a low-profile portafilter, which lets you direct brew into a 16-ounce cup.
This plumbed coffee maker comes with a plumbing kit to install a direct water line connection. And these espresso machines are both NSF and CSA certified.
What Could Be Better
Full-size espresso coffee machines aren't the right fit for every business. First, they take up a lot of counter space.
But more significantly, they require a trained staff member to prepare the espressos. (Or motivated workers who will dedicate the time to learn to use and clean the machine.) These machines are more commonly seen in coffee shops than in offices.
7. Bunn Automatic Airpot Coffee Brewer
This plumbed coffee maker is for commercial spaces that want a dependable, inexpensive coffee brewer.
The straightforward commercial coffee maker keeps up with high demand. It has few bells and whistles. But it provides basic drip options for customers or office workers.
PROS (+)
Uses ground coffee
Economical
Brews large volume
CONS (-)
Slow brew time
Not much programming capacity
What We Like
The Bunn Brewer is more workhorse than show pony. The sturdy design and the stainless steel body of this plumbed coffee machine ensure a long-lasting machine.
This Bunn brewer has a digital timer and industry-standard temperature settings. It also includes a pour-over feature and a water faucet for people who prefer tea or cocoa. Best of all, it's easy to set up.
It's less expensive than the other plumbed coffee machines on this list and can brew up to 7.5 gallons of coffee per hour. Since it's hooked up directly to the water line, you don't have to worry about a water tank running dry.
The airpot coffee pot comes in both 1.9 or 3-liter sizes, and the coffee pot is purchased separately.
Large batches of coffee require the stainless steel gourmet funnels. These are deeper and larger so they provide greater capacity and don't overflow. Those funnels are also purchased separately.
What Could Be Better
The commercial coffee maker takes time to come up to brewing temperature. Also, the basket overflows with bigger batches unless you use the gourmet funnel.
Final Verdict: Best Coffee Maker With Water Line
Is there any way to get around constantly filling the internal water tanks on coffee makers? There is. When you get a plumbed coffee maker, you can connect the coffee machine directly to the water line. In other words, you never have to worry about who last filled the water reservoir.
Plumbed coffee makers are ideal for businesses that have a heavy demand to brew hot coffee.
If you're interested in single-serve plumbed coffee makers with water line connections, consider the Keurig K-3500. It is fast and provides the convenience of single-serve coffee pods. This plumbed coffee maker has five cup sizes and lets you adjust the temperature. So it's appealing to a wide range of coffee drinkers.
If you want to use ground coffee and brew in large batches, the Curtis G4 is ideal. This commercial setup is for specialty coffee drinkers. It meets SCA Golden Cup Standards. So you get the ideal brewing temperature, a pre-infusion setting, and pulse brewing.