Is Cometeer Coffee Legit?
We love a flavorful cup of coffee, but sometimes we just don't have time for the brewing process. If you have children competing for your attention or an office desk piled high with work, you might feel you don't have the time to brew your manual cup of coffee.
We get you. And so does Cometeer coffee.
Cometeer wanted to give people a great cup of coffee that can be prepared fast, but they didn't want people to drink that instant stuff. So they created something new.
Let's talk about this new way to bring you the freshest brewed coffee possible and our thoughts on how it tastes.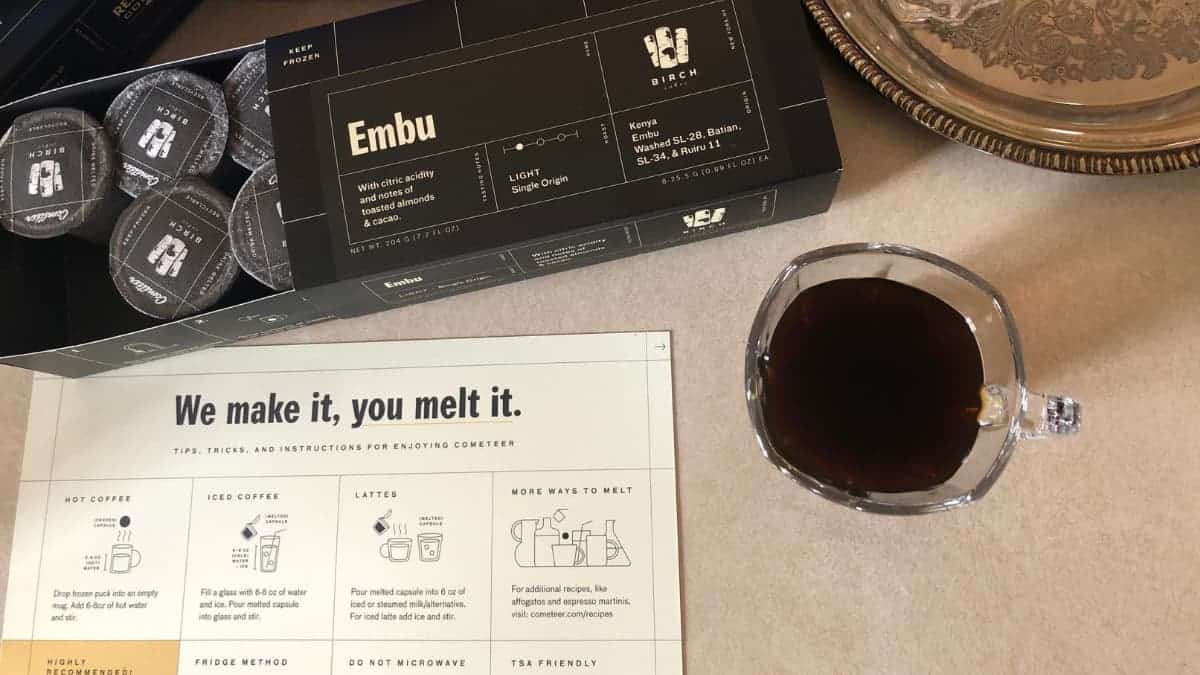 Who Are Cometeer Coffee
Cometeer is a Massachusetts-based startup company that saw the light of day in 2015. Founder Matthew Roberts has gone far in a short time with his startup idea.
PROS (+)
Convenience
Flavor rivals a fresh cup
Brew coffee fast, anywhere
With more and more people drinking coffee at home, Roberts saw possibilities to bring a fresher, tastier brew to people's kitchens and offices.
He created frozen coffee capsules that lock in the tastes of freshly brewed coffee while giving consumers a fast coffee experience.
He and his team are serious about what they're doing. They have injected over $50 million into their coffee capsules to generate awareness. The team also has some powerful investors behind them, such as the founder of Keurig Green Mountain, a former top executive from Nespresso, and investors in Blue Bottle.
Like a comet, which is frozen, moves fast, and makes an impact, Cometeer brings to the public a frozen idea that will make an impact on how people drink coffee.
What makes Cometeer different
What does Cometeer promise?
They provide coffee capsules, which doesn't sound new. But it's the way they create these capsules, and the way people use them, that's capturing the attention of so many investors.
Cometeer starts with specialty coffee – and that isn't just a vague promise. They source their coffee from roasters around the United States, big names that even people who aren't in the coffee industry recognize.
Then they brew this good coffee at 10x strength. So far, nothing too earth-shattering.
What makes Cometeer different is what they do with the coffee after brewing. First, they freeze the coffee with liquid nitrogen at negative 321 degrees Fahrenheit. That fast cold snap locks in flavor.
Then the coffee is packed in pods that have a similar look to your average K-Cup, and they're sent out, frozen, to the consumer.
All you have to do is melt the pod with hot water. You get an instant brew with all the flavor.
How Cometeer Works
Each Cometeer coffee capsule contains 26 grams of coffee. So yes. It's pre-dosed for a perfect cup every time.
But, to be clear, Cometeer capsules are not a coffee concentrate. They contain extracted, or brewed, coffee.
When they brew the coffee, their website says they take into account everything that goes into good extraction.
They include a list of mind-boggling coffee terms such as oxidation, extraction yield, TDS per cup (refractometer metrics), temperature, and pressure. They also keep in mind roast level and grind size. They don't use preservatives; it's just coffee and water.
The capsules are packed in boxes with 8 pods each, and they ship directly to you. Here's the interesting part – they're shipped on dry ice. So you receive your frozen coffee pods wherever you live in the country.
Here's a photo of my order unpacked so you can see what I mean:
Don't worry about buying extra machines to use the capsules. All you need is hot water to thaw the frozen coffee.
Cometeer aims to do on a large scale what great baristas do for your individual cup of coffee. Along the way, they help you get a fast coffee while avoiding the dirt flavor of instant coffee.
How do you use Cometeer coffee?
When you receive your shipment, simply pop it into your freezer.
Then, when you're ready for a cup of coffee, pour hot water over the capsule for 10 seconds to release it from the sides of the capsule.
Then peel back the lid and pop the frozen coffee puck into a mug. Pour 6 to 8 ounces of hot water over the puck and watch it dissolve. Enjoy.
Does Cometeer taste like freshly brewed coffee? Yes. It has the aroma, taste, and body of a fresh cup. And the freezing method preserves acidity.
If you want to make a latte or cappuccino, remember that Cometeer pods are not espresso. Instead, they contained brewed coffee, so a latte will not be as strong as when you use an espresso base.
But, you can indeed use the pods to create your favorite coffee drinks. Whip up an espresso martini in no time. Enjoy an affogato without the work. Or blend up a coffee frappe in no time.
If you want to create an iced coffee, add cold water and ice to the capsule. Want an iced latte? Add 6 ounces of cold milk, ice, and a thawed coffee capsule.
For an affogato, put one scoop of vanilla ice cream in a bowl, pour one completely thawed capsule over it, and add the toppings of your choice.
If you still want to use your K Cup machine, just insert the Cometeer capsule and press the button as usual.
What do you do with the capsule after your coffee is brewed?
Simply put the capsule in your recycle bin. Since there are no grounds, you don't have to worry about emptying pods, cleaning them, and composting grounds. Cometeer composts the grounds after the extraction process.
What if something goes wrong in the shipping process and you get thawed pods? No problem, they can be refrozen.
My Experience With Cometeer
First, when Cometeer arrives at your front door, you'll feel a little important when you carry your precious cargo indoors.
Slice the tape open, pop the flaps, and you'll be greeted by four frosty boxes, "brewing" instructions, and basic literature from the roaster (though, sadly, that does not include information on each roast).
There's a separate compartment below created out of insulating material, housing the dry ice.
By the way, that basic literature includes instructions for safely handling and recycling these materials — after the dry ice has evaporated in a secure location.
And yes. Cometeer is for sure not the cheapest. But it arrives in good condition and is fresher than expected with the posh packaging.
Roasters Included
Cometeer is a typical subscription box, so they choose four roasts for you.
When I tried the Mixed Box, I got a light, two medium, and one dark roast:
Embu — Birch, medium.
Daily — Joe Coffee, medium.
Snow Leopard — Equator, medium.
East Fourteenth — Red Bay Coffee, dark.
Ease of Use
As advertised, Cometeer really is easy to use.
For a regular cup of coffee, it's as simple as pouring 6-8 ounces of hot liquid over the concentrated coffee.
The hardest part is waiting a couple of minutes to boil water.
Oh, and you'll have to bother to run the capsule under the sink for a few seconds to loosen the frozen coffee enough to pop it out of the aluminum capsule.
Yup. Super simple!
You can play with the amount of hot water you use to get your desired strength, but I don't recommend using less than 6 ounces. Frankly, 8 is better for flavor.
Even if you like stomach-rotting brews, the concentrate is a little syrupy yet acidic when not well diluted.
You essentially treat your concentrate like espresso, adding it to ice to make an iced Americano, to milk for lattes, or over ice cream and make an affogato.
And if you're not a barista, the brewing instructions will walk you through these simple processes.
Usually, it's as simple as pouring ingredients into a cup. If you want hot drinks, you may have to warm up water/milk and use a milk steamer/frother.
If you want more interesting coffee that's still fast and easy to make, Cometeer delivers.
Taste
Overall, Cometeer makes a good cup of coffee.
It's reasonably fresh when prepared, has a strong flavor, and you can still get a lot of the notes of each roast coming through.
The biggest issue with taste is getting the ratio right for your taste.
As I said, it can be a little syrupy in texture and flavor if not diluted enough — but you don't want to overdo it and end up with weak coffee, either.
By the way, Cometeer coffee runs a tad acidic, regardless of roast (all four roasts I received listed fruity notes, maybe for this reason).
As a result, it tasted a little like a French press once prepared.
Where Cometeer coffee comes from?
Cometeer partners with notable roasters from the United States such as George Howell, Counter Culture, Bird Rock, Equator, Birch, and others.
These roasters support coffee farmers with fair prices. Cometeer uses a variety of roasters to give you a choice of different roasting styles.
You can choose from coffee beans that were processed in various ways: washed, natural, even anaerobic. Coffee varieties can get as exotic as Catuai or Gesha coffee.
What do people in the specialty coffee industry say about Cometeer?
They are well accepted in the coffee industry, as you can see from the roasters that partner with them.
Also, in 2019 their product won a Best New Product and Design Lab Award at that year's Specialty Coffee Expo.
Choosing your Cometeer coffee
How do you choose the coffee you want?
The Cometeer website takes you through some personal soul-searching when it comes to your coffee preferences.
They ask you how you take your coffee, including brew strength, temperature, additions such as milk products and sweeteners, if you prefer decaf, or if you expect the outstanding flavors of a single-origin coffee.
Once you've voted for your preference, they recommend a box for you.
They'll recommend any of the following: Light Box, Medium/Dark box, Dark box, Decaf Box, or a Mixed box. Not creative names, but they plainly let you know what you're getting.
To know what you're getting yourself into, you can take a peek at the reviews on their website (there are thousands of them).
Each shipment box has 32 pods that are packed in four smaller boxes. The shipment will set you back $64, although they give you a 25% discount on the first order as an incentive.
As I mentioned, they ship them frozen, on dry ice. At home, you can keep them in the freezer for up to one and a half years, according to the website.
Mine arrived just fine and was super easy to unpack.
In your fridge, that time narrows to just three days. But that still gives you enough freedom to thaw your coffee out in the fridge, say, the night before.
Having tried this, it was literally as simple as placing the capsule in the fridge after unpacking and unwrapping it the next day ready to go!
You can even bring Cometeer capsules on a plane, because TSA won't create a fuss over these small pods. All you need is some hot water on the plane, and you can have a cup of truly good coffee.
You don't have to worry about brew quality if you let the capsules thaw before using, since you have a 24-hour frame where the tastes are still preserved.
And if you thawed a capsule and didn't get the chance to use it, you can always refreeze it (although I didn't test that – this is what the brand says).
Cometeer Pricing
Alright, so this sounds pretty incredible, right? But, how much does Cometeer cost?
The base shipment is 32 capsules, which puts the regular price of each capsule at $2. Is that a good price for a cup of coffee? Let's look at this a few different ways.
I'm not going to compare the pricing to instant coffee because the quality of instant coffee is so inferior. If you like instant coffee, there's no reason for you to consider paying for Cometeer's specialty coffee capsules.
For the same reason, I'm also not going to compare the pricing to diner coffee or similar places. Cometeer starts with specialty coffee, and that's what we have to compare it with.
The two situations we can compare Cometeer capsules to are:
If you usually buy your cup of coffee at a coffee shop…
Cometeer is way cheaper than a coffee shop. A cup of coffee at a specialty coffee shop can set you back as much as $10 for a pour-over. Cometeer roles in at just $2.
If you like all the syrups, creams and other additions at your coffee shop, you can stock up at home and still save yourself a lot.
Of course, if what you love about getting a cup of coffee at a coffee shop is the human interaction, no coffee subscription company can give you that.
So we're not telling you to nix the visit to the coffee shop. We love our baristas too. But if you just want your fast cup of joe, Cometeer is a more affordable choice.
If you usually buy coffee bags from a specialty coffee shop…
Cometeer is way more expensive than buying a bag of specialty coffee and brewing it yourself.
A typical bag of coffee from a coffee shop might make about 20 cups of coffee, depending on the amount in the bag and the ratio you're brewing with. That could come out to about $1 a cup for good specialty coffee.
So is Cometeer a good deal at double that price?
Yes and no. Or maybe.
Why do I say that? As with any pod or capsule product, you're paying for convenience. Is the convenience worth an extra dollar per cup? Only you can decide that.
Also, this price comparison assumes you already have equipment at home such as a grinder, kettle, and the brewing method.
I personally love to spend the time brewing my coffee at home or at the office. I love the leisurely act of weighing the coffee and the sensory experience of smelling the fresh ground coffee as well as the aroma as I pour hot water over it.
Not everyone has that leisure time at home or at the office. So no judgement there: it's a personal decision.
Don't Buy Cometeer If…
You want complete brewing control
You like large mugs of coffee (Cometeer only produces 1 small cup)
You want something more budget-friendly
You want more freedom of choice (the base shipment is a minimum of 32 capsules)
One last note about Cometeer is about environmental concerns. If you're concerned about our planet, you might not want to buy any capsules.
But, yes, Cometeer capsules are aluminum and fully recyclable. And you can recycle them with the rest of your regular recycling, no need to do anything special.
But the question remains, how many people actually recycle?
While these capsules are recyclable, we know that most recyclables end up in landfills.
Wrapping Up
Is Cometeer good for you? If you're looking for speed, easy of use, and portability, yes. All you need is hot water. No equipment, no Keurig machine, no home brewing equipment.
If you're concerned about the environment or are more budget-conscious, you might want to stick with brewing your specialty coffee yourself.