You want to buy an espresso machine, but you have your doubts.
Will it be hard to use? Will you enjoy making espresso at home? Will you get good results? Will you use it often enough?
Considering that most espresso machines are priced well over $500 – and some cost into the thousands of dollars – it's a purchase to consider carefully.
To ease the worries, perhaps you've considered getting a simpler espresso machine at a more attractive price.
To help you decide if that's the route you should take, I've reviewed a popular and economical espresso machine, the DeLonghi EC155. Let's look at what this machine can do for an espresso enthusiast.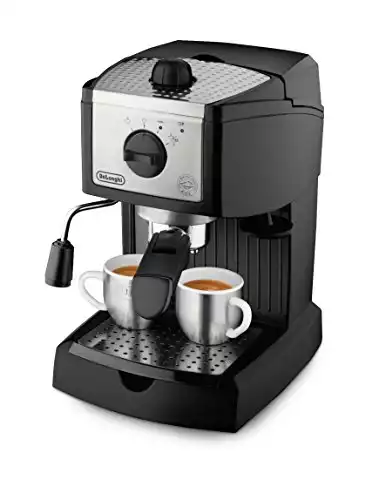 DeLonghi EC155 = Budget Espresso: Key Considerations
If you're considering buying a less expensive espresso machine, you should keep in mind the following points:
Brew Frequency
How often will you prepare an espresso? Are you looking for one that you can occasionally use on lazy weekend mornings? Will you brew just one espresso shot in the mornings?
Or are you looking to make espresso and cappuccino for a busy office, where people will often stop by the coffee station during their breaks to have an espresso and cappuccino?
A cheap espresso machine will hold up to occasional use quite well. However, if you're looking for a caffeine-producing workhorse, you might want to invest in a machine that can hold up to that brew frequency.
Steamed Milk
For many coffee drinkers, an espresso machine without a steam wand would be useless. You need milk foam for popular drinks such as lattes, cappuccinos, or macchiatos. And you create your foam with a wand.
Some inexpensive machines have automatic milk frothers that heat up the milk and build volume into it. But those frothers often don't produce the microfoam you need to create a barista-worthy drink.
The advantage of a wand is that you can steam your milk the way you want rather than using an automatic frother that you have no control over. This can help you produce decent microfoam and lets you adjust the ratio of foam.
Another factor that makes a wand less effective is how long it takes to heat up. After pulling a shot, you may need to wait for the boiler to reach the temperature to create steam for the wand. That could result in an excessively long wait time just to have a latte.
So if frothy espresso and cappuccino drinks are your main reason for purchasing a machine, consider how effective the wand is and how long it takes for the steam temperature to be reached.
Brewer Durability
How long will espresso machines last? A good quality machine that costs thousands of dollars may be a life-long acquisition.
As you go down the price scale, an average lifespan of 5 to 10 years is reasonable for lower-cost machines. However, as you get into the realm of extreme budget machines, you might find the life span is considerably lower, even as low as a year.
Now let's look at what a DeLonghi EC155 does well – and what may frustrate you.
DeLonghi EC155 Summary
The DeLonghi EC155 is an inexpensive, compact brewer that gets rave reviews from beginners looking for inexpensive coffee machines. They appreciate that the EC155 is a true espresso and cappuccino machine, with a portafilter and a steam wand for creating milk-based drinks.
Founded in Italy by the De'Longhi family, the company has been producing coffee makers and other domestic appliances for decades. They produce a wide range of coffee makers, not just less expensive ones like the EC155.
One of the most notable aspects of the De'Longhi EC155 is the price. Although it can vary greatly, you can get this model on sale for under $100. The nearest competition sells for two or three times that amount, so for the sheer price, this can be the best (if not the only) truly budget option.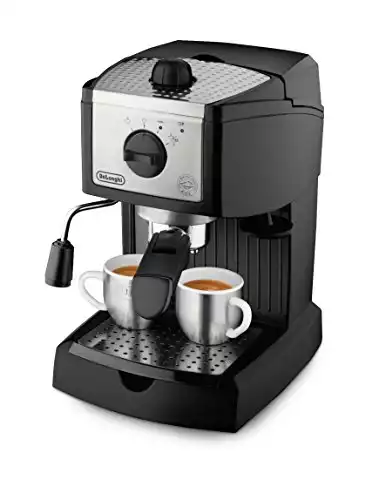 PROS (+)
Affordable
Small size
Lightweight
CONS (-)
Inconsistent results
Long heating time
What I Like
The size is ideal if you have a small kitchen. I value counter space in my small city apartment, so when I researched my first espresso machine, I paid a lot of attention to the size. De'Longhi EC155 shines in that aspect. It's compact and lightweight, which makes it easier to fit into any home environment.
And I'll admit that when I considered buying my first espresso maker, I was concerned about the cost. I wasn't sure if I was ready to spend the time making my own espresso every day, including cleanup time.
I didn't want to spend a few thousand dollars on a complicated machine that might wind up accumulating dust on my counter (or even worse, tucked inside a cabinet!).
The EC155 lets you test out having an espresso machine without breaking the bank. It goes beyond the basics, with features like a tamper connected to the machine (my thoughts on that come later), a cup warmer, and a cleaning alert.
What I Don't Like
A downside of the small size is that everything on this De'Longhi is reduced. There is little room under the portafilter, enough to just fit a small cup. If you would like to use a mug, you need to remove the drip tray to fit the mug in, which kind of negates the benefit of a drip tray.
The heating time is 15 minutes. When you want to pull a second shot, you have to wait a full 15 minutes. Imagine wanting to drink coffee with a buddy and having to wait that much time between espresso shots.
The EC155 lacks the power to push water through finely-ground coffee (as in, the grind that you use to make espresso) and can clog the machine. Also, the machine isn't capable of extracting good flavor from lighter roasts.
DeLonghi EC155 Review
As I mentioned, one of the most attractive features of the De'Longhi EC155 model is its size. It's compact and lightweight, measuring just 12.2 x 19.3 x 15 inches and weighing less than 7 pounds.
That's great because it will fit on most home kitchen counters or even the smallest work coffee station.
The machine has a plain look, with an ordinary design and a plastic build that is far from impressive. But the most important question is: how does it handle brewing?
Brewing
This little machine does produce decent espresso shots. The 1100-watt boiler heats up slowly but surely. It can reach 15-bar pump pressure, which is more than enough pressure to extract flavor from ground coffee beans in the 30-40 second time frame.
It's easy to use. Just turn the knob on the front of the machine to start the flow of water, then after you brew the shot switch it back to 0 to turn it off. Then, select between resting, heating, brewing, or steaming modes by twisting the knob.
The machine does not stop automatically, so you do have to pay attention to the time. You might have to practice pulling several shots to get the timing just right.
The dual filter basket lets you make a single or double shot of espresso. You can also decide to use coffee grounds or coffee pods.
I'm not sure why using coffee pods would seem attractive. After all, using a semi-automatic espresso machine takes extra time and effort. Why go through that work but then not be willing to weigh and grind your coffee to get the best espresso?
While there is a tamper, for some reason, it's attached to the machine, and you can't remove it. To adequately tamp coffee for espresso, you need to apply enough even pressure to compact the ground coffee. You can't apply that pressure if the tamper can't be removed from the machine. A way around that is to purchase a separate tamper.
The pump in such a compact machine is small and often struggles to force the water through the grinds. However, the machine does have enough pressure to create crema, although you won't get the quality crema you can expect from other espresso makers.
You will need to wait for the machine to heat up to brew additional shots, which takes about 15 minutes. If you're only pulling one-shot for yourself, that wait time won't be an issue.
Milk Frothing
An espresso machine might seem a lot less useful to you if you can't make lattes or cappuccinos. On this De'Longhi, the steam wand is a feature that works better than you might expect.
The knob on the front of the cappuccino maker controls the steam. First, turn the knob to steam and wait for the green light to let you know it's ready to start. Then use the milk frother (they call it a swivel jet frother) as you normally would to steam your milk. Then turn the front knob back to 0.
One of the biggest complaints is that the swivel jet frother is a bit short, so it can be hard to maneuver the milk pitcher into place and have adequate freedom of movement to produce microfoam.
Cleaning Ease
Cleaning up after making an espresso and keeping the machine in good working order are two major considerations when purchasing espresso machines.
This De'Longhi is easy to clean. It's lightweight, which makes it easy to move to clean under and around it. As with all espresso machines, you need to remove the filter basket, dump out the coffee grinds, and clean off the wand. You can completely unscrew the cap of the wand to give it a thorough cleaning.
The 1-liter capacity water tank is easy to remove, refill, and clean. In addition, there's an indicator alarm light that lets you know when it's time to descale the machine.
Durability & Build Quality
As you would expect with espresso machines at this price point, some corners had to be cut. That's why although most espresso machines are built of stainless steel, the EC155 is built mainly of plastic.
If that makes it sound like it won't hold up, you're right. The build quality does feel a bit flimsy. However, you might be willing to put up with the less sturdy build quality to get an espresso maker at such a low starting investment.
The DeLonghi EC155 Isn't For You If…
You Want To Do No Work
With a fully automatic coffee maker, you just press a button and get an espresso in your cup. No work involved.
However, the De'Longhi EC155 is semi-automatic. So, yes, it's not as manual as pump espresso, but you do need to get involved and make decisions along the way.
For instance, you control when you start the shot, determine when the shot is ready, and turn off the flow of water after you pull the espresso.
This control appeals to some, but to others, it might seem like a bit much. If you want to do no work, consider buying a fully automatic machine.
You're Upgrading Espresso And Cappuccino
If this is your first espresso maker, you may be happy with its performance for a while. If you want to upgrade your home espresso set up, this DeLonghi EC155 probably won't be an improvement.
There are other budget options on the market that provide better espresso at a reasonable cost. We researched the best budget espresso machines for you.
You Need A Powerhorse
With a mostly plastic build, a long preheat time, and a faulty tamper setup, this is not the espresso and cappuccino machine for high-frequency use.
If you'll be pulling more than one espresso a day, look into a budget espresso machine that has a sturdier stainless-steel build and a more powerful pump.
The Final Verdict: DeLonghi EC155
The bottom line is that if you need an inexpensive espresso machine at an entry-level price point that brews good dark roast coffee, you might want to consider the De'Longhi EC155.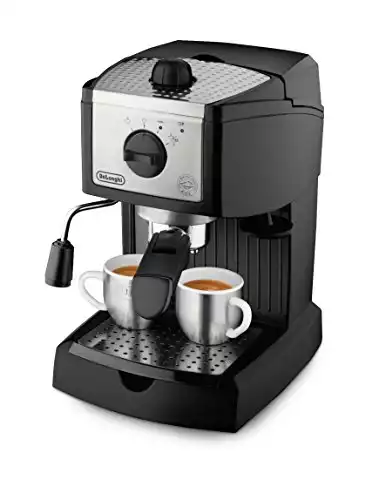 If you're realistic about what a machine at this price point can do, you may find yourself satisfied with the results. Check out the features of the De'Longhi EC155.