Flair Espresso Review 2023
When you think of an affordable option for espresso these days, the Flair is one of the top choices for a decent manual home espresso machine.
It can brew a great espresso, just like a regular manual-lever espresso machine, by using the same amount of pressure packaged in a smaller and eco-friendly package.

Below we dive into our Flair review to further understand why this manual espresso maker has been making waves with 'spro enthusiasts everywhere.
What's So Good About The Flair?
Right off the bat, the Flair espresso maker is different from your run of the mill brewing device.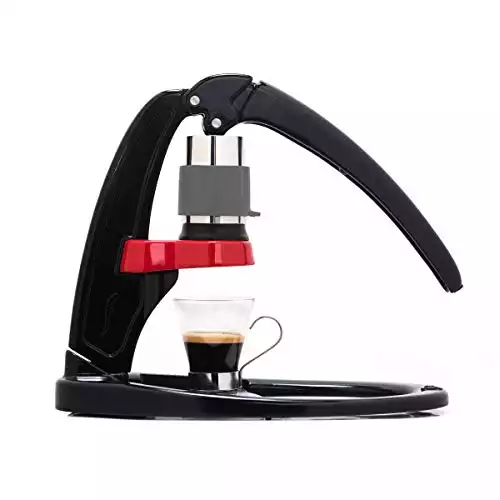 PROS (+)
Intuitive and easy to use and fast clean-up
Brews real espresso
Design and materials are well-built with a long warranty
CONS (+)
Might take a couple of shots to dial-in your espresso calibration
Pricey compared to other manual espresso makers in the market
Most espresso makers can brew a shot of espresso using 9 bars – 16 bars of pressure, and the Flair is par for the course, but it does it with the same workflow and ritual as a huge and expensive espresso machine you'll find in a café.
The concept for the Flair originates from a successful Kickstarter campaign in 2016. The espresso maker was touted as an affordable and portable version of manual lever espresso machines that can brew a good espresso shot. It quickly became a hit in the coffee industry, and today the Flair comes in 4 models with different price points and features.
Our review will focus on the Flair Signature Brewer since it provides a decent middle ground between the Classic and the Pro 2. We'll compare each model's difference and help you decide which manual espresso maker is the best fit for you.
The Flair Signature Brewer covers all the basics with some additional products to help brew well-extracted espresso. It features a premium finish of chrome and a copper-plated portafilter base that conducts heat well.
You can also upgrade your Flair Signature Brewer with a pressure model kit that allows you to dial in how much you'll need to brew a perfect shot of espresso. It features a custom pressure gauge, with a targeted range for espresso between 6-9 bars of pressure, and also includes a piston stem and a stainless steel plunger.
The Classic from Flair's lineup is the first model invented by the manufacturers, and it is the most basic version. It doesn't have a pressure gauge, but it can brew great espresso like it's more expensive siblings. The Classic is the smallest in Flair's product line, making it the most portable in the bunch.
If you're looking for the best of the best from Flair's lineup, The Pro 2 is the flagship model. It features enhancements from the original Pro model, including a removable spout, pressure gauge, and enhanced bottomless portafilter. It's also bundled with a gauge guard for increased durability and a silicone grip on the lever for better handling.
The Pro 2 also has an integrated pressure gauge to take the guesswork out of your brew. Including an enhanced all-stainless steel brew head and a two-piece drip tray for durability.
It can also allow for variable ratios since it can support 16 to 24 grams of coffee, up to 70ml of water, and it can yield up to 56ml of espresso, making the Pro a good choice if you prefer a lungo.
Lastly, the company has released a newer model called the Neo, which uses a unique flow-control portafilter that controls your brew water flow to ensure an even extraction throughout your coffee grounds. This is more catered towards newbie espresso aficionados who want a consistent pull with each brew.
All models for the Flair Espresso maker include an assortment of accessories, including a measuring cup/tamper, funnel, drip tray, and a screw that permanently affixes the ergonomic lever to the base.
Keep in mind that the Flair uses a completely manual brewing method, so it might take some practice to pull a decent shot, especially if you're a beginner. With that said, if you manage to push through the learning curve, you'll end up brewing like a pro in no time due to its intuitive process.
Who's The Flair For?
If you enjoy the ritual of brewing as much as the espresso itself, the Flair espresso maker is a worthy alternative from a typical lever machine.
Unlike an Aeropress or Moka Pot, which CAN make decent coffee, the Flair provides the necessary 9 bars to pull a real café-quality espresso.
If you're looking for speedy convenience in your manual espresso maker, this brewer ticks the box. You won't have to deal with those long start-up or heat-up that you'll find in electric espresso machines. Clean-up is also a breeze with its small parts, so you won't have to deal with descaling or the need to purge your manual espresso machine after usage.
It's unique looks can definitely turn heads if you have one in your home. The Flair's simplistic design and structure means it can fit in most kitchens and sits as an eye-catching conversation starter too.
Espresso aficionados might be inclined to buy the Flair if they prefer tinkering with their brewing parameters to pull high-quality shots of espresso. You can customize the amount of pressure, water, grind size, and temperature, which is not always possible with other portable espresso machines.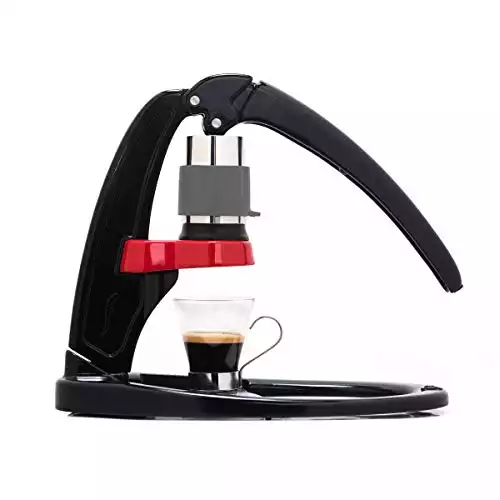 The Design
The first thing you'll notice with all the models of the Flair espresso maker is its looks. Compared to other manual espresso makers, The Flair is designed to look like a commercial espresso machine with a simple and minimalist aesthetic.
It consists of the base, lever, and the brew chamber where the brew head and portafilter go together.
The brew head can easily be inserted or detached in one piece. The brew head consists of the piston, water cylinder, dispersion screen, and portafilter.
The portafilter is placed at the bottom, where you can add your coffee grounds. A stainless steel dispersion screen is placed on top of the grounds to ensure an even amount of water hits the grounds.
Next up, hot or boiling water is placed inside the water cylinder, where it can be easily attached on top of your portafilter.
Lastly, the piston attaches on top of the device, creating the required pressure to complete the brewing process. To brew the best espresso, you'll need around 9 bars of pressure, and the Flair can easily provide 8 – 16 bars depending on how hard you push!
This pressure is essential to extract the strong, concentrated flavors which espresso is known for from your coffee grounds. The process also creates the crema, a thick layer of foam that provides the drink's unique texture.
These 4 parts from the brew head can easily be detached for an easier assembly or clean-up.
The Flair is also packed with accessories that also fit well with the brewer's simplified design to brew real espresso. Additionally, all Flair products are bundled with a measuring cup, which doubles as a tamper that streamlines your espresso workflow.
When it comes down to color, you can choose from either black or white stainless steel finishes for either the Classic or Neo, which feels sturdy and well made. If you're looking for a premium finish, the Signature and Pro 2 is available with a copper base and a matte black or chrome finish.
Build Quality
With its simplistic design, you might think that the Flair is fragile, but that's not the case as all models are made with high-quality materials built to withstand frequent use.
Each model is made from cast aluminum and stainless steel, and it's also backed by a 5-year warranty from the manufacturer if any parts fail. Each section from the brew head is made with stainless steel, so don't worry about damage from accidents and regular use.
The pistons are built from a unique plastic called polyacetal designed for pressure settings that need stability and durability.
Since the plastics used in the espresso maker are also food-grade certified and can withstand the high temperatures needed to brew coffee, there's no cause for concern there.
For clean-up, the water chamber, portafilter, and brew chamber are easily detachable. One thing to note is that the parts are not dishwasher safe; don't worry, as it only needs a quick rinse with cool water. But, make sure not to use any soap as it may alter the flavor of your next cup.
Easy To Use
The biggest perk in brewing espresso with a Flair is it is intuitive to use and easy to clean. You'll do most of the work with it's easily removable 4-part brew head.
The first step is to grind your coffee beans to an almost powder-like size, place at least 13 – 18 grams of coffee grounds into the portafilter, tamp the grounds for an even extraction, and secure the dispersion screen.
Next, you pre-wet the water cylinder with hot water to maintain temperature and avoid "shocking" your coffee and alter its flavor. Filling the chamber with your preferred ratio of water and secure the chamber above the portafilter.
Next, pull the lever until you achieve the 9-bars needed, which forces the hot water through the ground coffee. Some models like the Flair Pro 2 and Signature have a bundled gauge to take the guesswork out of acheiving the correct amount of pressure. Brewing time should take about 25-45 seconds.
You can improve your espresso's shot quality by experimenting with different brewing parameters like the ratio of hot water and coffee, grind size, temperature, and even how much pressure you can use to pull the shot.
It's an easy way to brew espresso but hard to master, so if you do grab this brewer, keep on practicing, and you can brew coffee to its full potential like a pro.
Nonetheless, it's always good to see this on video, so check out the brewing course via the YouTube video below to see it in action:
Don't Buy The Flair If…
You might be tempted to grab a Flair Espresso machine right after reading the previous sections of this review, but you'll also have to consider some factors if it's the right type of brewer for you.
You need multiple cups of coffee
Like most portable espresso makers is it's primarily a single-serve coffee brewer. The Flair can take a couple of minutes, depending on your preferred cup, to pull a single shot of espresso. You might prefer a drip coffee maker or batch brewer if you plan on having lots of people over or have plenty of coffee lovers in your household.
You enjoy milky coffee
The Flair is first and foremost an espresso maker and nothing more so for people who prefer a milky coffee like a latte or cappuccino, it's best to go look at budget spro brewers or buy an additional frother since it does not include a milk steamer.
You want something super budget
A significant factor in deciding on a home espresso machine is its price and portability.
The Flair might not be the best machine if you're looking for something less expensive. Smaller espresso brewers can go for at least half the price of the Flair's base model.
It is pricey for a portable espresso maker with the cheapest model, the Neo, going for more than a hundred bucks. On the other side of the spectrum, the Flair Pro 2 can go upwards of three times that. It's costly, but you get what you pay for with this manual espresso machine and its product-line.
You want something lightweight
Lastly, less expensive portable espresso devices are more compact. The wide stainless steel parts of the Flair coffee maker are on the hefty side, so these devices are less portable than alternative choices.
While there is a bundled carrying case for your Flair, there are smaller manual espresso makers that can fit in most backpacks allowing for coffee on-the-go. The Flair also has the same layout as a home espresso machine and needs adequate counter space to use.
The Final Verdict
Overall, If you don't mind the constraints listed above in our review and you geek out over the brewing process itself, the Flair might be the best manual espresso maker for you.
Being so unique and simple, it's easy to see why the Flair is making waves in the coffee industry.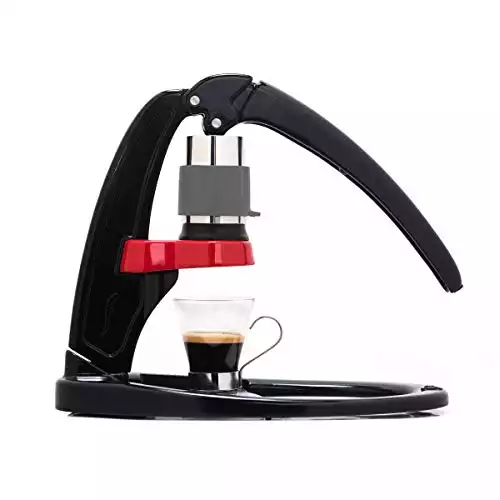 Some purists might be turned off with it's design and process but they can't deny that it can brew high-quality espresso just like the bigger machines.
While some more portable coffee makers can easily brew a good cup of coffee, the Flair does it with style, and it's a good choice if you want to enter the world of espresso, and it's intricacies.