Fresh Roasted Coffee LLC Review
What do you look for in a coffee roaster and subscription service?
Perhaps coffee that's fresh roasted delivered to your door, and that tastes good. Let's add to that affordable prices with an incredible selection from around the coffee-growing world.
You'd probably want a variety of bag sizes to choose from. I also want to count on reliable shipments and responsible customer service. Discounts would also be nice.
Not every coffee company can provide that for you. Those are just some of the benefits and services that Fresh Roasted Coffee LLC claims to provide.
Do they live up to their claims? This Fresh Roasted Coffee LLC review will let you know if this is the best coffee company for you.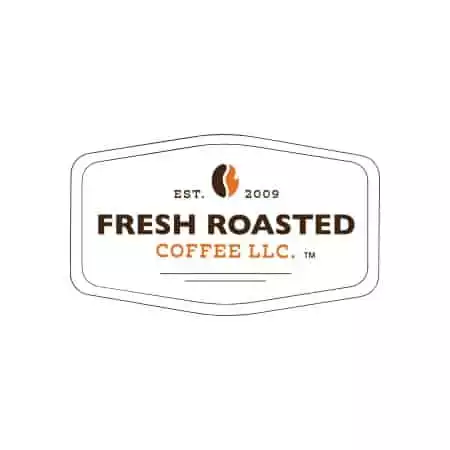 Who Are Fresh Roasted Coffee?
Founded in 2009 by Andy Oakes, Fresh Roasted Coffee LLC is based in Pennsylvania. Fresh Roasted Coffee LLC, or FRC for short, sources coffee from around the world, roasts it fresh, and ships it out to customers.
That's pretty basic, similar to what many coffee companies offer. What makes FRC different from the crowd?
One difference is their pricing. As their Coffee for Everybody slogan suggests, they pride themselves on providing affordable coffee for any budget that also tastes good.
You can see their simplicity in their packaging. Simple and straightforward, their packaging is attractive but not fancy. The bags sport a plain brown and white design. That's appropriate for a company that's focused on getting good but no-frills coffee to people.
The FRC website has product pages with descriptions of their coffees and brief insights into coffee-growing regions.
You won't find the detailed stories you'll see on some specialty coffee websites, the kind of stories that tell you everything about the coffee farmer and their struggles.
But the information FRC gives you is more than abundant to satisfy the curiosity and needs of most coffee aficionados.
Another point in their favor is the selection. The list of countries is incredible and goes around the globe: Sumatra, Brazil, Costa Rica, Ethiopia, Tanzania, Kenya, Colombia, Mexico, Timor, Guatemala, India, Jamaica, Hawaii, and more.
You're also not locked into just one bag size. You can order bags that run from sample sizes to huge sizes, or even multiple bags. Most coffees are available in these sizes:
2.5-ounce sample
12-ounce bag
3 12-ounce bags
2-pound bag
5-pound bag
6 5-pound bags
Payments are also flexible. For subscriptions, you can pay in full or by installments. You don't have to sign up for a subscription, but you will get an additional discount if you do.
Popular blends like their Black Knight Coffee give you the sweet, caramelized sugar taste of plantain. If you're looking for a dark roast that creates a delicious espresso, try the Tiger Nebula.
They also offer rare coffees like Organic Timor, Organic Bali Blue Moon, Ethiopian Yirgacheffe, or Tanzanian Peaberry.
Fresh Roasted Coffee LLC Review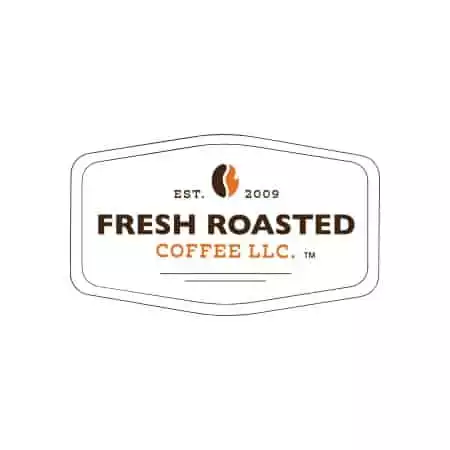 PROS (+)
Fresh roasted coffee!
Affordable prices for better quality coffee
A wide selection of origins or blends, roasts, and processes
CONS (-)
Less emphasis on quality than specialty coffee
Less information about the beans than specialty coffee companies
Fresh Roasted Coffee is great for: People looking for affordable coffee from a wide range of countries, roasted fresh and delivered. If you're looking for general information about the coffee you drink, you will find enough with FRC.
Fresh Roasted Coffee isn't for you if: You're looking for high-quality specialty coffee and detailed information about coffee processing, coffee growers, or the specifics of sustainability.
Beans & Roasts
Fresh Roasted Coffee LLC tells you about the region, type of bean, roast, and tasting notes of each coffee. In the case of single-origin coffees, you will find some history about the coffee-growing country and the sustainability certifications each coffee has.
They also give the cupping notes and tell you what to expect of each type of roast. With their blends, they tell you the general regions, such as Central America or Asia.
You won't find specific bean stories, and there are no detailed descriptions of the coffee grower, farm elevation, or micro-region.
But the information about the coffees and regions is enough to satisfy most coffee lovers.
To help you decide if a particular coffee is the right one for you, there are 100s of reviews on each product page. Once you order the coffee, they roast it, package it, and nitro flush the bag before shipping it out.
To help you choose the best beans for you, Fresh Roasted Coffee takes several approaches.
To define the bean and what you'll get in the cup, they tell you where the bean is from (called origin), what variety it is, how it was processed, and how it was roasted. Let's look at each of those categories.
Beans
Bean type – FRC broadly defines bean types as mild, bold, or extra bold.
Origins – They have coffee from the major coffee-growing regions around the world, so you'll find an exhaustive selection. When the beans are from a single origin, it will be clearly listed on the bag (generally in the title).
Blends – Their blends, labeled as artisan blends, are at times from certain regions (such as South America) or from several regions.
Processing – In the case of single-origin beans they include how the coffee was processed and dried. For instance, their Jamaica Blue Mountain page lists how the coffee was processed and explains what the terminology means.
Varieties – Their single-origin beans tell you the bean variety, which they refer to as varietal.
Certifications – Environmental and sustainability certifications are listed on the product page as well as on the bag label. Since understanding all those certifications can be complicated, they explain them in detail on their certifications page.
Roasts
Fresh Roasted Coffee breaks their roasts down into four categories:
Light
Medium
Medium dark
Dark
Making a distinction between a medium and a medium-dark roast is unusual at this price range. This helps a lot, since the difference between a lighter medium and a darker medium can be immense in relation to tasting notes.
With coffee, each company defines what a roast is for them. I've often purchased coffee listed as a medium roast that is definitely on the dark side.
To help you understand what they mean by, for instance, a medium-light roast, they include a picture of the coffee beans on each product page.
That helps you see what they mean when they say light roasts (which actually may be darker than light roasts in the specialty coffee community).
Related Reads: Light Roast Coffee, Dark Roast Coffee
Grind
You can choose from whole bean or ground coffee. If you choose to have them grind the coffee for you, choose from three grinds:
Drip – a medium grind that goes well with most coffee makers and manual brewing methods
Coarse – good for immersion methods that have a long steep time, like French Press, or cold brew coffee
Fine – good for espresso machines
Unroasted
An unusual feature of Fresh Roasted Coffee is that they offer green coffee. They call it unroasted coffee, no doubt to avoid confusion for people starting out with home coffee roasting.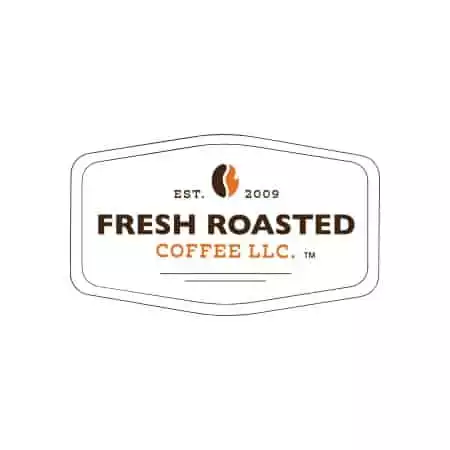 FRC also sells sets of four 14-ounce bags. Choose from sampler sets from around the world. They offer coffee from a wide selection of regions, and they label them as Americas, Indo Pacific, African, and Islands of America.
You can also choose from specific countries or by how they were grown or processed (like decaf or organic).
While they provide you with pictures of the unroasted beans, a word of warning: some of the beans do not look like good quality, with visible defects. Choose carefully.
Pods – Fresh Roasted Coffee LLC is also active in the coffee pod culture. Their pods are recyclable made with #5 plastic. Pods come in over 60 types of single-origin or blends, which is a staggering amount of options.
Brand Reputation
Fresh Roasted Coffee LLC is growing rapidly, with a 40% growth rate for several years in a row. The brand has a great reputation for fresh roasted coffee and this is reflected in how fast Fresh Roasted Coffee is growing via repeat customers.
People love the prices for coffee that, frankly, simply tastes good. Their coffees avoid unpleasant bitterness and pack full flavor. They do dark roasts that avoid unpleasant smokiness.
FRC does a good job of purchasing sustainable coffees. In the confusing world of coffee sustainability, some companies state they're interested in sustainability, but they don't specify any strategies they've adopted. FRC goes beyond just stating their interest in sustainability.
Fresh Roasted Coffee relies on coffee certifications to help them determine the impact a particular coffee has on the environment and growing communities. They buy coffees with these certifications:
USDA Certified Organic
Fair Trade Certified
Bird-Friendly (aka shade grown coffee)
Rainforest Alliance Certified
Direct Trade
And their decafs are done by a water process that doesn't use harsh chemicals.
Fresh Roasted Coffee Subscription Service
Fresh Roasted Coffee has a subscription model that they call Auto-Deliver. If you're sure you like the coffee and want to get it on a regular basis, this subscription model is worth the money.
You get access to discounts, like a 20% discount off the first order and 10% discounts off every order after that. Shipping is free for orders over $35.
Simply select your product, how often you want to receive it (from every 2 weeks to every 8 weeks), and the size of the bags. You can change your subscription whenever you want, so you're not locked into one coffee or size.
There's no minimum order, and you can choose the type of coffee, grind, and frequency and change it up as you need. You can cancel any time. They only ship to the continental US.
You can even set up multiple subscriptions with one account. So if you want one coffee and you need to order a different one for someone else in the family, everyone will be happy.
They also have a rewards program. And if you refer a friend who buys, you get a $10 coupon. Winner!
Roaster's Choice is their line of specialty coffees. You can sign up for a subscription and they automatically send out the month's shipment on the second Wednesday of the month.
You can choose from a 3, 6 or 12 month subscription of these single origin coffees that change every month. You will be charged a one-time price, so keep that in mind.
When it comes to other things, you can also pick up tea, brewing gear, and merchandise like coffee storage containers, T-shirts, baseball caps, pour over kits, cold brew makers, totes and mugs.
The Final Verdict: Fresh Roasted Coffee LLC Review
Fresh Roasted Coffee LLC is a good brand if you're looking for affordable coffee from a solid company that understands higher quality coffee but doesn't charge high prices.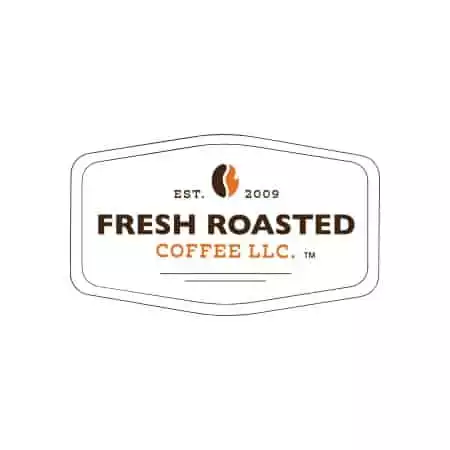 If you're looking for the highest quality coffee possible with the full story about the people who grew the coffee, you might want to look to other companies.