Nespresso vs Keurig – The Showdown
We don't usually recommend single serve coffee here at Sip. But we also understand that sometimes convenience trumps taste, as it did for me in college (yup, I had a Keurig back then).
Before we dive into the difference between Nespresso vs Keurig, it's essential to understand why single serves are so popular in the first place.
What Is Single Serve Coffee?
A single serve coffee machine makes coffee by the cup, and not per batch like your standard coffee machine. All you need to do is pop a pod in, make sure your reservoir has enough water, and press a button. The machine then punctures the pod and runs hot water through it. In less than a minute, you have a freshly brewed cup of coffee.
Technology has made this the fastest and easiest way there is to drink coffee. And with innovation comes excitement. That's why this type of coffee maker has become increasingly popular in the last few years.
And if you're looking to get yourself the best one available, it will ultimately come down to choosing between Nespresso vs Keurig.
What Is A Nespresso?
Nespresso is a company owned by Nestle, with its headquarters in Lausanne, Switzerland. They've been in the coffee pods game for over 30 years, and you could call them a pioneer. Their machines are split into two categories: the OriginalLine and VertuoLine.
The Latest Nespresso
Breville-Nespresso Vertuo Next with Aeroccino
Espresso like brews in a click of a button. Accompanied with the Aeroccino, it can froth milk too for super quick lattes. Features bluetooth and Wi-Fi connectivity to keep your machine updated.
SEE NOW ON AMAZON
We earn a commission if you make a purchase, at no additional cost to you.
02/25/2023 04:22 am GMT
The Original uses traditionally-shaped pods, which are also manufactured by third-parties; allowing for more variety in your coffee.
Meanwhile, the VertuoLine uses pods that have a dome-like shape.All capsules for the Vertuo are manufactured by Nespresso only, and not third-party capsule makers. Also, the VertuoLine is explicitly developed for the US/Canadian market. That means these machines were built to produce larger serving sizes.
The Vertuo machines use technology that scans the barcodes on the different types of pods. This determines which of the five different capsule sizes is being used. The machine determines the amount of water to add and the extraction time, depending on which capsule you're using.
Related read: Nespresso machines in 2023.
Keurig Summary
While Nespresso is the preferred machine of the European market, Keurig is the top single-serve coffee maker in the US It's manufactured by Keurig Dr Pepper, one of the largest beverage companies in the States.
They have over 50 different models available, with the most popular one being the Keurig 2.0.
Best For Flavored Brews
These machines all use pods that are commonly referred to as K-Cups. While Nespresso doesn't use third-party pod manufacturers, Keurig works with more than 60 of them. Hundreds of different flavors, from blueberry to cinnamon, to eggnog, are available as K-Cups.
Keurig also sells reusable K-Cups, as a more sustainable alternative. This allows you to brew your own ground coffee in your machine, too.
Related read: Single serve brewers
The Keurig and Nespresso Showdown
Let's now compare each brand's most popular machine. How exactly do the Keurig vs Nespresso stack up against each other?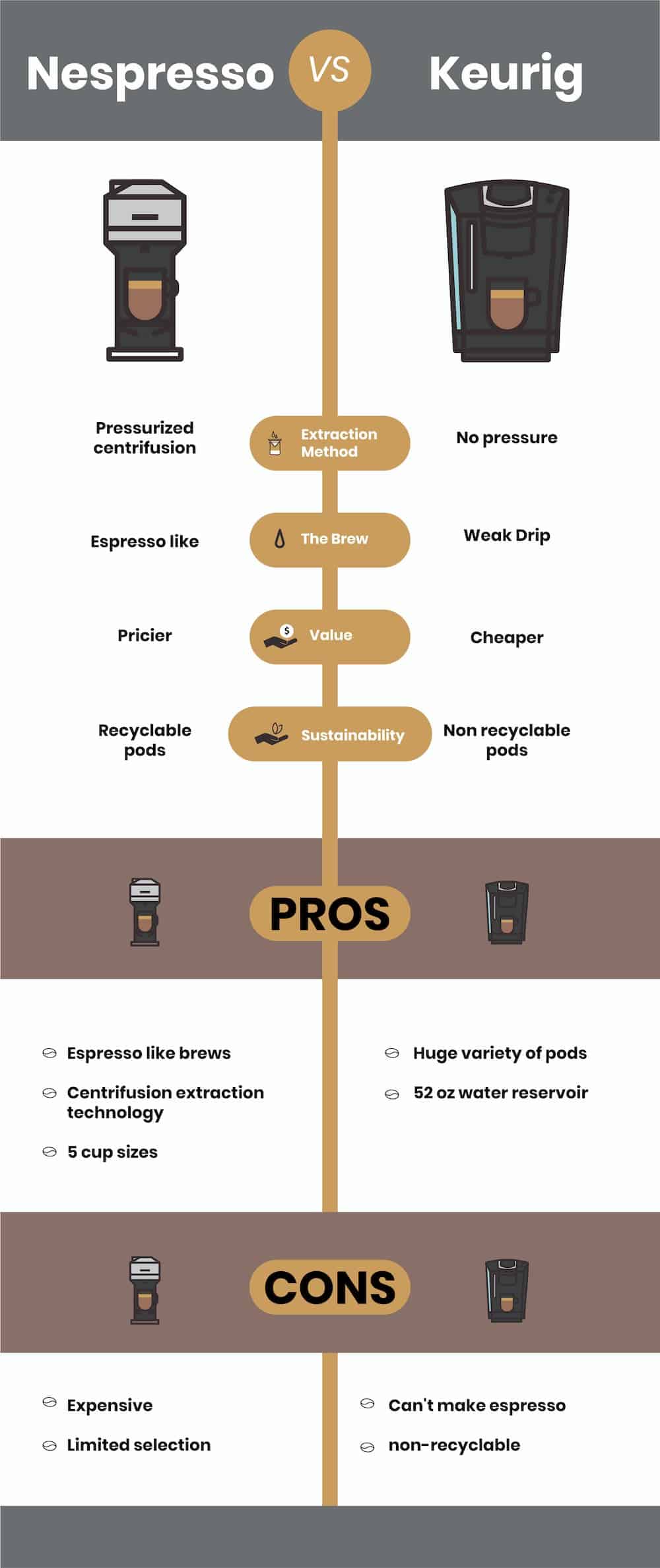 The Latest Nespresso
Breville-Nespresso Vertuo Next with Aeroccino
Espresso like brews in a click of a button. Accompanied with the Aeroccino, it can froth milk too for super quick lattes. Features bluetooth and Wi-Fi connectivity to keep your machine updated.
SEE NOW ON AMAZON
We earn a commission if you make a purchase, at no additional cost to you.
02/25/2023 04:22 am GMT
PROS (+)
Espresso like brews
Software future proofed via Wi-Fi connectivity
Milk frother add on
5 cup sizes
CONS (-)
Expensive
Limited selection
37oz water tank
The VertuoPlus machine offers cups in five different sizes. These represent different types of espresso, ranging from 1.35 oz to 14 oz.
It uses its intelligent extraction system to scan the barcodes on the pods. It does this to determine which pod is currently being used. It can also determine the amount of water and the extraction time necessary to give you the perfect coffee. All you'll need to do press a button and let the machine do the work!
And the VertuoPlus isn't just insanely convenient. It makes a much better cup of coffee too, especially if you enjoy espresso. This machine uses Nespresso's Centrifusion technology, which spins the pod at 7,000 rotations per minute. This helps evenly extract the perfect cup of espresso.
However, what is Nespresso's weakness? While the machine is well worth it, it comes at a pretty steep price. And the options are limited only to five different kinds of espresso. So if you enjoy variety and flavored brews, this one isn't for you.
The K-Select has one main function that separates it from the VertuoPlus. It allows you to select how strong you want your coffee to be regardless of the pod.
Best For Flavored Brews
PROS (+)
100s of brews to pick from
CONS (-)
Can't make espresso
No frothing attachment
It's a pain point for many coffee drinkers who own pod machines. I owned one an earlier model in college, and always wished I could just extract my coffee slightly longer rather than go through another pod.
This machine would've allowed me to make major money moves back in college! And its 52 oz water reservoir lets you go almost a whole week (assuming your not constantly slurping on a brew) without having to refill it. If I had the K-Select in college, I might have liked it more than my roommate.
It also brews multiple cup sizes, like Nespresso machines. But it's not exactly known for espresso, even though there are some espresso pods available. Keurig's pods are more known for the variety of flavors you can choose from. Like I mentioned earlier, there are literally hundreds.
But while that's usually a good thing, it's worth noting that these cups are not environmentally friendly. Most are pretty much impossible to recycle.
These used pods typically end up in landfills or, worse, the ocean. To help address this issue, third-party manufacturers have developed reusable K-Cups, which allow you to use ground coffee in your K-Select.
Discussion Points
Let's now break down the different buying considerations for choosing between the Nespresso and Keurig machine.
Pods
How do Keurig and Nespresso capsules match up against each other?
First, let's take a look at the variety. Keurig is the clear winner here, with hundreds of different flavors and drinks (and not just coffee-based) to choose from. They have various kinds of tea, cocoa, fruit-based beverages, and more. You probably won't run out of options for the rest of your K-Select's life.
And you can even fill your reusable K-cups with your own ground coffee, so your options include freshly ground coffee beans – winner!
However, as I mentioned, the variety is the main draw of the Keurig. If you appreciate espresso more than your typical coffee, you might just prefer the Nespresso. In terms of taste, body, and especially crema, the VertuoPlus produces much more premium tasting coffee.
And speaking of espresso, the VertuoPlus comes with an Aeroccino milk frother. So it still presents an unlimited number of ways to mix up your morning coffee!
Winner: Draw – depends if you prefer variety over espresso!
Value
The VertuoPlus has more innovative features than the K-Select, with its Centrifusion technology and blend-specific brewing. But at almost half the former's price, it's easy to say that the Keurig machine is the more budget-friendly alternative.
But that doesn't necessarily mean the VertuoPlus isn't a worthwhile investment. The technology available in the machine helps ensure that you get the most out of all the pods you use. And that's something that I think helps justify the price tag on it.
If the thought of pulling an espresso is appealing to you, I wouldn't recommend a pod coffee machine at all. But if you're just someone looking for a convenient way to drink espresso, the VertuoPlus could be a worthwhile bet.
Winner: K-Select if strictly talking about value.
The Brew
Now, let's talk about the actual quality of the coffee that comes out of these machines. Keurig machines are great for variety, but as I mentioned previously, they're better seen as flavored brews, with extra emphasis on "flavored."
If you usually find coffee hard to drink unless it has flavored syrups and lots of whipped cream, the K-Select might be the better option for you. To be perfectly honest, the thought of having hundreds of flavors to choose from makes me feel a bit more excited than I probably should.
But if you care about how your single serve coffee matches up with freshly brewed coffee, you'll likely be more satisfied with Nespresso machines. This is because the quality of the brew that comes out of a Nespresso is much closer to an espresso.
Winner: Nespresso. This is a clear advantage this brewer has.
Sustainability
While it's not the primary consideration in the purchase of coffee machines, it's still critical.
Our consumption determines the environmental impact. And if you're wondering if one person's use will even make a difference in the larger scheme of things, yes, I believe it does if we can unite on this front.
So if you want to consume your cup of coffee sustainably, which between the Nespresso and Keurig machines is the better purchase?
Offering a reusable K-Cup alternative makes the K-Select more sustainable than it was originally designed and an ability to brew fresh coffee.
But I think having to fill a K-Cup with your own ground coffee slightly defeats the point of owning a Keurig. Its two extra steps (grinding and washing afterwards). The unique selling point of a single-serve coffee maker is its convenience! Insert, click, drink, repeat.
So for me, the Nespresso VertuoPlus wins this category. Here, there are no extra steps needed to consume coffee sustainably. You can sleep soundly at night, knowing Nespresso's pods are made of infinitely recyclable aluminum.
And through their own recycling programs, Nespresso is able to help ensure that the pods are disposed of properly, and made useful once again.
Winner: Nespresso.
The Final Verdict
If it doesn't break the bank, my personal choice in the Nespresso or Keurig question is the VertuoPlus. But my reason for that is that I really look for the coffee taste even in single serve coffee makers. With its use of Centrifusion technology and specialization in espresso, the Nespresso machine is a great first option.
Winner
Breville-Nespresso Vertuo Next with Aeroccino
Espresso like brews in a click of a button. Accompanied with the Aeroccino, it can froth milk too for super quick lattes. Features bluetooth and Wi-Fi connectivity to keep your machine updated.
SEE NOW ON AMAZON
We earn a commission if you make a purchase, at no additional cost to you.
02/25/2023 04:22 am GMT
It's also worth noting that Nespresso pods are recyclable, while K-Cup variants are not.
However, the variety offered by the K-Select is something Nespresso machines can't provide. And it's enough to excite the kid inside all of us every morning!
At the end of the day, my buying considerations might be totally different from yours. What's important is that you go with the purchase you feel is the one you most want.