Pour Over Vs French Press – The Differences Explained
You've tried coffee prepared in manual brewing methods and discovered the satisfying flavors and heightened sweetness. If you're a coffee-lover, you're likely frequently trying one coffee brewing method and comparing it against another. That's exactly what we're doing here, comparing the differences between Pour Over vs French Press.
As a coffee professor, one of the most frequent questions I hear is: What's the best option to brew fantastic coffee at home?
By the end of this article, we'll have thoroughly compared the French Press vs Pour Over, and you'll be a readily armed master of each brew method. Sound good? Alright, let's get you making great coffee at home!
What is a pour over?
Often called a manual pour-over brewing method, the name gives you an idea of how it works. A pour over coffee maker is a brewing method in which hot water is poured over coffee grounds in a filter by – you guessed it – hand.
Pour over methods are a simple way to make filter coffee, and they require no electricity or fancy gadgets. You only need the method and the paper filter (as well as the coffee and hot water). The brewing method itself may be made of acrylic, ceramic, metal, or glass, and the filters can be paper or metal.
They give you a level of precision that few electric coffee makers can give you. This can result in fantastic brews that highlight exactly what you want in a cup of coffee.
You can brew for enhanced sweetness, body, or complexity by simply changing the method and your pour technique. No doubt that flexibility has driven the popularity of pour-over coffees in cafés around the world.
How pour overs work
As I mentioned, a pour over coffee maker works in a simple way: you pour hot water over the coffee grinds in the filter. As the water passes through the grinds, it extracts the coffee.
Yet, those basics are just the start. From there it gets fascinating in a superbly delicious way. Why?
The specific shape and angle of each method are designed to produce specific results.
The type of opening in the bottom of the method can give you the freedom to create lighter or stronger brews.
The kind of filter you use can produce a heavier or lighter brew.
All these variables change the way you extract the coffee, the tastes you'll perceive, and the overall experience.
Let's take a closer look at two of the most common and beloved pour-over methods: the V60 and the Chemex.
V60 Dripper
When someone asks me what pour-over method they should start with, I always recommend the V60. The reason is not only because it comes in so many nifty colors.
With a V60, even a beginner will find it easier to get a satisfying, balanced, and sweet cup of coffee. And getting good results is an encouraging way to start out brewing.
This pour over coffee maker works in a simple yet elegant way. It was designed to be placed on top of your mug or a beaker. You place a paper filter in it, add the coffee, and then add hot water.
That's not to say that the V60 is overly simplified. Expert baristas love the V60 because it is versatile and adapts to most coffees and roasts.
With a slower pour you can create heavier bodied coffees that are milder, while a faster pour will create bright coffees with a light body. To create these variations, the narrow spout of a gooseneck kettle is ideal for helping you direct the water just where you need it.
Chemex Pour Over
The Chemex is proof that brewing pour over coffee is an art as well as a science. It is one of the most beautiful pour-over coffee methods. In fact, the stunning design of the Chemex has even landed it in museums and won awards. It's more than just a pretty face, though.
Made of borosilicate glass, the tall Chemex has a feminine and delicate hourglass shape. It generally comes with a wood band around the middle that goes beyond good decoration. The wood gives you a secure place to hold the hot carafe as you pour out the freshly brewed coffee.
The filter of the Chemex is one of the heaviest paper filters and brews the cleanest cup. That heavier filter lets fewer sediments pass into the cup, creating a lighter body, no grit, and more delicate flavors.
Pros & Cons
Why do some people love the V60 and Chemex coffee brewing methods, and what do some people perceive as negatives?
V60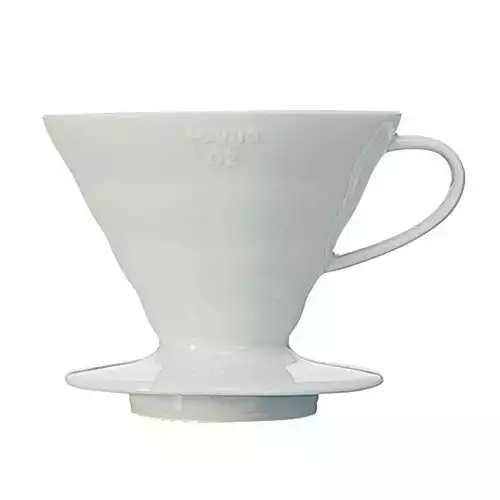 PROS (+)
Easy to use
Works well with any roast
CONS (-)
Not everyone wants to learn the perfect pour technique
This method requires paper or metal filters
The method has a single large hole in the bottom where the coffee filters through. When you change the grind size and pour technique, you vary how much time the water takes to drip through the coffee grounds and that single opening. While it sounds simple, those two little tweaks can drastically alter the results.
Chemex
PROS (+)
Showcases bright flavors
Versatile
CONS (-)
This method requires paper or metal filters
Chemex coffee is generally light and tea-like, which can be positive or negative
Easier to break
The paper filters can be expensive for some budgets
You can use a Chemex to coax complex flavors from your coffee and create a delicate body that lets the origin shine through. Not all brewing methods give you such precision. 
If you have light roast beans and want to show off the characteristics of its origins, a Chemex may be the best choice. For example, your Chemex may be ideal to brew that fruity coffee from Africa or a floral one from Central America.
An ideal method to bring out subtle or complex flavors in coffees
However, the thinner glass of a Chemex carafe is easier to break, so you may not want to leave one near a toddler or in a busy kitchen.
It can also take some time to understand the right grind and exact pour technique you should use for each type of bean.
What is a French Press?
The French Press is a classic immersion brewing method that has become a hot trend in recent years. It's a simple method that involves just a glass carafe and a plunger. After letting the coffee steep, you press the plunger down.
While coffee snobs may quarrel over the exact grams you need to brew a perfect pour over, brewing French Press coffee needs less precision and still provides good results.
In fact, the French Press coffee maker is so easy to use, it's my brewing method of choice when I'm not quite awake.
When I get up at 5:20 am to teach those early classes at the university and can barely open my eyes, I do not want to figure out how to get a filter into a V60.
I simply set up my French Press the night before, and in the morning it's easy to grind my coffee, drop it in the carafe, pour in the water, and set the timer.
How a French Press Works
The French Press is a straightforward brewing method. You place the coffee grounds in the French Press. Add water just off the boil to your French Press coffee maker and let the coffee brew for your preferred length of time (3 to 5 minutes).
You can stir it at the beginning of the brewing process or towards the end. Place the plunger on the top and press the plunger down carefully. (You can see why this coffee maker is sometimes called a press pot or a coffee plunger, although it also goes by the names of coffee press or cafetière). Pour off the coffee into your cup.
Keep in mind that the grind size is important for this coffee maker. You want to use coarsely ground coffee so it doesn't over-extract and produce a bitter brew.
With a French Press, you don't need to learn a special pour technique, brewing process, or worry about oxygen flow. If you're concerned about thermal retention, you can warm up the press before using it. Pouring hot water in it and letting it sit while you grind your coffee will get it hot enough. Just remember to dump the water out before you put the coffee in and start brewing.
If you're looking for brewed coffee with a full body, French Press coffee may be the best choice for you. The metal filter leaves fine grinds (sediment) and coffee oils in the brew, which creates that body that some people love. You can also brew amazing cold brew coffee in a press pot.
Pros & Cons of using a French Press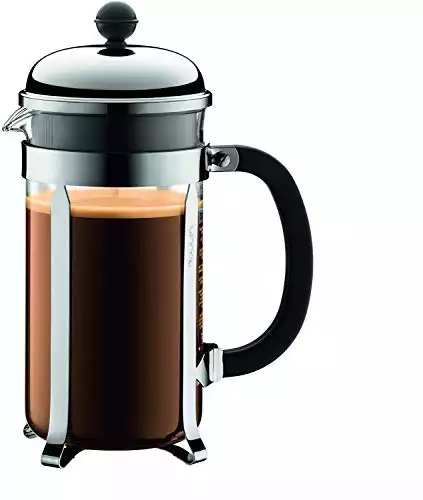 PROS (+)
Easy to use
Full-body brew
Inexpensive
Can brew in larger batches
CONS (-)
Gritty coffee
Limited complexity in brew
Sometimes creates a bitter brew
French Presses come in both small and larger sizes. So if you're trying to satisfy a crowd, it's a simple and easy method to brew a lot of coffee. 
And since they are generally inexpensive, you can have two and easily make double the amount.
But with a French Press it's harder to highlight delicate or complex aspects of a coffee. Floral notes may be lost, and acidity will be muddled rather than bright.
Though some people love the heavier body, others don't want a coffee that is almost chewy. If you'd prefer not to have the gritty sensation, choose a pour-over brewing method with a paper filter.
Some people feel French Press coffee is bitter. To avoid bitterness when using immersion brewing, use coarse-ground coffee and let the water cool down a few degrees before brewing. Also, don't leave the plunged coffee in the French Press. Pour it off at once to avoid over-extracting and creating extra bitterness.
Our Favorite Brewers
Pour Over Coffee Makers
V60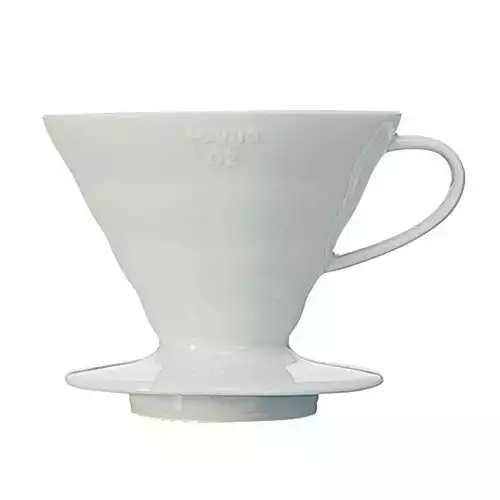 Hario, a Japanese design company, delighted coffee lovers when they created the V60 Dripper. V60 may seem like an odd name for a coffee brewer. Is it some spy code? No, it refers to the angle of the filter. You guessed it. It's a V-shaped filter at a 60-degree angle!
Notice the internal ridges in this model. They aren't just for show but are there to help guide the water down through the coffee to extract it evenly while permitting adequate airflow.
This method comes in ceramic, glass, plastic, or metal and in a range of colors. You can choose from basic white, dashing sports-car red, stunning copper, or a glass method with an olive wood base.
Make sure you buy the correct filters (01, 02, or 03 cup size). The size is clearly marked on the method as well as the box of filters.
Chemex
Although countless companies have produced imitations, this is the original Chemex design. This heavy hourglass-shaped method is glamorous. The wood band tightens securely around the "waist" of the method with a leather strap and loosens easily for cleaning.
You will find it easy to prepare coffee for larger groups in the 8-cup Chemex. Since the filter is what gives structure to brew the coffee, make sure you buy the right size Chemex filters.
French Press Brewers
Bodum Chambord French Press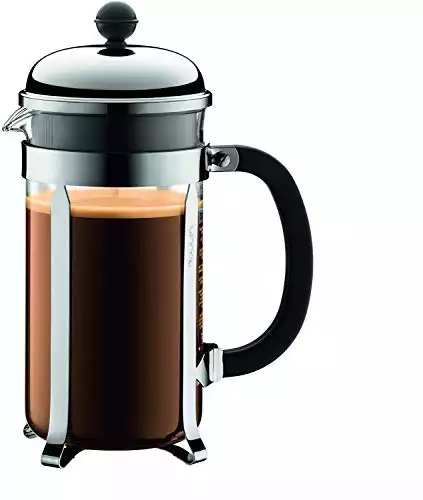 The Chambord is one of the most popular French Press method options with coffee drinkers due to its elegant, classic style and range of colors. I love my chrome-colored one.
Beyond the beauty, it's also practical. Durable and hard to break, this French Press method fits into a crowded kitchen or on an office desk. The borosilicate glass carafe is easy to clean by hand, and the beaker, filter, and plunger are dishwasher safe.
Be aware that when it says 8 cups of coffee, it's talking about 4-ounce cups, which may be a smaller amount of coffee than the cups you use at home. When you purchase presses, focus more on the ounces rather than the cups of coffee, from 12 ounces to 51 ounces.
Frieling Double-Walled Stainless-Steel French Press
Remember how we said that you might get a slightly gritty coffee with a French Press? If you're not a big fan of grit, you'll be happy to know that this French Press gives you a way around the grit.
This press has a dual-screen filter, which means two screens work to keep the grit out of your cup. That gives you a cleaner French Press experience while preserving the typical full body.
Also, the stainless steel body of this French Press means you don't have to worry about it breaking. I use this press when I do coffee events for large groups because it satisfies a crowd, is easy to clean, and I'm not stressed about breakage.
While heat retention can be an issue with a glass French Press, this double-walled stainless steel one will keep the heat in while you brew, which is especially good if you prefer a longer brew time.
The Final Verdict
Which brewing method you decide to use to brew coffee at home – a French Press or pour over – depends on several factors.
How much work are you willing to put into a cup of coffee? Do you want any easy method that's free of complications? Or do you prefer a method that allows you complete control to design the perfect cup?
What results are you looking for? Full-bodied coffee, or a light, sweet and balanced brew?
If you're looking for a quick answer, I always suggest using a V60 pour-over coffee method. They're simple to use and brew a sweet, balanced cup with just about any coffee beans.
Use a V60 for maximum control over your brew and a sweet, balanced cup.
Use a Chemex if you want light, tea-like results that let the origin shine through.
Use a French Press if you want an easy method that gives you a strong, full-bodied brew.
Or you can do what many coffee lovers have done and purchase them all.
I have a collection of French Press and pour-over methods on my coffee station. I use a different method depending on my mood, the coffee beans I have on hand, how many people I'm brewing for, and how much time I have.
Having a full collection on hand at home will encourage you to keep learning about the art and science behind brewing great coffee.