The Rancilio Rocky Coffee Grinder 2023 Review
The Rancilio Rocky solves a problem all us coffee junkies have to deal with – a poor grind.
It's a heavy-duty grinder to turn beans into ground coffee in an instant without worrying about unevenness. With it's premium build quality and durability it's known for helping you brew a mean espresso!
That's why many coffee aficionados love this grinder, but we're going to tell you the full story. The good and the bad – here's everything you need to know via our Rancilio Rocky review.
Great For Espresso
Rancilio Rocky 2023 Review
he Rocky RD is a doserless, industrial powerhorse which punches above its weight when it comes to performance at this price point.
Below, I run through everything you need to know about this grinder to figure out if it's for you or not. So let's jump right into the mix!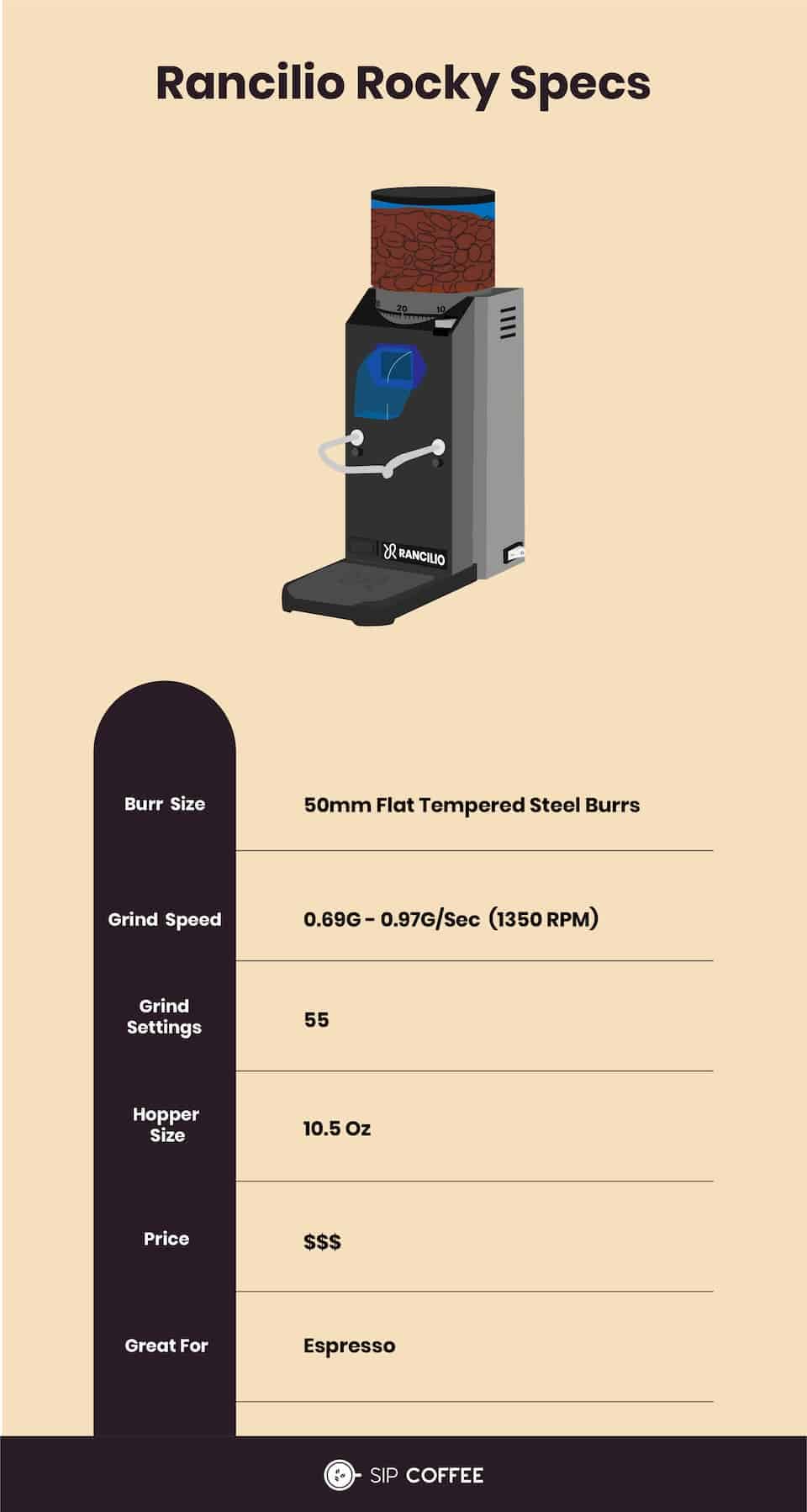 Build Quality & Design
If you're a fan of an industrial look, fitting in a commercial unit or home you'll like the Rocky.
Its metal construction makes this grinder durable and sturdy on top of giving it a cool look. And that also applies to the inside, where you'll find a heavy-duty motor that can evenly grind any coffee beans you send its way.
The frame of cast iron and stainless steel construction make this burr grinder one of the finest out there in terms of looks, sturdiness and durability.
But there's more to see than just it's looks when it comes to the Rocky doserless model. First off, any grinder needs decent burrs, so what's the Rocky equipped with?
Powerful Motor and Burrs
Both the burrs and the motor are commercial grade. The 50mm flat-tempered steel burrs will spin at 1725 RPM. All thanks to the 166-watt direct drive motor, which on top of being powerful, it operates quietly.
Most home grinders use conical steel burrs, which are decent but nothing on the flat steel burrs the Rancilo works with. Ready for action in a commercial setting, the Rocky will ease through grinding your coffee at home.
Coupled with its built in thermal overload shutoff, you can rest assured that this grinder can keep going without overheating your beans and maintain its sharpness over time.
More generally, the Rocky will rise above anything you put it through. Regardless if you want espresso, French press, cold brew or any other method.
Ease of Use
The Rancilio Rocky is excellent in most aspects, but it could do better in the ease of use department. Much better. Here's what it looks like when you want to calibrate the grind size:
Keep one hand on the grinding button to keep it running
Press down the lock/unlock button on the base while keeping your hand on the grinding button
Twist the hopper to select from coarse to fine while pressing down the buttons from step #1 and #2.
As you can see, it's a bit more complicated than it needs to. And on top of that, it doesn't include a dosing option. Which depending on how you look at it could be problematic or a god send.
But it still includes a slot that helps you to grind directly into the portafilter holder, which makes things easier. Especially to avoid a mess when passing the ground coffee from the grinder to the portafilter holder, which is something I've been guilty of several times!
Overall, the Rancilio Rocky coffee grinder needs to work in this department because it should make the calibration of the grind size much simpler.
Grind Range & Rating
It might not be the easiest to use, but it's surely one of the best players when it comes to grind quality and range. Its 55 grind settings allow you to get the exact type of grind size you need.
Be it coarse for French press, medium for pour-over coffee or extra- fine for espresso. The Rancilio Rocky can do it all with precision and importantly ensuring a consistent particle size.
And I like this feature because I'm the kind of person who likes to drink pour-over coffee one morning and a doppio espresso the next one. And the Rancilio Rocky allows me to tailor the experience easily.
The grind settings range from #55 (coarse) for French Press to #1 (extra-fine) for Espresso. You can adapt it to any type of coffee you want to brew. You can stay amongst the #55-50 realm for cold brew and French press and go all the way to #10-1 to brew a stark espresso.
It's speed is dependent on how fine you want the grind, with a range of 0.69G – 0.97G/Sec.
It's magic trick is that the Rocky can grind fine and even enough for you to brew an espresso without depending on a pressurized portafilter. So if you often make espresso without a pressurized basket the Rocky gives you the complete flexibility you need when brewing. Here's a video to explain why this is important:
But let me warn you, Rocky, both the normal and doserless model, doesn't like oily beans. While this is a common issue with most grinders, here if you're going to grind super dark beans then the Rocky will need more care when it comes to cleaning.
Hopper Capacity & Dose
The Rocky SD features a hopper with a capacity of 10.5 oz. Far more than other alternatives such as the Baratza Virtuoso + at only 8 oz. You can hold plenty of coffee ready to blitz in just one go, which makes this burr grinder more viable for larger loads.
Although, using the hopper isn't something I personally recommend if you want the freshest brew to avoid oxidation.
When it comes to doing, the Rocky RD is doserless. This offers more flexibility when in terms of the load and ensures you're not sitting on stale grounds. Although, if you want the Rocky does have a model with a doser called the Rocky SS.
A Heavy Weight Among Coffee Grinders
The Rancilio Rocky is a heavy weight at 15.14 pounds, which makes it hard to move around your kitchen, let alone transport it regularly. But in terms of size, it won't occupy much at 4.7 x 9.8 x 13.8 inch. And I'm the kind of person who likes all things in a room to fit perfectly, and Rocky does it.
So it scores high in the storability department but it's not a coffee grinder you can move around easily. So if you travel frequently and want to bring the grinder with you wherever you go, then you're probably going to need a manual grinder for trips.
A Beautiful Grinder with Industrial Looks
You don't go shopping for coffee grinders based on looks, but they're a nice plus.
The Rancilio Rocky doserless looks like a heavy-duty coffee industry equipment piece. The stainless steel casing in addition to the black front panel and the complementary colors make it look solid and elegant, making it a beautiful addition to your kitchen.
It will draw the attention of everyone who enters your kitchen or the room where you have it. Because it's impossible not to notice a tank-like grinder, especially when your guests taste the quality of coffee it can help brew.
Easy Cleaning
Thanks to the holder, you can grind directly into the portafilter to reduce the chances of making a mess. A problem I've experienced multiple times with coffee grinders that lack this feature. And on top of that,the Rancilio grinder requires minimal cleaning every month for a heavy home user.
Because Rancilio tests every Rocky before they leave the factory, yours might have some slight traces of ground coffee. But you can clean it easily and start using it from the day #1 be it espresso or French press that day!
Is It Durable?
The Rancilio Rocky doserless coffee grinder will resist the passing of time thanks to its sturdy stainless steel construction and commercial-grade burrs and motor. It will stay with you for many years to come and it won't break easily.
Even though it comes at a premium price tag, the Rocky is a long-term investment. You won't have to buy another grinder for many years to come, since it requires minimal cleaning and you have to calibrate it every 1-2 years. Which makes it even more practical to have a Rocky at home.
But is it good for commercial purposes? Even though it has a commercial-grade motor and burrs, it won't be enough for a coffee shop. However, it's good for coworking spaces, offices, waiting rooms, etc.
And Rancilio tests every Rocky with real coffee before they leave the factory. So you're receiving a product that has been tested to work perfectly, a huge pro because your chances of receiving a defective Rocky decrease dramatically.
Pricing
The Rancilio Rocky is an expensive coffee grinder but it offers exceptional consistency that might be ideal for coffee pros and current or aspiring baristas. But if you just need to brew some coffee here and there, it might be too expensive to bear.
In consequence, if you're a home brewer and like having the power to calibrate the grind flexibility for espresso grab the Rocky. You'll enjoy dialing in your shots without needing a pressurized basket.
All in all, the price is justified if you want to level up your coffee game, especially since you can use this burr grinder for large batches thanks to its commercial-grade burrs and motor.
Ask yourself if you can justify the price for your specific situation, and if it's a yes, then you'll love the Rancilio Rocky doserless coffee grinder. Especially if you have an espresso machine at home, you'll feel the difference from the first day.
Don't Buy The Rancilio Rocky If…
The Rancilio Rocky is an amazing grinder, but it comes with certain cons. And here you have them, so you can see the panorama view and choose wisely using this review.
You Don't Like Slightly Slow Coffee Grinders
The Rocky from the Rancilio grinders is a tad slow and hences it requires more patience. But it's not a turn-off, unless you're impatient and need to grind your coffee as soon as possible. If you can afford to wait a little bit more, you'll enjoy a higher quality brew.
Otherwise, check out our review of the best burr grinders to find something more suitable.
You're Looking For A Budget Conscious Athlete
The Rocky really shines when it comes down to espresso. If you hold grind consistency close to your heart but are less bothered about making espressos then the Rocky probably isn't for you.
Check out our review of the Baratza Virtuoso for something which is less specialized but offers excellent grind consistency.
You Cannot Justify the Price Tag
As shown, the Rocky by Rancilio holds a premium price tag when compared to other budget grinders.
So if you cannot justify the price because it doesn't answer your needs and budget, then it's not for you. But worry not, because we have reviewed many other great coffee grinders that might adapt to your budget and needs like the Smart Grinder Pro By Breville.
You Want More Control and Versatility
The Rocky is as industrial old-school as it gets, and hence it lacks modern features such as a digital control panel. A feature that will make your job much easier when it comes to fine tuning the grind settings. So if you want a grinder with more control and versatility, then the Rocky is not for you.
You Want Something Super Simple
I know that it's not the easiest to use coffee grinder out there, but once you get a hold onto the process, it becomes much easier.
Sure, it comes with a learning curve since you have to push the grinding button, hold the button on the base and twist the hopper to adjust the grind settings. But if you only grind for a specific method such as French press or espresso, then you only have to do it once and calibrate it every 1-2 years.
But this shortens your options of methods. For example, you might want French press one morning and drip coffee the other, and it will become annoying to go through the whole process again.
The Final Verdict
The Rocky by Rancilio is an excellent grinder. Superior durability, superb grinding power and exceptional for espresso while remaining a well-rounded grinder for other methods. This is an investment that will last and will bring you high-quality coffee regardless if you want an espresso one morning or drip coffee the next.
Great For Espresso
The Rocky isn't perfect as we've seen, but the pros outweigh the cons if you know what you're looking for. So if you feel like the Rocky has exactly what you need, get it now pair it with an espresso machine for that perfect crema!