The 4 Best Shade Grown Coffee Brands 2023
Do you like your coffee green — as in, eco-friendly?
Me too. So if taking care of the environment — and coffee cherries — is important to you, you'll want to be in the know about shade-grown coffee.
So let's dive into the wonderful world of shade-grown coffees and see what these beans have to offer.
Top Pick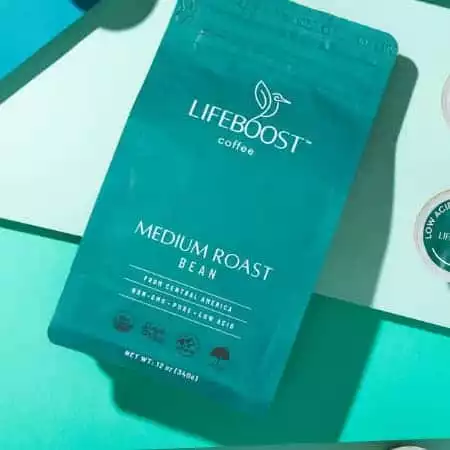 Runner Up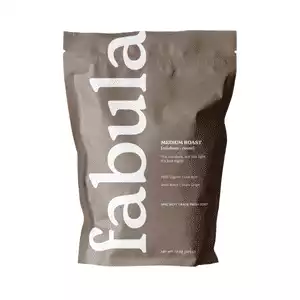 What Is Shade Grown Coffee?
As you might guess, shade-grown coffee comes from coffee plants that grow partly or completely in the shade (as opposed to sun-grown varieties, which grow in direct sunlight).
Often, they grow under a canopy of shade trees that encourage the natural growth of mulch beneath them, fostering shade coffee plants well.
Despite the distinct terminology, it's natural for coffee plants to grow in the shade. Although you can grow coffee in a variety of regions, these plants usually grow in forested regions underneath the canopy of shade trees.
The trees protect the coffee plants from getting too much sunlight. The natural falling of their leaves covers the ground, too, adding to natural mulch and soil moisture retention.
That's not just good for the coffee plant; it's also good for preventing soil erosion and preventing the growth of weeds that might compete for nutrients in the soil. So shaded coffee plantations can usually avoid using pesticides and other chemical fertilizers.
And because it's so natural for the beans to grow this way, coffee beans grown in the shade tend to be of higher quality.
Coffees grown in the sun, on the other hand, can almost scorch in the heat. They don't get the same nutrients they would get from the richer environment underneath a tree canopy.
Types Of Shade Coffee
Shade-grown coffee encompasses a broad category of coffees grown, well, in some type of shade.
But coffee production is full of variation, so naturally, there are several types of shade coffee farming:
Fully VS Semi-Shaded
Shade-grown coffee can be fully or semi-shaded.
Semi-shaded grown coffee usually involves removing a lot of the local vegetation and perhaps even some of the tree coverage to produce an environment that's good for coffee trees. This doesn't have to negatively impact the environment.
Fully shaded coffee trees are grown under a much thicker canopy of shade trees. The coffee may be shaded by an existing forest and/or by tall fruit trees, which provide good coverage.
Rustic
This is growing coffee at its most natural. Rustic shade coffee farms try to remove as little of the existing vegetation as possible when planting their trees.
Naturally, this is an awesome way to preserve the natural setting, and if you're already growing in a good spot for the plant, it's a non-invasive win-win-win for you, the brew, and the land, too.
Monoculture VS Polyculture
There are two ways to plant coffee crops: using monoculture or polyculture.
In monoculture, you grow exclusively (or at least primarily) one plant. In the case of java, that means growing just coffee trees, whether in direct sunlight — unshaded monoculture — or under your tree canopy— shaded monoculture.
In polyculture, multiple crops are planted and grown together. Instead of pure coffee plantations, farmers who engage in polyculture will grow and sell other plants/crops (or their byproducts) in addition to coffee.
Traditional polyculture is closer to rustic coffee farming and involves less manipulation of local plants.
Commercial polyculture is more invasive and tends to involve removing and even replacing other plants with crops the farmer is looking to sell.
Is Shade Grown Coffee Bird Friendly Coffee?
Speaking of "friendly" coffees, you should note that not all shade-grown coffee is bird-friendly coffee.
According to the Smithsonian Migratory Bird Center, the criteria for Smithsonian Bird Friendly coffee are pretty strict.
Requiring that shade coffee farms don't interfere with native bird habitats and that they engage in specific forestry practices to ensure the farm stays totally "bird friendly."
This includes a 12-foot-high tree canopy minimum, certified organic coffee, and foliage diversity requirements.
Although still an eco-friendly practice, shade-grown coffee won't all fit the criteria of the Smithsonian Migratory Bird Center. But even shade-grown coffees that don't meet the official mark will still be more bird-friendly than other beans.
Sun-grown coffee often means deforestation, which is no better for local bird populations than it is for the rest of the ecosystem.
Since shade-grown coffee promotes the use of the natural forest canopy, it's usually much kinder to the surrounding region and ecosystem, birdies included.
Best Shade Grown Coffee Brands 2023
1. Lifeboost Coffee
Lifeboost is just a neat brand. All of their coffees are fair trade, shade grown, and low acid. (They also roast great decaf options!)
Co-founder Dr. Charles Livingston understood a morning cuppa is an important morning ritual and set out to make it healthier. Lifeboost coffees are single origin (avoiding the potential for cross-contamination), certified organic, and stomach-friendly.
They also test for some 400 different toxins to ensure their coffee beans are as clean as possible.
Top Pick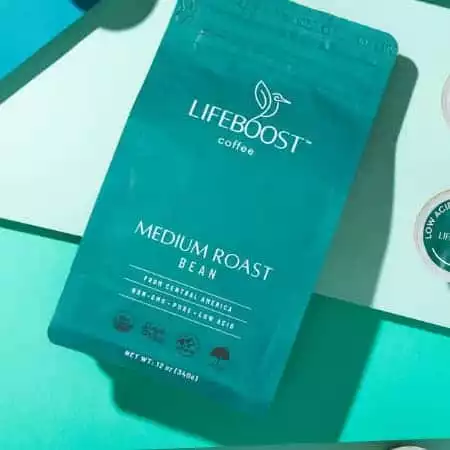 Lifeboost sells light, medium, and dark roasts, fully caffeinated or decaf, as well as flavored coffees and pods. If you like it, they probably sell it — in a stomach-friendly, low-acid variety that doesn't compromise on flavor.
Their roasts typically come with multiple ground options by brew method or as whole beans.
You can buy Lifeboost coffees as a one-off purchase or through a subscription with discounted prices. But for now, Lifeboost only ships to the U.S. and Canada.
2. Fabula Coffee
Fabula is a lot like Lifeboost. Inspired by classic coffees of the Peruvian mountains, Fabula sells low-acid, "healthy" coffee that's shade grown at high elevations. 
Their coffees are certified USDA organic and non-GMO. Fabula is also committed to single-origin roasts, considering it higher in quality.
Runner Up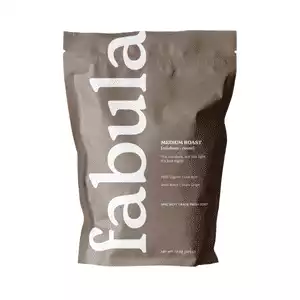 Fabula's light roast in particular, is a great shade-grown coffee. From the highlands in southern Mexico, these coffee beans are fully washed and have notes of red apple, cocoa, nuts, and brown sugar.
It's complex yet still feels light thanks to its low acid content.
Fabula coffee also sells caffeinated and decaf coffees in all roast types as well as K-Cups. You can purchase their coffee as whole beans or ground, as a one-off or through a subscription.
They buy from cooperatives of smallholder farms. This keeps prices fair for farmers and ensures the plants are grown with quality, rather than quantity, in mind.
Fabula strives to be stomach-friendly by testing for over 300 toxins to keep coffee clean — and it's definitely always mold-free — and by keeping the acidity low.
You'll find reviews of Fabula from people with stomach issues like acid reflux who swear they can drink coffee again thanks to low-acid Fabula coffee beans.
Fabula is online order-only but roasts and ships three times a week to keep coffee beans/grounds fresher. Your first order can be refunded in 30 days if you're not satisfied.
3. Fresh Roasted Coffee
Fresh Roasted Coffee is certified fair trade, direct trade, USDA organic, and kosher.
Committed to sustainability, Fresh Roasted Coffee LLC uses smokeless roasters that give off lower emissions, and the company is Rainforest Alliance certified.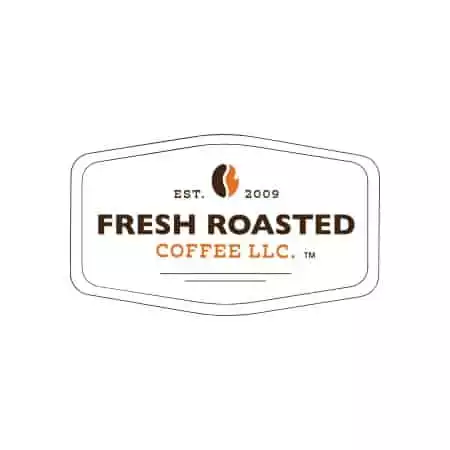 One of their best coffees is the medium roasted Haitian Blue.
Haitian Blue is apparently the ONLY organically and shade-grown coffee in the country. Haitian Blue is fully washed, and patio sun dried.
These high-quality Arabica beans are on the lighter side of medium and have notes of cinnamon, sweet tobacco, and plum. This roast is bold, and a little "Maillard" (browned and deep) and can be a little oily.
You can order Haitian Blue, and other Fresh Roasted Coffee roasts as whole beans or ground fine, coarse, or for drip/pour over.
Their Sumatra Swiss Water Decaf is also a great shade-grown option. It's earthy, bold, and even a little smokey. It tastes darker than the light medium it's advertised as.
4. Volcanica Coffee
Volcanica offers over 150 coffees, including single origin, estate, peaberry, decaf, low acid, and flavored coffees sourced globally.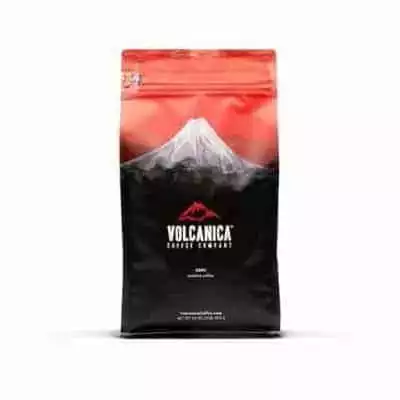 Volcanica Coffee
Speciality beans sourced from around the globe and roasted on demand.
The coarsest grind available is perfect for French Press brewing.
LEARN MORE NOW
Many of their coffees are also Rainforest Alliance and fair trade certified. Their website has all three designations (including shade-grown) as filter options when shopping, so you can be sure you're getting the right roast.
The Atlanta, Georgia roaster specializes in single-origin coffees from high-elevation farms. It's a family-owned business with a history in the coffee industry. Earlier generations harvested coffee in Costa Rica; the current generation started Volcanica.
And yes — their coffees only come from volcanic regions around the world.
Volcanica has four shade grown coffees:
Costa Rica Peaberry: A washed process medium roast with notes of honey, lemon, and almond. It's bright and mildly sweet.
Hawaiian Kona Extra Fancy: A washed process medium roast with notes of jasmine, citrus, cherry, caramel, and floral flavors. It's lively and sweet yet mellow in flavor. It's a full-bodied true Kona coffee certified by Hawaii's state department of agriculture.
Kenya AA: A washed process light-medium roast with notes of raspberry, cranberry, redwood, and light flowers. It's almost sweet with fruity wine-like overtones and its on the acidic side. You can also get Kenya AA as a decaf.
Toraja Sulawesi Peaberry: Another washed process medium roast, Toraja Sulawesi has a soft flavor with notes of chamomile, lemon, and a slight acidic taste. Grown on the oldest (over 250 years) Toraja trees, this Indonesian roast is rare, delicious, and fair trade.
You can buy their wide variety of coffees as a subscription or individually. They offer a specially discounted subscription rate for students, too.
The Shade Grown Coffee Buyers Guide
Shade Grown Coffee Benefits
There are many benefits of shade-grown coffee.
As we discussed above, coffee is naturally grown under tree cover, so shaded growing is automatically ideal for coffee farms. It naturally supports good soil health, thanks to falling leaves providing good mulch.
It even limits the need for pesticides since that mulchy layer of fallen leaves suppresses weed growth. That's a benefit for organic coffee growers and spares coffee farmers the cost of treating plants for pests. (Fertilizers are less of an issue, too.)
Shade coffee farms are also a great way to encourage carbon dioxide capture since they keep and maintain their forests/trees for production. They're also a great way to preserve the natural bird habitat and other critters' homes.
Another interesting benefit of shade-grown coffee is that it tends to be less acidic, too. It takes a little longer to grow coffee in the shade, which seems to lessen the acidity in the bean — and create a much smoother, richer, and more balanced flavor!
Shade Grown Coffee VS Sun Grown Coffee
Shade-grown coffee is generally more popular than coffee grown in full sun.
Most importantly, coffees grown in the shade tend to be higher quality. They grow the way coffee is meant to be grown, under a canopy of shade trees amid a layer of dead leaves that supports good soil moisture and health.
Coffee grown in the shade is usually organically grown since pesticides, and other chemical fertilizers just aren't necessary.
The natural layer of dead leaves that builds up under shade trees keeps weeds from growing up and fighting coffee trees for resources.
And again, since that leaf layer is so good for supporting soil health, there's plenty of natural mulch to support coffee tree growth without the need for added chemicals.
Growing coffee entirely in the sun does the opposite. There's no more shade to protect the coffee plant, and there's no leaf fall to keep the soil in better shape.
Unshaded coffee plantations often need pesticides and chemical fertilizers to help the coffee grow better in the less hospitable environment.
Worst of all, since coffee lands are typically more forested, coffee plantations often engage in deforestation to make room for mass coffee production. This results in habitat loss and harms the natural environment.
Ultimately, sun-grown beans can be produced in larger quantities, but it tends to be lower quality.
And since it's not great for the environment, many farmers are increasingly switching back to traditional shaded growing.
The Final Verdict: Best Shade Grown Coffee
Shade-grown coffee is Lifeboost's MO, so of course, they're going to top our list of the best shade-grown coffee beans.
Top Pick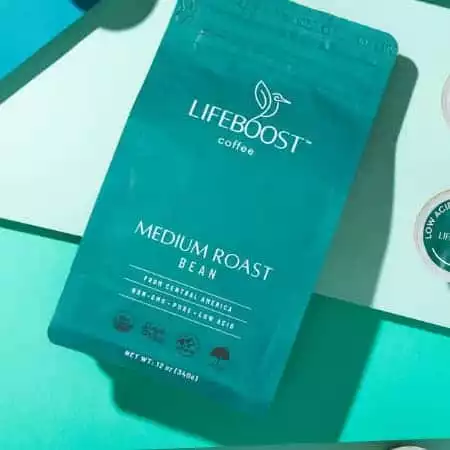 Runner Up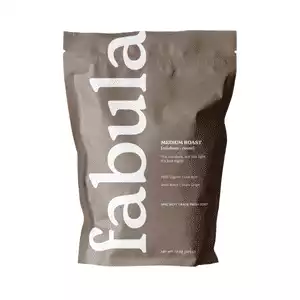 But for that matter, Fabula is an equally good choice.
Both brands offer entirely shade-grown coffees thanks to their commitment to low acid, stomach-friendly brews. They both roast great coffee and test rigorously for mold and a wide variety of other toxins.
Not only is your coffee grown with environmentally-healthy practices in mind, with Lifeboost and Fabula coffees
Bird Friendly Coffee is an official designation of the Smithsonian Migratory Bird Center.
When coffees are bird-friendly, it is shade grown, and the farm uses specific forestry practices meant to preserve the habitat of local migratory birds and bird populations in general. These coffees must also be organically grown (since that naturally supports bird populations, too).
your cup will be pretty healthy for you, too. Just don't go too crazy on the sweetener!
Frequently Asked Questions
Why does shade grown matter for coffee?
A coffee plant that is shade grown is nurtured in an environment that is ideal for the plant. The soil is in better shape and holds more nutrients for the plant, and the plant is also protected from excess sun exposure.
In short, shade-grown coffee tends to be of much higher quality, and the practice of shade-growing is better for the local ecosystem, the environment — with more trees producing oxygen to filter out carbon dioxide — and preserving animal habitats.
What is Bird Friendly Coffee?
Bird Friendly Coffee is an official designation of the Smithsonian Migratory Bird Center.
When coffees are bird-friendly, it is shade grown, and the farm uses specific forestry practices meant to preserve the habitat of local migratory birds and bird populations in general.
These coffees must also be organically grown (since that naturally supports bird populations, too).
Why is shade grown coffee better for the environment?
Shade grown coffee promotes and maintains the natural forest canopy in forested coffee growing regions, whereas coffee grown in the sun often contributes to deforestation.
Maintaining the natural environment and diversity of the local ecosystem is important for native plant and animal species. 
That's easy to do with coffee beans (technically cherries) grown in the shade, since these beans rely on the forest canopy to provide shade for better soil health.