The Best Dual Coffee Maker 2023: A Buyer's Guide
There is no doubt about it – people love coffee. Even with tons of affordable home coffee makers, mid-sized coffee shops are bringing in hundreds of thousands of dollars.
Since people are continually drinking coffee at home as well as in coffee shops, that increases the need for high-quality coffee makers for residential use as well as business use.
Dual coffee makers are among some of the most popular coffee makers on the market. In this guide, you'll learn everything you need to know about two-way coffee makers so you can join the millions of people and businesses that own one.
We'll also give you five suggestions on great two-way coffee makers, plus outlining the best dual coffee maker out there. To start if you're in a rush here's our favorite:
Top Pick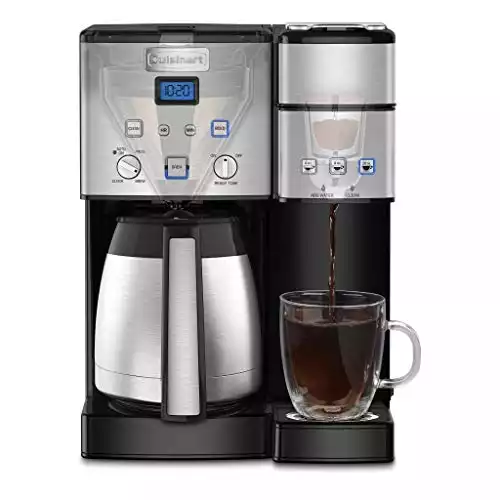 Alternatives at a glance
Five of the Best Dual Coffee Makers In 2023
Below we run through the best two way coffee makers out there and give a heads up on which one we prefer out of the 5 we discuss.
Let's get started with our top pick of the bunch:
Best Dual Thermal Brewer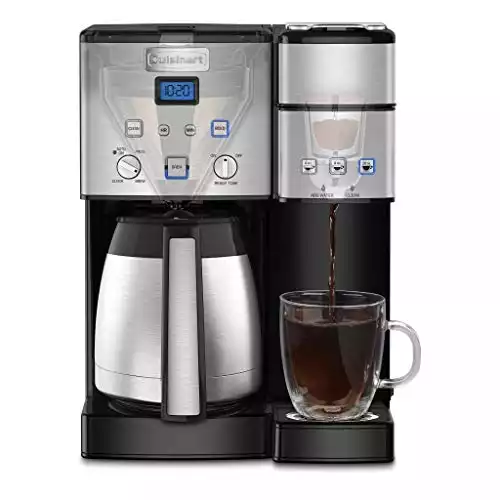 Weight: 12.75 lbs.
Dimensions: 10.75 x 10.8 x 14.5
Reservoir Size: 40 oz.
Material: Plastic
Warranty: Three years
Cuisinart is another name that is well known in many department stores. The difference between it and other brands is that Cuisinart is an upscale brand.
Cuisinart consistently gets excellent reviews when it comes to their products as well as their customer service. Great customer service makes a big difference when you're choosing between brands.
The Coffee Center coffee maker is an impressive appliance which is feature packed. In fact it has so many different features that it leaves nothing to be desired.
This includes, your typical – 24-hour programming, brew-pause functionality, and brew-strength control.
However, this model goes above and beyond with features that you don't readily find on many coffee makers.
For example, you have the option of adjusting the temperature of your coffee to one that's perfect for you.
Another example is the charcoal water filter. It's a champ at filtering out impurities in your water, so you'll have the purest tasting coffee possible.
The Cuisinart Coffee Center two-way coffee maker is a premium choice from a higher-end brand. It's expensive, but if you can fit it in your budget, you won't be disappointed.
Pros
It has an energy-save mode making it extra useful for RVs
BPA free
Three-year warranty
The permanent filter is premium
Has a self-cleaning feature that is programmable
Cons
It's costly.
It should be stainless steel at this price point.
The water reservoir only holds 40 ounces of water (5 8oz cups of coffee)
Access to the reservoir is a bit difficult.
Best Dual K-Cup Brewer
Weight: 10.71 lbs.
Dimensions: 12.92" x 10.94" x 12.76"
Reservoir Size: 60 oz.
Material: Plastic
Warranty: One year
Some products are just made well, and you can tell it when you look at it, touch it, and use it. This Keurig was made with precision using high-quality products.
There is no reason it shouldn't last a very long time if you take care of it. The lids snap closed comfortably and snugly. All removable parts fit together seamlessly. The buttons are easy to push, and the coffee maker is easy to use.
Besides the K-Duo being one of the most superbly manufactured appliances around, it has a lot of attractive features. It has an extra-large, 60-ounce water reservoir that is removable. This makes it easy to refill.
The coffee maker is programmable, and it comes with a (permanent) reusable filter.
This coffee maker might set you back a good bit of money, but you get what you pay for, and the quality of the coffee maker is worth every dollar.
Pros
Pick between regular or strong brew
Single-serve side is removable to fit up to an 8-inch tall travel mug
Glass carafe has a wide opening for easy cleaning
Extra-large, 60-ounce reservoir
Programmable up to 24 hours in advance.
Can use both ground coffee, and single serve K-cups.
Cons
It's expensive
Short power cord (2.5 feet long)
The minimum you can brew in the pot is 6-cups
Most Lightweight Dual
Weight: 6.37 lbs
Dimensions: 13.9″ x 10.24″ x 10.63″
Reservoir Size: 60 oz
Material: Plastic
Warranty: One Year
Hamilton Beach is a trendy brand that you'll see in most of the top department stores.
The brand is known for developing convenient and affordable products. This 12-cup dual coffee maker, the FlexBrew, fits the bill perfectly.
One of the most attractive features of the Hamilton Beach FlexBrew is that it's exceptionally lightweight. It weighs almost half of what other similar dual coffee makers weigh. You can quickly move this coffee maker around with barely any effort.
Going back to convenience, the FlexBrew has all the buttons on the front of the coffee maker. This allows easy access as well as easy reading, especially if your coffee maker will be sitting under a cabinet.
Other notable features include an auto-shutoff after two hours, the ability to program it, and separate water reservoirs for each side. This last feature really makes the coffee maker stand out because most dual coffee makers have only one reservoir.
Overall, this is a lightweight, feature-rich coffeemaker that is in an affordable price range.
Pros
The coffee maker has separate water reservoirs for each side.
The cup rest can be removed to accommodate a travel mug
The cup rest doubles as a storage unit for single serve K-pods
Each reservoir has a window so you can see how much water is in them
You can choose between two brewing strengths – bold or regular
Has a bright, modern-looking LCD display for brewing information
Cons
Only the pot is programmable – not the single-serve side.
Tends to clog often, so you must clean it regularly to prevent overflow.
Best Espresso + Drip
Weight: 6.2 lbs.
Dimensions: 14.5″ x 11″ x 12.8″
Reservoir Size: 40 oz.
Material: Stainless Steel
Warranty: One Year
The DeLonghi BCO430 two-way coffee maker is for all the "baristas at heart."
This is a remarkable machine that can make coffee, espressos, cappuccinos, and more. It has an unsurpassed quality and an upscale look that most coffee connoisseurs will enjoy.
The DeLonghi BCO430 is made of high-quality stainless steel. The steel is matte and is combined with black plastic. The construction is impeccable, which excites people even more about the features.
The espresso half of the machine has a manual frother and a pump pressure of 15 bars. The recommended pressure is 9 bars, so you have more than enough pressure for a great cup of espresso.
The coffee maker is front-loading for easy access and has a water filter for great-tasting drinks.
One of the best things about the DeLonghi BCO430 is that with all its features and functions, it's straightforward to use. It has simple buttons with simple commands right on the front of the machine.
Although this device is one of the more expensive options on the list, it's actually excellent value for what you get. It's one of the most high-quality all-in-one beverage centers you can have in your home. It's even suitable for a small coffee shop.
Pros
The cup tray doubles as a storage tray for single serve K-cups.
The filter is an anti-chlorine filter to improve water taste.
It has an auto-shutoff feature after two hours.
The whole system only weighs a little over six pounds.
You can make a lot of different beverages with this single machine.
The coffee maker has an indicator that lets you know your coffee is going stale.
Cons
The carafe can sometimes leak a bit, causing a mess that you must clean up.
Small reservoir given the price point
It's expensive for a home-use coffee maker.
Best Budget Pick
Weight: 6.6 lbs
Dimensions: 9.4″ x 14.2″ x 12.8″
Reservoir Size: 60 oz.
Material: Plastic
Warranty: One year
If you're on a budget, you can still enjoy the convenience of a dual-coffee maker with this Kitchen Selectives model.
Both sides brew 12-cup pots of coffee, so you'll give up the single serve option with this budget model, but being able to brew two different types of coffee is the main priority, and this coffee maker does that beautifully.
Each side of the coffee maker brews coffee independently. This means that you could brew both sides at the same time with no problems. Having two water reservoirs means that you can get two full pots of coffee with no problems.
The coffee maker has a couple of handy features. One is the automatic shutoff after two hours, and the other is the pause and serve feature. These features make this coffee maker practical and convenient.
Pros
It's very inexpensive and great for people who have tight budgets
Each side brews independently so you can use them at the same time
Power buttons light up so you can tell when it's on or see them in the dark
Filter basket is removable for easy cleaning
Cons
The water reservoir doesn't hold enough to fill both carafes
If the lid isn't closed perfectly, it can overflow onto your counter
It's not suitable for constant/frequent use or professional use
Everything You Need to Know About a Dual Coffee Maker
Dual coffee makers (also known as two-way) are becoming more and more popular, and there's good reason for it!
They are especially useful if you sometimes need a single serve coffee and at other times a whole pot.
So what exactly is one of these magical devices?
What is a Dual Coffee Maker?
A dual coffee maker is a brewer that allows you to brew a whole pot of coffee as well as an individual cup of coffee or another pot of coffee at the same time.
It combines a traditional coffee maker with the newer, single-serve coffee makers that have hit the market. A two-way coffee maker is a great way to provide options for you and your family.
It's also convenient in a coffee shop because you can serve different customers faster and more efficiently.
Reasons to Buy a Dual Coffee Maker
If you like a different type of coffee than your family
You don't want two various appliances taking up counter space
If you sometimes need a quick cup for time reasons, but other times you want a whole pot
It's handy to brew a pot of regular and let "decaf people" brew theirs as needed
You want to brew coffee plus some other hot drink like tea
You simply like having cool appliances
Dual Coffee Maker Basics – Shopping for the Best Dual Coffee Maker
There are certain features that every dual coffee maker is going to have regardless of brand or price.
However, not all these devices are made equally.
Below we have listed the basic features of a two-way coffee maker. You can use these to determine which one is right for you
Water Reservoir
The size of the reservoir is crucial, especially for a two-way coffee maker.
If you get a coffee maker with a small water reservoir, you could find yourself constantly refilling it, which could get annoying after a while.
We suggest sticking with a reservoir capacity of at least 48 ounces. Think about this – you brew an eight-cup pot of coffee which, in coffee lingo, equals about 40 ounces.
You also want to brew a single-serve coffee which you'll only be able to get eight ounces because that's all that's left in the reservoir.
This scenario makes it easy to see why you don't want to go smaller than a 48-ounce reservoir.
Coffee Reservoir
Nowadays, there are two ways to brew coffee – a traditional coffee filter with ground coffee or with K-cups.
It's a matter of personal preference when it comes to choosing one method over the other. However, the best coffee makers will allow you to use it both ways.
Does this mean that you shouldn't get a coffeemaker if it only has one method or the other? Of course not! You simply choose the one that you want more.
For people who are concerned about price or maybe on a budget, you may save money by choosing a coffee maker that only offers one method.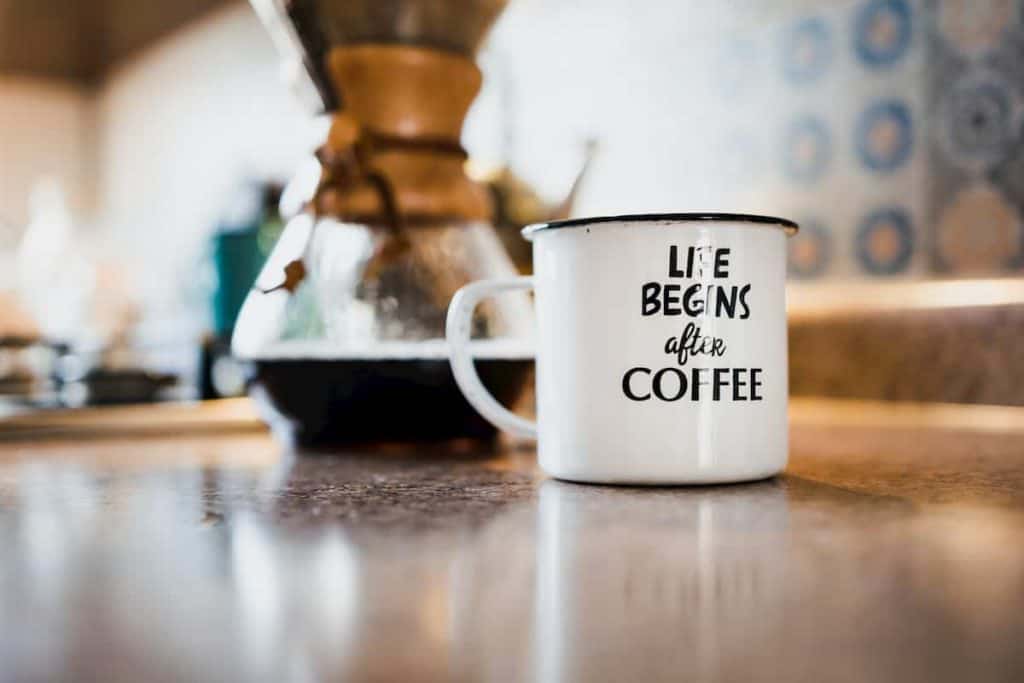 Wattage
Appliances that have heating elements tend to need a high number of starting watts.
With a dual coffee maker, you're looking at even more watts than a traditional coffee maker. It can sometimes be as much as twice the wattage needed to keep the appliance running.
With newer homes, you don't have to worry about starting watts. They're equipped to handle the demand of today's electronics.
However, if you live in an older home, especially those built before 1980, or you're planning to use your coffee maker in an RV, you need to know how much wattage you home or RV can handle before you invest in an appliance that you can't use.
Appliance material
Dual Coffee makers are usually made of stainless steel, a high-grade plastic, or a combination of the two.
Occasionally you may find one made of some other material, but it's rare. You may automatically think that stainless steel coffee makers are better, but there are some plastic dual coffee makers that give their stainless-steel competitors a run for their money.
Here are the pros and cons of each material:
Stainless Steel
Pros
Extremely durable
Doesn't rust
Premium look
Recyclable
Cons
Extremely durable
Doesn't rust
Premium look
Plastic
Pros
Less expensive
Lightweight
Doesn't rust
Multiple color options
Cons
Doesn't last as long
More prone to leaking
Not fully recyclable
One material isn't necessarily better than the other. It's just that one may be designed to provide specific benefits in certain situations.
Think about your lifestyle and where you'll be using the coffee maker, and it will be easy to decide on the right material for you.
Optional Features and Accessories That's Nice to Have
Like most technology that you'll find now, the best coffee maker can have some features and accessories that make them stand out from the crowd.
These features aren't necessary for a great cup or pot of coffee, but they can make brewing more convenient.
They can even make using the appliance fun. Here are a few optional features that you might be interested in.
Permanent Filters
Permanent filters keep you from having to buy and dispose of paper filters constantly.
It's not that paper filters are expensive. It's just convenient not to have to deal with them.
Brew Strength
A coffee maker with this option allows you to choose how strong or light you want your coffee.
It's great when you have this option with a single-serve brewer. Every cup can be tailored to a person's taste!
Wi-Fi or Bluetooth Connectivity
If you like smart devices, you'll want to consider a two-way coffee maker with Wi-Fi or Bluetooth connectivity.
This allows you to control your coffee maker from your phone or another device.
For example, you can schedule a single serve k-cup to brew or schedule a pot of coffee from your bed, or even when you're not home!
But, there aren't very many models with this option. The ones that do have it are in a premium price range.
Programming
Most coffee makers, apart from cheap models, have some type of programming available.
The most basic programming allows you to set a time for your coffee to brew automatically. This means you can have a fresh cup of coffee waiting for you when you open your eyes in the morning.
Other functions you can program include brew strength, number of cups/ounces, or even a self-cleaning feature
The Verdict
Out of the five dual coffeemakers that we've reviewed, the best two-way coffee maker on the list is the Cuisinart Coffee Center SS-20 Dual Coffee Maker.
Top Pick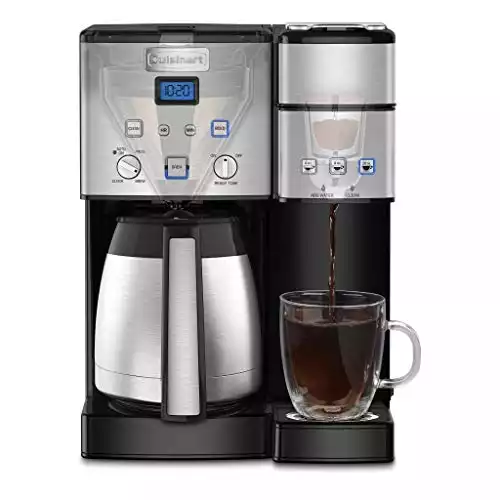 Cuisinart is a brand that you know you can trust, and this dual coffeemaker is dependable, stylish, and practical. It's an appliance that you can consider as an investment which is what earns the title as the best coffee machine functioning two ways.
The Cuisinart Coffee Center has almost all the features that make the best dual coffee maker – 24-hour programming, a permanent reusable filter, brew pause, and a brew strength control.
However, it goes above and beyond with the programmable self-cleaning function and a charcoal water filter. Overall, the Cuisinart Coffee Center is a choice that we're happy to recommend to anyone.
Frequently Asked Questions
Does Keurig Make A Dual Coffee Maker?​
While Keurig is famous for its k-cups, it also manufactures great two-way coffee makers that can dispense single serve k cups or entire pots of coffee.
If you're after a Keurig check out the Keurig K-Duo Coffee Maker, it has dual functionality while looking awesome on any tabletop!
What's The Difference Between K-Cups And Soft Pods?​
While both methods brew coffee, there are two significant differences between K-cups and soft pods that matter.
The first one is that they are packaged differently. A soft pod is basically coffee in a sealed filter. A K-cup is a coffee in a sealed cup.
The second difference is that they both can only be used in specific machines – they aren't interchangeable.
Can you make other beverages besides coffee in a dual coffee maker?
This depends on the appliance.
There are dual coffee makers that can brew coffee, tea, and more. You just need to get one that brews the beverage that you want.
If one side breaks down, can I continue to use the other side?
This depends on what is wrong with the coffee maker.
However, you probably wouldn't want to keep using it if it's broken. You should get it fixed, so you don't cause more damage.
Can I dispense hot water only instead of a cup of coffee?
Some coffee makers are designed to also provide hot water when needed instead of cups of coffee.
This dual functionality is dependent on the exact machine, and you can expect to pay more for this sort of feature.
Which is better Hamilton Beach or Cuisinart?
It depends on your preference and budget.
While both these brands have basic features like a reservoir, drip tray, and the ability to brew coffee, Hamilton beach is often more economical with a smaller feature set.
As a result, Cuisinart is usually more pricey, but Hamilton Beach also offers highly rated devices at budget price points.
What is the best small coffee maker?