Timemore C2 Review: Decent Hand Grinder On A Budget?
You can't read a coffee forum without smacking into big, bright, shining love for the Timemore Chestnut C2.
Manual coffee grinding fanatics usually keep one in the cupboard, and even after they've invested in a Ferrari-like grinder, their C2 never has a chance to gather dust.
But the hype isn't everything. Millions of people love McDonald's coffee. Millions don't. So how do you know the C2 is worth the hype?
I've scoured the interweb (is that still coolly ironic to say?) and weighed the mighty C2 on the scale of coffee worthiness. Has the seasoned hand grinder hero held up to legend?
I'll share the tale of its success in this review. The Timemore C2 just may be worthy enough for your coffee beans.
Timemore C2 Review Grinder Overview
The Timemore Chestnut C2 offers premium quality grind results for a famously budget-friendly hand grinder.
While not perfect, the C2 is a fantastic starter grinder and well deserving of its popularity with even the most seasoned of home baristas.
Great For Pour Over & French Press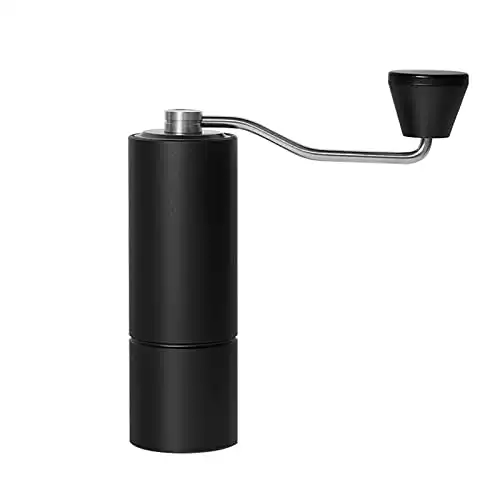 PROS (+)
Fast and easy to use
Lightweight and portable
Great starter coffee mill
CONS (-)
Limited grind adjustment control
Not great for espresso
Advantages
The best thing about the Timemore Chestnut C2 is using it — as in, it's really easy to use.
It takes practically no effort to grind on this little guy. Plus, it's pretty quiet, perfect for not seriously cheesing off your roommates before an early workday.
The C2 is also a lightweight hand grinder, so don't feel like you need to leave it behind on trips. Continue your unhealthy obsession with coffee and manual grinding in peace.
As for grind settings, the adjustment knob is easy to turn, too. And when you're done, this hand grinder is easy to clean and small enough to store anywhere.
Ball bearings make up for spring-loaded instability, as do internal stabilizers, keeping this manual coffee grinder nice and light.
Really, the C2 is a no-fuss piece, which is why it's an excellent choice for a first coffee mill.
Disadvantages
Although the Timemore C2 can technically grind fine enough for espresso or a Moka pot, it isn't worth it. Finer settings on the C2 aren't as consistent as other premium hand grinders.
The full grind range is not the consistent grind range. As a result, any espresso setting on the Timemore won't be consistent enough to make espresso fans happy.
The C2 also has a pretty small capacity at only 25 grams (compared to other hand grinders that hold anywhere from 30 to even 40 grams).
Best For
In all, the C2 is a great starter grinder for coffee lovers whose favorite brewing methods don't use finer grinds.
But if you're new to hand grinding and just want something to make your morning pour over extra special, the Timemore Chestnut C2 is a great choice.
Timemore C2 Burrs
The C2 is often hailed as THE cost-effective hand grinder, but when it comes to the burr quality, Timemore didn't skimp.
These 38 mm stainless steel conical blades are some high-quality burrs, the kind typically found on more expensive burr grinders.
Conical burrs, like those on the C2, are often considered more efficient and better grind consistency — and easier to clean. Steel burrs are also sharper than ceramic burrs until they age.
Interestingly, the inner burr comes spring-loaded. This means tension (from the spring) is used to set the grind and keep it more consistent again and again.
That should also help this hand grinder age a little more gracefully; burrs change over time, but a spring won't lose tension that easily in a grinder (since it won't undergo too much stress).
Oh, and if you read "spring" and "tension" and worried about stability, don't worry.
Timemore thought of that. The C2 has dual bearings to help the burrs stay stable. This dual-bearing stability may be contributing to how easy it is to use, too.
These are the kind of burrs you'd see in high-quality hand grinders at a lower cost.
Brew Notes
While conical burrs are good for grind consistency, steel burrs are good news for fans of manual coffee brewing and single-origin roasts.
In particular, steel blades are ideal for French press, pour overs, and drip coffee.
Timemore C2 Grind Settings
The Timemore Chestnut C2 grinder uses a click adjustment system. With 36 clicks or grind adjustment sizes, the C2 offers a broad range of grind sizes.
To set the grind adjustment on the C2, you have to 'zero it out' each time, turning the grind adjustment dial all the way to the left and then counting the number of clicks you need for your intended grind setting as you turn.
There are no numbers to guide you on the grind adjustment knob, and you can't check that the dial is still in the right place before using it.
That means you have to remember your preferred grind setting(s) AND you have to do a little math every morning — before you've had coffee.
36 grind adjustment settings may sound like a lot, but with models like the 1Zpresso K Plus featuring nearly 100, the C2 clearly does not allow for a ton of precision when you grind coffee.
Timemore doesn't list the number of microns of each click size, which likely means it's not fine enough to brag about.
Suffice it to say, the C2 is great for brewing methods that use medium to coarser settings, like the French press.
Timemore C2 Grinder Speed
What the C2 lacks in consistent grind range, it makes up for in the grinding process.
Some manual grinders expect you to turn into the Incredible Hulk just to crank out a cupful of grounds. Not the Timemore Chestnut C2.
Using this manual coffee grinder is fast, smooth, and easy. The crank handle is easy to turn without excessive force, and it's surprisingly quiet when crushing coffee beans.
Think Bruce Banner at the physics lab, not Incredible Hulk about to take out the trash.
Timemore C2 Grind Consistency
This hand grinder is very consistent at the medium to coarser settings. But if you use a finer grind setting, you're probably going to be a little disappointed.
The Chestnut C2 and your French press will become best friends. Your Moka pot and the C2, however, barely tolerate each other in the workplace.
As long as you don't want to make espresso every day, you can rely on the C2 to perform consistently, thanks in no small part to the burr set build quality and stabilizing dual bearings.
Although the C2 is known to produce extra fines (ultra-fine particles), it still outperforms many more expensive grinders overall, so don't be scared off.
Really, there's a reason the Timemore C2 remains popular.
Making the Timemore C2 Work For Espresso?
Like what you're hearing but not ready to give up espresso?
Timemore offers replacement Titanium burr sets which improve the overall grind quality and consistency at finer grind settings.
While it's not the ideal setup for espresso, finer settings are more attainable now with the Chestnut C2 if you're willing to upgrade.
The Build
Build quality on the C2 is higher than you'd expect for a "cost-effective" choice.
In addition to the stainless steel burr set, the main body of the Timemore C2 is aluminum alloy, which is a nice blend of durability, aesthetics, and a lightweight feel.
Further adding to that lightweight feel are the plastic parts inside.
Plastic may not be the sexiest of materials, but the plastic stabilizers inside the body do make the C2 lighter and more portable.
If, like me, you're wary of adding more plastic than necessary into your kitchen, know that the C2 is at least made of PCTG plastic, which is BPA-free, food-safe, and extra-durable. PCTG plastic is much longer-lasting than many plastic parts.
Still, if you can't stand plastic, the Timemore Slim Plus has the same high-quality burrs as the C2 with improved build quality. It's more solid in form, which makes it more stable, and is made out of aluminum.
Other Considerations
The Timemore Chestnut C2 is also easy to clean — once you get the hang of popping the adjustment dial and burr set in place with the spring.
The C2 comes with a cleaning brush and only needs to be brushed clean. FYI most hand grinders should only be kept spic and span with their cleaning brush, not water.
It's also such an established machine that it's possible to find it used. As if this wasn't already a budget-friendly choice. Trying out the C2 is about as risk-free as you're going to get.
Finally, the Chestnut C2 comes in four color options, three dark and one light. That's for you, fashion lovers.
The Timemore C2 Coffee Grinder Isn't For You If…
You Live And Die By Espresso
Just because the C2 has espresso settings doesn't mean you'll want to use them.
Moka pot dabblers may not know the difference, but if you're buying a hand grinder as part of your quest to make a doppio better than the gods' nectar and ambrosia, well, you may be better off with another brand.
But if you stick to manual brewing methods like pour-over or French press, you're in good hands.
You Use A Lot of Coffee At Once
Capacity seems so simple we tend to overlook it in favor of grind size, consistency, and performance by brewing method.
But at the end of the day, it takes time to grind coffee beans — even for a speedy grinder like the C2.
Even though this hand grinder is great for manual brewing, you may not appreciate the grind quality when you're cranking out enough for a large Chemex (which tends to take around 50 grams of coffee).
The Timemore Chestnut C2 is pleasant to use, but grinding two full grounds cups' worth daily, or multiple times a day, could get old fast.
If you typically use a lot of grounds at once, you may want to opt for a larger capacity grinder, like the Orphan Espresso LIDO E-T, which holds an impressive 70 grams.
Related Read: Top Manual Coffee Grinders
You're A Grind Perfectionist
Look, the Timemore Chestnut C2 is hardly a bad little hand grinder, but it leaves a little to be desired in terms of grind quality compared to some of the bigger name manual grinders.
Many coffee-obsessed people think a big change in grind size can be found in a 10-micron click size between click number 23 and 24 (out of 100).
And I love you for it. That's why I'll tell you to look elsewhere if fine-tuning grind settings is what gives you a reason to get up each morning.
The Final Verdict
The Timemore Chestnut C2 is a great manual grinder for beginners who want solid results across a broad range of grind settings without a premium price tag.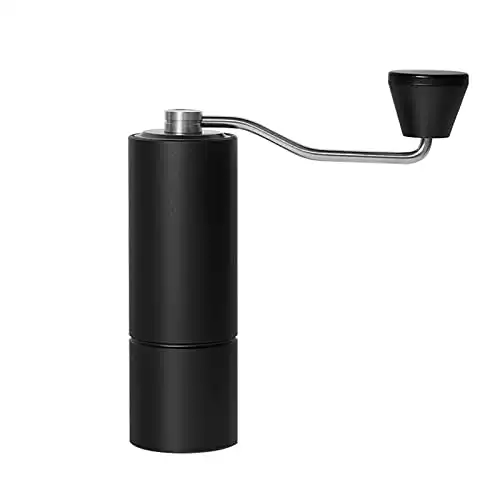 This hand crank grinder will have your back from medium to coarse grind size needs and has the potential to perform a little more consistently at fine settings with the Titanium burr upgrade.
It's lightweight, smooth, and super easy to use. Manual grinding newbies, the Timemore Chestnut C2 is the one for you. Semi-pros, this hand grinder is still worth a spot in your collection.