The Main Types of Coffee Grinders Explained
Let's face it—most of us just grab pre-ground coffee at the grocery store. But if I told you your coffee could be twice as good if you ground it yourself?
As a former barista, I know a thing or two about what makes a mean cup of coffee. And trust me, a good coffee grinder is key.
Here's a rundown of the different types of coffee grinders, why they're so important, and how to choose a good one. Plus, I've thrown in a few recommendations to get you started on your hunt for the perfect grinder!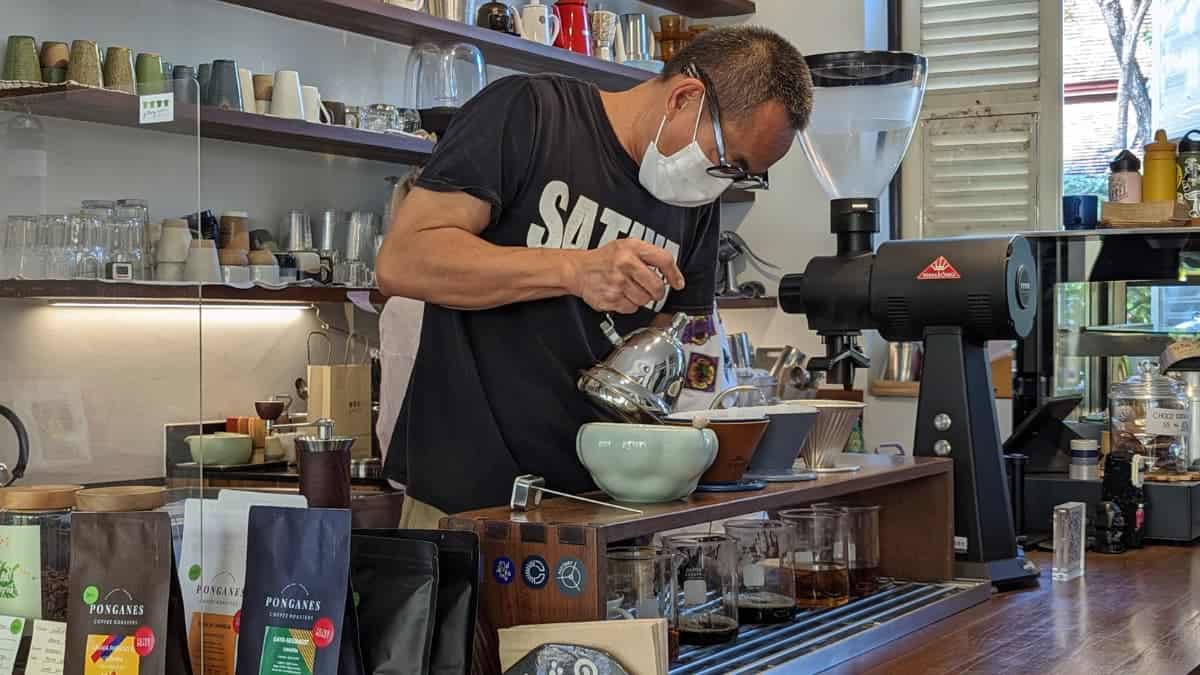 Key Takeaways: Coffee Grinder Types
Coffee grinders come in four main types: burr, blade, manual, and automatic.
Burr grinders are bulkier and louder but give you consistent grind sizes.
Blade grinders are quieter and less bulky but produce less consistent sizes.
Automatic grinders use electricity; manual grinders take a bit of elbow grease.
Why Does the Grind Matter?
Before we compare coffee grinders, let's go over why the grind even matters.
When you grind your coffee beans, you're releasing gasses and oils. Aka, the things that help give your drink a tasty flavor and pleasant aroma.
Over time, coffee grounds start to lose those characteristics. So pre-ground beans have a weaker flavor than freshly ground beans.
Moisture, oxygen, and carbon dioxide also change the chemical state of coffee grounds. Grinding your own coffee beans right before brewing is the best way to preserve flavor and aroma.
Grind size is another reason the grind matters. Different brew methods call for different grind sizes.
For example, if you're making french press coffee, you'll want medium-coarse grounds.
If the grind size is off, your coffee will be either under or over-extracted.
Under-extracted coffee can taste sour and even salty. And over-extracted coffee can be very bitter and astringent. Yuck!
Coffee Grinders: Four Types
Now you know why getting a good grind matters. But how do you get that grind? Simple: find a good grinder.
To start this search, you need to make two choices. Blade or burr grinder? Manual or automatic?
Each type will have a different impact on your beans' texture, aroma, size, and consistency. Not to mention your budget.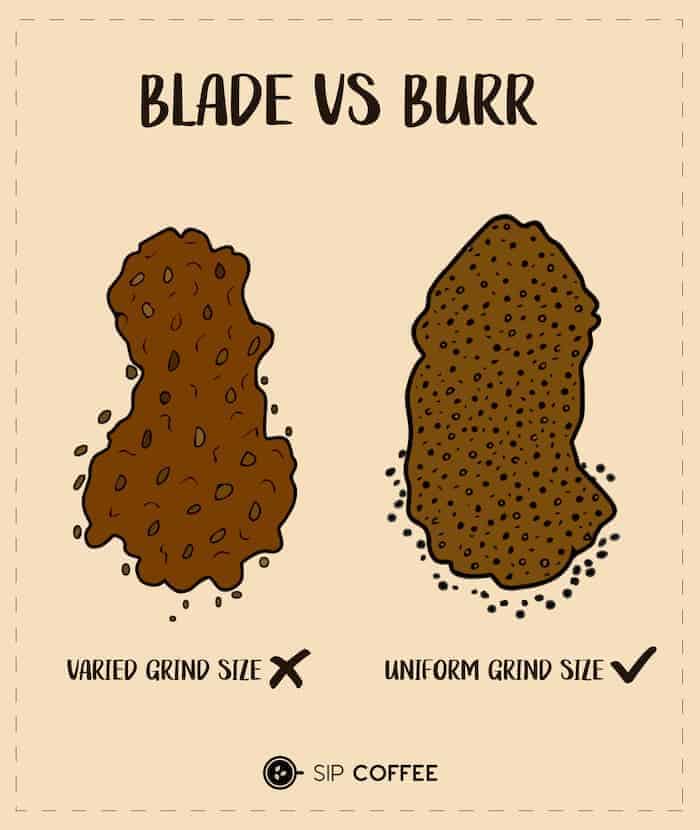 Burr Grinders
Burr grinders are the type of grinder you'll find in most coffee shops. As you can probably guess from the name, they use burrs to grind the coffee beans.
Either metal or ceramic, these burrs spin in opposite directions. They direct the coffee beans toward a funnel where the burrs grind the beans into the same size.
Burr grinders can be noisy and have a larger footprint. On the plus side, the burrs tend not to produce too much heat. Heat transference can burn your coffee grounds. So burr grinders help prevent unpleasant tastes in your coffee.
If you're looking for a burr grinder, you can choose from two types: flat or conical.
Flat burr grinders offer better consistency in grind size. Conical burr grinders use a cone shape and are a bit cheaper.
You can also choose between stainless steel or ceramic burrs. Ceramic tends to be more expensive, but more durable.
If you want the best tool for grinding your own beans, go for a flat burr grinder. But if you're on a budget, a conical grinder will also serve you well.
Blade Grinders
A blade grinder has two flat blades that slice your coffee beans into small pieces.
Compared to burrs, blade grinders are cheaper and more compact. They can also be a bit easier on the ears.
Despite their benefits, these grinders still have a few downsides. For one thing, the blades can quickly get dull. So, you'll have to replace them from time to time.
On top of that, the chopping method creates less consistent and less even grind sizes. Depending on your brewing method, this inconsistency can lead to an uneven extraction.
So yes, glade grinders are good on a budget. But they don't always guarantee the best-tasting coffee.
Automatic Grinders
Once you've chosen between blades and burrs, you'll need to select what powers the grinder. Electricity or elbow grease.
Automatic grinders are perfect for people who don't have time to hand-grind coffee beans. All you do with these machines is plug them into the wall, throw in your coffee beans, and hit the grind button.
Automatic grinders can come with either burrs or blades.
They often feature pre-set grind sizes. All you need to do is select your brew method. The machine will calculate the correct size for you.
The downside? The convenience of these grinders comes at high prices. Also, automatic grinders can get noisy. And like any machine, they can also break, leading to intricate repair jobs.
Manual Grinders
If you want a good arm workout when making coffee, you might want to look at manual grinders.
These grinders use a hand crank to grind the coffee beans. There's no electricity involved, so they're more environmentally friendly and fairly portable.
Like automatic grinders, manual grinders let you adjust the grind size. However, you will have to figure out the right size for your brew method.
Coffee Grinders: Our Recommendations
Once you've decided the type of coffee grinder you want, take a look at our recommendations. Whether you're looking for a burr or blade grinder, I'll walk you through the pros and cons of the best on the market.
Breville Smart Grinder Pro: Our Top Pick
Breville Smart Grinder Pro is our top pick among at-home grinders. This easy-to-use automatic burr grinder gives you coffee grounds perfect for any brew method.
PROS (+)
Sixty grind adjustments
Consistent grind quality
Sleek and elegant design
CONS (-)
The motor can be loud
A little on the expensive side
The Breville Smart Grinder Pro features sixty unique grind adjustments to match your brew method. A built-in time automatically stops the 40mm conical steel burrs, aiding consistency. Best of all, the interface is easy to navigate.
The burrs rotate at 450 RPM using a 165-watt motor drive, generating no excess heat.
One of Breville Smart Grinder Pro's unique features is its 1-pound hopper capacity. The large hopper contains a lock mechanism to reduce the risk of spilling the beans.
Espresso lovers will appreciate that this burr grinder includes two portafilter holders. One for a 58 mm portafilter and the other for a 50 to 54 mm. These holders are magnetic, so removing and locking them in place is easy.
The Grinder Pro also features a magnetic base plate to collect rogue grounds. Combine that feature with a removable top burr, and the Grinder Pro is relatively easy to clean.
The grinder is bulky, so it's not suitable as a travel grinder. Also, the 165-watt motor is a little on the loud side. Because everything's automatic, this grinder can be a little challenging to maintain.
Otherwise, it's hard to fault this machine for delivering quality fresh ground coffee.
Baratza Virtuoso+: Upgrade Choice
If you're ready to spend a bit more to upgrade your coffee grinding, go for the Baratza Virtuoso +. It delivers consistency across a wide range of grind sizes, making it ideal for brew method experimentation.
Baratza Virtuoso+
The classic! Offering excellent consistency and 40 grind adjustments, the Baratza Virtuoso+ is the perfect burr grinder for a home barista.
SEE NOW ON AMAZON
PROS (+)
Automatic digital timer
Large-capacity bean hopper
Easy to use and navigate
CONS (-)
Can get loud when the hopper is almost empty
Hefty price tag
The Baratza Virtuoso+ uses a 550 RPM motor to power 40 mm stainless steel burrs.
This grinder is ideal for people who like precision. Its 40-grind settings let you choose the perfect grind size — from fine grounds for Turkish coffee or coarser grounds for french press.
A digital timer allows you to pre-program grind time. And the hopper doses the coffee beans for you.
The burrs are commercial-grade, reducing heat and friction while producing a consistent grind. You'll often find the Baratza Virtuoso+ in coffee shops.
That said, the higher price can be prohibitive. Additionally, we noticed that the grinder gets louder as the hopper empties. (It sort of sounds like a popcorn maker!) The grinder can also get messy.
Additionally, we don't recommend Baratza Virtuoso+ if you primarily drink espresso. For some reason, it struggles with the fine grinds required for making a tasty espresso drink.
Related Read: Baratza Virtuoso+ review
1ZPresso JX-PRO: Best Manual Grinder for Espresso
1ZPresso creates top-quality grinders at affordable prices. The JX-PRO model features grind size micro-adjustments, making it perfect for espresso lovers.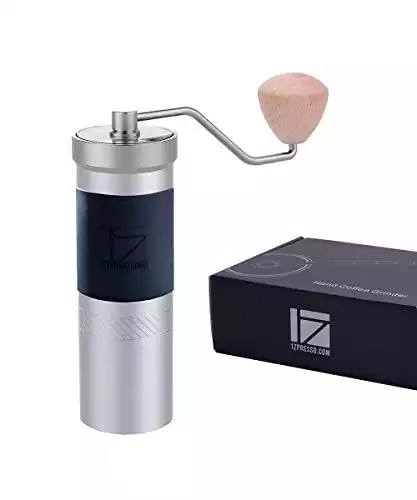 PROS (+)
Wide range of grind settings
Sturdy and durable construction
Ideal for all types of brewing method
CONS (-)
Heavy and not portable
Smaller hopper capacity
The 1ZPresso JX-PRO features a durable, stainless steel body with dual-bearing shafts. The 48 mm stainless steel burrs guarantee consistency in coffee grinding.
But precision is the standout feature of this grinder. The JX-PRO offers more than 200 grind settings. The ability to micro-adjust makes this grinder excellent for fine espresso grinds.
For finer grounds, turn the dial clockwise; for coarser grounds turn it counterclockwise. The dial contains 10 numbers, with three clicks between those numbers. So you get a total of forty clicks in one full rotation.
This manual grinder has a rubber band for easier gripping. Plus, it's easy to assemble and disassemble the device without constant recalibration.
Despite these pleasing ergonomics, the JX-PRO is a bit heavy and bulky. So it's not the most portable manual grinder.
Plus, we also noticed that the grind sizes were not initially consistent. (This flaw might have been because the burrs were originally too sharp.)
But once you break it in, the JX-PRO is an excellent manual grinder.
1ZPresso Q2 Mini: Best Grinder for Travel
The Q2 Mini is by far the most compact and portable grinder released by 1ZPresso. Its durable aluminum alloy build makes it an excellent travel grinder.
PROS (+)
Lightweight, ideal for travelers
Sturdy and durable build
Consistent grinding for manual brewing
CONS (-)
Expensive for its size
Small hopper capacity
Who says you can't grind on the go? The 1ZPresso Q2 Mini is small yet mighty.
Its 38mm conical steel burrs deliver high-quality grinding. But its 20g hopper capacity ensures ultimate portability.
The Mini maximizes this portability with ergonomics. It features high-quality leather around the grinder's body, guaranteeing an anti-slip grip.
The ZPresso Q2 Mini contains a support bracket with a drive shaft. The outer steel burrs lock by screwing into the support bracket. This allows less wobbling when grinding and ensures grind sizes are more uniform.
The dual-bearing shaft also promotes smooth grinding for all types of brew methods. The steel burrs also ensure easy grinding, whether your coffee beans are oily dark roasts or dense light roasts.
Because 1ZPresso Q2 Mini is lightweight, its hopper capacity is small. So using this grinder for anything other than travel can be a pain. Plus, we've found that it can take a long time to get espresso grinds out of this coffee grinder.
But if you can't do without grinding your own beans, even on vacation, this might be the grinder for you.
Wrapping Up: Kinds of Coffee Grinders
Want a consistently flavorful cup of joe? Then a coffee grinder will be your best friend.
When shopping for coffee grinders, you'll first need to decide: blade or burr. Burr grinders offer more consistency, but blade grinders are better on a budget.
Then decide between automatic or manual. Automatic grinders are perfect for lazy folks like me. Manual grinders rely on elbow grease rather than electricity.
Whichever grinder you buy, remember that fresh grounds are the key to coffee success.