Best Coffee Roasters Online 2023
The freshest coffee, plenty of whole bean coffee options, and delivered right to your door? Yes, please.
Local and national online coffee roasters provide you with quick delivery, a wide variety of coffee-producing countries to choose from, and seamless service.
Getting the best coffee online has never been easier. Here's my list of the best online coffee roasters.
Best Online Coffee Roasters 2023
Volcanica Coffee
Volcanica Coffee, a family-run business based in Atlanta, Georgia, has a simple goal. These coffee roasters bring bright, flavorful coffee to North America.
Top Pick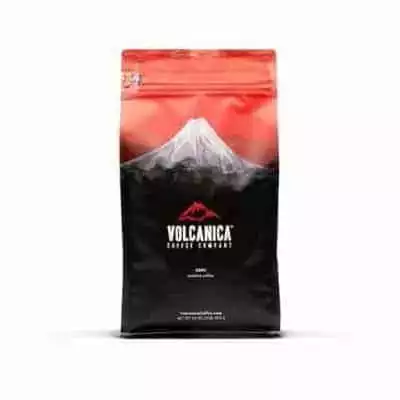 Volcanica Coffee
Speciality beans sourced from around the globe and roasted on demand.
The coarsest grind available is perfect for French Press brewing.
LEARN MORE NOW
They source coffee from over 150 countries and specialize in single estate, peaberry, and low-acid options. Their high-quality coffee is a bit pricier than other options, but for coffee lovers who search out flavor over price, this is a company to try out.
As their name suggests, they search out coffee grown in volcanic soil, which nourishes the plans and creates complex flavors. They roast to conserve the flavors of origin and ship their coffee out just after roasting.
They bring coffee in from around the world, giving you the chance to try beans from Africa, Asia, and the Americas.
And with clear sustainability goals such as purchasing direct from farmers, using Fair Trade Certified coffee, donating to charity organizations, and preferring organic coffee, these coffee roasters live up to their goals.
Beanbox
Beanbox is a coffee subscription company hailing from Seattle.
They curate the best coffee roasters from around the United States who do small-batch roasting. Sourcing directly from those award-winning roasters that search out the best beans.
Beanbox makes it easy to get the best artisan coffee from roasters that directly source from coffee-growing communities at prices that are fair for the growers.
You can customize the subscription box according to your preferences. Choose from light, medium, or dark roasts, or let their team curate a box for you from the best of the season.
From blends to specific regions or even exclusive micro-lots, they have plenty of choices. And these coffee roasters have flexible weekly, biweekly, or monthly subscriptions that come with free shipping.
Equator Coffees
Well respected coffee roasters that started way back in 1995, Equator Coffees is based in California and brings coffee lovers together through their both ad-hoc and coffee subscription service.
You can buy just the coffee bags you want or subscribe to their coffee plan that allows you to choose the grind size, how much coffee you want, and how often. Choose from blends, espresso, and single-origin coffees.
They have a line of Michelin star chef-created blends from Thomas Keller, Dominique Crenn, and Tyler Florence. But Equator Coffees is not just about the bling of famous chefs.
This certified B Corp shows their dedication to transparency and accountability. They know the impact their business has on the local community and the people they purchase from around the world.
They pay fair prices for their coffee and their staff in their coffee shops. They cultivate long-term partnerships with coffee growers and co-ops and donate to charities around the world.
Counter Culture
Founded in North Carolina in 1995, Counter Culture has always focused on coffee that's good for the environment. You get plenty of choices with Counter Culture, since they source coffee from the Americas, Africa, and Asia.
Their offers include single-origin, organic, decaf, and limited releases. If you opt for their subscription plan, you can enjoy their amazing coffee at lower prices.
They are transparent in what they pay for coffee and how their sourcing strategies impact coffee communities. Their SEEDS program manages contributions for projects that benefit coffee-producing communities.
One of the most established and well-known specialty coffee companies, Counter Culture Coffee is for you if you are on the hunt for high-quality coffee that takes care of people and the environment.
Onyx Coffee Lab
In both their cafes in Arkansas and their online outlets, Onyx Coffee Lab promises you fresh coffee and roast every day of the week.
They source coffee from around the globe and do extensive cupping (tasting) to keep the maximum quality. This quest for the best has repeatedly won them awards in the US Brewers Cup, Barista Championship, and Cup Tasters competitions.
They generally stick to light to medium roasts, although they do have dark options. Their Modern roast is lighter with citrus, floral, and fruit notes. Their Traditional blend tastes of nuts, wine, dark chocolate
Try unique and rare coffee produced with innovative and experimental processes with their artist series coffee, special collections boxes, or their exclusive Echelon series. Or go for their Roasters Choice and let them choose the coffee.
As for sustainability, you can check out the prices they pay to growers and who they buy from on each product page. They meet and exceed Fair Trade requirements by paying three or four times more than Fair Trade.
Their shipping materials are also sustainable, with plant-based and compostable mailers and recycled and recyclable boxes. And their carbon-neutral roastery stands out in its use of solar energy.
Tandem Coffee Roasters
Tandem Coffee Roasters, based in Maine, has been around since 2012. They started as a tiny coffee shop and bakery and expanded from there.
Now, these small-scale coffee roasters have single-origin blends and seasonal offerings from around the globe. They source coffee from different regions, mostly from Africa and Latin America.
Their subscription types are broken down into seasonal, traditional espresso, medium roasts, half-caf or decaf, and office coffee. Choose from 1 pound to 5 pound (or even 15 pound shipments) when you want them, from every week to every two months.
Tandem Coffee Roasters has a unique offering; they sell green (as in, not roasted) coffee. Opt for one of their choices from around the globe to try your hand at home roasting.
Madcap Coffee
Madcap Coffee started in 2008 in Michigan and ships coffee around the country. They take quality seriously and cup thousands of coffees every year to hunt down special beans that thrill subscribers.
Madcap Coffee
Shipped within 24hrs of being roasted
Detailed bean producer/processing information
Pays fair wages to farmers
LEARN MORE NOW
The product page for each coffee introduces you to the producer, variety, farm altitude, how the coffee is processed, and the notes you can expect in the cup. They taste every batch and ship the bags out within 24 hours of roasting.
Madcap work to develop close relationships with growers and pay premium prices to farmers. You'll see their commitment to coffee-growing communities right on the bags, which proudly list the grower, farm, or region. And their zero waste program helps reduce their impact as coffee roasters on the environment.
Blue Bottle Coffee
A big name in the specialty coffee industry, Blue Bottle Coffee roasters have been bringing fresh, flavorful beans to coffee lovers in California since the early 2000s. Now they have cafes all over the US and abroad as well as online subscriptions.
All their coffee scores 84 points or above, which puts it solidly in the specialty coffee category. Most of their offerings are certified organic, and they do small-batch roasting.
Sustainability is a keystone for Blue Bottle Coffee roasters. They invest in producers and encourage best practices throughout the chain. Working directly with farmers in long-term partnerships, these coffee roasters keep traceability at optimum levels and pay prices that are equivalent to Fair Trade – and often higher.
Nobletree Coffee
Started in 2013 in Brooklyn, New York, Nobletree Coffee roasters opened their first coffee shop in 2015 and offers a coffee subscription service. Since 2014 they own two farms, Fazenda Santa Izabel and Fazenda Monte Verde, in Minas Gerais, Brazil.
All their coffee is specialty grade, at 80 points or above. These coffee roasters have won International Cup of Excellence awards and regional Brazilian awards.
They experiment with varieties such as Yellow Bourbon, Yellow Icatu, Mundo Novo, and Red Catuai. They are roasting their coffee in small batches and favor light-medium to dark roasting.
Since 2019 they have been helping other producers with their Neighbors and Friends program, where they give guidance and support as other producers strive to improve their crops and results. Their Santa Izabel farm has Rainforest Alliance Certification.
Parlor Coffee
In 2012 Dillon Edwards started a tiny cafe in Williamsburg, New York City. Parlor Coffee roasters were soon selling to local chefs, restaurants, and coffee connoisseurs.
Their subscription service allows you to choose the coffee type:
Roasters choice is a single-origin bean
Wallabout blend that's chocolatey and sweet
Prospect blend for bright and light coffee or
Decaf

Choose from one, two, or four box shipments and the frequency (weekly, biweekly or monthly).