What's The Best French Press?
It's always fun to use popular brew methods like the French Press because you get to compare workflows and preferences with other coffee drinkers.
Besides that, popular ways of making coffee are usually fast, easy, and produce a quality brew that we can appreciate. Few methods are more straightforward than brewing with a press.
Below we take a look at a list of the best French coffee presses you might want to consider as your next brewing investment. But, if you're in a hurry, here's our top pick:
Top Pick
Alternatives At A Glance
Why French Press coffee is the best?
French Press coffee is the best because the coffee it makes is relatable. It's also affordable, easy to use, and it delivers a consistently good cup of coffee.
It's relatable because the thickness of your brew is almost nostalgic. It's a type of coffee that we will experience in various places, with many people.
The oils and fines that pass through the fine mesh produce thicker coffee than most pour overs, but thinner than espressos. Many drip machines and automatic brewers produce similar viscosities but in different grind sizes.
Your brew is consistent because, as an immersion brewer, your workflow doesn't involve much technique to affect the taste. It mostly relies on the quality of your press, coffee beans used, water, and the right grinder.
Perfect for home brewing!
If you feed French Presses with good beans that are ground evenly and mix them with mineral water, all you need to figure out is the proper brew time to have a great cup of coffee. And of course, the perfectly pressured final press. This is the brewing method of choice for those of us who want a relaxed coffee routine.
After you brew? If only water and coffee come into contact with the borosilicate glass or stainless steel walls, all you need to do is rinse them off with warm water. Just be sure to get rid of all the residual coffee grounds. Disassemble and assemble as required. It's certainly easy to clean compared to other brewers.
For these reasons, I believe the French Press coffee is one of the best.
The 8 Best French Press Coffee Makers
Let's get right to it! Below is a collection of a few French Presses that we believe can satisfy your needs. Below are our favorite picks for different scenarios, regardless if you're looking to upgrade or get started on this coffee brewing method. Pick the one which best suits your needs.
Bodum is one of the most known brands in coffee worldwide. I personally associate them with visually appealing coffee equipment.
Classic French Press
PROS (+)
Bodum-patented safety lid to minimize spillage
Dishwasher safe
Comes in 4 different sizes
CONS (-)
Borosilicate glass material is less durable than stainless steel
Some parts of the press are made of plastic (BPA-free)
While there are more expensive brands out there, I've never had a problem with Bodum gear in terms of function.
For these reasons, the Bodum Chambord and all other Bodum coffee gear are worthy of a look when talking about equipment.
If you like a great looking but reliable take on the class French Press, this could be the top pick for you too!
Frieling has been in the industry since 1988, providing us with new brewing solutions to old problems.
Most Premium
PROS (+)
Double walled stainless steel carafe, easy to handle while brewing at high temperature
Insulated body and lid keep your coffee hot a lot longer than your usual French Press
2-stage sediment filter
Extra-durable & dishwasher safe
CONS (-)
Heat insulation will change the extraction of your coffee if you switch from classic French Presses
Some reported production issues, especially with the plunger press
Most French Presses made with borosilicate glass are replaced after they shatter. Stainless steel came is a remedy to this pain point. This pick is so solid that it can almost be qualified as a weapon for self-defense!
It also addresses one of the most significant issues with some French Press lovers: fast coffee cooldowns. Some coffee drinkers enjoy the extraction slow-down generated via stainless steel to avoid bitterness.
For those who enjoy bitter coffee?
Heat retention keeps the coffee hot for longer. This means that your brew will keep extracting at a reasonable rate as you leave it sitting. This is another effect of the stainless steel upgrade.
If you like your coffee hot, full-bodied, and on the bitter end of the spectrum, this could be an excellent pick-up for you.
Secura's first entry on this list is a durable, upsized, stainless steel French Press available in an XL size. Something that will sound really good to some coffee drinkers who currently have oddly portioned servers. Or those who regularly drop their coffee gear!
XL Capacity Option
PROS (+)
50oz capacity is good for serving a small group
A stainless steel finish that is dishwasher safe
Has a "cool touch" handle that allows you to hold it while it's brewing your coffee
CONS (-)
A bit heavier than your classic French Press because of the stainless steel
Some issues with the lid seal
Also, if you tend to miss 1-2 servings per brew, repeating the entire brewing process isn't always the most exciting thing to realize. With this French Press, you can potentially serve a reasonable amount without having to rinse-repeat.
It has a minimalist design but is also very durable. If you like making lots of coffee per brew, this could be the French Press maker for you.
Mueller is one of the few brands that boast of useful products and quality service. I like this product because of the build quality is exceptional at its price point and the fact many great customer reviews back it up.
Best Value
PROS (+)
Double fine + single coarse filters to keep your coffee smooth
Double layered stainless steel French Press body is built to last
Stainless steel French Press lid seals in heat and aromas well
CONS (-)
Some issues reported with the longevity of the materials.
Stainless steel finish makes it impossible to see through your brewer while brewing
If I were to pick a non-classic looking French Press, this would be it. It can handle hot water well because of the double-wall stainless steel finish. Definitely one of the more durable French Press coffee makers. It has a simple design, but it's executed perfectly.
Different from some glass French Presses, this is dishwasher safe. Just make sure to disassemble the plunger and keep them in a separate container, so they float around and ding your other wares. You don't want your press letting too many grounds into your final cup.
Quite possibly one of the better-looking brewers out there, this Poliviar French Press fits well on almost all kitchen counters.
Most Heavy Duty Option
PROS (+)
Beautifully designed
Made from kitchen-grade stainless steel
Double-walled structure keeps it cool to hold
Insulation to keep your coffee hot for longer vs a glass French Press
CONS (-)
Issues with the durability of the wooden handle relative to the thickness of the body
Comes in limited sizes
You notice the heavy-duty body's quality initially, which you want to secure most with this brewer type. It strays away from the usual stainless steel finish, which is quite refreshing design-wise.
The dual-filter filters more grind sizes than your usual single-filter set up, so this is a pick that's closer to the thickness of pour overs.
If you enjoy an in-between of pour over and traditional French Press coffee thickness, then this is an excellent pick to consider.
Secura's second entry on the list is the smaller brother of our best pick for size. All other qualities are the same down to the stainless steel carafe. For this capacity, it will come down to design preference.
XL Capacity Option
PROS (+)
Another stainless steel, dishwasher safe option
Double wall stainless steel design keeps hot water hot, longer
Triple-layered filtering allows it to make "cleaner tasting" French Press coffee
A "cool touch" handle allows you to move the French Press around even when your hot water is steaming
CONS (-)
Limited to small coffee batches (2 servings) per brew
Some issues with the screw part of the plunger coming off
In terms of function, a triple-layered filter will make noticeably different coffee from a double-layered one. The extra filtering capacity makes your cup of coffee lighter and smoother.
So if you like light-bodied coffees, this is a good pick. If you like the heavy body that comes with single or double filter French Presses, this isn't the best pick for you.
Veken isn't as known as the other coffee companies on this list, but they are known for their French Press variant. Even if this model isn't made of stainless steel, a simple feature I particularly enjoy is the measurement markings on the glass body.
Best Budget Pick
PROS (+)
Made of heat-resistant borosilicate glass
Comes with water level marks on the glass body to make recipes easier and replicable
Portable
CONS (-)
The glass body is less durable than stainless steel
Some issues with glass quality
A huge pillar for making good coffee is consistency, and you achieve this by measuring everything and being consistent with your workflow.
I guess that's what you give up with some stainless steel brewers. When your measurements can be completed using your actual brewing equipment, you save steps and gain simplicity.
If like me, you prefer the classic glass French Press, then this is another good pick for you with the best value on this list. It may not be a double wall option, but the heat escapes faster anyway.
The matte black finish stands out in any kitchen or store counter. Aside from that, the 4-layer filtration is the other talking point. This makes it the most heavily-filtered of the French Press coffee makers on this list and will make pour over lovers happy.
Best Design
PROS (+)
Beautiful stainless steel matte finish coffee maker
Double wall French Press that is rust proof
4-level filtration system for to filter out the tiniest coffee grounds
Comes with extra filters and a user-friendly manual
CONS (-)
Coating subject to rubbing off
Some overall durability concerns
What happens with this brewer is your coffee becomes slightly thicker with the oils that seep through, but it will certainly be clear of coffee grounds compared to other stainless steel and glass options.
If you like medium-bodied coffee, you might want to take a seriously look more in-depth at this option. The beautiful design is a sweet bonus.
9. KONA French Press Coffee Maker
Just as its title suggests, this is a good pick for classic French Press lovers who want to get a modern design.
Modern Pick
PROS (+)
Made with thick borosilicate glass
BPA-free parts
A modern design that doubles as extra protection that makes it more durable than your usual glass French Press coffee makers
Dishwasher safe design
CONS (-)
Some concerns with correct sealing from the plunger
KONA made the spout easy-pour, and the handle more naturally-fitting with your hands to improve on those small details for your daily coffee brewing.
While there are a good number of concerns on the glass French Press' durability, I believe that any piece of equipment can last with proper handling.
It's also good to note that they have good after-sales service regardless of what sort of issue you're having. This is a huge consideration for me when choosing coffee equipmen
Buyers Guide to French Presses
When it comes to a simple piece of brewing equipment like the French Press, you will come across many seemingly similar products. To choose the best one for you, you need to focus on your end product preferences.
The best French Press coffee is basically how you like it. Focusing on this will allow you to see the features that matter most.
If you like thick brews, then a 4-layer filter is not for you. If you like moving around while you're brewing, a double wall option will better fit your routine. If you're a bit clumsy in the kitchen, a stainless steel French Press safeguards your next investment.
Whereas, If you are okay with some coffee ground getting into your cup for added body and bitterness, a single or double layer will work perfectly.
These are just some considerations to make on your way to choosing the best French Press coffee option. Let's take a look at a few others!
Best Coffee Brand for French Press
To start, here are 3 outfits I'd take a second look at as safe picks for sourcing advice on coffee gear in general.
Before every purchase, I like reading up on companies and product testimonies even as a coffee professional.
Once I match more than a few with my own preferences and current knowledge, I start to compare availability and pricing.
Lastly, an underrated buy-influencer is after-sales service. Check-in on the following questions:
How easy is it to reach a company?
How fast do they repair or replace defective products?
How near is their most straightforward service center?
How common is this piece of brewing equipment (brand and model) so I can quickly get pointers from friendly cafes or blogs?
Bodum
This company actually built its name in tea and coffee around the French Press. Established in 1944, founder Peter Bodum believed that "good design doesn't have to be expensive". They've been delivering consistently from that belief.
They're well-known for having innovative, functional coffee gear that has great design features. My impression of their equipment is usually "tastefully done" if modern or "better functionality" if classic.
I've used different types of equipment from this brand. I have no apprehensions with personally attesting to the beautiful design and functionality of each piece of gear I've used from them.
Coffee Gator
One of my newly discovered favorites as a coffee resource; they seem to want to help people drink better coffee genuinely.
Founded by Phil Williams, he seems to have taken a common route for coffee appreciation that is real and relatable. This is why he seems to understand what customers want at certain levels of understanding. Making the right suggestion at the right can get people curious and wanting better and better coffee.
Coffee Gator understands that, and come complete with top-notch customer service. Quality and service go hand in hand for the best coffee brands. They get it.
Frieling
Set up in 1988, this company started in the hotel and restaurant industry. Their solutions are made to be well-designed and high-functioning for what they do.
Their data for making their products are insightful because they address equipment issues from heavy use. What was once glass, they develop into double wall, dishwasher safe, stainless steel. While it isn't rocket science, making a switch from glass to stainless steel isn't as simple as it sounds for classic brew items!
What is a French Press?
A French Press is basically a coffee press. French presses are one of the most-used pieces of brewing equipment. Some are made of glass, ceramic or plastic, while others are made of stainless steel.
One of its earliest iterations came out in the 1800s and has changed only incrementally since. It's simple, timeless, and your resulting coffee is easy to like.
It consists of 2 parts, namely the plunger and the glass or steel body. You let your coffee grounds immerse for a period of time (usually 4-5 minutes).
Once done, you press down on the plunger to get one gentle squeeze of flavor out of your grounds and let the filter work its magic. Remember to press just a bit past the point of contact between the grounds and the plunger. Pushing down too hard can result in over-extraction, and pushing down to softly can result in under-extraction.
The French Press coffee makers are known for a particular characteristic of the coffee produced: body.
This is because of the lack of a paper filter while brewing. What happens is that fines and oils seep into the final product, which then affects mouthfeel. The number of stainless mesh filters will vary per brand and model, but remember that the more filters you have, the lighter or smoother your coffee will be.
French Press carafes (or the body) can be made of different materials. Borosilicate glass and food-grade, high temperature-compatible plastic are options for those who like to see their coffee brewing. These are less durable than their counterparts, but they usually look great and are lighter! Sometimes these makes are double-walled, which make glass more insulated.
Stainless steel and ceramic versions of the French Press exist, which are more durable than the first two types outlined above. Steel and ceramic options are heavier, and they're usually not see-through.
While most types are dishwasher safe, glass and steel are the most common makes. It will usually come down to preference because it's such a simple brew method. You can easily adjust as you please to accommodate a brewer you like.
The Grind
Grind is always more important than the actual brewer. It's closer to the whole bean in the coffee production chain, and thus has a bigger effect on the final taste of your cup.
The best French Press coffee is made with medium to medium-coarse grounds. As an immersion brew with a final press at the end of your target brew time, you will need to slow the extraction down a bit. You do this by making the grounds bigger.
Another simple reason for doing this is so that the stainless mesh filter doesn't have a hard time filtering the grounds. In this instance, have a glass carafe has the advantage over stainless steel because you can see if too many grounds are escaping into your cup! It's the small details that make a big difference depending on your style and preferences.
Grinding too fine will make your coffee bitter and over-extracted, pushing in too many fines at the end of your brew. Grinding too coarsely will result in a sour, under-extracted coffee that is uncharacteristic of your usual French Press brew.
How Much Coffee for French Press?
For the French Press brewing method, you may use a 1:12 coffee-to-water ratio. This allows you to highlight the heavy body that coffee lovers of this brewer like. You may stretch it to 1:15 depending on what you prefer and what beans you use.
Remember that a medium-dark roast has the oiliest, heaviest body, while a medium roast has more oil but isn't as heavy. It's always good to familiarize yourself with your beans to set expectations to judge your brew by.
How to Use a French Press
Here a quick and straightforward guide on how I use my French Press. I like maximizing efficiency and minimizing having to move around. Try it and see if it improves your daily coffee at home!
Choose your coffee-to-water ratio, and prepare your beans and mineral water accordingly
Prepare slightly more water than usual as you will use this after heating to pre-heat your French Press
One weighed/measured, make sure to finish heating your water before grinding your beans to maximize aromatics
While heating your water, rinse off your French Press as needed
After your water is heated, pour in some into your Press to lessen the temperature change when you start brewing
After tossing out the initial hot water rinse, immediately put in your medium to medium-coarse ground beans
Pour in the target amount of water for your chosen ratio
Choose a target extraction time (4-5 minutes usually)
Push down on the plunger about 10seconds before your target extraction time, and only push a bit past the point of resistance with the coffee grounds
If using a double wall stainless steel carafe, I like to pour out my coffee to stop extraction. If using a glass carafe, I just account for the extended immersion and let it cool off naturally.
These are some minor details in your workflow that you can test out yourself. Small variables like these really do affect the final cup!
The Final Verdict
I like the look of classic French Press coffee makers because you can see your coffee brewing. This is what I consider to be the best French Press option.
Top Pick
I can get away with form over function in terms of material because I switch between different brew methods at home. It won't be for daily use. I also have multiple coffee makers from espresso and pour overs, all the way to French Press and cold brewers.
The standard French Press mesh filter fits my preferences in terms of body for my coffee. I work well with borosilicate glass. For these reasons, the Bodum Chambord is easily my best bet.
Frequently Asked Questions
Why can French Press coffee be bad for you?
While a French Press coffee is maker is one of the best ways to brew, it's not for everyone – as is anything. By design, it uses a fine metal mesh filter to separate the grounds and the liquid.
Since there's no paper filter to hold the oils from your coffee grounds, cafestol passes through the fine mesh and into your cup. So the thick body of French Press coffee is aided by the said oils. These tend to increase your LDL (low-density lipoprotein) cholesterol or "bad" cholesterol.
If you have high LDL, you may pour your French Press coffee through a paper or cloth filter to reduce the oils in the final cup. This effectively makes it taste like a pour over as well!
How to clean French Presses?
As with all coffee equipment, it's best to clean a French Press as soon as you can after extraction.
Simply lift the press away from the body, and discard or recycle the used coffee grounds.
After doing so, remember the manner and order in which the French Press' parts are attached before you pull them apart. Doing so eliminates all possibilities of grounds getting stuck in hard-to-reach areas. Failure to do so will add a lot of bitterness for your next cup of coffee.
It's easiest to rinse off French Presses as soon as you can after brewing. Let running water run through the entire French coffee press before the oils and residual coffee dry up. It's THAT easy to clean.
Lastly, depending on how often you use your French Press, let it air dry or assemble immediately after washing to avoid unnecessary exposure.
Stainless steel presses are a lot less fragile than glass. They're also less stressful to clean. However, borosilicate glass doesn't break as easily and will last with proper handling. So it also depends on the design of French Presses and how good you are with your hands.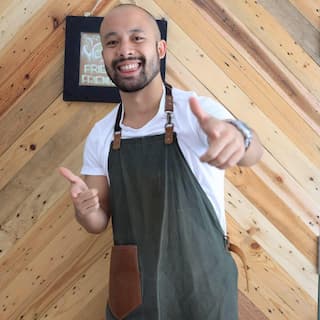 Barista and coffee writer
Miguel Papa is a coffee fanatic with a passion for brewing. During the weekdays, you can find him experimenting with different drinks while he works as a barista. Otherwise, he's likely writing here for Sip Coffee or enjoying the outdoors.