The 25 Best Trenta Starbucks Drinks To Try
Am I the only one who gets confused by Starbucks drink sizes?
Sure, they've remained consistent, but my mental capacity is limited to noting ounce size, and not much more it seems.
So if you're like me and it takes serious mental gymnastics just to remember to order a "tall" or "grande" every time you walk into the mermaid's caffeinated lair, you've probably wondered about the mythic mother of sizes: the Starbucks Trenta.
Consider this your guide to the Trenta Starbucks size: What it is, what you can order in it, and what you'll want to order in a Starbucks Trenta.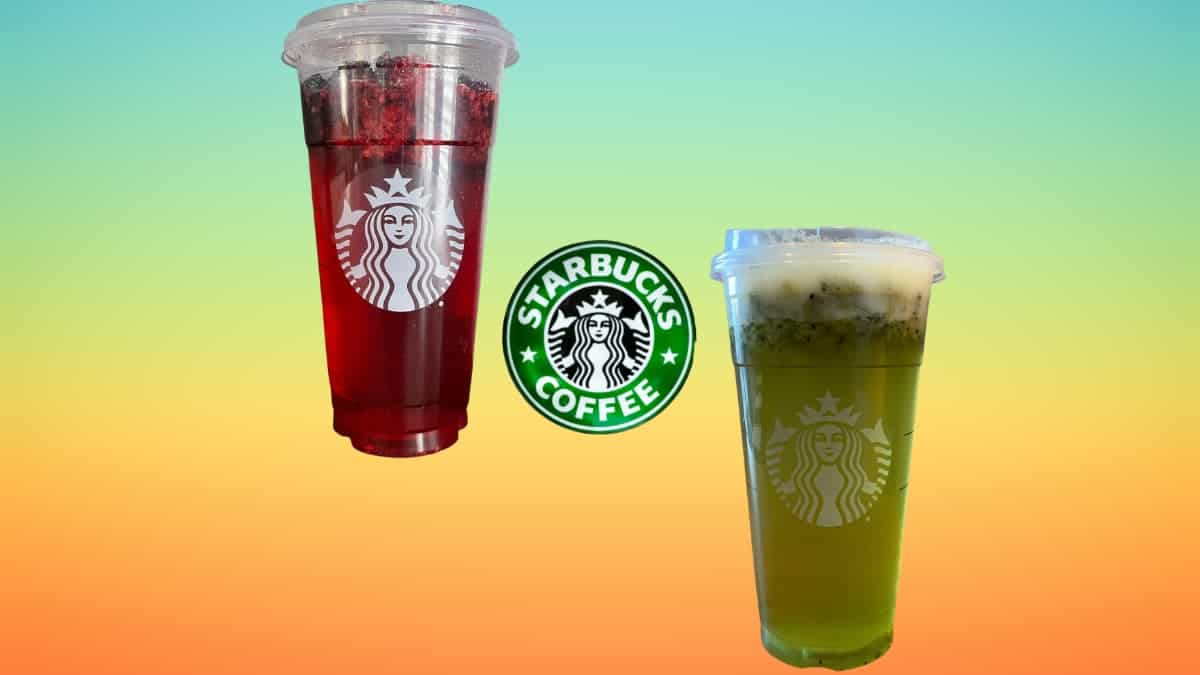 How Big Is A Trenta At Starbucks?
A Trenta cup at Starbucks has a 30 oz capacity. Which makes sense, since 'trenta' is Italian for 'thirty.'
The Trenta was listed as a 31-ounce beverage when first released, but Starbucks now lists it as a solid 30.
Still, that quarter-gallon of liquid ought to satisfy even a truck driver desperate to keep focus on the highway.
A Trenta is Starbucks' largest cup size. But a size Trenta cup is only available for certain iced drinks, including:
So you won't be ordering a Trenta size Pike's Place roast drip any time soon.
You also can't order a Frappuccino in a Trenta.
But you can order a variety of cool, refreshing beverages you might actually want to drink — like a Very Berry Hibiscus Lemonade Refresher or a Honey Almondmilk Cold Brew — in a Starbucks Trenta on a hot summer's day.
Related Read: Cup Sizes Starbucks
The 25 Best Trenta Starbucks Drinks In 2023
Here are some of the best Starbucks drinks you can get in the luxuriously large Trenta size.
You can find a complete list here.
1. Iced Coffee
Starbucks' iced coffee is drip coffee brewed at double the strength and cooled — ready to be thrown on top of ice. It uses Starbucks espresso roast coffee beans, with its notes of caramelized sugar and molasses, so the flavor is more pronounced.
It has a medium-bodied, lighter flavor than the shop's normal drip. It's advertised with "caramel and cola" flavor notes, which is pretty accurate.
It's best served with a splash of milk and a little syrup. For a simpler, but unbeatable, flavor, try a couple of pumps of simple or vanilla syrup.
You can do most add-ons like an extra shot of espresso, syrups, and milk options. But I recommend light flavors to complement this cool coffee drink.
2. Iced Espresso
Although a traditional iced espresso involves pouring coffee shots over ice, the green mermaid also sells iced espresso drinks with more additions, for example – cold foam.
So basically, they sell specialized lattes and call them espressos.
But they're great anyway when you want a cool coffee, and most come with sweet flavors and are "shaken" (it's nothing like a traditional Italian shakerato or shaken espresso though!).
Try a regular Iced Shaken Espresso or Iced Brown Sugar Oatmilk Shaken Espresso. But don't bother adding on or making substitutions (unless you need an alternative milk). These beverages are already well optimized.
You can add another espresso shot if you want stronger coffee, though. Unfortunately, these iced espressos taste pretty mild — or almost weak for fans of bold brews. Despite using Starbucks Espresso roast.
Related Read: Cold Foam At Starbucks
3. Pumpkin Cream Cold Brew
This is my all-time favorite drink at the 'Bucks.
Just like it sounds, the Pumpkin Cream Cold Brew is a delicious cold brew coffee with pumpkin syrup-infused cream on top.
It's basically an elevated Pumpkin Spiced Latte. A cool, refreshing drink of pumpkiny goodness.
The pumpkin-flavored cold foam cream has a hot latte-like texture. But with all the soothing goodness of cold coffee.
You don't need to dress this one up either, and most flavors wouldn't be compatible. But a little caramel or vanilla would be okay.
Note: You can't get cold foam in dairy-free milks yet.
4. Salted Caramel Cream Cold Brew
Tied for my favorite, the Salted Caramel Cream Cold Brew is just like the Pumpkin Cream Cold Brew. Only, you know, it's salted caramel flavor.
Again, you probably don't want to mess with perfection here, but you have a little more room to play with a second flavor. Don't bother adding shots to Starbucks' already strong cold brew coffee.
5. Honey Almondmilk Cold Brew
Here's one for the lactose intolerant!
This cold brew with honey already comes with almond milk. So you have an easy and delicious order ready to go.
FYI the Honey Almondmilk Cold Brew is made with a "honey blend" rather than just honey. So be sure to ask if you have strict allergies or intolerances.
Don't bother messing with a classic combo like honey and almond milk.
6. Starbucks Reserve Cold Brew
Why mess with a simple and delicious cup of perfection? It's worth trying the Starbucks Reserve Cold Brew as is.
The Starbucks Reserve Cold Brew replaced the shop's Micro Blend No. 11, but you probably won't be too sad once you taste it.
You can always dress it up with syrups, cold foam, or a splash of milk, but it's just as good as is.
7. Vanilla Sweet Cream Cold Brew
One last cold brew to mention: The Vanilla Sweet Cream Cold Brew has to be the simplest flavored brew. But with sweet vanilla cream (not foam!), it's hard to resist.
Enjoy the simplicity of sweet vanilla cream as is. Vanilla already brings out the natural sweetness of the coffee beans.
8. Iced Guava Black Tea/Lemonade
What do you get when you mix fresh black tea with lemonade, a guava juice blend, and cane sugar? A big gulp of sweet "ahhh" that's perfect for a hot day.
This is your go-to beverage remedy for when you're cranky, hangry, and overheated.
Just note that Starbucks adds 7 pumps(!) of liquid cane sugar to their biggest size if you don't ask them to use less.
9. Iced Black Tea/Lemonade
The mermaid's take on an Arnold Palmer, this shaken lemonade with fresh black tea is a classic beverage.
You can ask for sweet and fruity flavors, juice, extra sugar, or try it blended. It's great as is and more than worthy of filling up a Starbucks Trenta.
10. Iced Green Tea/Lemonade
Want an Arnold Palmer with a twist? Starbucks also offers a green tea lemonade.
By swapping black for green tea, this tea lemonade has a lighter touch, with the softened, almost herbal notes of green tea goodness.
Enjoy as is, or ask for less sugar for a subtler drink.
11. Iced Royal English Breakfast Tea Latte
This tea latte (like a London fog) is made with English breakfast tea, milk, and liquid cane sugar and served cold.
It's sweet with a creamy milk base, but not too sweet thanks to the rich Teavana black tea. Add flavors like brown sugar or cinnamon if you like, but this treat is already sweet.
12. Iced London Fog Tea Latte
Everyone loves London fogs, but wait till you try one iced! Your favorite warm weather is just as good cold.
The Teavana black tea blend in Starbucks' London fogs has a hint of lavender, rounding out the vanilla syrup and bergamot flavors. You can add more flavors if you want, but again, there's no reason to mess with this one.
13. Kiwi Starfruit Lemonade Refresher
Fruity beverage fans will enjoy this mix of starfruit and kiwi flavored juice, lemonade, and kiwi fruit pieces.
Shaken to perfection, this Kiwi Starfruit Lemonade Refresher needs no addition.
14. Kiwi Starfruit Refresher
For a simpler flavor, try the "plain" Kiwi Starfruit Refresher, sans lemonade.
Lower in calories than the Kiwi Starfruit Lemonade Refresher, but equally delicious, the Kiwi Starfruit Refresher is perfect iced or blended.
15. Violet Drink (Secret Menu)
The Violet Drink is the summer drink we need, but don't deserve.
It's made with the same sweet-tart flavor as the hibiscus refresher, whole blackberries, and creamy coconut (yes, it's nondairy!) milk.
Enjoy the Violet Drink, and similar beverages like the Pink and Dragon drinks, as they are. They're perfect already.
Related Read: Hidden Starbucks Drinks
16. Blueberry Acai Refresher (canned)
The Blueberry Acai Refresher has real fruit juice, plus added sugar and caffeinated green coffee.
This sweet blueberry flavored beverage is so good, you may want a lot more than you can get in Starbucks' largest cup size.
Starbucks' Refreshers are sparkling energy drinks made with green coffee extract. They're sweet, fruity, and energy-packed.
Green coffee is becoming popular in energy drinks, too.
Note: You may have to purchase the Blueberry Acai Refresher in a pre-packaged can.
17. Very Berry Hibiscus Refresher
Like other Refreshers, the Very Berry Hibiscus Refresher is made with green coffee extract, real fruit juice, and whole blackberries shaken and served over ice.
You can add a splash of tea for a deeper flavor or milk for a little creaminess.
18. Pink Drink (Secret Menu)
The Pink Drink outshines the Violet Drink, but for good reason.
Made with a strawberry acai juice base, coconut milk, and freeze-dried strawberries, this drink is the ideal beverage for a hot day.
19. Dragon Drink (Secret Menu)
Another fruity coconut milk treat, the Dragon Drink features a lovely mango and dragonfruit juice base, plus freeze-dried dragonfruit pieces.
20. Mango Dragonfruit Lemonade Refresher
Like the last drink, the Mango Dragonfruit Lemonade Refresher is made with a sweet mango and dragonfruit juice base and freeze-dried dragonfruit pieces.
But instead of coconut milk, it has lemonade and a little green coffee flavor added in. This lemonade-mango dragonfruit drink is just as sweet, but lighter than the dragon, with a slightly tart flavor thanks to the lemonade.
As with most Refreshers and lemonades, you don't want to mess with this one! Enjoy as is.
21. Strawberry Acai Lemonade Refresher
The Strawberry Acai Lemonade Refresher is basically a pink drink with lemonade, and without the creamy milk base. Of course, it has the natural sweetness of freeze-dried strawberries.
The strawberry acai base has notes of passion fruit to round out the classic strawberry sweetness. As with all Refreshers, it has green coffee for an energy boost.
22. Very Berry Hibiscus Lemonade Refresher
Just in case the other refreshers don't tickle your fancy, the Very Berry Hibiscus Refresher is another great option!
This drink features the same refresher combination of lemonade, a juice base (this time with sweet berries flavors), green coffee, and freeze-dried blackberries. The Very Berry Hibiscus Lemonade Refresher is a sweet treat that can't be beat!
23. Mango Dragonfruit Refresher
Just like the Mango Dragonfruit Lemonade Refresher and Dragon Drink, the Mango Dragonfruit Refresher has real dragonfruit pieces, sweet mango and dragonfruit juice base, green coffee, and sugar over ice.
It's fizzy, it's sweet, and it's caffeinated, making the lovely Mango Dragonfruit Refresher an excellent perk-me-up.
24. Star Drink (Secret Menu)
If you love the Kiwi Starfruit Lemonade Refresher, but feel like it's missing something, you may like the Star Drink instead.
The Star Drink has a starfruit and kiwi juice base, real kiwi fruit pieces, and coconut milk shaken and served over ice. Mmmm.
This light and refreshing drink is fruity, mellow, and creamy. And yes, it has green coffee like all the other refreshers.
This simple and delicious cup of fruity goodness will sweeten, soothe, and maybe even perk you up a little on hot days.
25. Strawberry Acai Refresher
Our last — but certainly not the least delicious! — on our list, the Strawberry Acai Refresher.
This Refresher features a strawberry juice base and real strawberry pieces in addition to the green coffee extract. The Strawberry Acai Refresher is a light, but restorative beverage that's just begging you to get your summer on.
Frequently Asked Questions
How Much Is A Trenta At Starbucks?
A Trenta cup varies in price based on which drink you order.
In general, iced coffees and teas will be cheaper, while specialty sweetened cold brews will be more expensive.
Expect to spend between US$3.50 and $6 for most Trenta drinks if you don't add on.
Is Trenta Still A Drink Size At Starbucks?
Yes, you can still order a Trenta for limited iced drinks like iced coffee, espressos, cold brews, refreshers, and teas/lemonades — but not Frappuccinos!
Of course, this is subject to availability at your local Starbucks.