The 6 Best Home Coffee Roaster Picks
The aroma of ground coffee is intoxicating, but nothing beats the scent of coffee that's freshly roasted.
When we think of a coffee roaster, we'd imagine a giant, smoky machine doing all the work. They are mainly used by coffee companies that process beans on a large scale.
If you want this sort of experience at home, it's possible, albeit without a huge investment! Don't worry because there are options for coffee roasters suited for smaller batches, perfect for your personal use.
Check out our reviews further down for the best home coffee roaster available today. But if you're in a rush, here's our top pick:
Top Pick
Alternatives At A Glance
Why Decide To Roast Coffee At Home?
As a certified coffee fanatic, there's nothing more perfect than opening a bag of freshly roasted coffee.
Coffee beans tend to get the best flavor when they're brewed a few weeks after roasting, leaving time for degassing. It is essential to let your beans rest to release gases like carbon dioxide formed during the coffee roasting process that can otherwise impact flavor.
Roasting coffee can lead to a whole new world of flavors and aromas. You can create your own blend, or you can try another way to roast your favorite single-origin. If you experiment with different roasting styles, you might even end up with a new favorite cup of joe.
Once you're ready to take the plunge, one way to begin is with a popcorn maker. Yes, you read that right, a popcorn maker can even roast small batches of coffee! It's easy to find and small, which is a good fit for your home, but it may not be the best way to roast your coffee as we list down below.
If you're a real coffee aficionado, it's just something you have to try! It's an excellent way to make you appreciate your coffee more with all the aromas and flavors.
The 6 Best Coffee Roasters
Right off the bat, the Kaldi WIDE coffee roaster looks and feels like the giant machines used by commercial roasters. There's a good reason for it, drum roasters are known for reliability and for roasting bigger batches of beans.
Top Pick
PROS (+)
Large capacity
Thermometer included
Easy to use
CONS (-)
Needs external heat source
No smoke suppression
This home roaster is back-to-basics at its finest because of its completely manual approach to roasting coffee. This allows you to learn all sorts of details in the process. You'll find no fancy bells or whistles here. It's only packaged with a thermometer, hopper, probe rod, and a chaff holder.
Its namesake can handle up to 300 grams of coffee beans in one session, and its stainless steel body can handle a back to back session without any difficulties. You can also easily hear the first crack and second crack coming from the drum as well.
The Kaldi Wide has to be plugged-in to power the rotating motor, and it needs a gas burner as a heat source. It might be a simple set-up but using the burner means you'll have total control over your temperature.
It's also built with a mesh plate that allows heat to spread consistently in the drum, and this helps in an even roast.
You'll have to make sure that you'll do your coffee roasting in a well-ventilated area because this machine doesn't have a smoke suppression system.
If you're looking for one of the best home coffee roasters to step up your roasting game, the Kaldi Wide roaster is highly recommended.
Sometimes, when you're starting out in a new hobby or passion, you'll need user-friendly and straightforward equipment. The Fresh Roast SR540 does the job well for a home coffee roaster, especially if you're learning the ropes on how to roast your coffee beans.
Most Compact
PROS (+)
Great for smaller batches
Good for newbies
Compact
CONS (-)
No advanced features
Not recommended for experienced roasters
It is perfect for small coffee batches and can roast up to 120 grams of coffee (4 oz). You'll also get an even and consistent roast, which is in line with most hot-air green bean roasters. The roasting time is pretty quick with this home roaster, which can range from 5 to 10 minutes.
You can choose from 9 levels of heating temperature and adjustments can be made with the fan settings giving you more flexibility in your roast profiles.
It also has a cooling mode that can be selected with just a press of a button which is a cool (get it?) feature to have. This makes the machine circulate cold air inside the roasting chamber to stop your beans from getting over-roasted.
The SR540 features a real-time temperature readout with just a turn of a knob, which is great for monitoring the process. The roaster also has a chaff collector located at the top leading to an easier clean-up as well. Its space-saving design makes it a welcome addition to your kitchen.
Its easy-to-use interface and adjustable settings make it a good home coffee roaster for beginners or those who want to upgrade from popcorn poppers.
Most home coffee roasters look industrial in design and can feel intimidating at first. Well, this piece of eye candy from Bocaboca not only looks great but can also make coffee roasting a joy to do.
Best Design
PROS (+)
Aesthetically pleasing
Consistent heat via Infrared
See-through makes monitoring easy
CONS (-)
Pricey
Lacks burnt flavor from gas options for the darkest roasts
Using wood as a material for a hot roaster might sound counter-intuitive, but it has a good reason for it. It's a good buffer from the radiating heat. It uses electricity and infrared radiation to roast your beans, so there's no need to deal with buying a burner for it.
The infrared radiation used means that you'll produce less smoke in your roast, and it can give an even roast easily.
It can roast up to 250 grams of coffee beans in one go, and if you want to do a bigger batch, it's also available in a 500 grams version. The Bocaboca uses a stirring vane housed in a durable glass barrel, which is a godsend if you want to monitor your roasting progress.
Although, as it's also a completely manual machine so you'll need to pay attention to your roast. Don't worry because you can also easily adjust the time, intensity, temperature, and even airflow.
The Bocaboca is a worthy addition to your kitchen counter with its pleasing aesthetics and efficient roasting capability.
Having total control over your roast ensures that you'll bring out the best qualities in a coffee bean if you have enough practice. The Kaldi Mini Size roaster is a good choice for expert roasters and for practicing amateurs.
Best Medium Size
PROS (+)
Highly portable
An end to end solution
Relatively lightweight
CONS (-)
Not great for super large batches
Needs a lot of ventilation
One thing you need to consider with this machine is purchasing a gas burner since it is sold separately. It uses an electric motor to turn the barrel leading to a consistent, even roast.
As with most manual roasters, you'll have to get used to using your senses to roast your beans with this machine. The bundled probe rod and thermometer helps to monitor your beans efficiently. If you prefer to use your own digital thermometer to catch all the differences in heat, it has a slot you can place into.
The Kaldi Mini is also easier to clean-up before and after your roast because of the hopper and chaff collector. Its drum capacity can have you roast beans up to 250 grams.
As with most drum roasters, make sure that you'll roast in a place with adequate ventilation as the smoke and heat can be a problem. Don't fret because this pick is portable and weighs in at only 5.5lbs.
Learning the techniques using a drum roaster can be challenging at first, but with the Kaldi Mini roaster, you know you've got a roaster that will work perfectly at home and last the test of time.
Who says a coffee roaster has to be expensive? The Nesco CR-04-13 roaster says otherwise, and it can duke it out with its more pricey competitors.
Most Simple
PROS (+)
Budget-friendly
Great for extra small batches
Pre-programmed buttons make it easy
CONS (-)
Less control vs other options
Slower than others
You won't have to worry about over or under-cooking your beans because of the available presets for a medium and dark profile. It's also built-in with a 2-minute cooling function, which can be initiated at any time. The roaster can hold up to a quarter of a pound (110 grams) of green beans peruse.
The see-through lid allows you to monitor how far along your beans are roasting. Air roasters are known to blow away more of the coffee's silverskin or chaff during the roasting process. Don't fret because clean-up is a breeze with the included chaff collector placed on top of the machine.
One thing to consider is that roasting time can take slightly longer than other options, even to reach the first crack. Although you'll get through it is a worry-free and consistent roast.
Coffee lovers who want to roast their own coffee without going through the hoops of manual roasting might consider the CR-04-13 the perfect roaster for their home.
All coffee lovers can agree that the fresher the beans, the tastier it is. If you're the type to drink different kinds of beans every day, roasting can be quite a hassle when you're using a big roaster. Well, this unique roaster from Nuvo will meet your needs and then some.
Best Value
PROS (+)
Great value
Good for single person use
Unique design
CONS (-)
Easy to undercook or overdo
Super basic
This roaster uses conduction to roast your coffee at the most basic level. You'll have to pay close attention to the whole process since this roaster doesn't use any stirrer or motor to agitate your coffee.
A gas stove or a grill will do to let you power up the handheld roaster. One thing of note is that it won't work with an induction cooker because of the material used with this roaster.
It uses an eco-friendly ceramic base with an opening on the top to hold your green beans. You won't have any problems hearing your beans go through the first or second crack with this set-up. The handle is wrapped around with cowhide to prevent contact with heat during the process.
The roaster's compact size and air process help lessen your carbon footprint as well.
Nuvo recommends agitating your coffee in a figure-eight or circular motion for an even roast. Roasting time can range from 3 to 10 minutes, depending on the amount you use and preferred roast profile.
If you're looking for the complete hands-on roasting experience wrapped up in a pleasant and compact package. the Nuvo Eco Coffee Roaster might be the best one for you
Finding The Right Coffee Roaster For You
You might have made a pick out of our selection of home coffee roasters, but it doesn't end there.
It might sound intimidating at first, but roasting your own coffee is an art, and it will take some skill to get it right. As with everything else in life, practice makes perfect, so give it some time, and you'll maybe end up as a coffee roastmaster!
Some factors look out for like the size, tools, and roasting method in a home roaster. Coffee can be fickle during the process but using a good machine is a wise investment if you want to take roasting seriously.
Don't worry. We won't leave you out in the dark. We've got some tips for you for your roasting journey listed right below.
Why Popcorn Poppers Aren't Ideal
You can roast coffee using a popcorn popper, but as we mentioned above, it isn't the best way to roast, especially if you're using good quality green beans.
This type of equipment is specifically designed for corn kernels, which are smaller than your average-sized coffee beans. You will struggle to obtain an even distribution of heat for your coffee, which can lead to inconsistencies in your roasted beans.
Choosing the right popcorn popper can be a struggle too. Some machines are underpowered, so they can't reach the temperatures needed. They are also not used to maintaining hot temperatures for a longer duration, which can strain the motor leading to more breakages.
Popcorn poppers have smaller chambers compared to your home coffee roaster too. This can be a problem if you're looking for a machine that can roast big batches in one go.
This is not to say that a popcorn popper is a bad way to go if you want to dip your toes in the coffee world. You can use it as a stepping stone to learning all the basics of roasting coffee beans, but if you're looking to get serious in your endeavors, a dedicated machine is still the way to go.
Different Coffee Roasters
A key part of coffee roasting is high temperature, and there are different methods on how to roast coffee. The coffee beans undergo a chemical change called the Maillard Reaction due to the heat.
In a nutshell, this chemical reaction is a significant factor in giving coffee its aroma and flavors. Most coffee roasters use indirect heat in roasting the flavor-packed coffee beans, but they differ in how they do it.
Hot-air coffee roasters are faster than other methods, and it can lead to a "purer" cup because of its convection process. The green coffee beans are placed on a tilted bed where heated air is circulated throughout the coffee and blows out any impurities. However, they can only roast small batches, and you cannot accurately inspect your on-going roast.
A drum roaster uses conduction to roast beans by spinning the coffee beans around in a heated chamber. You can roast bigger batches of coffee with a drum machine and be used with different heat sources. It has a longer roast time, and the machine is bulkier compared to other methods.
Conduction coffee roasters utilize direct contact with heat, and drum roasters use this method too. Pan roasters also use conduction, and they are considered more portable and energy-efficient compared to their counterparts. They are prone to burn, and you can only roast small quantities peruse.
Batch Size
One thing to consider in getting your own home coffee roaster is how much beans you'll be roasting for your use. As mentioned above, drum roasters can allow for bigger batches. If you prefer drinking one type of coffee per week or month, a drum roaster might be perfect for you.
Hot-air coffee roasters are smaller and roast fewer green coffee per batch than your standard drum roaster. If you're the type to drink a different single-origin or blend every few days, a hot-air coffee roaster is recommended.
The bigger the batch you'll want to roast, the bigger the machine you'll need, so you'll have to consider if the roaster has enough space in your home.
Precision
Being precise is one of the significant factors in coffee, whether you're brewing or roasting. Each measurement can make the difference between a bad or a good cup of joe. If you're looking for a home coffee roaster that you'll only need to flip a switch and let it all do the work, there are options, but they will cost more.
The more you spend, the more extras will come with the roaster, which will offer more control over the coffee roasting process. Some can adjust the time, temperature, airflow, and even the rotation speeds in the case of a drum roaster.
Temperature is a significant factor in roasting, and there are roasters with a thermocouple which offer the best control. These are roasters with a digital thermometer and temperature control. Roasting off aroma and just giving it a go isn't going to provide you with the best results. You can also adjust when your coffee beans will hit the first crack or second during the process through heat control.
Higher-end roasters are programmable, meaning you can find what you enjoy and save it for future use. It can save a lot of headaches if you tend to switch coffee beans between batches.
The Final Verdict
Our choice out of all the best home coffee roasters is the Kaldi Wide 300g roaster! You'll feel like an expert roaster in your own home with its completely manual approach to roast your beans. Just make sure you'll get a gas burner for it!
Top Pick
If you want to take a step back and let the roaster do the work, we recommend the Fresh Roast SR540. It's easy to use, which is excellent for beginners and makes for a consistent roast through the use of hot-air.
Whichever approach you'll choose, getting the right roaster can help you get the most out of your beans.
Frequently Asked Questions
How long does it take to roast coffee beans?
Your roasting time will vary on your preferred profile and amount. A smaller batch averages around 10 minutes, while bigger batches take around 15 minutes. The darker the roast of your coffee beans, the longer it takes. You'll also have to factor in your beans' cooling time, which is around 3 to 5 minutes.
Is Home Coffee Roasting worth it?
Roasting your own coffee can be beneficial whether you're just a coffee lover or you drink lots of coffee. You can cut down on your expenses for coffee beans considerably, and you can enjoy coffee at its freshest. 
It can also provide a means to fine-tune your beans according to your preferences in your own home.
What makes a good coffee roaster?
Whichever method, speed, or batch size you like, there are a few things to consider, whether its a commercial roaster or one for your home. The best roasters have to be durable and stable to roast your beans evenly without suffering from breakages.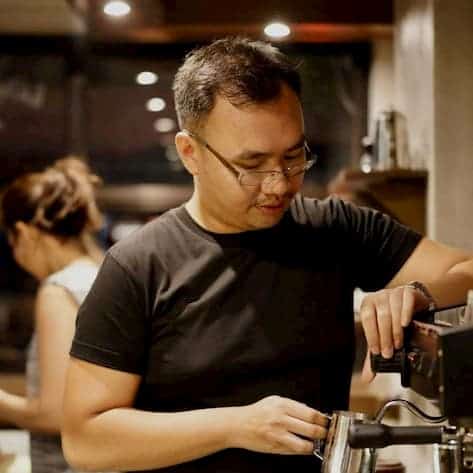 Ex-Barista and now coffee writer
A life long coffee drinker, Philip has been looking for new ways to enjoy coffee since he started in the coffee industry in 2017. His favorite coffee is a light roast Rwandan single origin. If he's not binging on food shows or trying out new coffee recipes, you can catch him here at Sip Coffee!