Best Manual Coffee Grinder 2023: 10 Top Hand Crank Grinders
Okay. I'll admit it. Younger me used to think owning a coffee grinder was frivolous.
That all changed when I became a barista and learned the importance of grinding on demand.
I've spent countless hours getting the down-low on the latest and greatest of the best manual coffee grinders in 2023. So, If you're ready to up your coffee game and give manual coffee grinding a try, keep reading.
But, if you just need a recommendation, check out my top three favorites below:
Top Pick
Runner Up: Most Unique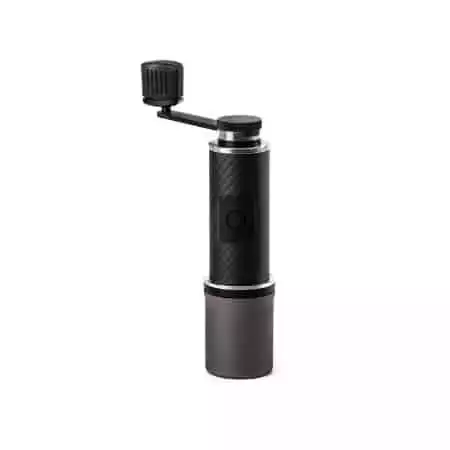 Best For Espresso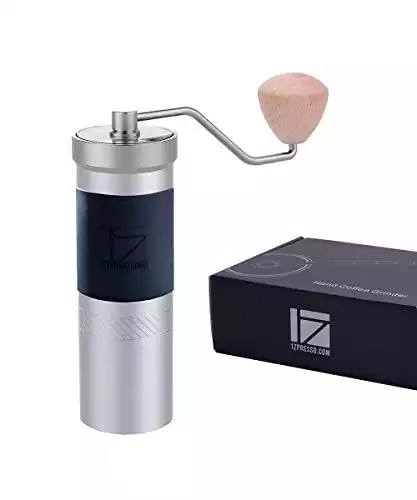 What To Look For In Your Hand Coffee Grinder
Portability
Most hand coffee grinders are portable, a significant selling point for caffeine fanatics who take their coffee beans and brewing supplies on vacation.
A coffee grinder consists of blades or burrs encased in another material, protecting the grinding mechanism and catching the grounds. If portability is important to you, consider the weight (which should be listed in any product description or packaging), size, and materials used.
Manual grinders come in different sizes, but it's not hard to find models made to travel. They grind less at a time, but they're light and easy to pack.
Grinders housed in plastic may not be pretty, but they will be lightweight. Ceramic tends to be heavy, though pleasing on the eye. Wood and stainless steel can fall on either side of the spectrum, depending on how thick the walls are.
Grind Capacity
If you're a coffee lover, you know capacity is key. While you can always grind more beans in a second batch, most prefer to grind all they need at once.
Most manual coffee grinders can handle 20-30 grams of beans. This is sufficient for most single-cup brewing methods (and even a 4-cup moka pot).
Some methods use more coffee grounds, however. If you might use a coffee grinder to make drip coffee, a larger French press, or Chemex, you'll want to find a coffee grinder with a capacity of 30-40 grams or more.
Note that when brewing coffee in large amounts, like a family-sized pitcher of cold brew that sits in the fridge all week, you'll probably be stuck cranking multiple batches of ground coffee no matter what.
It is a good idea to gauge how much coffee you and others in your household typically use each day. Unless it's arm day, you won't want to be married to the hand grinder.
Grind Settings
If you're serious about your java, the grind settings on a coffee grinder are the most important feature to pay attention to.
Although casual coffee drinkers may not realize it, the fineness of the grind is key. The grind setting on your coffee grinder, whether you have a hand grinder or an electric grinder, determines how finely the beans are ground.
Hand grinders often have multiple grind sizes or settings. Not all manual coffee grinders can reach espresso-fine grinds. However, a coarse grind is typically easy to achieve.
If you don't already know what kind of grind you need for your preferred brewing method(s), look it up or ask your local coffee shop.
Espresso lovers, AeroPress drinkers, and Turkish coffee enthusiasts need a hand grinder capable of making a fine grind. Cold brew and French press require a relatively coarse grind. Other methods fall somewhere in between.
Choose a model with a grind adjustment system you can operate easily, and that is capable of grinding to whatever degree you may need. A coffee lover who enjoys various kinds of delicious coffee will require a more sophisticated, diverse grind adjustment system to play with.
The Burr
Coffee grinders come in two types: blade grinders and burr grinders.
A blade grinder uses a spinning blade to chop coffee beans into grounds, grinding more finely the longer it's used. Blades are common to electric coffee grinders.
A burr grinder crushes coffee beans against the inner surface of the coffee grinder using two abrasive pieces (burrs). Burr grinders are generally considered best.
Manual coffee grinders are traditionally burr grinders, though manual options exist. There are two primary burr shapes that affect the grind size and grind consistency.
Conical burrs have a cone-shaped center burr with an outer burr. These are popular and offer fairly even grind consistency for most users, but picky coffee lovers may not appreciate the minor inconsistencies in how the coffee grinds.
Flat burrs are basically flat serrated discs that grind beans between them. Coffee beans stay in place and are ground more evenly and symmetrically. The consistent grind is perfect for Turkish coffee drinkers who need an ultra-fine, even grind.
Although electric burr grinders can produce the same consistent grind, they tend to be louder while also removing you from the soothing process of gently working your coffee mill. And of course, an electric burr grinder requires electricity or batteries, which adds to the expense.
Material
Be sure to pay attention to the material of the burrs when choosing a hand coffee grinder.
Ceramic burrs are popular, lasting choices. The heavy ceramic effectively crushes beans and is hard to damage, making it a durable (and cost-effective) choice. They won't lose sharpness for eons (okay, years).
Ceramic burrs are considered ideal for espresso roasts and tend to produce flavors that are more complex.
Steel burrs are known for their even, precise grinds. If you want specialty coffee ground with perfect symmetry, stainless steel burrs are king. They don't retain sharpness as long as ceramic, but they are sharper to begin with.
Both are considered easy to clean.
Budget
Specialty coffee already sells at a specialty price. Fortunately, a quality manual grinder can be quite affordable. Sometimes it costs as little as a moka pot.
Still, there are ways to moderate the price you spend on a coffee grinder. Choosing between ceramic or steel burrs often makes a difference.
Ceramic burr grinders tend to be high-quality and cost more, although you will likely save money on replacement burrs and other parts.
Steel burrs are probably the best bang for your buck. They're effective, but a little cheaper and can still last a few years before replacement, depending on use.
The material of the handle, base/walls, etc. can also affect price. Plastic is cheap. Wood and steel usually cost more, especially if you opt for a cuter design.
Warranty & Spare Parts
The best manual coffee grinders will come with contingency plans.
As with any machine, check that a grinder comes with a decent warranty plan. Most brands will replace a defunct model within one year, although some will honor a commitment for 25 years.
It's also a good idea to see if a brand sells or offers spare parts. Long-standing companies are more likely to offer replacement parts (especially burrs) in common sizes.
Classic models are tried, true, and more likely to still be manufactured five years from now when you need to replace a handle or steel burrs. A cheap, new model may cost you more when it has to be replaced with a better one in six months.
The 10 Best Manual Coffee Grinders 2023
I know coffee grounds look chic in a giant mason jar next to your cereals, rice, and pastas on the kitchen counter, but you may want to rethink purchasing it pre-ground.
Believe it or not, ground coffee begins to lose some of its aroma and flavor quickly after grinding. Yup! Fresh coffee doesn't last long if ground – It can take less than 30 minutes to lose some of its magic.
You not only want a manual coffee grinder that can treat your coffee with respect, you want one that's going to optimize that extra fresh, full flavor you just produced with a coffee mill.
Now that you have some idea of what you're looking for let's look at some popular choices.
Here are ten great models to help you find the best manual coffee grinder for your needs, each with its own merit.
1. 1ZPresso K-Max
The 1ZPresso K-Max is the best manual coffee grinder on the market today. It offers a shocking amount of grind control to dial in grounds to perfection, is high-powered, and offers great grind consistency.
Top Pick
PROS (+)
Exceptional fine-tuning precision control
Signature heptagonal conical "K" burr in stainless steel
Fast, smooth, and consistent grind
CONS (-)
Too large to take with you
Magnetic base takes some getting used to
There are several 1ZPresso options on this list, but the K-Max is the best manual coffee grinder in the line-up — or in any line.
This hand grinder offers a full 90 clicks per rotation. Perfection seekers can get out their notebooks and pens; this manual grinder is asking to be part of your journey to brewing the perfect cup.
With 9 grind settings, this hand grinder truly can grind it all. There's a grind setting for Turkish coffee up to a coarser filtered drip or even cold brew.
In fact, the K-Max may be your best choice for batch brewing. If you're grinding enough for multiple cups or will spend the afternoon prepping cold brew, the 35-40 gram capacity blows most hand grinders out of the water.
This manual coffee grinder is close to perfect. The only downside is that you won't want to travel with it, despite the carrying case it comes with. This hand grinder weighs about 700 grams.
Yup. I know. Certainly not the most portable!
The only other minor downside is the magnetic base. Anything magnetic can take time to adjust to; until you learn how to hold it, the top and bottom may come apart when you don't mean to separate them.
Overall, however, there really isn't much reason not to get the 1ZPresso K-Max for home use. The grind settings accommodate seemingly everyone, and the heptagonal ceramic burrs provide excellent grind consistency.
Related Read: 1ZPresso K Plus Review
2. Orphan Espresso Fixie
The Fixie is a great choice for coffee lovers on the go. Petite and lightweight, this burr grinder is ready to be tucked into a suitcase.
Runner Up: Most Unique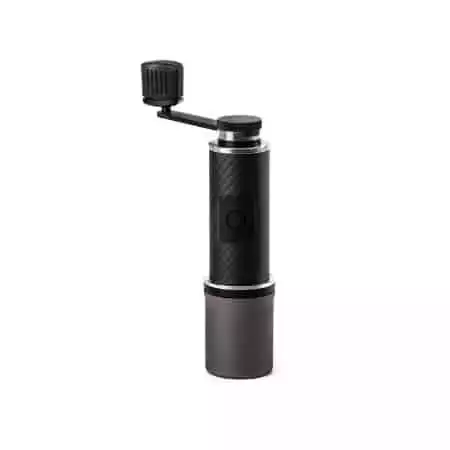 PROS (+)
Lightweight and portable 47 mm steel conical burrs
unique four fine-tuning discs for grind control
CONS (-)
Tuning disc replacement is difficult
Silicone gasket is weak and may need replacing
The best thing about this grinder is its portability. The Fixie is made to travel without giving up strength or usefulness.
Weighing only 300 grams and measuring 196 mm in length, you can practically slip this one in your pocket. It even comes with a Tyvek travel bag.
The 30 gram ground capacity allows you to brew up to 500 milliliters of coffee, depending on the brew method. Made of high-quality materials, the Fixie is well-made and comfortable to hold — especially with its carbon fiber handle.
Not many grinders are made with outdoor sports in mind, but the Fixie is not just optimized to look pretty in a hotel room. Take it hiking or backpacking. This durable option delivers luxurious results with ease.
The biggest drawback to the Fixie hand grinder is its lack of grind control. The three grind size options may suffice for most travelers — it beats hotel coffee — but the Fixie is limited for those who want greater control.
This coffee grinder does come with four Teflon tuner shims (in two sizes, 0.1 mm and 0.2 mm) which allow for greater adjustment control. With 19 possible grind settings, the Fixie will grind beans adequately for most brew methods.
Despite this drawback, the Fixie has a definite edge over other choices on this list. You may not be able to dial in your coffee grounds like a sensitive artist, but you can brew more than an enjoyable cup of coffee anywhere, anytime, thanks to this grinder.
In all, the Fixie is ready for your next hike, camping trip, or comfy hotel stay. Portable, durable, and surprisingly powerful for a travel model, the Fixie hand grinder is a great choice, even for your first manual coffee grinder.
Related Read: Orphan Espresso Fixie Review
3. 1ZPresso JX Pro
The 1ZPresso JX Pro is a high-powered, high-quality lesson in dependability. Designed to accommodate daily espresso drinkers, this manual coffee grinder is an all-around catch for anyone brewing on the finer side.
Best For Espresso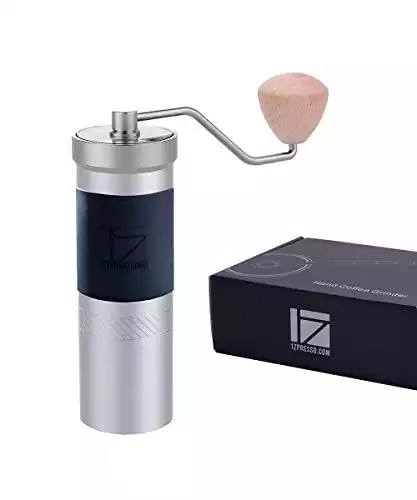 PROS (+)
Over 40 clicks in a full rotation, great for fine-tuning grind sizes
48 mm stainless steel conical burr
Powerful, consistent grind
CONS (-)
Beans tend to get caught in the adjustment ring
Can be tricky to calibrate
Although the 1ZPresso JX Pro can accommodate most brewing methods well, it's best for brewing coffee that requires finer grounds.
If your manual coffee grinder is there to make your daily doppio perfect while sufficing for the occasional French press, this is worth looking at.
With over 40 clicks in a rotation, which allows you to precisely dial in espresso grounds to your liking, the JX Pro offers exceptional grind consistency.
The JX Pro can hold up about 30-35 grams of ground coffee, enough to make most forms of coffee. The wooden knob handle and rubber center are easy to grip, and the 48 mm stainless steel conical burrs are powerful.
The biggest downside of this hand grinder is its calibration. Despite being advertised as pre-calibrated, that's not always the case. It can be difficult to calibrate the adjustment dial the first couple of tries, which may be frustrating if you clean the grinder often.
As a smaller issue, beans and grounds can both get stuck in the JX Pro, too. Beans tend to get stuck in the adjustment dial and the finer grounds (which espresso makers will have more of) can get stuck in the dial.
The JX Pro may take a week to get used to. It would also be a good idea to give it a cursory cleaning more regularly, just to keep ground coffee from building up in tight spaces.
This model only comes with a one-year, limited warranty. But the good news is, 1ZPresso sells spares for many of its grinders, including parts for this model. You can extend the life of this high-quality hand grinder without having to replace it entirely should anything happen.
Overall, the 1Zpresso Jx Pro is probably the best hand coffee grinder for any espresso lover, and it isn't half bad for most other brews.
Related Read: 1zPresso JX Series Review
4. 1ZPresso Q2 Manual Coffee Grinder Mini
The 1ZPresso Q2 mini is another great option for travelers looking to avoid hotel coffee.
This little hand grinder isn't exactly a no-frills budget option but is just right for those who just need a reliable travel grinder for most brew methods outside of espresso.
Best For Travel
PROS (+)
Mega portable
38 mm stainless steel burr
Easy to hold and crank with wooden handle
CONS (-)
Only good with coarser side grind
Dial numbering can be confusing
"Mini" is definitely the word for the 1ZPresso Q2. It's only 16 cm long and weighs just under 500 grams — great for anyone who travels for a living or who really values having fresh coffee on trips.
The next best word to associate with the Q2 is 'Aeropress.' Its 20 gram capacity won't please everyone, but it's perfect for fans of this espresso-like quick brewer.
However, daily espresso drinkers will want to pass. The Q2 mini boasts 9 dial positions but not a single grind setting. It may take a few tries to perfect a finer grind.
As long as you don't plan to travel with a Bialetti 4-cup, this travel size still packs a fair punch. For convenience and improved coffee away from home, the 1Zpresso Q2 yields a consistent particle size.
The stainless steel burr is durable and a nice touch for a travel and budget option. The outer shell is aluminum and can weather a little jostling. That's good news if your suitcase might be thrown onto a plane twice a week.
Overall, the 1ZPresso Q2 takes a little work to adjust to, thanks to its dial settings and limitations, but for many travelers, this mini manual coffee grinder is well worth considering. Most coffee drinkers on the go can enjoy it.
Related Read: 1ZPresso Q2 Review
5. Commandante C40
The Commandante C40 was made for the coffee brewing pro who needs an exceptional cup of coffee at home. Versatile and well-made, the C40 won't disappoint.
Most Versatile All Rounder
PROS (+)
Versatile grinds from fine to coarse
Conical stainless steel burrs (39 mm and 30 mm)
Large capacity, BPA-free plastic internal frame to catch grounds
CONS (-)
Not a starter manual grinder
Expensive
This hand coffee grinder from Commandante is another chic, sleek grinding beast. This grinder is able to hold 40 grams of coffee in its plastic grounds catch. And that plastic is BPA-free, which means you can enjoy its lighter weight without so much worry.
The Commandante C40 comes in a cherry wood finish or in one of three colors. More importantly, this grinder is capable of consistent performance in the grind and is versatile enough to handle anything from French press to Turkish coffee.
Yes. The build quality of the C40 is exceptional. It feels sturdy in the hand as you grind and is not likely to fall apart even after a few years of steady use.
The biggest strength of the Commandante C40 — the exceptional overall quality. For those with the commitment to grinding daily with coffee hand grinders, this model can't be beat.
But for those just starting out, or those who can't financially swing this kind of commitment, the C40 might serve better as a goal to work up to.
Otherwise, there's very little negative to say about the C40. Any pro coffee drinker will love having this reliable, sturdy coffee mill on their counter. It's just a matter of whether they're game enough to spend this heavy.
Related Read: Comandante C40 Review
6. 1ZPresso J Max
Excellent Precision Choice
PROS (+)
Ultra-fine adjustment, 90 clicks per rotation
48 mm titanium coated burrs
Consistent grind
CONS (-)
Needs to be cleaned often and takes time to clean well
Takes time to get the hang of
The J Max is another high-powered, top-notch grinder from 1ZPresso. Offering even more precision of grind size than the K Max, the J Max has the same 90 clicks per rotation in 9 grind settings, but with click sizes coming more often (at 8.8 microns rather than 12.5).
These smaller click sizes mean changes in the grind are even more subtle. Anyone who enjoys painstakingly finding the right number of clicks for the ideal grind setting to brew delicious coffee with no equal will surely appreciate this precision.
The larger burrs are titanium coated, making them extra durable. They're capable of achieving a fine, consistent grind ideal for espresso. However, you can undoubtedly make any coffee you desire with this coffee hand grinder.
The biggest downside to the 1ZPresso J Max is that the finer grounds tend to stick to the inner walls. This hand grinder should be cleaned more often; it may be worth a quick clean after every use.
That's not a lot of fuss if you're diligent about it, but it might be a waste of specialty coffee when you add up all the lost grounds.
And yes. The 1ZPressso J Max and K Max are similar hand grinders. The biggest difference is the even greater precision offered by the J Max. Otherwise, the grind settings, general build, and performance are about the same.
While the J Max also boasts those titanium-coated burrs, this likely won't make a big difference for most of us at the end of the day. The 1ZPresso J Max is an excellent manual grinder for any coffee drinker.
But there's not much reason to choose it over the K Max except for being cheaper!
7. Timemore C2 Manual Grinder
The Timemore C2 manual grinder is here to show French press fans the love. This simple but solid little grinder is a great middle option.
Great For Pour Over & French Press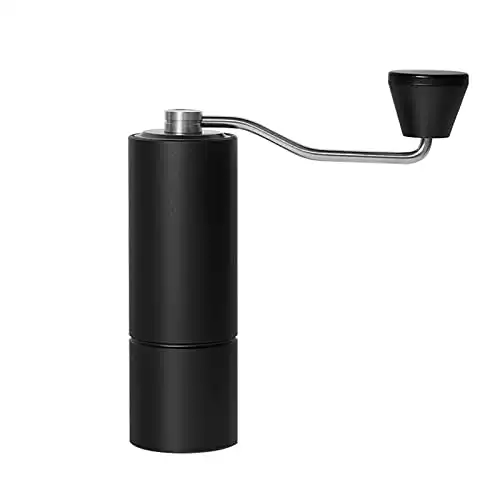 PROS (+)
Broad range of grind settings, but great for coarser to medium grinds
38 mm stainless steel conical burrs
Fair grind consistency
CONS (-)
Not ideal for espresso or finer grind sizes
Small (25 gram) capacity
Many manual grinders on this list are geared toward espresso makers, but not this one. The Timemore C2 seems to be made for daily French press and pour-over drinkers.
The coarser-to-medium side of the grind spectrum will have the best luck with this manual grinder. If you stick to this range, the grind consistency is great for most home brewers.
But yes, you can also take this Timemore grinder on vacation. It weighs only 430 grams and is under 20 cm long. Although the ground capacity is on the smaller side, it's worth it for a travel-ready model.
As long as you don't mind grinding less at once and aren't looking for the espresso-ready grinder of your dreams, the Timemore C2 is a decent first manual coffee grinder.
And if you're on the under-served coarser grind-side of the spectrum, the Timemore C2 is an excellent starter hand grinder.
Related Read: Timemore C2 Review
8. Hario Skerton Pro
The Hario Skerton Pro is a sleek, chic, and easy to use little beauty. It's a great way to break into the world of hand grinding coffee.
Best Value Choice
PROS (+)
Made with high-quality materials
Ceramic conical burrs
Small enough to travel
CONS (-)
No grind size markings
Inconsistent grind, especially toward the coarser end
The Hario Skerton Pro is a bit of a mixed bag, though still worth considering. On the plus side, the quality of this little hand grinder is surprisingly high. The conical burrs are ceramic, the ground coffee catch is glass, and the handle is stainless steel (with a comfortable grip knob).
The ceramic burrs in this conical shape increase the power and fineness of the grind, but ultimately, the Hario Skerton Pro is still not the most consistent, especially if you're making something with coarser grounds.
Although there are multiple grind settings, they are unlabeled. That isn't a big deal if you make your coffee the same way most of the time, but if you want a Chemex today and an Aeropress tomorrow, that can be an annoying adjustment.
This manual coffee grinder can easily travel due to its small size. Its ground capacity is also not massive (100 grams), but this may not be an issue for those making true espresso or other individual small cups throughout the day.
You certainly won't waste many unused grounds.
The silicone lid is non-slip, making it easier to use. The round, squat shape could also be a major plus for those who struggle to grip traditional hand grinders which come in a long, skinny cylinder.
If your wrists and hands ache easily, the Hario Skerton could be the ergonomic solution you were looking for. That would undoubtedly outweigh many cons.
In all, the Hario Skerton Pro is a worthwhile option for anyone who isn't trying to batch brew coffee. Its portability, shape, and decent grind consistency make it a great first manual grinder.
If you like waking up to this every morning but need a little more power and control, you can upgrade later when you know precisely what you're looking for. This Hario can transition into your travel back-up.
Related Read: Hario Skerton Pro Review
9. JavaPresse Coffee Grinder
This JavaPresse manual coffee grinder is ideal for anyone looking for a cheap grinder for infrequent brewing.
Most Customer Reviewed
PROS (+)
18 adjustable grind settings from coarse to fine
Ceramic conical burr
More consistent than many electric grinders
CONS (-)
Requires more work for finer grinds than other grinders
Not ideal for large pots of coffee
The JavaPresse hand grinder is a great mid-range option. Unlike some grinders, it lives up to its boasted versatility, grinding consistently well for all brewing types with its ceramic conical burr.
Under 300 grams, the JavaPresse is petite enough to flip into a suitcase or even a hiking bag. Its capacity is likewise limited, holding around 25 grams of grounds, but it's more than suitable as a travel grinder.
The biggest drawback to this hand grinder is the amount of work required to grind finer particles. It may take over a couple of minutes to make ultra-fine espresso grounds and it's still not great in terms of uniformity.
However, what you lose in efficiency, you retain in basic abilities. The JavaPresse isn't confusing to operate or dial in, it can perform any task (if perhaps more slowly), and is not so poorly made that it will fall apart in months.
As long as you don't want to brew large batches of drip or percolated coffee, this grinder is reliable and functional.
It's a great grinder for those who only make coffee at home once or twice a week or a steady travel option for the more experienced home brewer.
10. Akirakoki Manual Hand Grinder
The Akirakoki manual hand grinder was made to be looked at as much as it was made to grind beans. Beautiful, quiet, and lightweight, this grinder can beautify any home kitchen or hotel counter.
Most Unique Design
PROS (+)
Beautiful wooden and cast iron grinder
Cast iron burr
Easy and quiet to use
CONS (-)
Grind adjustment can be tricky to learn
Inconsistent grind quality
The wood exterior of this grinder might remind you of vintage coffee grinders, perfect for those who love a nostalgic look in their kitchen.
The Akirakoki manual hand grinder is simply nice to look at. With a wood finish and durable cast iron burr, this grinder can rest in the open on your kitchen counter.
Its 35 gram ground coffee capacity is standard and useful. The wooden knob on the handle is easy to use, and the power behind this model is quite good. You can grind a fair amount of coffee easily without waking the house up.
The Akirakoki is also a fairly lightweight option, thanks perhaps to its wooden structure. This is a great choice If you travel often and want a grinder that feels more like home without weighing down the suitcase.
The downside is that it's more exceptional in form than in function. Those who care more about making coffee by hand than finding the perfect cup may not notice the grind inconsistency.
But those who rely on even grind size for a better brew may want to invest in a more sophisticated option.
Still, not all coffee lovers actually want or need exceptional control or care about the perfection of their grind.
If you're just learning to make coffee at home and care more about slowing down with a pleasant to-use coffee grinder, the Akirakoki may be all you need. You can always graduate to a better grinder once you better understand what you need and want.
The Final Verdict
So what's the best manual hand grinder for your needs?
For home use, the 1ZPresso K Max is your best bet. It's consistent, strong, and sturdy enough to make grinding by hand enjoyable every day. The K Max is able to offer a truly great grind for any coffee preparation method.
Top Pick
For traveling (indoors or outdoors), consider adding the Orphan Espresso Fixie to keep that K Max company. With its shockingly good performance, consistency, and versatility, it's better than an on-the-go grinder should be.
Runner Up: Most Unique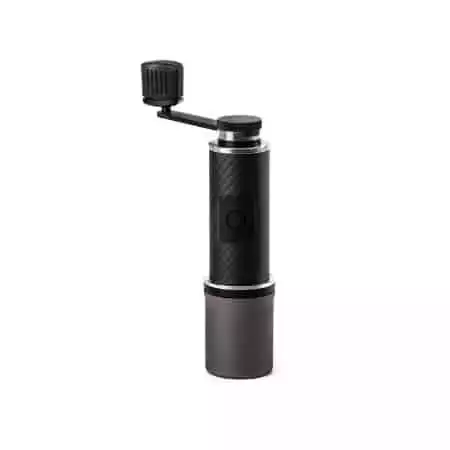 When in doubt, 1ZPresso grinders are established and popular (especially the K Max and JX Pro models) — a testament to their quality. These grinders are known for their reliably good function.
1ZPresso offers replacement parts on most grinders. While you may have to replace an aging piece, you probably won't scrap the whole thing. That's a safer investment.
Overall, the 1ZPresso name has quickly become established in the grinder market for good reason.
Frequently Asked Questions
Are manual coffee grinders worth it?
Yes, manual coffee grinders are worth it, especially if you're willing to work a little for your cup and value portability.
A hand grinder allows you more control than an electric grinder, is often cheaper, and offers easy grind adjustment (not all electric grinders do).
Often by turning a dial, you can switch your grind instantly. You can also stop the moment your grounds are at the ideal size. Home electric grinders often require more time to grind to a finer consistency.
How long does it take to grind coffee with a manual grinder?
On average, it takes 20-40 seconds to grind coffee with a manual grinder for most at-home brew methods. Brew time varies by the amount of coffee used and how finely coffee beans are ground. You have to work longer to get finer grounds.
Different brewing methods use different levels of coarseness. It may take only 20 seconds to get the coarse grounds needed for a French press, or as many as 40-60 seconds to grind coffee beans finely enough for a moka pot.
It's worth noting that the time it takes to prepare grounds is similar with both electric grinders and hand grinders. You can expect it to take 20-60 seconds with most coffee grinders.