The 5 Best Vietnamese Coffee Brands 2023
Vietnamese style coffee isn't your regular cup of Joe, and it can be difficult to find coffee best described as a diamond in the Robusta burnt rubber hell.
Having been to Vietnam (VN) more times than I can count, I realize the greatest Vietnamese coffee comes from small roasters, who source sustainable and local beans grown with care.
My favorite coffee Vietnamese wise fits this bill perfectly, and no, it isn't the Trung Nguyen premium blend (the Starbucks of Vietnam) you see everywhere.
If you're ready, let's begin with the top pick from my list when it comes to the best Vietnamese coffee brand in 2023:
Top Pick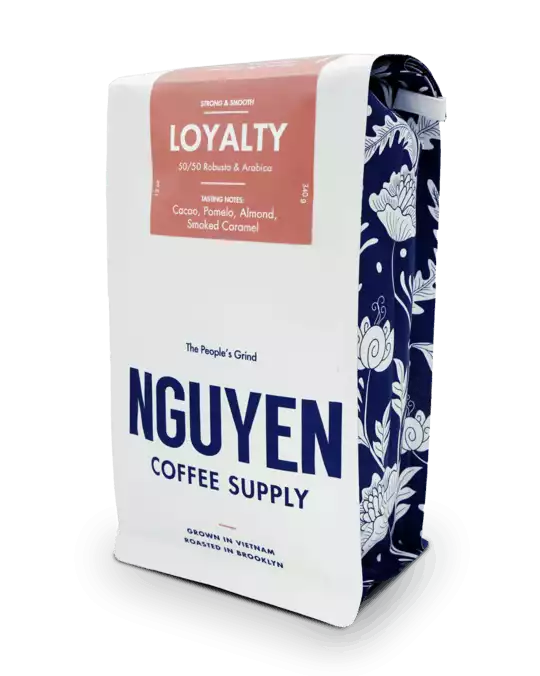 Alternative Vietnamese Coffee Brands At A Glance
Best Traditional VN Brew
Best Variety Pack
Most Versatile VN Beans
Best Saigon Butter Coffee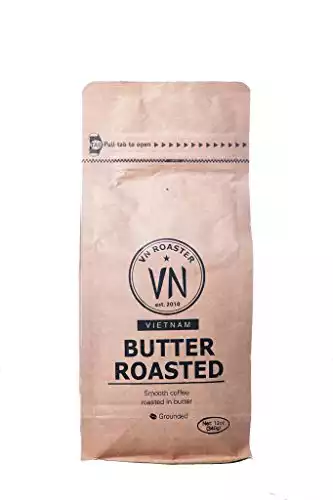 Why is Vietnamese Coffee So Strong?
One thing you'll hear about Vietnamese coffee is that it's incredibly strong.
That's because most of their beans are robusta beans. These grow in lowland areas and develop more caffeine to repel insects.
Arabica beans grow in highland areas and thus have less caffeine and develop more flavors and sugars for a sweeter and brighter coffee.
Due to its high caffeine content, robusta coffee can come out dark and bitter. A brew from these coffee beans is often classed as inferior and burnt. There's also the fact this type of coffee is usually grown at scale and without care. For this reason, people in Vietnam usually add condensed milk to their brew.
But there's more to Vietnamese coffee than just your regular old commercial-scale robusta beans, as you'll soon find out! So let's dive in and find out what the best Vietnamese coffee brand in the market is when it comes to quality coffee with the list below:
The 5 Best Vietnamese Coffee Brands In 2023
Nguyen Coffee Supply is like your local hipster coffee roaster, but the founder is from Vietnam.
With a focus on importing premium beans from Vietnam and roasting them locally in NYC. This genuinely is the best Vietnamese coffee brand, in my opinion, when it comes to freshness and quality.
Top Pick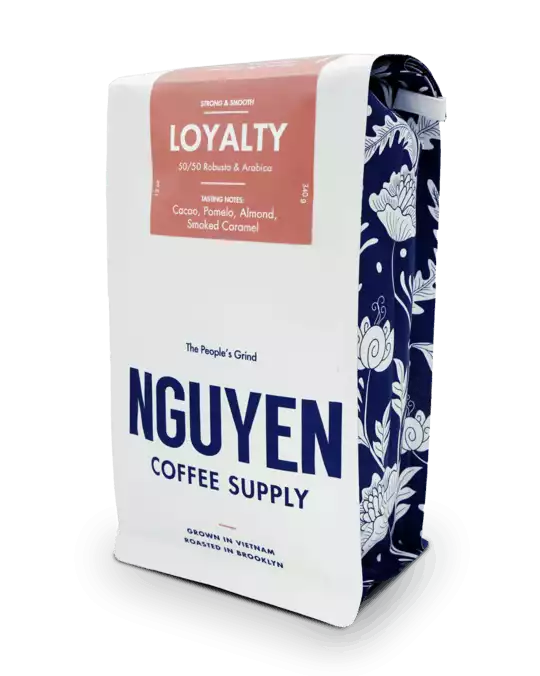 By working directly with small farmers from both the central region (Robusta) and highlands (Arabica), Sahra Nguyen (the founder) is CRUSHING it!
Even Forbes and Fortune agree that Nguyen is leading a new dawn for coffee beans from Vietnam, and the status quo is changing.
This beauty is named Loyalty, and it's hands down the best Vietnamese coffee you can find in the states. It's a medium roasted quality coffee, made from a blend of Robusta and Arabica beans from Vietnam.
It's worth noting that Nguyen Coffee Supply roasts the two varieties separately. This way, they're able to maximize the flavor in both types before mixing them.
The result is that classic robusta kick, decorated with bright and complex flavors from the Arabica. This coffee has hits of chocolate, cacao, pomelo, almond, and smoked caramel. It's full-bodied and also has a creamy mouthfeel.
If you're looking for something outside of the usual pre ground coffee (most common in Vietnam) and for something roasted on demand, then look no further. In my opinion, no other coffee brands can compete when it comes to quality and freshness when it comes down to traditional Vietnamese beans.
Overall, this blend makes for a very delectable cup of Joe. Regardless you're traditionally a buyer of beans used for condensed milk coffee or not.
The runner up! True Grit is the perfect dark roast base for traditional Vietnamese iced coffee. Brew this in a phin and top with condensed milk for a sweet and strong cup of Joe.
Best Traditional VN Brew
If you're looking for the traditional cà phê đá (iced coffee), then Grit might be the best Vietnamese coffee for you. Like Loyalty, these coffee beans are roasted locally in NYC.
If you thought normal Robusta was strong, wait until you try Nguyen's peaberry robusta! It has twice the caffeine content of Arabica beans for a full-bodied, punchy Vietnamese coffee. It also has tasting notes of scotch, grapefruit zest, and bitter melon.
This is the traditional Vietnamese brew you're likely familiar with. You'll love these beans if you have a preference for strong-tasting, hard-hitting coffee.
There's nothing quite like this Vietnam coffee when it comes to a caffeine kick!
Alright, so you can probably guess Nguyen is my favorite Vietnamese coffee brand by now. This Original Vietnamese Coffee mix trio from Nguyen Coffee Supply could be the ideal purchase for you if you want variety.
Best Variety Pack
The coffee mix triple pack has Nguyen's blend (Loyalty), 100% robusta coffee (True Grit), and 100% Arabica beans (Moxy).
Compared to the other two, Courage has a brighter taste profile and a sweeter body. With hints of chocolate, wild berries, cherry, and honey.
I like this option because it allows you to compare and contrast Vietnamese Arabica and Robusta. And you can also observe the effect of the two when combined in a blend.
Grind them and make your brew via a French press, cold brew, and traditional phin coffee, and see which one you enjoy the most!
Moon Bear Premium Coffee is a sneak peek into the growing scene for specialty coffee in Vietnam.
ChestBrew has access to one of the few high-tech roasting facilities in Southeast Asia. So, you can count on this Vietnamese style Arabica coffee to hit the mark.
Most Versatile VN Beans
Moonbear Coffee beans are also dark roasted, so this Vietnamese coffee is strong but smooth and full of flavor. It doesn't have the bitter, burnt, and poor quality flavors typical in many dark roasts from Vietnam.
And because of that, it's great for using as iced coffee or cold brew coffee!
Just be aware, Moon Bear is not roasted on demand like the previous Vietnamese style coffees.
These pre ground robusta beans are sourced from coffee trees located in Dak Lak, one of Vietnam's largest coffee-growing regions. And yes, you read that right: these beans are roasted in butter. What? Butter? ..Yup! The result? A velvety rich, flavorful cup of coffee.
Best Saigon Butter Coffee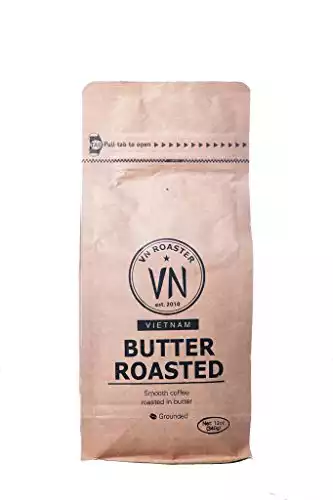 The fact that this is pre ground coffee means it will age faster than whole bean coffee. But if you just want to taste authentic Vietnamese coffee at home, these beans by VN roaster will pair perfectly with condensed milk.
While the practice of roasting in butter is uncommon in many parts of the world, it's a Saigon classic and helps give these Vietnamese coffee beans their unique flavor profile.
The aroma of these butter-roasted beans is sure to transport you to the streets of Ho Chi Minh, sipping the best Vietnamese coffee!
A Guide To Your New Favorite Vietnamese Coffee Brand
Coffee production is big business in Vietnam.
The nation is the second-largest coffee producer in the world. But they're not exactly known for the quality of their coffee. Unlike most other producing nations, coffee farmers primarily grow Robusta beans, and more than 90% of the beans grown in Vietnam are this type.
But the coffee of choice for the Vietnamese isn't instant coffee, but phin coffee. A phin functions like a dripper with no paper filter. Just add hot water, and the water drips through the filter.
It pretty much allows you to make drip coffee with a fuller body similar to that of French press coffee. That's because there's no paper filter to absorb the oils from your ground coffee, so they all go straight to your cup. Yum!
Related Read: How To Make Vietnamese Coffee
But most robusta coffee beans are roasted really dark to mask their unpleasant flavors. After all, it's hard to expect much from your brew when using beans that will be traditionally used for instant coffee or in a blend.
Roasting dark can make the extracted coffee taste bitter and unpleasant. The bitterness of their coffee beans is also the reason why Vietnamese coffee, also known as cà phê sữa đá, involves adding condensed milk to your brew of grounds and hot water.
There is a growing specialty coffee scene in Vietnam, where some coffee farmers are trying to elevate Vietnamese coffee beans' quality by growing different arabica varieties outside of just using a coffee bean blend. Still, blends like Saigon Phin Daklak are the most common..For now anyway.
Trung Nguyen Vietnam Coffee
Trung Nguyen premium blend is the dominant coffee when it comes to a cuppa Joe in Vietnam. In my opinion, it's far from the greatest Vietnamese coffee – instead, it's just your usual chain.
The owners of Trung Nguyen saw an opportunity to become a producer of world-class Vietnamese coffee in the 1990s as the scene developed, and Vietnam became friendlier to export from.
Not long after, Trung Nguyen started a franchise of coffee houses and became the most established producer of Vietnamese coffee. But while their coffee is known and exported globally, Trung Nguyen beans are often no longer fresh by the time they land in the U.S.
Consequently, we don't recommend buying Trung Nguyen arabica coffee beans for the best experience. Instead check out our favorite coffee bean picks from Vietnam above or our top pick below:
The Final Verdict
Our choice for the best Vietnamese coffee is Nguyen Coffee Supply's Loyalty coffee. This coffee brand just speaks the right language when it comes to quality Vietnamese coffee. Sourced sustainably, roasted on-demand, and available in whole bean coffee form for the freshest brew – perfect!
Top Pick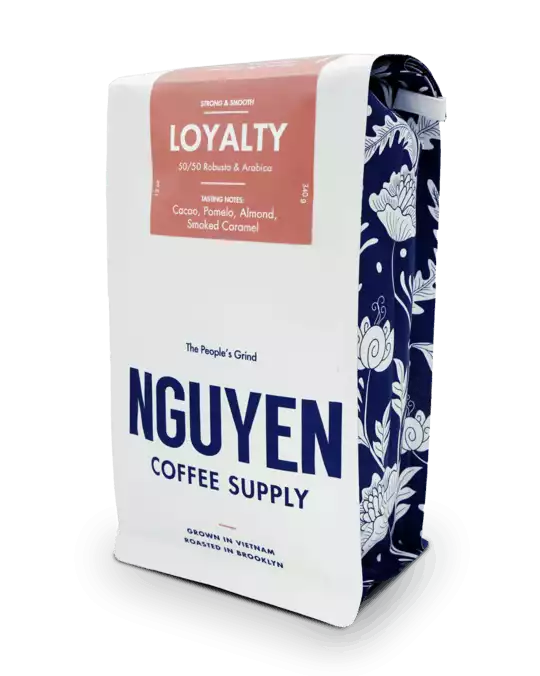 It's roasted in NYC, and it will definitely satisfy your craving for that traditional VN coffee taste you're looking for, albeit with less of a full-on Robusta wallop and with hints of chocolate. At the same time, it's the perfect way to introduce yourself to the wonderful world of Vietnamese coffee brands outside of the burnt rubber hell!
Try it with black with hot water and with condensed milk for the sweetest cup of Joe you've ever had!