Best Ethiopian Coffee Beans 2023: Barista Tested Review
As a former barista, trust me when I say: there's a reason Ethiopian coffee is so popular. Rooted in fertile soil and rich history, coffee plants from this country produce uniquely tasty beans.
Because of this well-deserved popularity, shopping for the best Ethiopian coffee beans can be daunting.
Don't worry. I'm here to help. I've taste-tested some of the top Ethiopian coffee brands and compiled a list of my favorites. I'll also recommend the ideal brew method for each bag of beans.
Best Ethiopian Coffee 2023
1. Ethiopian Yigracheffe | Volcanica
Volcanica Coffee showcases a wide variety of coffee beans from all over the world. And the brand's Ethiopian Yirgacheffe is one of their best coffee options.
This single-origin coffee comes from Yirgacheffe, one of Ethopia's top coffee regions. Grown on a sole estate, or coffee farm, these beans undergo a controlled, regulated process. This sourcing preserves the true tasting notes of these Yirgacheffe coffee beans.
Volcanica Coffee roasts their beans to order. So you always get fresh, flavorful beans.
Top Pick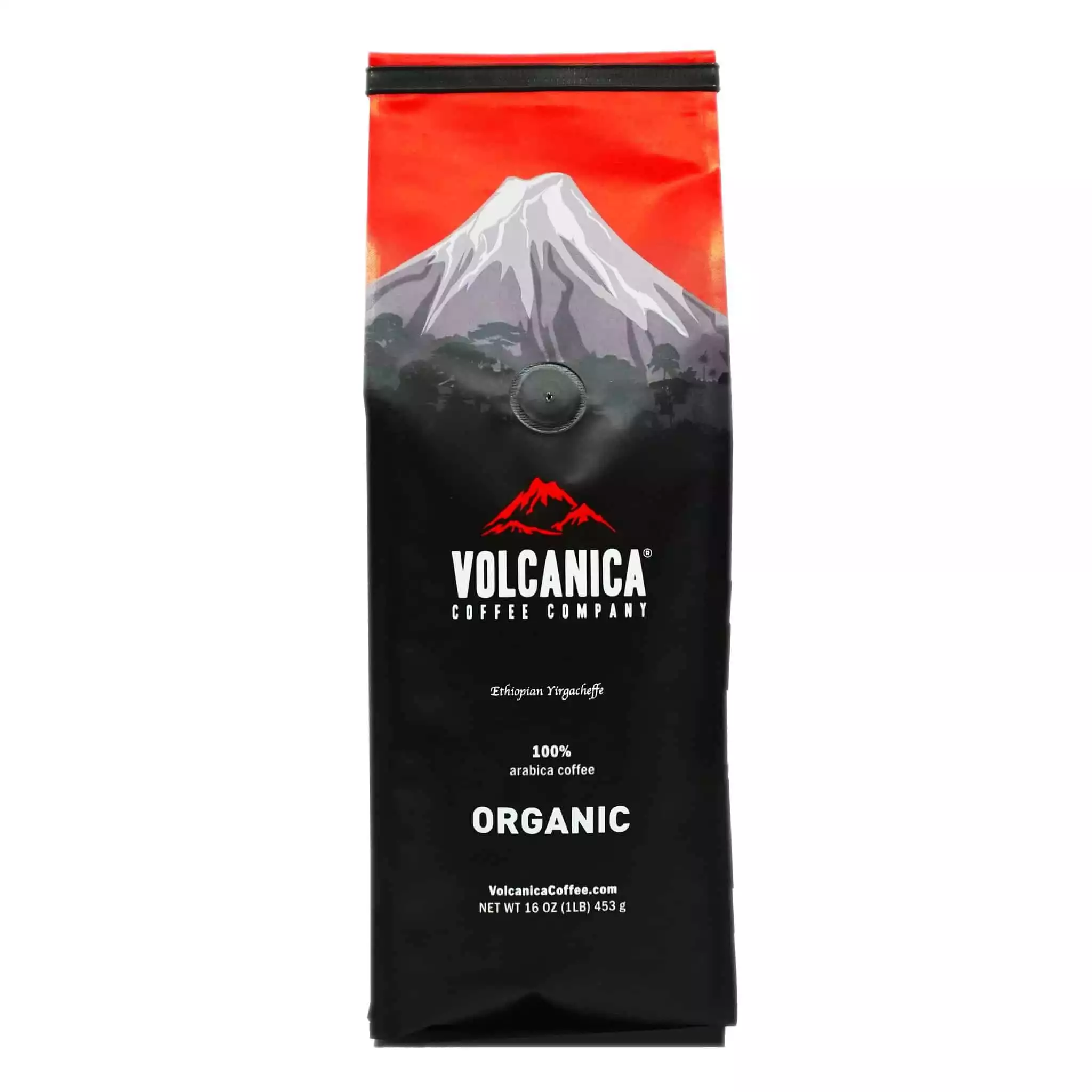 Ethiopian Yigracheffe by Volcanica Coffee
Originating from the Yirgacheffe region in Ethiopia, this is Volcanicas #1 best-seller. Versatile enough to brewed as a pour over for a brighter flavor, or even at the other end of the spectrum as a full bodied espresso!
SEE PRICE NOW
The Coffee & Flavor Profiles
This medium-roast coffee bean has a unique combination of wine-like and fruity notes. I noticed flavors of dark chocolate, ripe strawberry, and even a hint of lavender.
Volcanica's Ethiopian Yirgacheffe has quite a robust flavor, especially for a medium roast. But the fruity notes and slightly acidic aftertaste give it a hint of sweetness.
Brewing Method
I brewed these full-bodied Ethiopian coffee beans as a pour over, French Press, and espresso.
The combination of my V60 plus these beans was unmemorable.
I found they worked okay as an espresso, but adding steamed milk made the drink too weak.
The French Press really developed the flavor notes in this particular coffee bean. The coffee was a bit more robust as a French Press. So even though I'd recommend drinking this one black, you could add a dash of milk if you wanted to.
What I Liked
I always appreciate the freshness of Volcanica Coffee. My roasted-to-order Ethiopian coffee beans were incredibly aromatic.
I also loved that, even though it's a medium roast, this coffee has a full-bodied flavor. The beans offer subtle fruity notes without losing the quintessential coffee essence.
The sweet and acidic flavor combinations balance the beans' bitterness. So it's a great pick for those of us who enjoy drinking black coffee.
Who These Beans Are NOT Suited For
These beans probably aren't the best choice for people who love pour over coffee as they're roasted medium. But other than that, it's hard to fault them.
2. Ethiopian Sidamo | FRC
Freshly Roasted Coffee sources beans from around the world and roasts them to order. They offer several Ethiopian coffee options. But Ethiopian Sidamo is one of their best.
A group called the Shoye Cooperative sources these beans for FRC. This particular Ethiopian Sidamo comes from family-owned farms in Southern Ethiopia.
These organic and fair-trade Ethiopian Sidamo coffee beans come from indigenous heirloom cultivars. So coffee connoisseurs can take part in a legacy while sipping on this Sidamo brew.
Most Fruity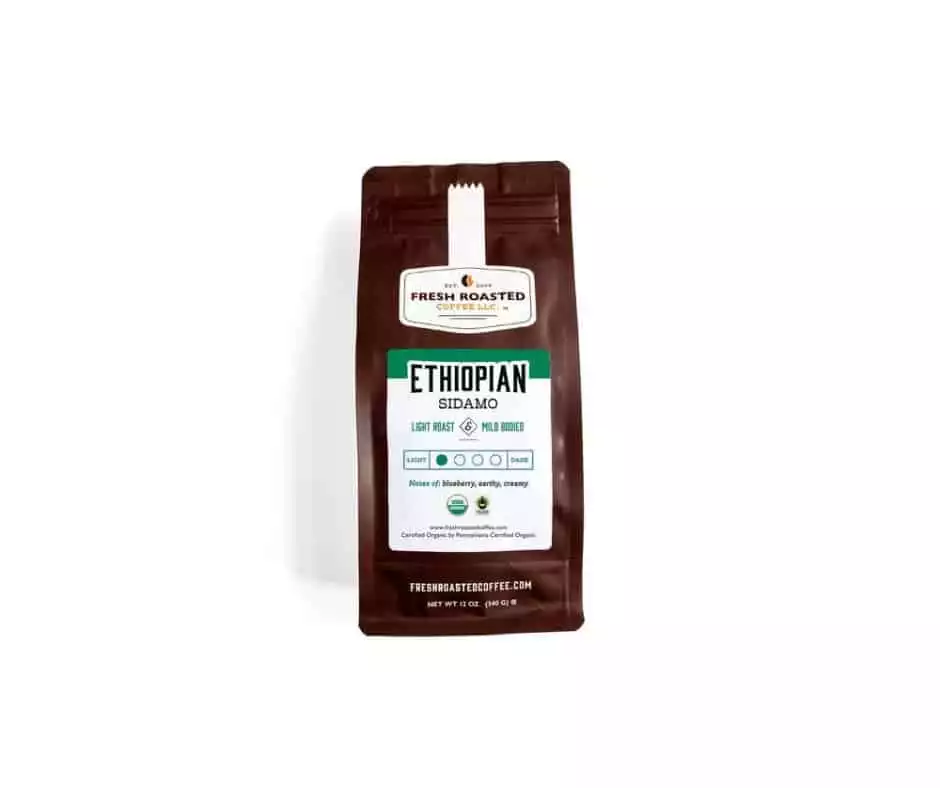 The Coffee & Flavor Profiles
FRC's Ethiopian Sidamo combines earthy, dark berry flavors with the sharp tastes of tart lemon, lime, and sweet tangerine. I also picked up on subtle blueberry notes that I felt helped balance out some of the bitterness in the brew.
A subtle light roast taste preserves the coffee's smooth, creamy finish and intensely sweet notes.
Brewing Method
I whipped up this single-origin Ethiopian coffee as a French Press and pour over. To me, the French Press was the best brewing method for these beans. I found it helped showcase the complex flavor of this Fair Trade-certified blend.
I skipped making this light roast coffee in my espresso maker. I felt that it would have been too weak a brew to be worth trying. So I stuck to brewing methods with longer extraction times to draw out the flavor notes of these beans.
What I Liked
FRC's Ethiopian Sidamo being organic and Fair Trade is definitely a plus for me. I am an avid coffee drinker. So I love anything that makes my coffee beans extra healthy and equitable.
I also commend the brand for the variety of flavors in these beans. If you're interested in educating your palate, this coffee is one to sip.
Who These Beans Are NOT Suited For
There was no official roast date written on my bag of beans. The brand claims to roast the beans to order and ship them out immediately. But I couldn't confirm the exact roasting date so if you're bothered by this take note.
The lemon tea and fruity flavors might be too sour for some people. Additionally, people who have sensitive stomachs might find this light roast a bit acidic.
3. Ethiopian Keramo | Coffee Bros
Coffee Bros started between two coffee-loving brothers based in Queens, New York. These roasters are keen on sourcing beans from small local farmers and producers.
Their Ethiopian Keramo beans come from high-end lots in Sidama, Bensa, Keramo Village. Coffee Bros ships out these 100% Arabica coffee beans shortly after they're harvested.
The Coffee & Flavor Profiles
Coffee Bros' Ethiopian Keroma is a micro-lot coffee. So you know you're getting flavors unique to the bean's growing region.
These beans are light-roasted and undergo a natural maturation process. Combined, these methods give the coffee floral notes and nice brightness.
Even though this is a lightly roasted coffee, I noticed a chocolate taste in this brew. Notes of blackberry and a sweet aftertaste gave this brew a complex flavor profile.
Brewing Method
Coffee Bros' Ethiopian Keramo is bitter even though it's lightly roasted. As a result, it's a nice coffee to pair with a sweet treat, which helps balance out some of the bitterness.
I brewed the ground coffee as a French Press, pour over, and espresso. I found that the pour over was the best way to enjoy this coffee. It brought out all the flavors of the beans. As French Press and espressos, the flavors became too washed out.
What I Liked
I loved the surprise of tasting chocolate and blackberry notes in a lighter roast. I also appreciated that this was a relatively affordable Ethiopian coffee.
Who These Beans Are NOT Suited For
Coffee Bros' Ethiopian Keramo has a strong coffee taste. It's more bitter than the other selections in this guide. So I wouldn't recommend these beans for beginner coffee drinkers or anyone who prefers sweeter sips.
4. Ethiopia Natural Processed | Volcanica
Volcanica's Ethiopia Natural are single-origin beans, roasted when you order them.
These particular beans come from Mr. Abuhasen Reba's mall farm project. Located in Ethiopia's West Arsi District, this farm spans just 5.36 hectares. The coffee plot offers nutrient-rich volcanic soil and ideal tropical growing conditions.
The beans undergo natural processing, creating fruit-forward and sweeter brews.
Best Natural Processed Ethiopian
The Coffee & Flavor Profiles
These flavorful light-roasted beans offer an outstanding balance of sweetness, acidity, and bitterness. There are hints of sugarcane, blueberry, and jasmine. The entire drinking experience features a light and smooth finish.
This coffee is much sweeter and smoother than Volcanica's Yirgacheffe coffees. I felt that this was a pleasant, approachable afternoon coffee.
Brewing Method
I brewed Volcanica's Ethiopia Natural Process beans as a French Press and pour over.
I felt that the pour over was the winning brewing method. My V60 brought out the subtleties of this coffee's flavor. The French Press muddied these nuances.
The coffee felt a bit too light to brew as an espresso, so once again, I skipped that method. I'd also recommend avoiding drinking this one with milk, as it tends to weaken the flavor of the coffee.
What I Liked
I enjoyed the premium quality and region authenticity of this micro-lot coffee. I also loved how these light-roasted beans were packed with flavors down to the last drop.
Another thing I particularly love about this brew is that it's fresh roasted. Brewing freshly roasted coffee creates an aromatic cup, which helps enhance the flavors.
Who These Beans Are NOT Suited For
Volcanica's Ethiopia Natural Process is a bit pricer than the other selections in this guide. So if you're on a budget, you might want to look at other options on this list.
These beans are also not the best option for the coffee lover who prefers darker roast coffee. This lighter brew tends to be much brighter and more acidic than what a more robust, dark roast would give you.
5. Ethiopian Ormia Harrar | Out Of The Grey
Out of the Grey is a small coffee roaster operating out of Virginia. This brand sources beans from the Cooperative Union of the Oromia Coffee Farmers.
The co-op was founded by Yirgacheffe's 35 organic-certified farmers in 1999.
These premium quality beans grow 4900 to 6500 feet above sea level. The coffee plants grow amongst cardamon, mangoes, avocados, and more. Acacia and oak trees provide shade.
The Coffee & Flavor Profiles
While sampling this Ethiopian coffee, I tasted hints of raw honey, lychee, and orange zest. There was also a creamy chocolate taste to the brew. Though subtle, this was a nice change from the dark chocolate notes of so many other Ethiopian coffees.
I also picked up on a bit of floral nectar, with hints of daffodil. I thought this was a nice subtle undertone, particularly for sipping in springtime.
Brewing Method
I brewed this coffee as a French Press, espresso, and pour over.
The French Press was the winning brew method. This immersion brewer developed creamier tastes to mellow the sour notes a bit.
I also think this blend might taste great as a surprising light-roast cold brew once the weather heats up.
After brewing the coffee as an espresso, I crafted it into a cappuccino. The drink sort of resembled a Starbucks' blonde roast, though with a much weaker flavor.
The pour over was also a bit weak for my liking. But this method helped bring out more of the fruity notes in the beans than the French Press.
What I Liked
These beans are organic, Fair Trade, and comply with the Rainforest Alliance. I always appreciate supporting an ethical brand while drinking delicious coffee.
What's more, this bag of coffee delivers certified freshly roasted beans. And I can definitely vouch for that. Every time I open the bag, the beans' aroma makes me even more excited to brew new cups of joe in the morning!
I loved this coffee's balance of flavors, especially the acidity from the fruity notes. This was a big plus for coffee lovers like me who prefer to drink their brews black.
Who These Beans Are NOT Suited For
The hints of lychee and orange zest might be too sour for some drinkers. They were not too intense for me, but it still depends on your preferences.
Additionally, if you prefer darker roasts, this probably isn't your best coffee. This was one of the lighter Ethiopian coffees I tried. It didn't have any robust flavors or dark chocolate notes that some coffee lovers look for.
6. Ethiopian Light Roast | Coopers
Looking for the best Ethiopian coffee from outside the country's main coffee regions? These might be the beans for you.
Cooper's Ethiopian Light Roast sources beans from local farms in Gomma Woreda.
Coopers ensures its beans meet the Fair Trade certification. It then also applies its own policy called the Farm Gate Program. This program directly involves the company in properly compensating farmers for their work.
Coopers roast only Grade 1 green coffee beans in small batches. This attention to detail results in super flavorful and aromatic beans.
The Coffee & Flavor Profiles
Cooper's Ethiopian Light Roast has a vibrant flavor profile. I detected notes of raw honey, lemon tart, and floral nectar.
What makes the flavors even more complex is the hint of berries as you swallow every sip. Plus, the beans are undoubtedly aromatic!
Brewing Method
I brewed this ground coffee as a pour over. As expected, my V60 developed the beans' flavor complexities and aromatics perfectly. I recommend drinking this brew without milk or sugar to fully enjoy this light roast.
I also tried these beans as a French Press, but I felt that the pour over method worked even better. The French Press left the beans tasting a little darker than you'd expect from a lighter roast.
What I Liked
I liked the complexity of the flavors. There's something for everyone – the tartiness, acidity, sweetness, and bitterness. You can taste each aspect without one over masking another. Plus, the coffee taste is still pretty strong.
Who These Beans Are NOT Suited For
The only downside of this selection is the absence of a roasting date on the bag. So, if you're particular about the beans' freshness, maybe it's better to check out the other options on the list.
The Buyers Guide to Ethiopian Coffee
Ethiopian Coffee Regions
Want to select authentic Ethiopian coffee beans or ground coffee? I recommend starting by familiarizing yourself with the top Ethiopian coffee regions. Growing region impacts flavor profiles, strengths, and acidities.
Sidamo
Sidamo is the largest coffee region in Ethiopia. It includes beans from Sidama, Konte Woreda, and Nensebo Woreda regions.
This coffee-growing region features ideal altitudes, some of the highest in Ethiopia.
Sidamo coffees are known for their floral and citrus notes. They also tend to have a full body and distinct acidity.
Yirgacheffe
Yirgacheff is the most famous coffee-growing region in Ethiopia, actually located within Sidamo. But it earns a distinction for producing exceptionally flavored coffee. flavors and unique harvesting styles.
Small coffee farms characterize the region, with plots spanning roughly 5 hectares. The farms sit at high altitudes of 7,750 to 7,200 feet above sea level.
While Sidamo coffee tends to be full-bodied, Ethiopian Yirgacheffe coffee is more medium-bodied. It's usually bright and has a more complex flavor profile. It tends to have flowery aromatic notes, and a pleasant, lingering aftertaste.
Harar
Harar is Ethiopia's oldest coffee-growing region in the east. It contains coffee farms at 4,900 to 6,900 feet above sea level.
Harrar coffee beans feature woody and earthy flavors with vibrant blueberry hints. Harar coffee is full-bodied, with medium acidity.
Yirgacheffe Is the Most Famous
Among these three major coffee-growing regions, Yirgacheffe is the most popular. This region features high altitudes, ideal growing conditions, and fertile soil. Plus, local farmers take pride in harvesting only the ripest coffee cherries.
Ethiopian Yirgacheffe coffee is slightly more expensive than beans from other regions. But having tried them, I can confirm they're worth the price!
Best Roasted Light or Medium
The best Ethiopian coffee beans often come in a light or medium roast. These roasts preserve the fruity and floral tasting notes in Ethiopian coffee.
If darkly roasted, the beans will lose these complex flavor combinations. So go for a light or medium roast to taste the flavors characteristic of Ethiopian coffees.
The Ethiopian Coffee Ceremony
Coffee is a significant part of Ethiopia's culture as well as its economy.
The Ethiopian Coffee Ceremony spans two to three hours and occurs up to three times a day.
This ceremony focuses on respect and friendship. It starts with the woman of the house welcoming guests into her home. She prepares coffee from scratch — cleaning, grinding, roasting, and brewing the beans.
The host pours three rounds of coffee for each of her guests. Because the coffee is homemade, it often tastes burned and dark. Participants talk about anything under the sun, including gossip, politics, and more.
The Birthplace of Coffee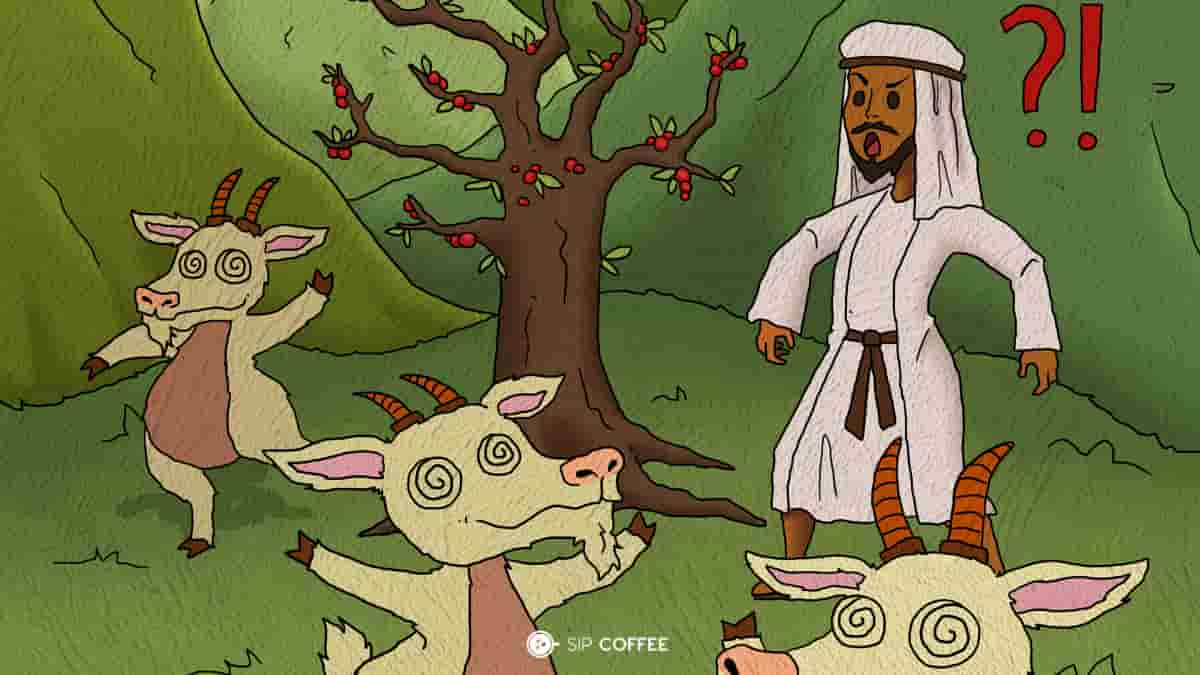 Many historians and coffee lovers believe that Ethiopia is the birthplace of coffee.
The legend begins in the early 15th century. Sheikh Gemaleddin Abou Muhammad Bensaid, a respected Imam, became a fan of the plant.
The Imam started shipping Ethiopian coffee into Mocha, a port across the Red Sea, to reach Yemen. This route marked the start of coffee trading and cultivation by the Arabians. Mocha held a coffee monopoly for centuries.
The monopoly continued until a Dutch spy smuggled some seedlings from Mocha to Indonesia. And thus began a new chapter of coffee history.
Geisha Originates From Ethiopia
Panama Geisha is the most expensive coffee in the world. But legend has it that Geisha coffee actually originated in Ethiopia.

If you look at the map, you'll see that the Geisha District is actually in Kaffa, Ethiopia's South Western Zone. The Geisha coffee was then exported to Panama, officially becoming Panama Geisha.
The Final Verdict: Ethiopian Coffee
My vote for the best Ethiopian coffee goes to Volcanica's Ethiopian Yirgacheffe. This single-origin, micro-lot coffee is full of fresh flavors.
If you're not sold on this medium roast, Coffee Bros Ethiopian Light Roast is also a strong contender. This coffee was aromatic, and enjoyable at any time of day.