Best Single Cup Coffee Maker With Grinder 2023
Serious coffee drinkers know that freshly ground beans are the key to a tasty cup of joe. Brewing with fresh beans gives you the boldest and most balanced flavors.
That's why you're searching for a single brew coffee maker with a grinder. It simplifies the brewing process but complexifies the taste. A machine with a built-in grinder can grind the beans and whip up a batch of coffee in just minutes.
To help you find the best single brew coffee maker with a grinder, we've reviewed our favorite picks.
5 Best Single Cup Coffee Makers With Grinder 2023
1. Breville Grind Control Coffee Maker
Breville is a top brand for beginners in the world of coffee.
A durable coffee maker with a grinder, the Breville Grind Control creates an effortless coffee brewing experience.  The machine does it all for you, from grinding to dosing to brewing so that you can just focus on enjoying delicious, fresh coffee. 
PROS (+)
Grinds, doses, and brews
Stainless-steel burr grinder
60-ounce carafe
CONS (-)
Hard to clean
Overly large size
What We Like
Want to program your coffee for the morning? This machine will do everything for you, from grinding to brewing. Most other programmable machines require you to add the ground beans to the filter. (And if you do it the night before, you'll have some freshness issues.)
Coffee makers with burr grinders tend to be big, and that's true in this case. This metallic monster weighs 16 pounds. When you have a burr grinder built-in, you expect extra weight.
It has a modern look, with a sturdy stainless-steel body. Fully programmable, this machine can even make your cup of coffee before you're out of bed. It gives you an easy-to-use, one-step brewing method for fresh ground coffee.
The flat, stainless steel burr grinder produces an even grind. (Burrs give you much better results than a blade grinder would.)
All you need to do is pour whole beans into the bean hopper and the machine will grind the right amount of beans fresh. The metal dial on the adjustable coffee grinder lets you choose from 6 grind settings. While six settings aren't a lot, it gives you some freedom and is far superior to a blade grinder.
You'll see the grind size reflected on the LCD screen. The LCD screen is neatly tilted up towards you so you don't have to bend over to read it.
You can customize your batch size, from a single cup up to 60 ounces. You also get eight different brew strength settings. This adjustment controls the amount of coffee used to brew the perfect cup.
A stainless-steel 60-ounce thermal carafe takes the place of a regular coffee pot. You can brew directly into the thermal carafe, but there's also enough space to brew into a tall travel mug.
The included gold tone filter means you don't need to buy paper filters or worry about running out. Of course, a metal filter doesn't filter out coffee sediment. So you'll get a thicker coffee more similar to a French Press. You can also use flat-bottomed paper filters if you'd like a cleaner cup of great-tasting coffee.
Access the water tank from the top of the machine. The tank has an indicator that floats on top and lets you easily check the water status.
What Could Be Better
Weekly cleaning is advised to keep all the moving parts…well, moving. But cleaning is a bit of a chore. You also need to hand-wash all the removable parts.
A major downside is that you can't use the grinder if you brew in another type of brewing method. So if you'd like to use the grinder to prepare a cup of coffee in an Aeropress, unfortunately, you can't.
2. Cuisinart 900BC Grind & Brew Automatic Coffeemaker
The Cuisinart 900BC offers a dependable, easy-brewing experience at a low price point. This coffee maker with a grinder is best for people who want mild coffee without the bitterness.
PROS (+)
Easy to use
Budget-friendly
Attractive design
CONS (-)
Weak coffee
Little customization capability
What We Like
The beauty of the Cuisinart Grind & Brew Automatic Coffeemaker is how easy it is to operate.
The machine comes with a simple control panel. Programming options are mostly limited to 24-hour brewing and auto shut-off. That said, it still lets you adjust coffee strength and grind size.
It makes 12 cups of coffee. But you can also use it as a single-cup coffee maker by programming it to make a 10-ounce single cup.
The built-in burr grinder makes a more even and consistent grind than blade grinders. (However, it is a bit louder than other burr grinders.)
The bean hopper holds 8 ounces of beans, but you can also turn the grinder off and use coffee grounds. It tends to grind coarse, but since you're not trying to make espresso, it shouldn't be an issue.
The price point for this machine is quite reasonable. Especially considering what durable drip machines and burr grinders would cost separately.
You can't brew directly into a travel mug. But the stainless-steel carafe is thermal and has a comfortable handle. The carafe will keep coffee warm for a while, though it doesn't keep the coffee as hot as some like.
What Could Be Better
The machine is quite tall and will not fit under many kitchen cabinets. The displays aren't easy to read, since you have to bend down to read them. And the water doesn't quite heat up to the recommended temperature for brewing coffee (195-205 F).
Filling the narrow water tank is a bit of a task since it's towards the back. It's also a bit hard to see the red floater that tells you how many cups of water you've already added. You may have to pull it out from under a cabinet to fill it, which isn't easy at this size.
The square design of this machine is more utilitarian than elegant. It also has a big footprint at roughly 16 inches high, 8 inches wide, and 11 inches deep. It's also not lightweight, at almost 10 pounds.
3. Cuisinart DBG2 Single Serve Coffee Maker
The Cuisinart DBG2 offers the convenience of a single-cup coffee maker with the flavor burst of freshly ground coffee. If you're shopping for single-cup coffee makers with built-in grinders at a reasonable price, this is the machine for you.
PROS (+)
Conical burr grinder
Single-cup maker
Low price
CONS (-)
Low brew temperature
Doesn't brew large batches
What We Like
A third of the price of other machines on this list, we don't expect a machine with all the bells and whistles. But a simple machine that's easy to use for single servings is just fine.
Plus, the Cuisinart DBG2 makes for a handsome fixture on your kitchen counter. It features an all-black design with silver highlights.
You can find a smaller single-cup coffee maker. But it's rare to find one that will grind your beans for each cup of coffee. The difference in freshness, and therefore taste, is enormous.
This single-cup coffee maker comes with a conical burr grinder. Conical burr grinders are much better than blade grinders.
You can choose from three ways to brew: using whole beans, pre-ground coffee, or single-serve pods. When you want just a single cup, you can use pre-ground coffee, single-serve K-cups, or any single-cup pod.
You also have the choice between three size options; 8, 10, or 12-ounce cups. You can brew directly into a travel mug or regular coffee cup.
The 48-ounce water reservoir can be removed for easy filling and has a charcoal water filter. The machine has an auto-off feature.
What Could Be Better
The single-cup coffee maker brews at a low temperature (average 175 F). This low water temperature can result in under-extracted coffee.
This is a simple machine for a simple purpose. If you're solely interested in getting a single cup of coffee, this could be the choice for you.
But if you want to brew large batches of coffee, you might want to keep shopping. You'll quickly get frustrated with the limitations of a single-cup coffee maker.
4. Breville Barista Express
If espresso is your thing and the machines on this list have not appealed to you, get ready. We've come to the machine that appeals to all baristas at heart. The Breville Barista Express is the best machine for espresso lovers who want a hands-on coffee brewing experience.
PROS (+)
Café-style espresso machine
Built-in grinder produces a fine espresso grind
Flavorful shots
CONS (-)
No way to control milk frothing temperature
Expensive
What We Like
Encased in brushed stainless steel, this coffee maker with grinder would look at home in any café. It's a semi-automatic espresso machine that means serious business.
The machine features a high-quality built-in stainless steel conical burr grinder. You can easily adjust the grind size. The machine grinds the beans and drops them directly into the portafilter.
The pressure gauge helps you determine the correct pressure for the perfect brew. It's also easy to dial in shots, and the machine has a real steam wand and integrated tamper.
This model is for serious espresso lovers, giving you higher quality than others on this list. It's certainly not as pricy as most espresso makers. But at over $700 this is one of the most expensive machines on this list.
This machine does require you to learn the ins and outs of brewing espresso. You have to pull shots manually; it's not a one-button wonder. You need to know how to dose and tamp, extract an espresso shot, and froth milk.
Still, this is a relatively easy-to-use semi-automatic machine that brews fantastic coffee. You can control the dose, or how much coffee grounds you want in each shot. Four filter baskets, both pressurized and non-pressurized, accommodate all experience levels. Count on digital temperature control for brewing.
The machine is easy to clean, and you can easily remove parts to do an in-depth cleaning.
If your heart is beating in excitement while reading these words, this might be the machine for you. But if fear is striking your heart, you might want to stick with a single-cup coffee maker that's a lot more automatic.
What Could Be Better
This machine is not for you if you want to brew a lot of coffee at one time. It produces a single espresso shot at a time.
You'll also have to wait for the machine to heat up. And you will have to refill the small water reservoir often.
A semi-automatic espresso machine generally isn't for beginners. This machine is for you if you're a serious espresso lover who wants full control over your brew. If you're a beginner, consider a more automatic machine that's easier to use.
5. Gevi 4-in-1 Smart Pour-over Coffee Machine With Grinder
Want to have control over every single aspect of your pour-over brewing experience with the option of automizing your experience? This is the ideal machine for that specialty coffee lover who wants to feel like a coffee scientist.
PROS (+)
Elegant design
Ultimate control for pour-over brewing
Excellent brew quality
CONS (-)
Only for pour-over brewing methods
High price point
What We Like
The Gevi Pour-Over Coffee Machine is a totally different kind of coffee maker. We leave behind the typical drip machines and even espresso machines. This all-in-one system is exclusively for pour-over coffees.
I do have to admit, this all-metal machine has an incredibly cool appearance. It looks like a super-modern science experiment or some apparatus on a spaceship.
As its appearance might suggest, this machine is designed for third-wave specialty coffee. And yet it's super-automatic.
The machine weighs, grinds, and pours water over the coffee (with a bloom time!), then funnels the liquid into a nifty metal carafe. That's the 4-in-1 in the name: weigh, grind, pour, and brew for the proper time.
It comes with a commercial grade 60 mm flat burr grinder, pour-over carafe, and water reservoir.
A stainless steel metal cone filter also comes included. There's also a PCTG V-60-style alternative if you don't like brewing with metal. The carafe is reminiscent of a Chemex. It's made of Borosilicate glass that is heat resistant up to 302 F.
You can use a lot of different brewers with this, including Melitta, Chemex, or V60.
The aluminum water tank, lined on the inside with 304 stainless steel and a nanolayer, heats up the water and keeps it warm. On the front, you'll see the stylish water level indicator. The lid on the water reservoir is easy to remove and screws on.
You can set the water temperature anywhere from 80-99 C and adjust the bloom time from 1 to 120 seconds. The 51 grind settings let you choose the perfect grind for French Press, filter, pour-over, or Aeropress.
Real-time brewing diagrams on the touchscreen display let you stay on top of every detail. The responsive scale is accurate to 0.1 grams. Four adjustable nozzle rotation speeds can be set from 15-30 seconds.
Choose a recipe, click go and the water comes to full temperature. The display lets you monitor every step so you can see what worked and what you need to tweak. You can save recipes that you like and choose what you want from the recipe menu
What if you want a single cup at the touch of a button? You can get that too. The Gevi has presets that let you quickly put the automated mode to work and get a single cup. It's also easy to clean and do maintenance.
What Could Be Better
This machine only brews pour over coffee, so it's not for you if you want to make espressos or get a carafe of drip coffee.
With all these features, it comes with a high price point, similar to the Breville Barista Express. That would be beyond the budget of many coffee drinkers.
Single Cup Coffee Maker With Grinder Buying Guide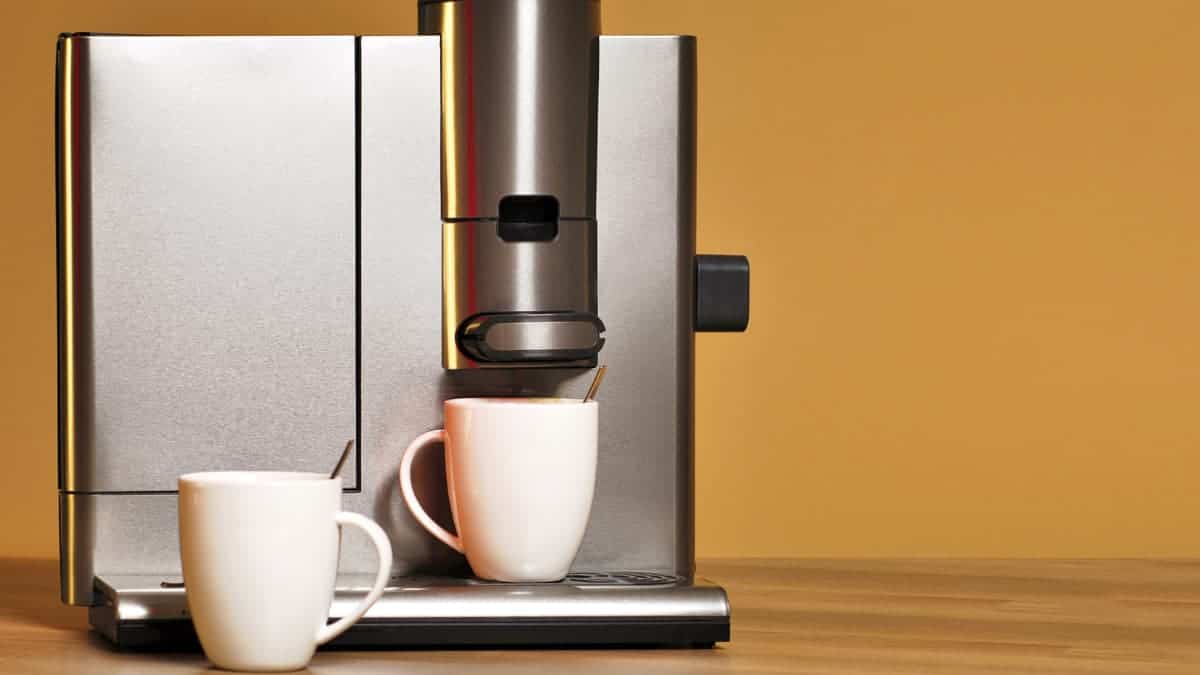 Espresso or Drip?
Whether you love espresso or drip coffee, it all starts with the same product – coffee beans. But how you grind and brew them creates a world of difference in body and taste.
Espresso is the Italian coffee experience. Espresso machines force small amounts of pressurized water through finely-ground coffee beans.
A few things distinguish espresso from drip: grind size, water temperature, and pressure. Espresso uses finely ground coffee beans (think powder), nearly boiling water, and nine bars of pressure.
The result of all that pressure and heat is a rich, thick, intense shot of coffee with a luxurious layer of crema. It's flavorful on its own but also makes an ideal base for a whole slew of milky drinks.
Drip coffee has a slightly less exciting origin. Pre-ground coffee sits in a paper or metal filter while hot water slowly pours over it.
As the water travels through the grounds, it picks up the flavor, caffeine, and oils. Gravity pulls the water downward. The liquid gets filtered out into a carafe, mug, or another container, drip by drip.
Which is better, espresso or drip?
That's a personal choice, and no one can tell you what kind of coffee to love. Drip coffee is smoother and easier to drink. But some coffee lovers would say it lacks force and personality.
Espresso is bold and flavorful. But it can be overwhelming for some people. I love all kinds of coffee and choose my brewing method based on my mood. That probably explains why my coffee station is packed to overflowing.
Another factor is how much effort you want to put into getting that fresh cup of coffee.
Espresso machines provide a more hands-on coffee experience. They tend to be more complicated to use. And the initial results can be quite unpalatable and far from the perfect cup. Espresso machines also require finely ground coffee. Built-in burr grinders can help with this step. (Blade grinders can't really achieve the fine grind you need for espresso.)
Drip coffee machines are simple to use, and inexpensive ones have just a few features. The high-end ones do everything for you, from grinding the beans to warming milk.
Drip machines also usually use paper filters rather than metal ones. The paper absorbs the oils in coffee and traps the sediment. So the result is a cleaner but generally weaker cup of coffee.
According to your personal tastes, you decide if you want an espresso machine or a drip coffee maker. If you want both, or if you want to brew with both freshly ground beans and pods, you'll need a dual coffee maker.
Also, think about your budget. While drip makers can cost as low as $20, a good espresso machine costs hundreds of dollars. And coffee makers with grinders start at over $100.
Programmability
Programmability can make or break a machine's usefulness. What kind of programming can you expect from a coffee maker with grinder? Depending on the machine, you can at least adjust brew time, brew amount, and flavor profile.
Brew time – One of the most important programming capabilities is being able to set the brew time. Before you go to bed at night, you can program some coffee makers with grinders to brew at the exact time you want your morning coffee.
Brew amount – Most machines vary from a single cup to 14 cups of coffee. Consider how many cups you'll normally be brewing and if you need a machine for single-cup use or to please a crowd.
Flavor profile – Can you program multiple strength settings, from regular to bold? Coffee makers with grinders allow you to brew according to your taste preferences.
These three are the main programming capabilities to consider when shopping for a single cup coffee maker. But you can also expect an auto-off setting and an adjustable hot plate so you don't scald your coffee. Machines with a brew pause feature let you serve yourself coffee mid-brew.
Depending on the type of machine, you may also be able to program multiple types of espresso drinks such as cappuccino, latte, or Americano.
Brew Speed
How fast do you want your cup of joe? Brew speed has everything to do with being satisfied with coffee machines. You don't want to wait around for your morning cup of coffee, whether it's a single cup for yourself or a big batch for a group.
Consider the heat-up time for coffee machines. Some single-cup coffee makers are ready to go shortly after you turn them on. Some coffee makers speed up the process with an automatic, programmable turn-on time.
And then there's the actual brew time. Most machines take about five minutes to make a drip coffee. But some can take up to 10 minutes while the machine heats up and actually brews the coffee.
Some single-cup coffee makers take just three minutes. Want a super-fast cup of coffee? Super-automatic single-cup coffee makers can have a cup ready for you in about a minute.
Our Final Verdict: Best Single Cup Coffee Maker With Grinder
The Breville Grind Control Coffee Maker is a durable single-serve coffee maker that turns the dream of effortless coffee brewing into a reality.
The coffee machine does it all for you, from grinding to dosing to brewing. Program the coffee maker to grind and brew just when you need your coffee. All you have to do is focus on enjoying a delicious, fresh cup of coffee.
And for a coffee maker with a burr grinder, you can't beat the price.